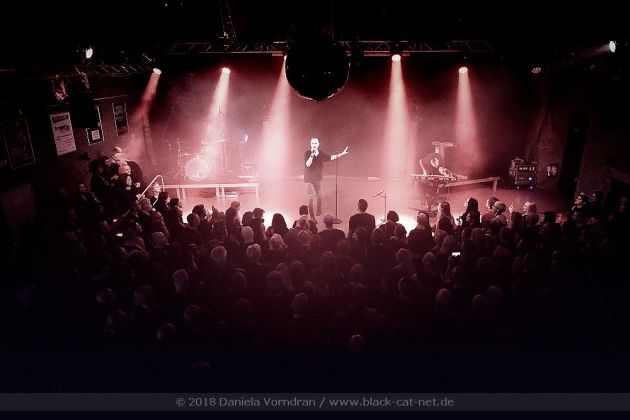 Kulttempel, Oberhausen, Germany
31st August 2018
Solar Fake – Album Release Concert – Support: Seadrake

Thanks to their driving yet dark and deep, energising and also enchanting music, Electro act SOLAR FAKE has been on the rise for over a decade now. August 31st, 2018, was a day to be radiant with joy. SOLAR FAKE and their fans had reason to celebrate: The fifth opus, 'You Win. Who Cares?', the pinnacle of SF's discography, was finally out!
Unlike in previous years, this time the record release show didn't take place in Berlin, but in North Rhine-Westphalia, in Oberhausen. The Kulttempel was the perfect venue for the event and we still clearly remember how the act raised the roof back there in 2015 when they kicked off the 'Another Manic Episode' Tour or what a great time we had there last Halloween at the 'Trick or Treat Show'. It's been hardly surprising that this year's record release extravaganza was a complete sell-out. A jam-packed Kulttempel was looking forward to a full evening's programme. First, vocalist Sven Friedrich and pianist Dirk Riegner presented the new acoustic 'Tranquilised' pieces, then special guest SEADRAKE hit the stage, and finally, SOLAR FAKE celebrated an electro fest lasting over two hours. Before these shows, the SOLAR FAKE/ ZERAPHINE/ DREADFUL SHADOWS fan-club "Shadowplay e.V." got together for a pre-listening session and a meet and greet with Sven, André, and Jens.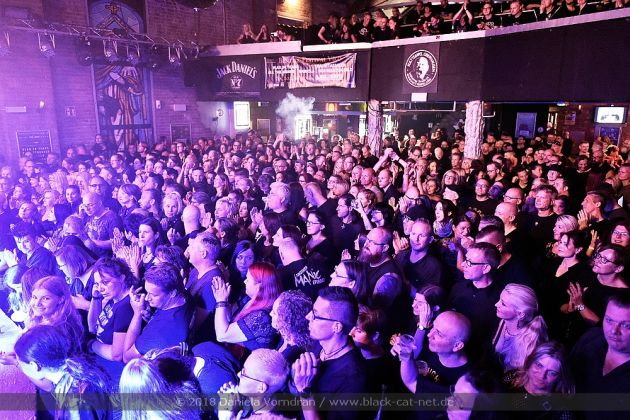 Seadrake

Electro Pop "super group" SEADRAKE consists of Hilton Theissen (AKANOID, DARK MILLENIUM) at the microphone, synth-master Mathias Thürk (ex-MINERVE), and bassist/ keyboardist Rickard Gunnarsson (LOWE, STATEMACHINE). The trio is as multinational as it gets: Hilton was born in South Africa and raised in Germany, Mathias who was born outside of Berlin lives in Zurich, and Rickard is from Stockholm. Their musical backgrounds and listening habits are also quite diverse ranging from EDITH PIAF and DAVID BOWIE to UNDERWORLD and NINE INCH NAILS. Under the banner of SEADRAKE, they have come together to spread their very own version of driving Synth Pop spiced up with a pinch of electronic Rock. 'Isola', the band's first full-length album, has been out since April, 2018. //
http://www.seadrakemusic.com
/
https://www.facebook.com/seadrakemusic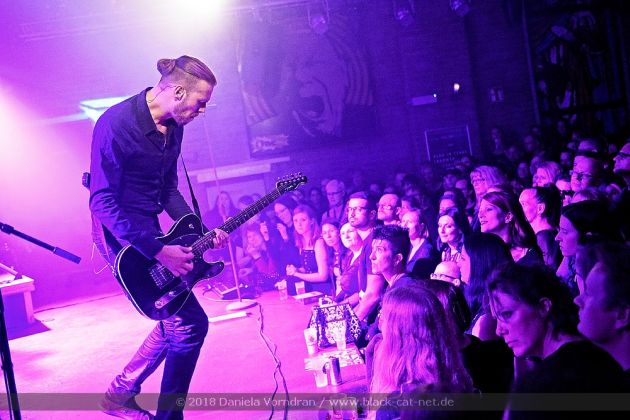 Music & Performance

Before the gig, SEADRAKE had reached out to their fans for help. Their "Beauties" were invited to film their show and all around it, of course everything "within legal boundaries", and send it to the band. The clips would be used on their upcoming music video. We are looking forward to seeing the result. The mid-tempo tune 'Lower Than This (Someday)' made for a somewhat ambient and atmospheric intro. And once the chorus of SEADRAKE's opening song resounded, the Kulttempel guests who were not familiar with the band till that night, realised that a quite melodic concert would follow - filled with catchy songs. More and more people started to move and dance along. Tunes like 'What You Do To Me' and 'Get It On' make it almost impossible not to do so. All in all, the trio preformed seven songs from 'Isola' and it sounded awesome, the only mini point of criticism would be that was that the piercing volume was slightly too loud.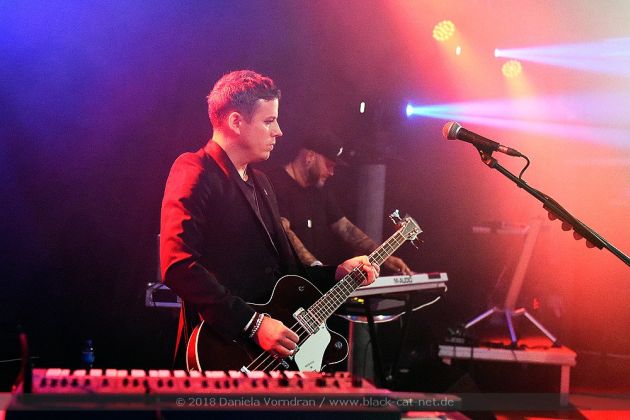 Singer Hilton convinced us with powerful vocals reaching the highest notes of 'Daydream' with ease. When he wasn't rocking out playing guitar Hilton danced around on stage full of vim and vigour. He's got the moves. Mathias pushed the keys and buttons in the background while Rickard switched between keys and bass and contributed to the vocals. Towards the end the trio threw in the AKANOID song 'No Matter' originally to be found on 'Cocktail Party' (2007). After SEADRAKE's rocking version of 'No Matter' the melodic and amazingly driving tune 'Something Durable' with Hilton's super sweet vocals followed - what a perfect single that is. SEADRAKE concluded their show with MINERVE's 'Down To The Ground', spreading some BOWIE vibes during the verses.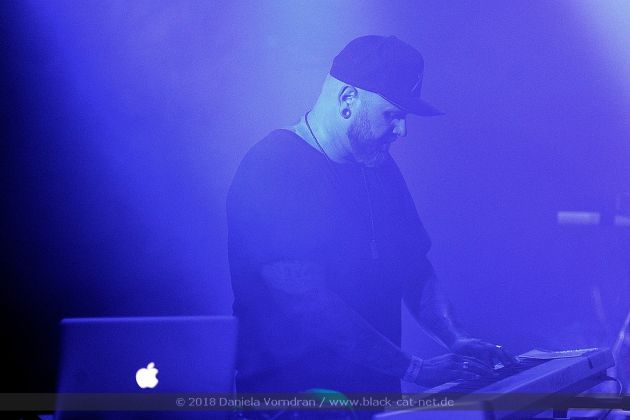 A very pleasant and synthy outro to an overall successful show of a winsome group. Of course it would be epic if their stand out ballad 'Room 316' and 'Isola's' powerful last tune 'Soulsharer' were on that night's setlist as well. Maybe next time!
Setlist

01. Lower Than This (Someday)
02. Daydream
03. What You Do To Me
04. On The Run
05. Conformity Loves Company
06. Get It On
07. No Matter (AKANOID cover)
08. Something Durable
---
09. Down To The Ground (MINERVE cover)
Rating

Music: 8
Performance: 9
Sound: 8
Light: 7
Total: 8 / 10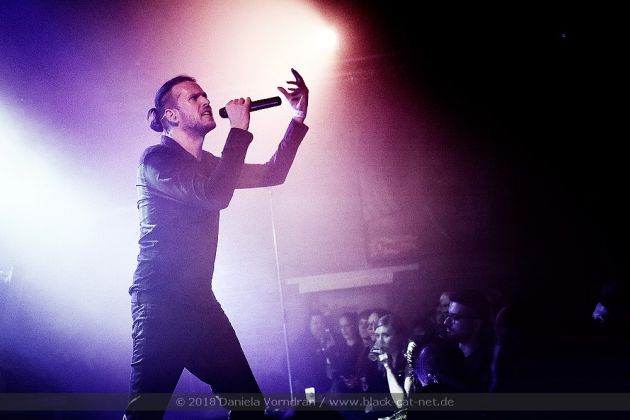 Solar Fake

Mastermind and vocalist Sven Friedrich is widely celebrated for creating floor filling Electro smashers as well as emotional goosebumbs tunes under the name of SOLAR FAKE. Back in 2006, the first SOLAR songs were written realising Sven's idea of an "only electro" project "without any compromises". A year later, the debut album, titled 'Broken Grind', saw the light of day. Now, three years after 'Another Manic Episode' (2015), the long-waited fifth album is finally on the market. 'You Win. Who Cares?' is its title; it entered the German album charts on rank 20; and it is a moving piece on many levels. Once again, one could expect not only diverse danceable compositions, but also honest, meaningful, and thought provoking lyrics. While mental illness has been the central theme of the previous record, 'YW.WC?' draws a broader and at the same time highly personal picture dealing with human abysses and nuisances and interpersonal relationships gone wrong. All the mounting anger and rage, pain and feelings of estrangement and loss, resignation and hopelessness naturally come with the territory. //
https://www.solarfake.de
/
https://www.facebook.com/SolarFake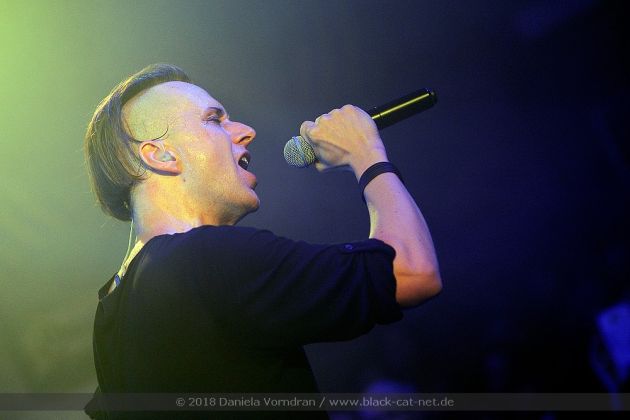 Music & Performance

When looking back to a SOLAR FAKE live performance, one particular adjective always comes to mind. Stellar! The record release show in celebration of the new record 'You Win. Who Cares?' - a title that perfectly voices the mind-set represented on the album - was truly a very special event for all SF-heads. Vocalist Sven Friedrich and pianist Dirk Riegner entered the stage at nine o'clock to enthral their audience with an acoustic set lasting slightly over half an hour. 'Tranquilised', the acoustic bonus album which is only available in the limited box set of 'YW.WC?', was to be played in its entirety. In the past, SOLAR FAKE's "Sedated" acoustic shows in 2017 and the orchestral gig at the Gothic Meets Klassik festival in 2016 were more than well received and now fans call 'Tranquilised' a magnum opus.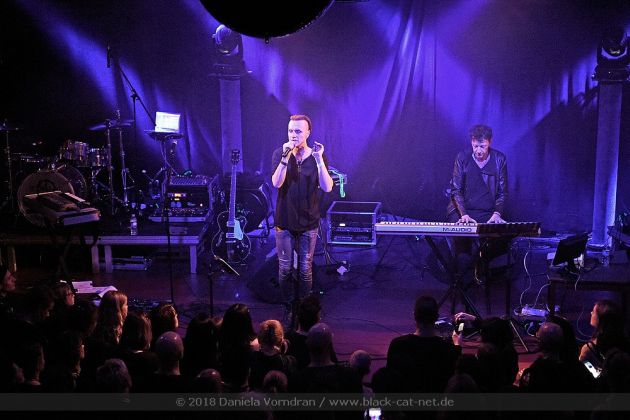 Hearing the new songs for the first time live and in their "tranquilised" versions was... to die for! Thus, the SOLAR crowd was standing there harkening to heart-tingling music and enjoying musical artistry: Dirk's fantastic piano arrangements of the seven songs he had picked from the new album and Sven's masterful vocal performance as he presented the songs with heart and soul in a grippingly calm and yet powerful way. Then, there was also some additional instrumentation with, for example, notes from the violin family coming from tape. All together: simply beyond beautiful. The slower pieces 'Invisible', 'What If There's Nothing' and 'If This Is Hope', which are already heart-wrenching in the original version, were absolutely stunning. Further personal highlight (of actually seven highlights): 'Too Late' with those deep vocals during the verse and its beseeching chorus. On the whole, the audience was moved and mighty impressed. The gents thanked each other and the audience and left amid the applause of the crowd.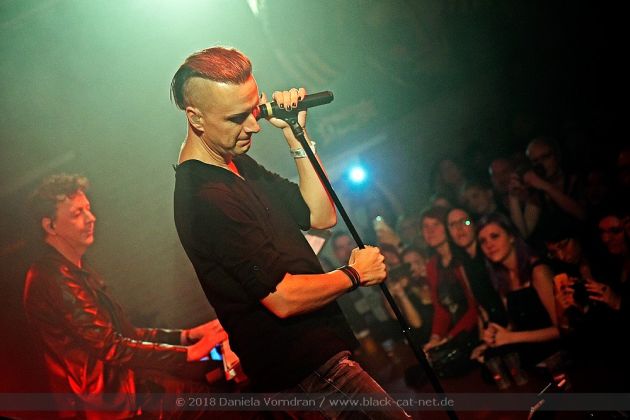 After the acoustic set, when Sven announced their special guest SEADRAKE, he said that it would be a long night with enough opportunity to dance from then on: "I hope you have enough water with you, or vodka, or whatever..." At elven o'clock, after the SEADRAKE set, it was then time for SOLAR FAKE to grace the stage of the Kulttempel with the Electro set. When it comes to live shows, the act is a trio now. Keyboardist André Feller, who joined up with the project in 2014, and newish drummer Jens, who came on board this year, both contributed greatly in bringing SF's brand new tunes and older classics to life. The new live drums have already convinced us at SF's Amphi appearance this summer. During the release show in Oberhausen though, Jens' dynamic drumming as an additional layer to SF's live sound emphasising the beat, the groove, the drive and the aggression and adding the organic, literally blew us away. I guess, we will need yet one more 'YW.WC?' special disc sometime soon - a live version! Or while we're at it, a DVD. Who's with me?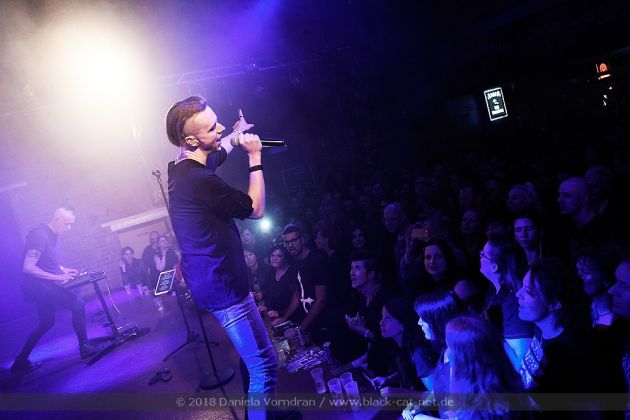 Remembering the enthusiastic and partying bunch at the completely sold-out venue, one can only tell that the event clearly was a blast. The SOLAR FAKE gents presented all eleven songs from 'You Win. Who Cares?' mixing them up with twelve additional older hits. The party got started in a familiar way with 'Not What I Wanted' from the 'Manic' album. It was a great kick-off picking the crowd instantly up. However, just as a side note, for the future tour in support of 'You Win. Who Cares?' starting in January 2019 one might wish for a different opener for a change. Five further tracks from the previous album were played and the audience obviously loved to be able to sing along the well-known singles 'Under Control' and 'All The Things You Say' and the songs 'I Don't Want You In Here', 'Observer', and of course the closing title 'Stay'.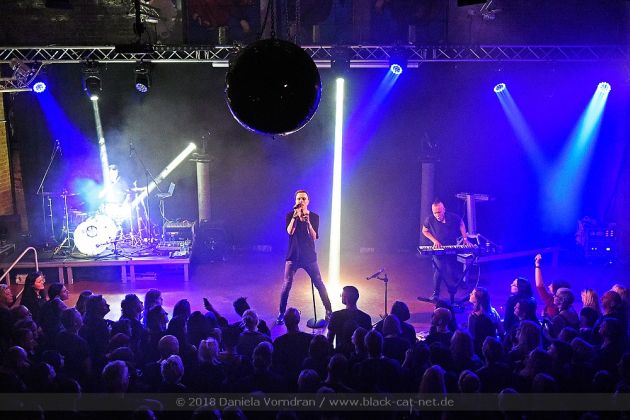 The fans had a lot of fun with their favourites like the smasher 'I Hate You More Than My Life' and the outstanding 'Reset To Default' from the 'Reasons to Kill' record and the infectious single 'More Than This' and the gritty 'Parasites' from 'Frontiers'. It's almost needless to say, that the band nailed it when presenting the new album live and loud. Sven, André and Jeans delivered a stellar performance. One could hear well that they came to Oberhausen very well prepared. It was only after the concert that the vocalist admitted in their after-show-Facebook-vid that he actually still had the flu till a day before the event and didn't know for sure whether he could make it through the shows. Nonetheless, his vocals were top-notch. Thanks to the impressive and inspiring new material, that the band seemed eager to finally share with their audience, it was a killer gig, to put it simply. Here is just a shout-out to everyone who still hasn't got the message: SOLAR FAKE's latest piece 'You Win. Who Cares?' is a must-hear for all lovers of high-class electronic music. That night, on August 31st, the band also proved that one can look forward to a splendid tour under the banner of 'YW.WC?' in the New Year. Lovely hard-tickets are already available.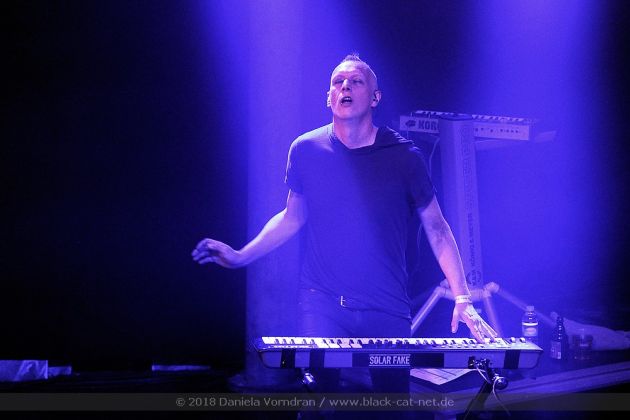 The devoted fans made some real noise calling SOLAR FAKE back to the stage for two rounds of encores. The first one presented two covers and strangely enough there was almost no crowd reaction once Sven announced 'Fuck U' - apart from someone shouting "Do it yourself!" making people laugh. André wasn't the only wondering if folks didn't know the song originally by ARCHIVE. Personally, it's been a great while that I listened to it; but it's been on my minidisc player back in 2004 and the lyrics didn't fade away from memory. Once the tune resounded more and more people seemed to remember. SF successfully managed to make an amazing tune their very own and even better. Theme-wise, it also goes well with the new album. All thumbs up. Their version of the EDITORS' 'Papillon' of course didn't need any introduction since SF fans have been jumping and clapping along to the track over the last few years. "It kicks like a sleep twitch!" A lot fans are happy that it is finally available on an album.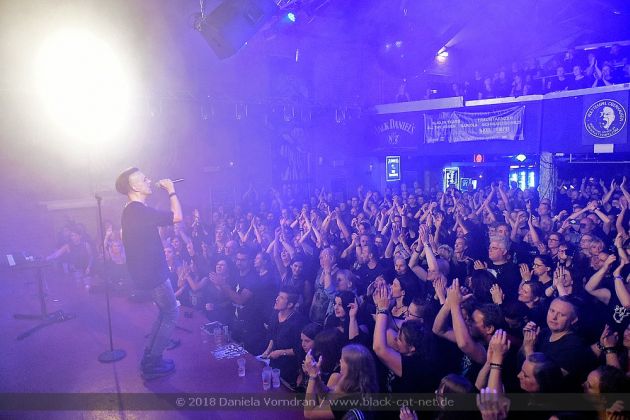 Both encores were ended with beloved ballads, the classics 'The Pages' and 'Where Are You' - which are simply never to be missed at a SF show - and finally, the newer 'Stay'. And so, SOLAR FAKE closed at around 1:20am on a melancholic and pensive note after a concert full of melody, bombast, emotion and escalation. People had indeed brought their dancing shoes and sang along all the lines that they knew by heart. SOLAR FAKE live had been yet again super energising as well as incredibly enchanting. The trio bid farewell to the blissful fans. Some kept partying at the after show special with DJ Bocky O'Brian. Others travelled back home. But all would keep the release of 'You Win. Who Cares?' in good memory, that is for sure.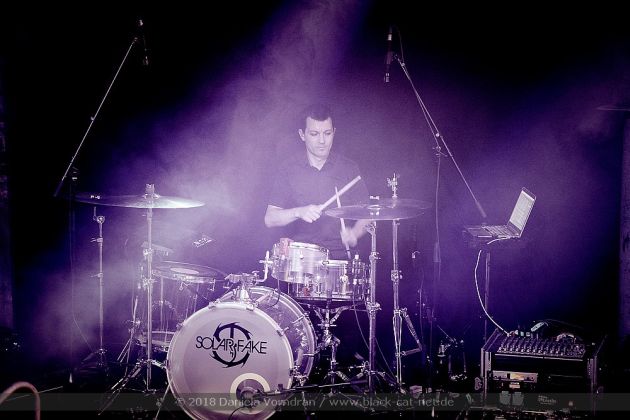 Setlists

- 'Tranquilised' Acoustic Set -
01. Just Like This
02. Too Late
03. Invisible
04. The Pain That Kills You Too
05. Wrong Direction
06. What If There's Nothing
07. If This Is Hope
- Electro Set -
01. Not What I Wanted
02. Under Control
03. Sick of You
04. Anything You Want
05. A Bullet Left For You
06. All The Things You Say
07. I Don't Want You In Here
08. Invisible
09. Wrong Direction
10. Reset To Default
11. The Pain That Kills You Too
12. Just Like This
13. More Than This
14. Parasites
15. Too Late
16. If This Is Hope
17. I Don't Fight Back
18. What If There's Nothing
---
19. Fuck U (ARCHIVE cover)
20. Papillon (EDITORS cover)
21. Observer
22. The Pages
---
23. I Hate You More Than My Life
24. Where Are You
25. Stay
Rating

Music: 10
Performance: 10
Sound: 10
Light: 10
Total: 10 / 10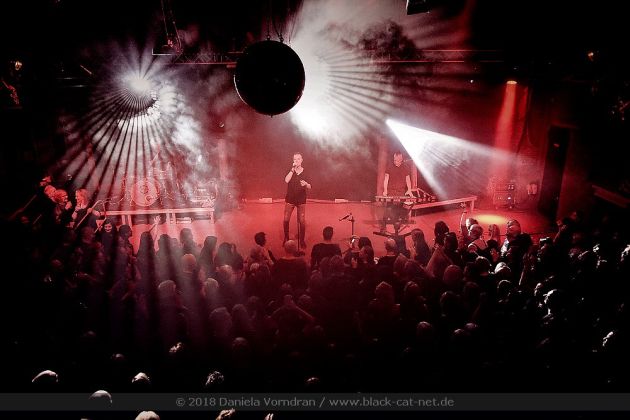 All pictures by Daniela Vorndran (
http://www.vorndranphotography.com
/
http://www.facebook.com/blackcatnet
)
See also (all categories):