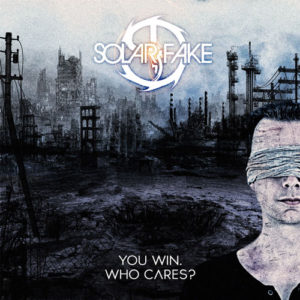 Artist: Solar Fake
Title: You Win. Who Cares?
Genre: Electro
Release Date: 31st August 2018
Label: Out of Line
Album Review

After over two years of (by his own admission) too much coffee and tea and not enough sleep, Sven Friedrich, also known as the frontman of Goth Rock formation ZERAPHINE and formerly DREADFUL SHADOWS, invites us to have another glimpse at the bleak reality of toxic interpersonal relationships by way of 'You Win. Who Cares?', the 5th studio album of his electro project SOLAR FAKE.
Over the course of 11 tracks, the distinctive voice of the singer takes us on a journey through self-doubt, futile attempts at matching expectations, and unbridgeable differences, wavering back and forth between anger, desperation and resignation. Matching the sentiment, the songs vary between distorted and aggressive takes and contemplative, more melodic arrangements, while always retaining drive and danceability.
Friedrich is also known for including cover versions on his albums and even called out for suggestions from the fans on Facebook earlier this year. The results this time around are covers of 'Papillon' by EDITORS and 'Fuck U' by ARCHIVE, and according to a note in the booklet a third cover had been prepared but was scrapped because the original publisher never even bothered to answer his request for permission. While both cover songs fit the general theme of the album, fans will have to at least buy the Deluxe Edition because they're placed on its bonus CD along with several remix versions of the album tracks contributed by other electro acts. As such they remain outsiders and will obviously receive less attention than would've been the case if they'd been placed on the main album. For the occasional listener, the bonus content of this edition might not even be enough to warrant the additional cost.
Yet, there is actually a good argument to be made for spending even more money to buy the Limited Edition Fan Box, and it isn't the included gym bag or the key chain, but the added bonus CD entitled 'Tranquilised'. As a continuation of the bonus CD 'Sedated' included in the fan box of the previous album, 'Another Manic Episode', it contains acoustic versions of seven of the new album's tracks, all arranged by Dirk Riegner, who's nowadays probably best known for his work for and with PETER HEPPNER. Backed primarily by piano and strings for these alternative renditions, Friedrich's undistorted, calm voice even turns the angrier songs of the main album into almost soothing yet wistful episodes. At the same time these versions emphasize the memorable vocal melodies, a solid foundation of the entire album that is sure to win over even those not usually inclined to listen to electro.
The acoustic side of Solar Fake has in fact proven so popular that the limited edition CD/DVD set of last year's acoustic tour (with Dirk Riegner on piano, Benni Cellini and M. Stolz of LETZTE INSTANZ as string section, as well as ZERAPHINE's Norman Selbig in addition to SOLAR FAKE's own André Feller on guitars) has already sold out, a fate not unlikely for the equally limited fan box edition of this new album.
Acoustic or not, early personal favourites are 'Invisible', 'The Pain That Kills You Too' and the closing track 'What If There's Nothing' (admittedly some of the calmer songs), but the album in its entirety is a consistently enjoyable listen without outstanding weak spots. At the same time the lyrical content is sure to keep you uneasy, because if you're looking for a happy ending or anything more than the tiniest sliver of hope in its haunting narrative, you'll be sorely disappointed.
Still, given the chance, SOLAR FAKE's new opus will be so much more than close to a dozen nice dance tracks and give you pause for thought and reflection, and that's certainly a win in my book. Whether you care for that or not, is entirely up to you.
Tracklist

01. Sick of You
02. Wrong Direction
03. A Bullet Left for You
04. Invisible
05. Anything You Want
06. The Pain That Kills You Too
07. Just Like This
08. Too Late
09. If This Is Hope
10. I Don't Fight Back
11. What If There's Nothing
Deluxe Edition Bonus CD

01. Papillon (Editors Cover)
02. Fuck U (Archive Cover)
03. The Pain That Kills You Too (Mr. Kitty Remix)
04. Just Like This (Patenbrigade Wolff Remix)
05. A Bullet Left for You (Ost+Front Remix)
06. Too Late (In Strict Confidence Remix)
07. The Pain That Kills You Too (Adam is a Girl Remix)
08. Wrong Direction (Random Starlight Remix)
09. If This Is Hope (Era Nocturna & Heavenly Creatures Remix)
Limited Edition Fan Box Bonus CD "Tranquilised"

01. Just Like This
02. Too Late
03. Invisible
04. The Pain That Kills You Too
05. Wrong Direction
06. What If There's Nothing
07. If This Is Hope
Line-up

Sven Friedrich - Composition, lyrics, vocals, programming… everything, really
André Feller - Live, keyboard
Jens Halbauer - Live, drums
Dirk Riegner - Arrangements, piano, instruments on 'Tranquilised'
Website

https://solarfake.de
Cover Picture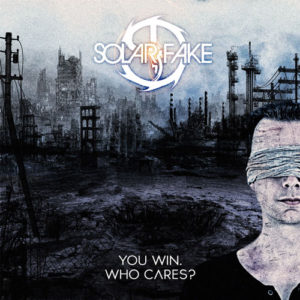 Rating

Music: 8 (9 including 'Tranquilised')
Sound: 9
Total: 9 / 10
See also (all categories):