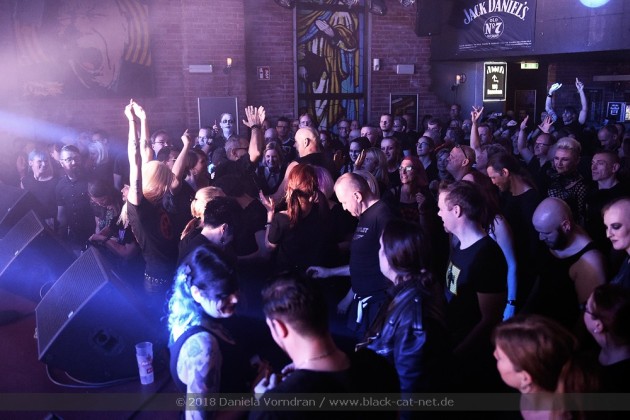 Kulttempel, Oberhausen, Germany
31st October 2018
Trick or Treat 2018 with Rotersand, [:SITD:], Noisuf-X & Formalin


The "Trick or Treat" on Halloween let the Kulttempel in Oberhausen be all about electronic music. Peter Jurjahn has set up a small festival with his crew in the most beautiful and best club in Germany (source: see the numerous bands and visitors who express themselves extremely positive after each visit). Already over 500 tickets were sold in advance and the line-up leaves no wish unfulfilled… so anything was made for neat anticipation.
Formalin


Since 2010, FORMALIN is shaking the dust off the Industrial genre with charismatic, club compatible and higgle addictive songs. Dominos and Garbor create cold cinematic sound designs with a harsh but melodic approach. The result is raw, beautiful, glamorous and stylish all at once. http://formalinmusic.com / https://www.facebook.com/formalin.music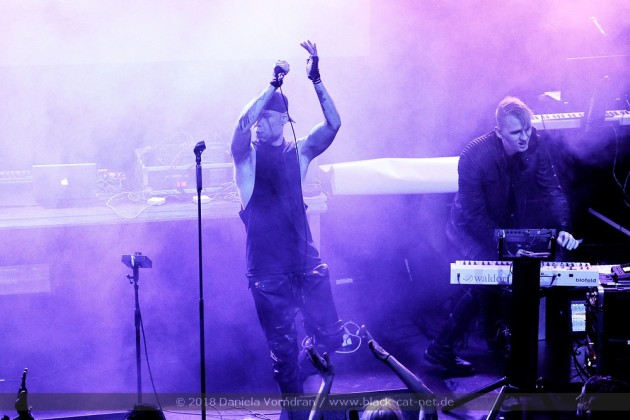 Music & Performance
The Berlin formation FORMALIN opens the evening with its own form of Industrial which brings a lot of charm with it. Danceable songs accompanied by a Waldorf synth and a first-class voice. The room fills up quickly and the crowd starts to dance. Tom and Gabor pick everyone up until the last song and the party mood has spread.
Setlist

01. Salvation
02. Tied And Blinded
03. This Isn't Love
04. Above The Sun
05. Supercluster
06. Yuppiescum
07. Deliverance Long
Rating

Music: 7
Performance: 8
Sound: 7
Light: 6
Total: 7 / 10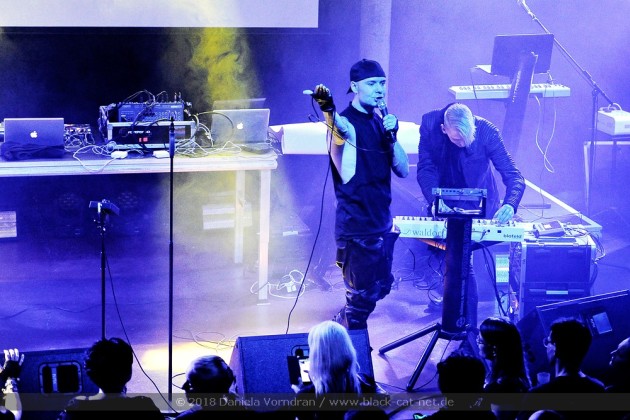 Noisuf-X


It was in 1988 when X-FUSION used the legendary C64 for the combination of electronic sounds with organ sequences and vinyl elements. The use of an Amiga 500 made sure that the first project was born, but the way to the foundation of NOISUF-X should be long. In the next few years X- FUSION created 10 own albums without getting a deal. He continued to expand his equipment and received several gigs at techno parties such as the Innovation Rave (Fantasy / Duelmen). The music style of X-FUSION developed into a Techno-/ Acid-/ House-style until 2000 and the first tracks with vocals were produced as NOISUF-X. http://www.noisuf-x.com / https://www.facebook.com/pg/NOISUFXofficial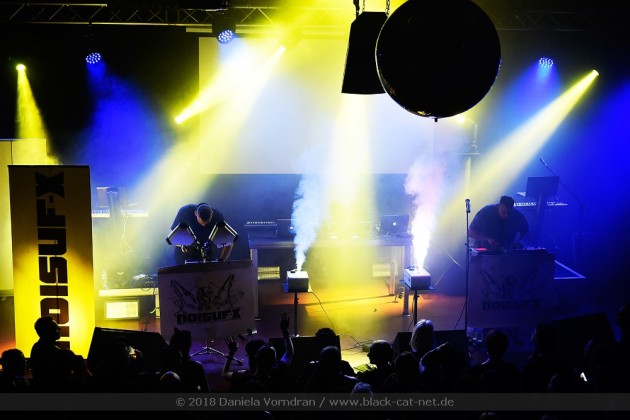 Music & Performance
With his music, Jan Loamfield has been provided full dance floors for years. So it is no surprise that both, the new and the older pieces, do not let anyone stand still. The hall is now finally full and the brought, color-coded fog machines provide with a drummer on two e-drum pads and neat flashlight for enough boost; so even relatively quieter pieces do no drop the mood. Even if the song 'Deutschland braucht Bewegung' was not on the setlist, the fans of NOISUF-X have internalized the theme and dance, dance, dance…
Rating

Music: 6
Performance: 5
Sound: 7
Light: 5
Total: 5.8 / 10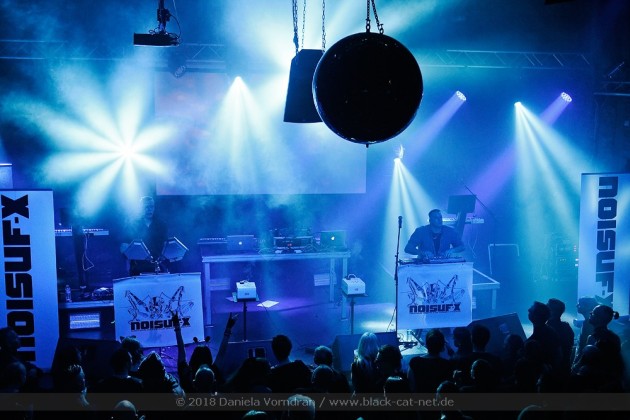 [:SITD:]


Their current release, 'TRAUMA: RITUAL', is the seventh studio album in the career of one of the most influential electronic bands from the Ruhr area. Rarely has a project already brought the club world to life in such a new way with its debut as [:SITD:] (short for Shadows in the Dark) was able to do with their first work, the 'SNUFF EP', and the all-time classic 'Snuff Machinery'. And so the sympathetic guys celebrate it to this day. With their albums they have left their mark on the Dark Electro scene worldwide, as well as with their energetic shows. https://www.sitd.de / https://www.facebook.com/pg/SITDofficial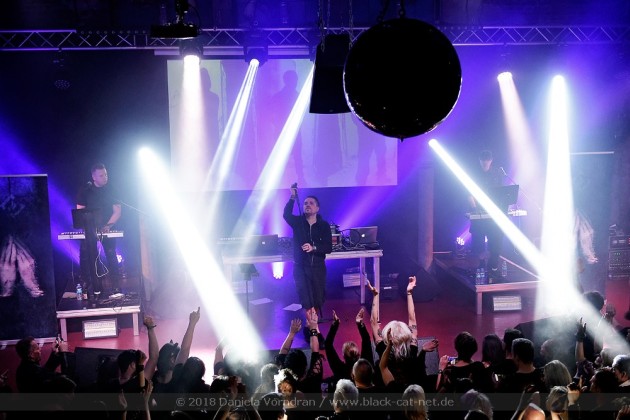 Music & Performance
Front man and singer Carsten Jacek, musical mastermind Tom Lesczenski and keyboarder Frank D'Angelo give us no time to breathe. Dancing is now combined with clapping… throughout the whole show. Who has not sweated so far starts sweating now. At least since [:SITD:] made a deal with the devil they have proven that they are not a one-hit-wonder. The well-rehearsed team creates a good mood and shows that even shadows should be celebrated.
Setlist

01. Stammheim
02. Kreuzgang
03. Brand Of Cain
04. Rose Coloured Skies
05. Relief
06. Laughingstock
07. Lebensborn
08. Herbsterwachen
---
09. Richtfest
10. Snuff Machinery
Rating

Music: 7
Performance: 8
Sound: 7
Light: 5
Total: 6.8 / 10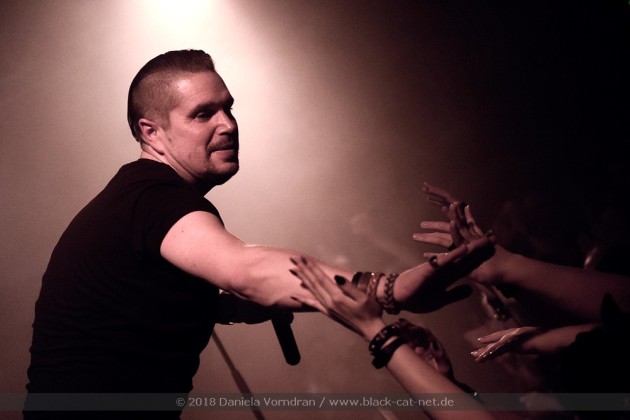 Rotersand


ROTERSAND say about themselves: ROTERSAND is a friend who accompanies you for a whole decade on the nocturnal hunt for industrialization. The animal next to you that twitches, stomps and finally jumps on you. If you want to take the animal home with you, it can also purr like a cat. With ROTERSAND, the beauty and the beast merge with complex elegance. ROTERSAND was founded in 2002 by vocalist and front man Rascal Nikov and musician and songwriter Gunther Gerl (Gun), after having previously collaborated musically in various projects. In the same year DJ and producer Krischan J. E. Wesenberg joined and completed the trio. http://rotersand.net / https://www.facebook.com/pg/rotersand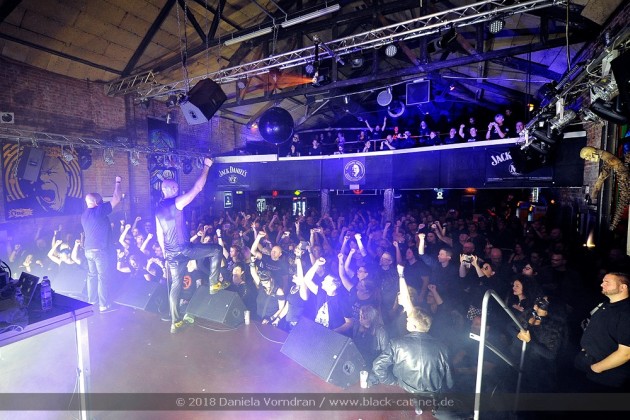 Music & Performance
ROTERSAND are only a duo nowadays consisting of Rascal and Krischan who took over the stage short past 23:30. Their music is often referred to Future Pop but has much more elements to find. The two have delivered a great performance. They are imposing characters who know how to take their audience with them. Be it clapping, dancing or just stretching their fists into the sky... full body use when leaving the stage and disappearance in the crowd. Everyone is dancing in front of the stage and in the upper ranks. People can sing along to almost any song because ROTERSAND have released a few more hits since their inception and conjure one earwig after another with a sure instinct for melodies.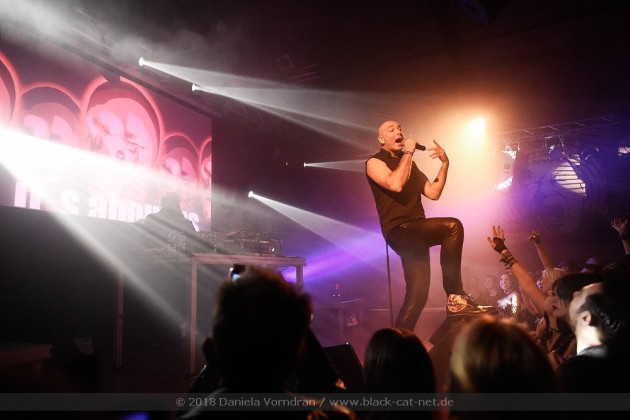 Setlist

01. Welcome Home (vinyl version of the new EP 'Hey You')
02. Dare To Live
03. It's About Us
04. Waiting To Be Born (based on the re-clubbed version)
05. First Time
06. Merging Oceans (long version)
07. Electronic World Transmission
08. I Cry
09. Torn Realities
10. War On Error
---
11. Exterminate Annihilate Destroy
12. Undone
Rating

Music: 8
Performance: 8
Sound: 7
Light: 6
Total: 7.3 / 10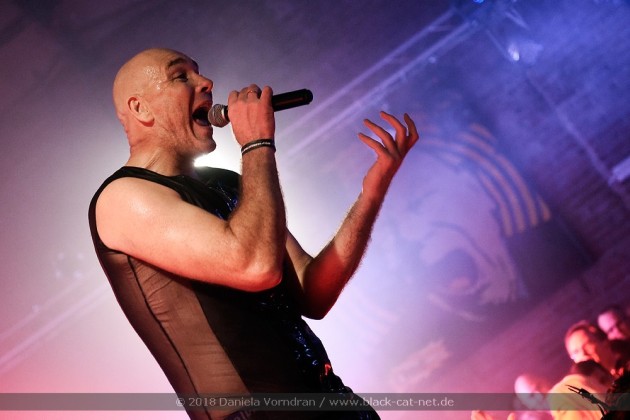 All pictures by Daniela Vorndran (
http://www.vorndranphotography.com
/
http://www.facebook.com/blackcatnet
)
See also (all categories):