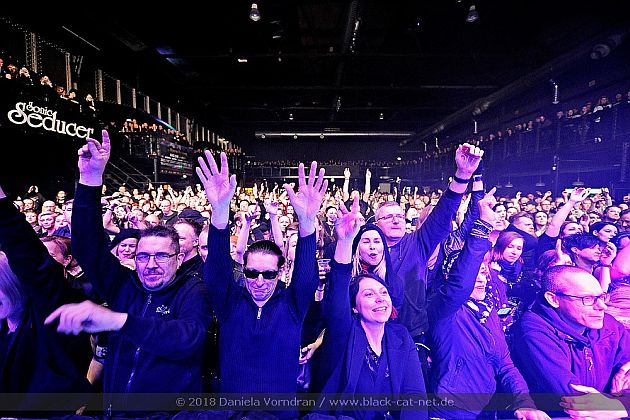 Turbinenhalle, Oberhausen, Germany
17th March 2018
E-Tropolis Festival 2018 with Jäger90, Forced to Mode, Lucifer's Aid, Eisfabrik, Xotox, Chrom, Spark!, Aesthetic Perfection, .com/kill, Nachtmahr, Frozen Plasma, Project Pitchfork, Rotersand and VNV Nation

For the 8th time the E-Tropolis opens its gates at the Turbinenhalle in Oberhausen and suddenly... it was sold out. It's safe to say that this festival emerged to one of the most important events in Germany when it comes to EBM, Electro, Industrial, Synth-Rock, and nearly everything else you could put under the Gothic-Electro banner.
The location, in the middle of the Melting pot of North Rhine - Westphalia, couldn't do itself a better job in perfectly fitting for the undertaking. In the center of an old industrial area, surrounded by old steel, rusty iron and cold, blank concrete, you got hit by images of surreal new technologies, surrounded and raised up out of the decay. This old factory was built for noise, crushing sounds and shocks and this day should be no exception. 4,500 Guests, cheerfully dressed in black, surged to the hall.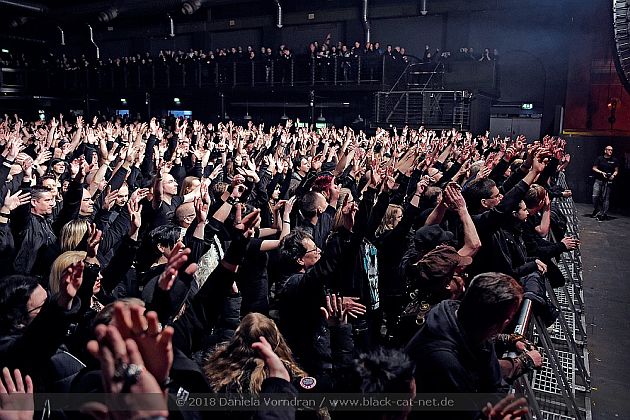 On the other hand the weather, despite the fact that spring should be arriving any time soon, found it highly amusing to bring back winter. Winter in the manner of good old G.R.R. Martin. It was freezing cold. Snowfall caused traffic snarls across Germany and trains delayed. So did I. Rushing into the location without further decelerations thanks to the security, I changed my money for tokens just to realize that you can't use them for everything. The lockers, for instance, required a pledge. Instead of a wardrobe the Turbinenhalle uses lockers. So far, so good and if your stash is no bigger than 30x30cm, it may reach for you. I decided to take two… After I grabbed my first coke in a stylish plastic cup, the first band started to play.
Jäger 90

Early in the morning (2p.m.) Thoralf Dietrich entered the stage to open the festival. Old-schooled, analogue, spiced with a noticeable DAF influence, he and Marcel Lüke (drums) started to wake up Oberhausen. The honest and blank tone is presented without various flourishes. Not without a smirk ("da stehen wir nicht drauf"), but annoyingly audible sound problems, they punched their beats into the joints. It seems that the FoH had also a slow start in the day. // http://www.jaeger90.com / https://www.facebook.com/jaeger90 // Setlist: 01. Bisschen mehr von Dir / 02. Ich schwitze / 03. Neuer Tanz / 04. Wie Du / 05. Brauchen kein Feuer / 06. Zeig's mir / 07. Jäger 90 / 08. Dessau / 09. Achtung ein Jäger / 10. Gib mir deine Hand / 11. Stiefelblitz / 12. Sonne und Regenfall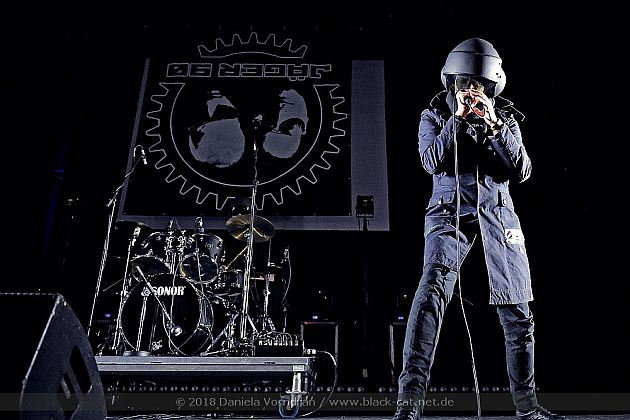 Forced to Mode

After a short pause there was time for a wave of nostalgia in its purest form. FORCED TO MODE - The devotional tribute to DEPECHE MODE. Get the name, get the band. When it comes to this three Berlin musicians, it is that easy. As near as possible to the original, Christian Schottstädt and his colleagues presented in best mood an atmospheric best of DM album. Slick catching the crowd and noticeable raising the mood barometer the temperature reached a new high. // http://www.forcedtomode.de / https://www.facebook.com/forcedtomode // Setlist: 01. Black Celebration / 02. Shake the Disease / 03. People are People / 04. A Question of Time / 05. Personal Jesus / 06. Enjoy the Silence / 07. Photographic / 08. Never let me down again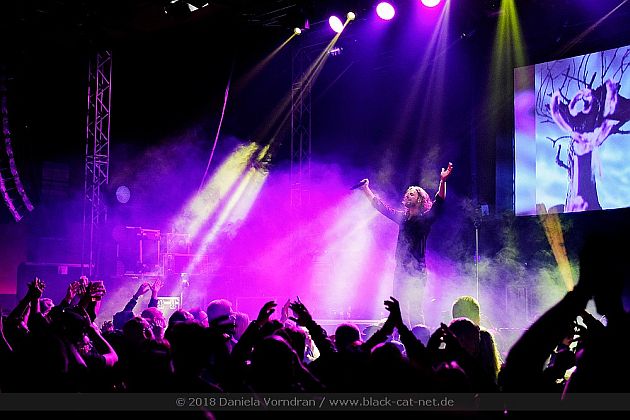 Lucifer's Aid

At 03:40, LUCIFER'S AID opened the 2nd stage with his harsh, monotonous beats. Behind this young project is Calle Nilsson from Sweden who yells his minimalistic texts over the flat baseline. Under- and overacting at the same time. Nothing that gave me chills, so back to the gradually filling main stage. // http://www.lucifersiad.com / https://www.facebook.com/lucifersaid // Setlist: 01. Deny / 02. Control Yourself / 03. The Warning, Future Mess / 04. Unfollow Me / 05. No Way Back / 06. Confusion / 07. Suffer In Silence / 08. Deep Inside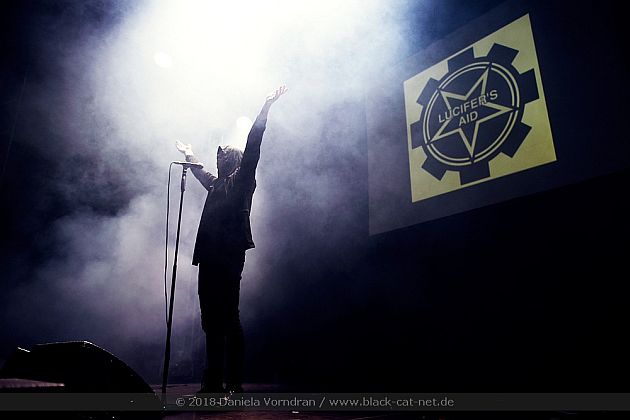 Eisfabrik

Remember the weather I mentioned in the beginning? These guys could be the reason for that! From Germany's capitol music city Hamburg, Dr. Schnee, Frost and Celsius, aka EISFABRIK, were recreating the winter for the stage in Mr. Freeze style. Dressed suspiciously in white, surrounded by cold coloured laser beams, playing on synth that could have be stolen from the Fortress of Solitude, paradoxically warming up with their melodic Future Pop and dark voice. Even snow (and they let it snow) impels the masses, to enjoy their dancing even more. Winter has come! // http://www.eismusik.de / https://www.facebook.com/eisfabrikofficial // Setlist: 01. Soon Enough / 02. Polar Night / 03. A Million Lights / 04. Maschinen / 05. The Choice / 06. Schneemann / 07. The Survival of the Strongest Mind / 08. White Storm / 09. Walking towards the Sun / 10. Friends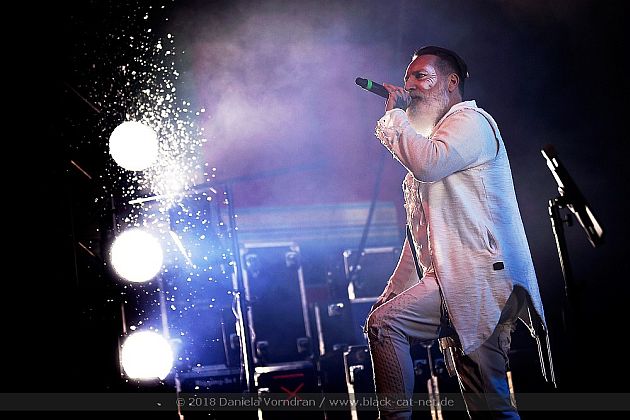 Xotox

A completely different picture presented Andreas Davids aka XOTOX meanwhile on the 2nd Stage. One of the very first industrial acts in general (happy 20th anniversary) distempered the moving crowd with contorted beats, feverish screams, in brutal, direct destructive loudness and the dancing and sweating fans where grateful for that. He didn't give much room to take a breath (even when he promised it) and gave 40 minutes an uncompromising rush through his impressive discography. // http://www.xotox.info / https://www.facebook.com/xotoxmusic // Setlist: 01. Intro / 02. Fieber / 03. Eisenkiller 2k13 / 04. PD / 05. Sla Tillbaka / 06. Schwanengesang / 07. IDOBN / 08. Revolution non-stop / 09. Notwehr / 10. Rhythmuskaputt / 11. Alte Muster / 12. I want you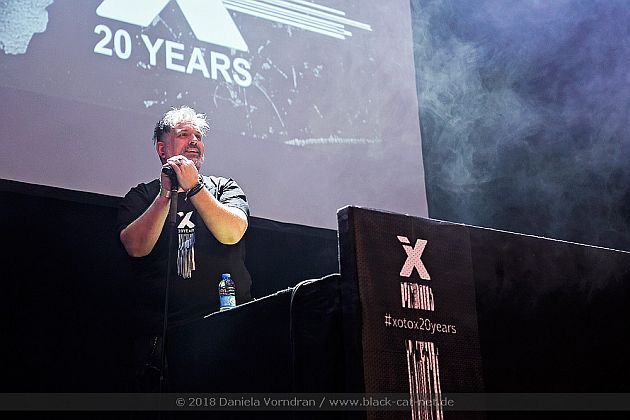 Chrom

17:15. The festival is now distinctly filled and the audience in remarkable good mood. Best conditions for CHROM. Just a few years ago, only an insider's tip, Christian Marquis and Thomas Winter evolved to a well-known format on the tableau. They didn't need much time to get to the crowd and to fill up the room with their melodic sounds, somewhere between Synth Pop, Club Electro and milder EBM. Sadly it seems that the FoH still was drowsy. The technical problems I mentioned earlier, continued. Clearly listenable it was not the best time for the sound engineer, sorrowful compromising the atmospheric highs from 'Losing myself' to the end. It seems that In-Ear is not a safety grail and sometimes the vocals went a bit off-tone. Fortunately the audience didn't care much about it and concentrated to have as much fun as possible. // http://chrom-music.com / https://www.facebook.com/CHROM-106585156057408 // Setlist: 01. Walked the Line / 02. Memories / 03. Morbid Mind / 04. Losing myself / 05. Loneliness / 06. Starring at the Sun / 07. Visions / 08. Start of something New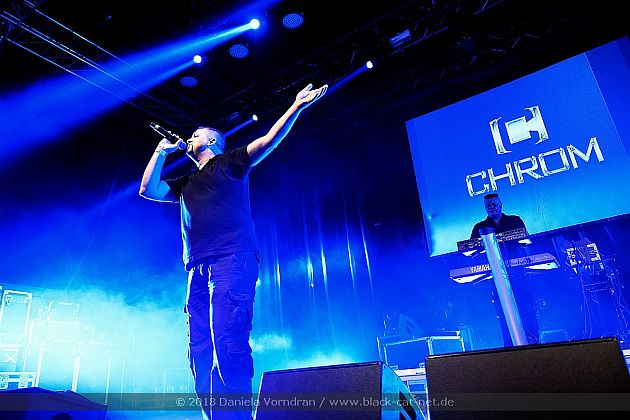 Spark!

Back in the smaller hall I stumbled over the biggest surprise of the E-Tropolis. SPARK! from Sweden. Two colourful guys on stage, wearing clown-masks. Some things sounded a bit strange to me. Not the vivid bass, or the clear reeling drums, it was the vocals of the texts, presented in best Synth-Pop manner itself! I didn't understand one bloody word. SPARK!'s texts are in Swedish language. Unusual, but after a while really funny and unique. Behind one of the masks is Christer Hermodsson (known from the cult project S.P.O.C.K.). He explained very early that it is not that important to understand the texts. Mostly it's about life in general. Fair enough! Fun was the main theme of the gig. Fun to listen, to watch and to dance to. And in the end I learned one thing: 'Alla på en gång' is not just a good song, but means all together at once. // https://www.facebook.com/sparksomfan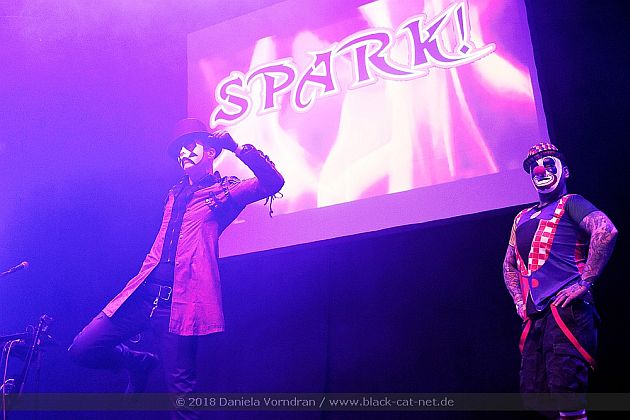 Aesthetic Perfection

AESTHETIC PERFECTION entered the main stage and like a perfect limelight hog, front man Daniel Graves controlled the planks that mean the world. It's obvious that AESTHETIC PERFECTION has a large fan base and without hesitation they started with one of their most popular songs, 'Antibody'. In an intelligent mix of Aggrotech and Future Pop, synthetic, crashing sound filled the room and forced to move. With full success. Daniel uses the stage as his personal catwalk. Keyboarder Elliot Berlin, incessantly dancing around and on his Instrument, giving the fans nearly no time to take a breath. After one hour the Los Angeles based band released the burning crowd appropriate with 'Spit it out'. // http://www.aesthetic-perfection.net / https://www.facebook.com/aestheticperfection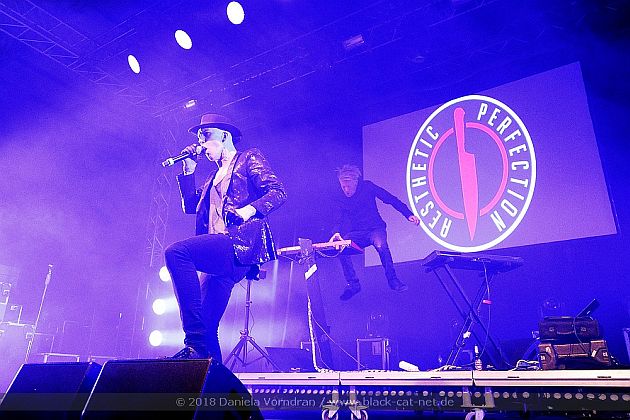 Time to grab a cup of juice (The drinks menu was extremely easy to read. Nearly everything costs the same, so why bother with boring water?) and waiting for the things to come.
.com/kill

After their fabulous appearance at last year's M'era Luna Festival, the electronic project of DIARY OF DREAMS' mastermind Adrian Hates paid now a visit to the E-Tropolis Festival. Since Gaun:a took a break from DIARY OF DREAMS and also from .COM/KILL, Adrian was supported on stage by DOD mate Max on keys and for some backing vocals once more. The sound was danceable and electronic, the lyrics minimalistic and repetitive. People couldn't stand stull during the whiplashing beats and darkly atmospheric sounds, accompanied by flickering lights. Just like during the M'era Luna show, Adrian, this time accompanied by Max, jumped into the pit to give away several CDs of the band. Of course the fans in the front rows raised their arms enthusiastically to get one of the CDs. All in all once more a great show and one can be curious about the new album to be released hopefully soon. // http://www.comkill.me / https://www.facebook.com/comkill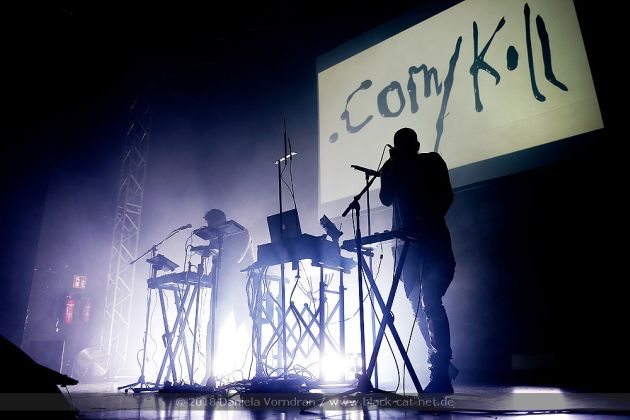 Nachtmahr

What would a Gothic festival be, without a controversy? A bit too decorous, so bring it on! A task NACHTMAHR just accepted far too willingly. Skilled the formation around "Supreme Commander" Thomas Rainer, for decades well-known for his work for L'ÂME IMMORTELLE and SIECHTUM, gambles with every cliché around Fascism, military domination, brutality and forced domination. The stage flanked by red banners, the cantered screen showing b/w snippets in 8mm quality, the artists (when) dressed in uniforms. The heavy, distorted beats, driving bass lines perfectly fitting the scheme and location. Besides all justified, or unjustified critic, Thomas knows how to rule an audience, willingly to give in to the fast beat. Even the setlist cleverly pushed the guests to move more and more and you could hear dried screams, when the dancers started to cut away the shirts (I'm not complaining). Not a flawless performance from the Austrian, but experienced and sly. // https://www.facebook.com/nachtmahr.band // Setlist: 01. War on the Dancefloor / 02. Liebst du mich / 03. Weil ich's kann / 04. Wir schreiben Geschichte / 05. Firmament / 06. Kampfbereit / 07. The Torch / 08. Mörder / 09. Tanzdiktator / 10. Mädchen in Uniform / 11. BoomBoomBoom / 12. Feuer frei! / 13. Strenge Liebe / 14. Tempus Fugit / 15. I believe in Blood / 16. Katharsis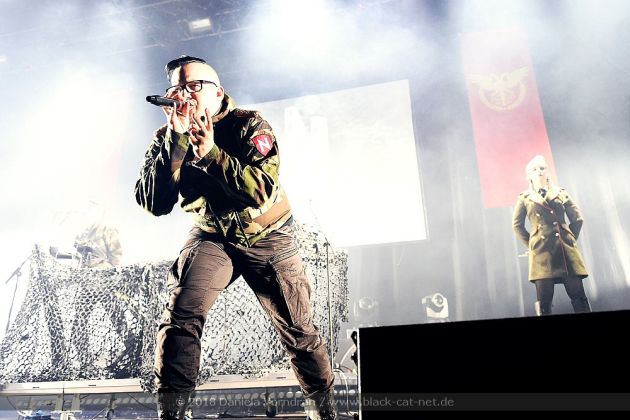 Frozen Plasma

In meantime FROZEN PLASMA gave a far milder and melodic set on the 2nd Stage. Announced as best and most handsome band of the evening (by bribed moderator Jens), they started their gig with 'Age After Age', grateful presumed by the audience from the very first tone. With their nearly dreamy Electro Pop, Vasi Vallis and Felix Marc gave a direct counter-programme to the main stage. Enthusiastically dancing and clapping fans cheering up, with every change of pace and verified willingly the chill out area for the moment. // https://www.facebook.com/FrozenPlasma // Setlist (incomplete): Warmongers / Age After Age / Foolish Dreams / Safe From Harm / Tanz Die Revolution / Murderous Trap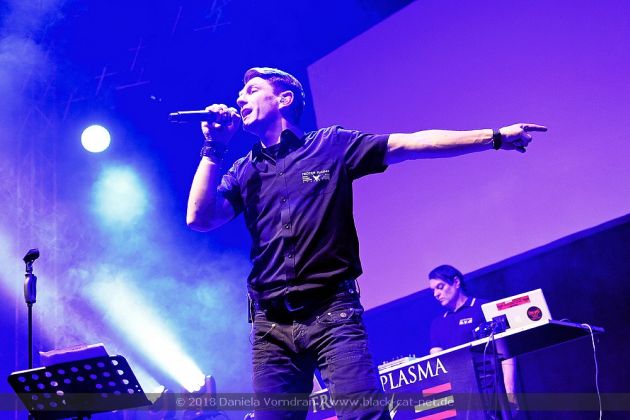 Project Pitchfork

The next band on the main stage is really not known for a chill-out and they were building up on stage without giving a false impression. It's safe to say that PROJECT PITCHFORK are veterans of the scene. Founded in the year 1989, Peter Spilles and his colleagues spent more time successfully in the business than a lot of their fans on the planet. Numerous DAC and MCC positions. Echo Nominations. It's highly probably that you'll hear at least one song every weekend in an alternative club. Always recreating themselves without losing too much on the way. Setting a clear statement they build up three drum sets and an impressive, opulent LED wall in the back. Massive orchestrated they gave the masses what they deserved and Peter Spilles' voice was on point. Due to the meticulous arranged light-effects, always creating the perfect atmosphere, to suck the audience into their world. Knowing that the time is merciless ticking on a festival, they skipped the game of leaving the stage, waiting for the typical "Encore" cries and raising applause, just to re-enter and directly said we'll give you more. Nicely done boys. // http://www.project-pitchfork.eu / https://www.facebook.com/ProjectPitchfork // Setlist: 01. Akkretion / 02. IO / 03. Rain / 04. Timekiller / 05. Human Crossing / 06. Endzeit / 07. Antidote / 08. Souls / 09. Mine (Beast of Prey) / 10. Onyx / 11. Entity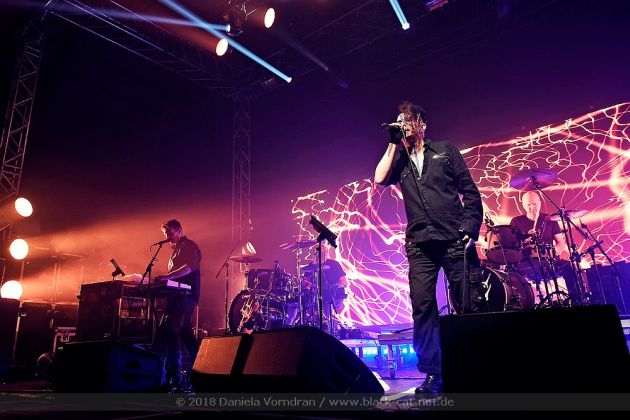 Rotersand

It's an unlucky position to have to play between and during two Mammoths, but when someone knows about hard conditions, than a band named after the very first human construction on the seabed. Like the lighthouse, ROTERSAND was meant to be recognized and continuous reached high standings in the DAC. Easily filling the 2nd floor with dance willing fans. With their big beats and driving bass lines, Rascal Nikov and Krischan Wesenberg pumped the room with their energy and forced the people to move. Like most of the bands, sometimes the fight with the bumpy sound technics was obvious and for a couple of short moments far not convincing as on CD, they created still a high energetic concert. // http://www.rotersand.net / https://www.facebook.com/rotersand // Setlist: 01. Merging Oceans / 02. Lost / 03. Dare To Live / 04. About us / 05. Waiting to be born / 06. Welcome Home / 07. Capitalism TM / 08. Electric Elephant / 09. First Time / 10. Torn Realities / 11. Electronic World Transmission / 12. War on Error / 13. Exterminate Annihilate Destroy / 14. Undone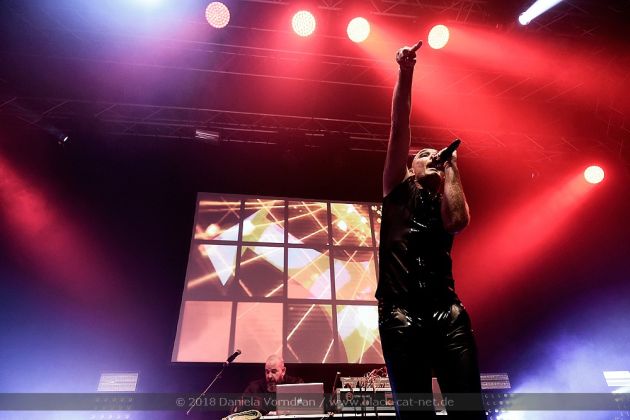 VNV Nation

Speaking about primal rocks, this year's headliner VNV NATION actually don't need any presentation. Without any question the project around Ronan Harris is one of the most popular and influential bands in the alternative sector. The slightly overfilled main-hall welcomed the Irish like heroes with a stormy applause. In excellent mood and thanks to the sentiment of the overall positive day, it was time for the final sprint to the climax. To be honest, sometimes it seems that we are getting old. Not that much the dancers we used to be, more the light on one spot swaying veterans. We became slow sing-along savours. Ok, to be fair, if you are a fan of the very first hour, you are partying to VNV NATION at least for 27 Years! Nonetheless the mood couldn't be better.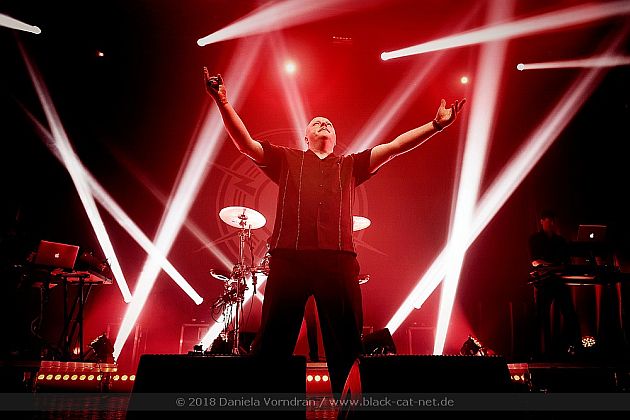 Ronan visibly enjoying himself on stage and gave with his firm voice a well-balanced tour through his discography. It is not without risk to sing songs you didn't perform for over eleven years, but no risk, no gain. The more experienced fans were pleased. You could see that the front man was watching the crowd and the surrounding very carefully. Grapping a cell phone of a fan, right in the middle of 'Nova' to take a pic? Reaching for a cap of a security guard and making sure that people realising the hard work of the helping hands? No problem. All in all a great show and a harmonious final chord for a successful and peaceful E-Tropolis 2018. // http://www.vnvnation.com / https://www.facebook.com/VNVNation // Setlist: 01. Retaliate / 02. Sentinel / 03. Testament / 04. Entropy / 05. Further / 06. Legion / 07. Honour 2003 / 08. Primary / 09. Illusion / 10. Resolution / 11. Space and time / 12. Control / 13. Nova / 14. Beloved / 15. Perpetual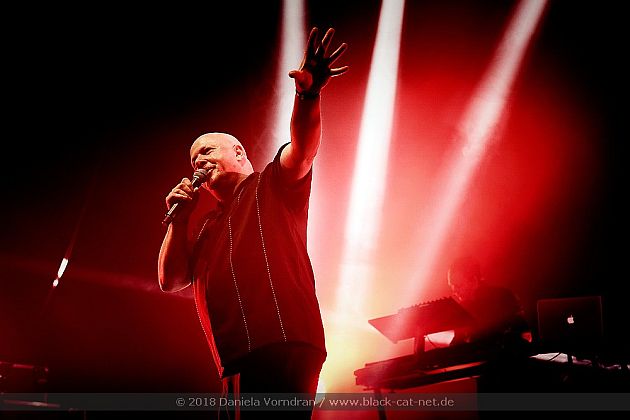 All pictures by Daniela Vorndran (
http://www.vorndranphotography.com
/
http://www.facebook.com/blackcatnet
)
See also (all categories):