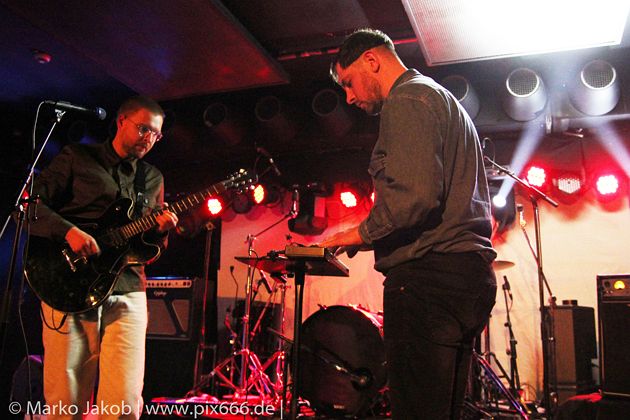 BiNuu, Berlin, Germany
24th March 2018
Dark Spring Festival 2018 with Motorama, Whispering Sons, Golden Apes, A Projection, Sweet Ermengarde

There's always a buzz around Berlin's one day festival DARK SPRING. Everything from the artwork on the posters and tickets, to the varied and interesting line-ups each year, show a lot of care and attention is put into each event, and this year was no exception, selling-out in advance, a palpable sense of anticipation and excitement as soon as the doors opened…
Sweet Ermengarde
Germany's SWEET ERMENGARDE emerged onto the foggy stage as only a Goth band can. Singer Daniel, looking tonight like a cross between a young Ian Gillan and Jack White, takes no time at all to settle into the deep growl beloved of eighties goth-rock bands the world over. Hair and mic-stand issues aside, the songs were powerful and hypnotically dense for the most part, but where it all slightly tumbles out of grasp is when the vocals stretch to a higher register and the melodies get lost. Whether these are limitations of the songs or just a bit of a bad night was unclear, but at times there were meandering passages with nothing to latch on to. The song 'Sweet Ermengarde' for example, was almost a piece cut in two… at times its stately grumble and pulse losing out to a degree of tunelessness and wobble. But in all fairness, the guitars chimed as indeed they should, there was a thumping bass sound throughout and the percussion was fierce. And the room filled nicely after a couple of songs - always good to see for an opening act. The audience reaction was strong and both the sound quality and light show perfectly suited the bands brand of gnarly dark rock.
A Projection
Always good to have contrast at events like this, and Sweden's A PROJECTION certainly provided that. By now the venue was completely full, and there was an instant swell of cheering and hands as soon as the band launched into their set. Standing still is clearly not an option on stage either, the whole band making good use of the stage, their energetic vocalist coming across like a less manic Ian Curtis at times. Musically there's a lot to love here, a very distinct style that becomes apparent straight away, yet with odd influences popping up all over the place. There's certainly plenty of early NEW ORDER to be heard in the more danceable songs, bits of THE CURE, even more recent indie darlings PRINCIPE VALIENTE. The bass sound was especially addictive, commanding each song in a way more bands should try, and it suited immensely the twitchy, urgent, almost new-wave sound at times. There were washes of synth throughout too, and strong melodies supported by strong choruses – always a winner. At times the stark white lights suited the colder, INTERPOL-sounding songs, warmer reds and blues flashing up when things got less intense. A band to watch, they engaged well with the audience throughout, and kept things interesting from start to end. Good stuff.
Golden Apes
Home-soil territory for GOLDEN APES, up next. Is it me or does there seem to be an additional member every time we see this acclaimed German Darkwave band? Six of them on stage tonight, and a glorious racket was made by all. There was smoke – there's always smoke with GOLDEN APES – be it the swirling fog billowing stage-ways, or the crafty cigs smoked throughout by elegant frontman Peer, a man who can wrap himself around a mic-stand like a gothic snake. There's fragility and grace underpinning many of the songs on offer tonight, 'Ignorance' being a fine example of weary melancholy buried seductively under a wall of sound, and again, an excellent light-show throughout the set adds colour and depth in all the right places, picking out the nuances from the more epic moments. More recent songs like 'Ocam's Razor' sound fresh and inventive, and the finale 'The Happy Loser's Sweet Delusions' rumbles and roars like a beast. An assured, diverse and intense set in all, GOLDEN APES always deliver at this level. // Setlist: 01. Voykova / 02. Ignorance / 03. Verity / 04. Shadowplay / 05. Missing / 06. Occam's Razor / 07. Kasbek / 08. Ferryman / 09. The Happy Losers' Sweet Delusions / 10. Jump
Whispering Sons

Five-piece Post-Punk band WHISPERING SONS, from Belgium, are really something, and get the biggest reaction of the night so far. Their sound is heavily layered and intricate, at times brutally stark, especially when supported by fuzzed-up guitar. There are shades of X-MAL DEUTSCHLAND here – no bad thing – and singer Fenne Kuppens has an extraordinary voice. Deep, and at times monotonous, it lulls you in and almost soothes you into submission, before occasionally doing the unexpected and shaking you out of your reverie. She has a good range, and knows exactly when to be subtle and subdued, and when to show power and passion, often standing motionless before menacingly stalking the stage. The rest of the band also switches from glued-to-the-spot to bursts of frantic energy, and whether it's deliberate or not, it makes for a disturbing and unpredictable spectacle. There also seems to be a steady and gradual build-up of tension and energy in the set-list, from sparse, post-punk beginnings to a more frenetic and urgent race to the finish. There's something deeply hypnotic about the repetition present in many of the songs that seem suddenly to burst out of themselves and hurtle you forwards, and the crowd certainly pick up on this and show their appreciation. It's a masterful set and one that could easily have seen them here as headliners… // Setlist: 01. Alone / 02. White Noise / 03. Performance / 04. Strange Identities / 05. Got A Light / 06. Stale Mate / 07. Hollow / 08. Wall / 09. Waste / 10. Dense / 11. Insights
Motorama

…and more's the pity because MOTORAMA, from Russia, fell far short of that title at times. It didn't help matters that the change-over was too slow, and some of the atmosphere and excitement from the previous band began to rapidly seep away. There seemed no urgency from the band to get started, and their almost shambolic appearance on the stage smacked of unprofessional and half-arsed. There were long pauses between songs too, and the crowd definitely struggled to engage at times, despite the best efforts of the die-hard fans at the front. The music itself helped rescue things at times, some stark and harsh Cold-Pop pogoing along nicely, occasionally some fine indie guitar-work reminiscent of I LIKE TRAINS, and splashes of almost jittery, happy New-Wave which occasionally veered off nicely into THE HORRORS territory. But again, the gulf between band and audience never seemed to lessen, the static band appearing to just go through the motions, and after a time, even the songs began to lap up against each other like a tired tide. In truth, MOTORAMA are simply not interesting enough, nor do they have enough variety in their music, to sustain a long, headline set.
No matter though, as the festival delivered, as it always does, a widely mixed-bag of acts and entertainment. It was hugely satisfying to see a full-capacity venue, and be a part of a highly professionally run, but immensely fun, event. All credit to the organisers, the venue itself, and to the light and sound engineers, who certainly played their part in making this event a total success. Until next year!
All Pictures by Marko Jakob
See also (all categories):