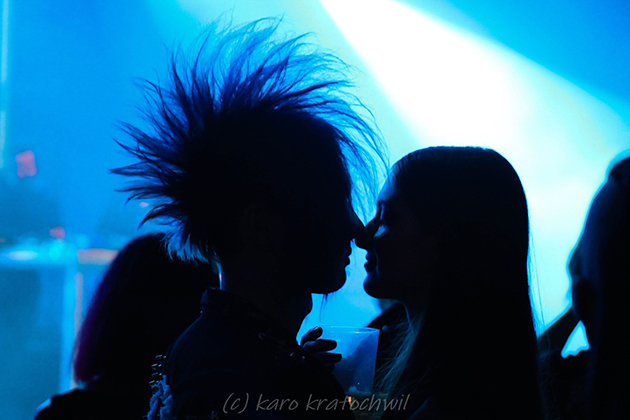 Multiversum Vienna, Schwechat, Austria
9th to 10th November 2018
Schattenwelt Festival 2018 with JanRevolution, Dark Side Eons, H:EXE, Sad Dolls, System 84, SITD, Whispers in the Shadow, AD:keY, Kirlian Camera, The Flatfield, Schramm, Amnistia, Lahka Muza, Ash Code, Frozen Plasma, Orange Sector, Diorama, Siva Six, And One

Schattenwelt Festival took part for the fourth time. It's an exceptional event that combines both a grand scale, cosiness and perfect organization. The venue being the Schwechat centrum Multiversum enables a lot when it comes to sound, light and scenic arrangements while the careful selection of the bands for the line-up attracts the most fantastic audience. It is the main factor that makes the event so special.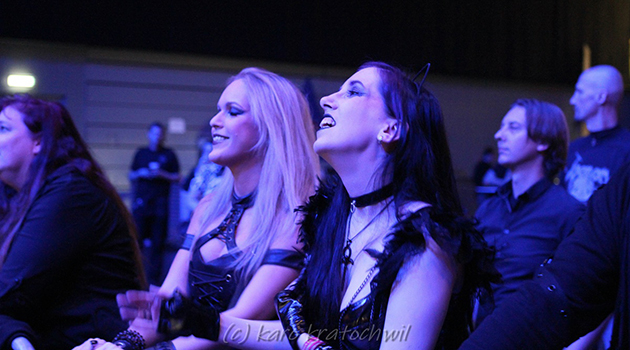 What has to be said at the very beginning is that the organization of the whole event, security and the friendliest staff were the essence that made Schattenwelt one of the festivals I'll hold dear in my memory. During two festival days we could see nineteen bands. Each of them presented a different tone to dark alternative music. The concerts took place on two stages - a smaller, club one where the dynamic, dancy sounds dominated, and the main one where emotions, guitars and metal power prevailed.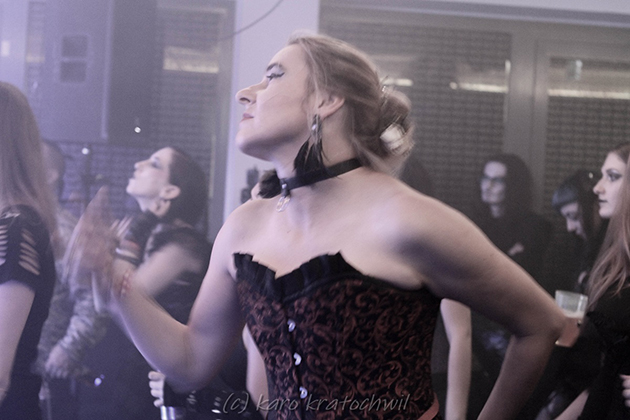 On Friday the line-up was as follows: JanRevolution, Dark Side Eons, H:EXE, Sad Dolls, System 84, SITD, Whispers in the Shadow, AD:keY i Kirlian Camera. On Saturday we could see The Flatfield, Schramm, Amnistia, Lahka Muza, Ash Code, Frozen Plasma, Orange Sector, Diorama, Siva Six, And One. https://schattenwelt-festival.at/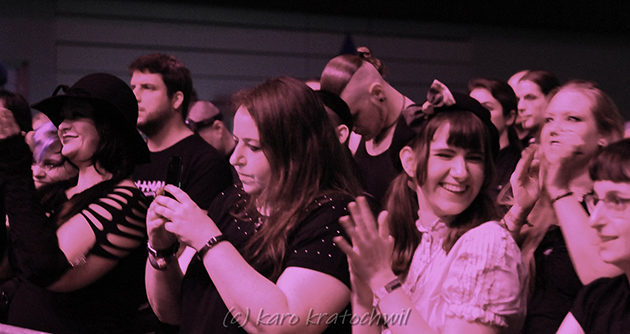 Friday
JanRevolution

JANREVOLUTION - the band that opened the festival at club scene - is the project of Jan Borkowski and Alex Ha founded in 1998. They mix Synth, Electro, Rock and Pop in their music and so was the prevailing sound of the concert. Dynamic melodies combined with gentle, vibrant vocals gave a highly dancy and energetic effect. The vocalist's charisma and engagement encouraged the audience to start moving and so the festival could be considered as open. // https://www.facebook.com/JanRevolution.Music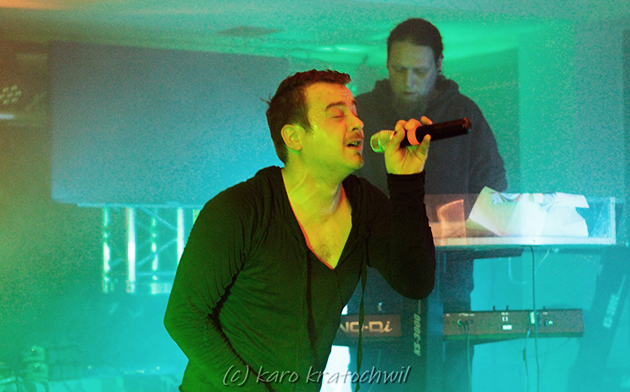 Dark Side Eons

The next on the club scene was a Polish Synth Rock Gothic Electro band DARK SIDE EONS. It's a duo created by Leszek "Morph" Trzaska and Kasia "Moonskin" Trzaska. They've been active since 2012 and they've been playing concerts live since 2014. When it comes to their inspirations, they mention, e.g., COVENANT, CLAN OF XYMOX or DIARY OF DREAMS. I must say their concert was one of my personal highlights during the festival, since what they presented on the stage was simply fantastic! Harsh vocal combined with guitar power and synthesizers' dynamics stood for a real explosive mix. Highly catchy notes, the vocal passing from gentle to hard, goose bumps provoking tones and guitar passage hits were magnificent indeed. Just like a fast speed of some chosen pieces that encouraged the audience to dance. The band presented some tracks of the album released in 2016 ('Eclipse'), for example: 'Ghosts', 'Infinity Equals Zero' or 'Machine'. // https://www.facebook.com/darksideeons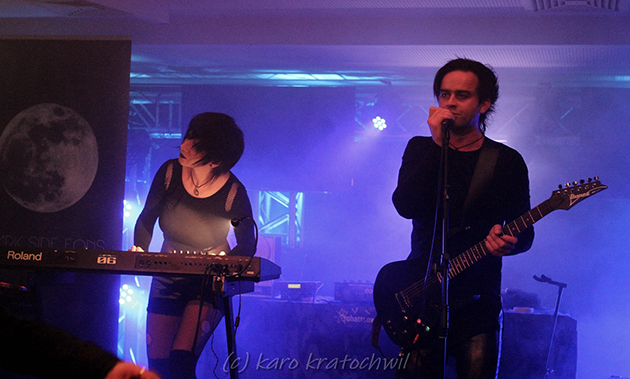 Krankheit

After the show I moved on to a main stage area for the concert of KRANKHEIT. The band, which is extremely colourful when it comes to their apparel, was founded in 2011 and plays Dark Metal. During the concert I could also catch some Industrial elements, but what prevailed throughout the show was definitely the power the band draw from Metal music. Their trademark is definitely a highly expressive scenic image - heavy demonic make-ups and outfits perfectly go with the music the band presents. And the music is as dynamic as hard and powerful. Harsh, rumbling vocal supported in its sonic blast by raging, heavy sounds of guitars and drums as well as cold electronic needles produced the most splendid, overwhelming effect. KRANKHEIT's music is vibrating and energetic but also dark and profound. Add to it the visual part of the concert I mentioned before: mimicry, engagement and particularity about the detail and you'll get a bit theatrical effect. Very strong, good concert. // https://www.facebook.com/Krankheit.Band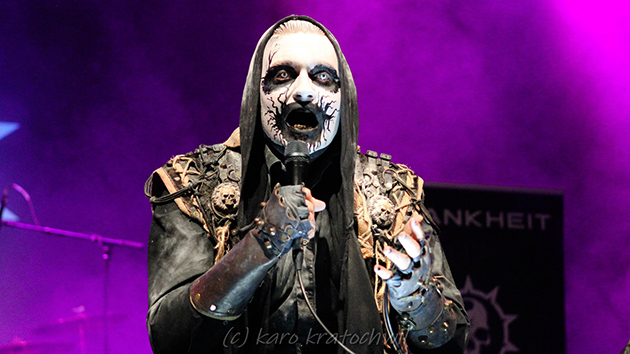 Sad Dolls

The Greek Gothic Rock project SAD DOLLS played extremely stylish sounds in the flood of climatic lights. Powerful guitars and emotional vocal created a strong, reverberating effect. The project released three studio albums so far and their recent one of 2017 is entitled 'Blood of a Kind'. // https://www.facebook.com/saddolls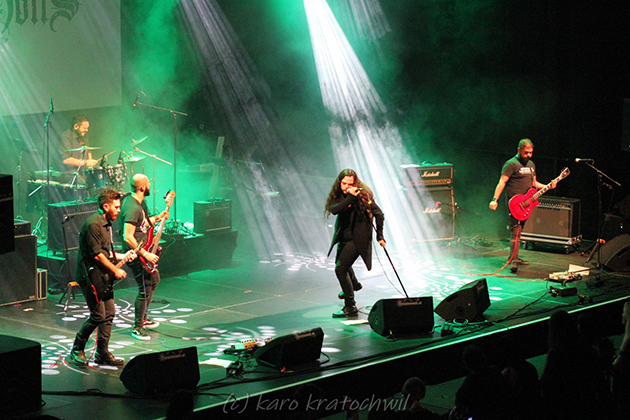 System 84

The next project at the club scene was SYSTEM 84. Tom Binder and Hannes G formed the duo in 2013. What they offer is extremely dancy and dynamic EBM. Their recent release is 'True Happenings' of 2017. Catchy, vibrant sounds and the relevant image was what we could see on the stage. The artists wearing specific costumes and blinking with lights in the darkness, danced, chanted their songs to the rhythm of fast-traced, vibrating tones - it was a perfect mix to have good fun. // https://www.facebook.com/ebm.system84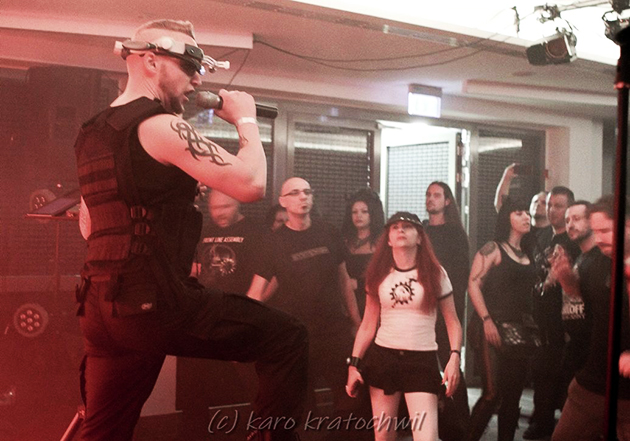 H.EXE

The Polish Dark Electro Metal band H.EXE appeared on the stage right after. They play extremely hard, dynamic gigs and they proved to be a real stage killers at many festivals they have played since they were founded in 2010, for example at Castle Party or Wave Gotik Treffen. The bands that inspire them are e.g. SAMAEL, TIAMAT or DIE ANTWOORD. The artists covered in dim light and smoke made a great use of powerful guitar, diabolic vocal and cold synthesizers. Odo's - the band's frontman - style is very specific and it is strongly related to metal concerts hence the head-banging, aggressive full force drive and expressive mimicry he presented on stage. The combination of industrial power and metal is ravishing so it's no surprise the audience got highly engaged in the concert. // https://www.facebook.com/HEXEpl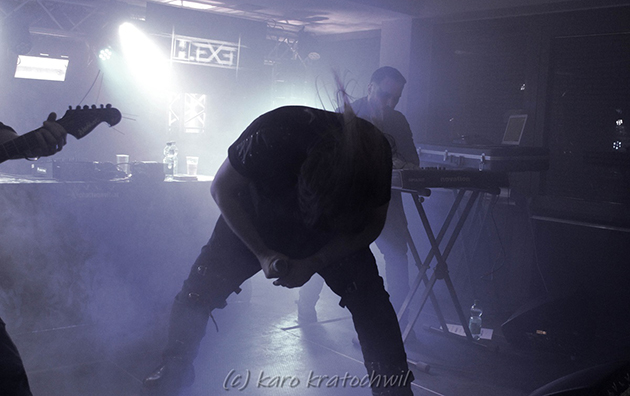 Whispers in the Shadow

The Austrian band WHISPERS IN THE SHADOW, which played next on the main stage, was a symphony of guitar mastery and beautiful lights. The project founded in 1996 has a rich musical history - they released fifteen albums including the most recent one of 2018 'The Urgency of Now'. The music they present is Gothic Post Rock, Dark Alternative. The concert of WHISPERS IN THE SHADOW was very stylish. Its atmosphere was built up by beautiful, emotional music and profound vocal. The combination of black and gold lights, the power of intermingled guitars and most impressive coordination of scenic movement - it was almost like a ballet.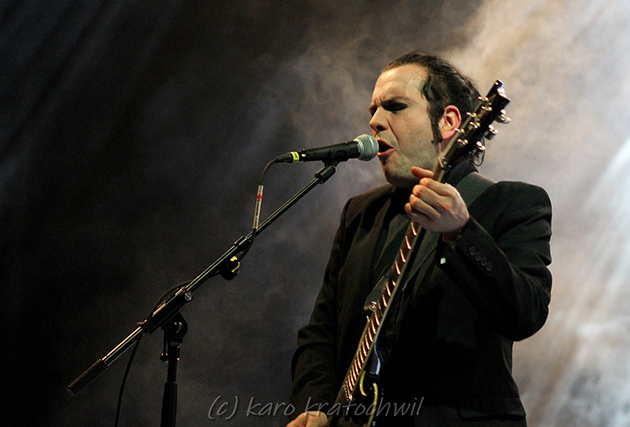 Ashley Dayour's focus on music, strong blasts of drums and exquisite guitars resulted in a diversified, prolific effect oscillating from pacifying to electrifying one. Precise, perfectly harmonious sounds gaining varied qualities and tones with subsequent passages were like a feast to the fans of the refined soundscapes. // https://www.facebook.com/WhispersInTheShadow // Setlist: 01. A Rhythm Called Zero / 02. The Urgency Of Now / 03. Morning Falls / 04. Train / 05. If Uriel Falls / 06. The Lost Souls / 07. The Tempest / 08. Nothing Stays Forever / 09. A Song For The Radio / 10. The Rat King / 11. Detractors / 12. First We Take Manhattan (Leonard Cohen cover) / 13. Back To The Wound / 14. Damned Nation / 15. Exit-Gardens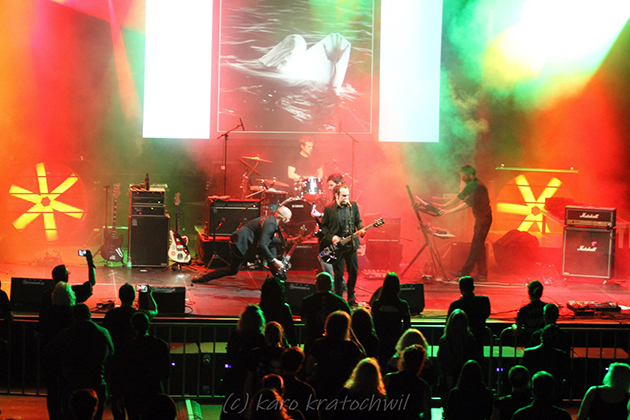 [:SITD:]

[:SITD:], the masters of energetic Electro / EBM kick, showed up at the main stage just after. The project of Tom Leszczenski, Carsten Jacek and Frank d'Angelo is THE brand. Their music combines profundity on the one hand and dynamism, melodiousness and harshness on the other - together with extremely expressive, vivacious concerts it stands for a high class sonic experience. So far the artists released seven studio albums including the one of 2017 'TRAUMA:RITUAL'.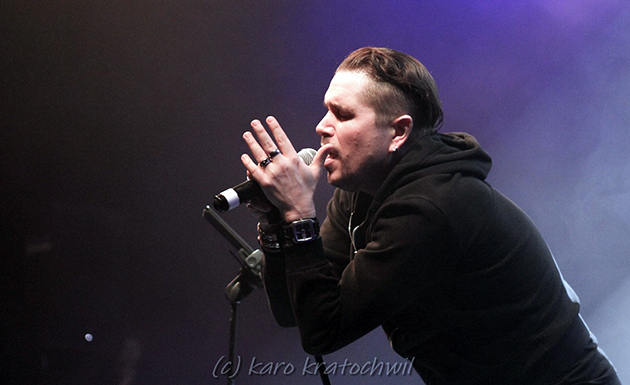 Their Vienna concert was like an explosion of scenic power, performance perfection and most incredible rapport with the audience. Dance madness, concentration and outburst of emotions, silence and profundity, euphoria and abandoning of self-control. The duality and balance between extreme emotions is what I take as the most outstanding and distinctive qualities that characterize the band. Altogether it gave beautiful, very emotional concert and the audience's reactions only confirm that impression. // https://www.facebook.com/SITDofficial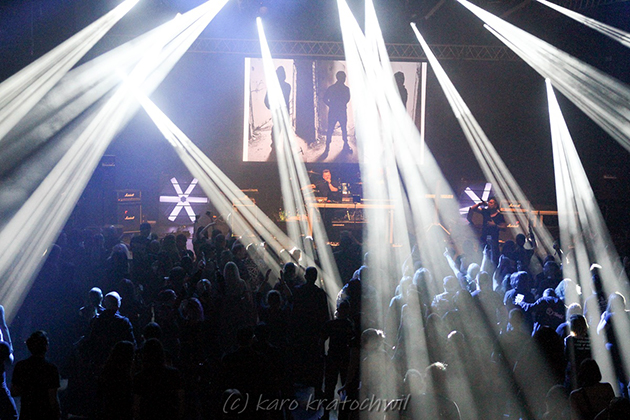 Ad:keY

AD:KEY - the project of Andrea and René Nowotny from Berlin - was another highlight of the festival, even thinking about their show makes me smile. Founded in 2007, the EBM duo recently released the album 'Never Enough' (2018) being a natural continuation of their dancy, energetic and vital path. One should also mention the band's members Andrea and Rene are active also in other projects such as RECTOR SCANNER, ARMAGEDDON DILDOS or ORANGE SECTOR respectively. Just like I mentioned before their show was an explosion of dance, pure joy and fantastic interactions with the audience. Most charming Andrea was like a spark - she danced, sang, and engaged the fans to take part in the party - she was like a flame! The project is fantastically coordinated on stage and their music - dynamic, catchy, dancy and vivid left nobody still or indifferent. It was one of the hits of the festival - great, joyful, energetic show - bravo! // https://www.facebook.com/ADkeY-offical-106750002700971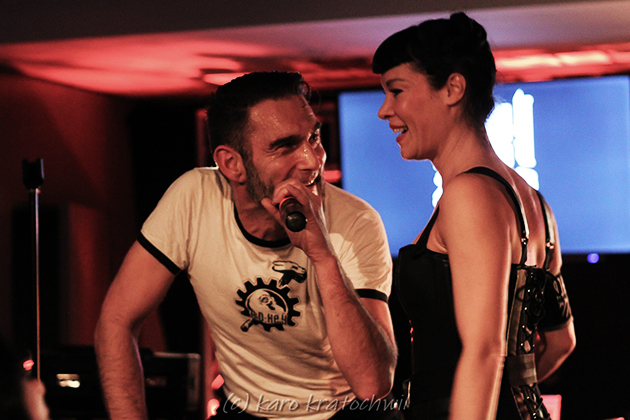 Kirlian Camera

The festival's headliner on Friday was KIRLIAN CAMERA. The legendary project of intricate history and rich musical output presents the music that enchants, hypnotizes and enraptures the listeners. The most recent album of the band is the one released in 2018. It's entitled 'Hologram Moon'. Elena Alice Fossi, who joined the project in 2000, personifies the bands most distinctive qualities with her charm, passion, talent and scenic aura - the concert in Vienna was not an exception to that. The artists appeared on stage with the visuals of clouded sky in the back. They were wearing balaclavas and holding flashlights in their hands. They stood in silence and darkness for couple of minutes, then the lights went on, they unmasked themselves, Elena appeared on the stage and the concert begun. A symphony of beautiful, heart-catching music, incredible, breath-taking vocal and light-visual scenery - the combination of all these elements was like a fantastic journey.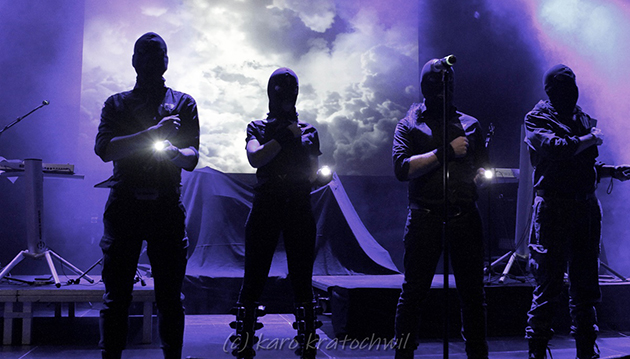 Sublime images of planets and stars in the background only intensified the feeling of magic, something unreal and sophistication of the soundscape we were invited to enjoy. Just the very first song, 'Holograms', introduced the audience to the world of supernatural, music wizardry - it hypnotized and enchanted every soul. There are such concerts that will stay in your heart, soul and ears for long, they will make you feel a pure gratitude to the artists for creating something so beautiful that it will make you forget about everyday strain, reality and the "now" dimension. They will let you move to a place filled with pure beauty and art celebration. KIRLIAN CAMERA for sure play such concerts and I'm thankful for the experience! // https://www.facebook.com/kirliancamera.official/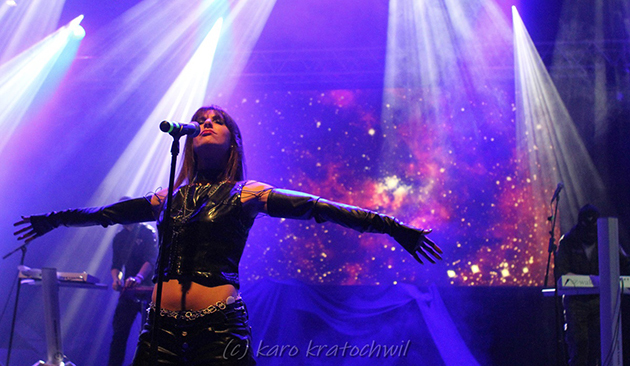 Saturday
The Flatfield

The Finnish Post Punk, Gothic Rock project THE FLATFIELD started the second day of the festival. The music they play is extremely profound and so is their scenic image - theatrical, expressive and well-defined. It went very well with the emotionally loaded music. They bad have been active since 2011 their recent release of 2014 is entitled 'Passionless'. // https://www.facebook.com/TheFlatfield/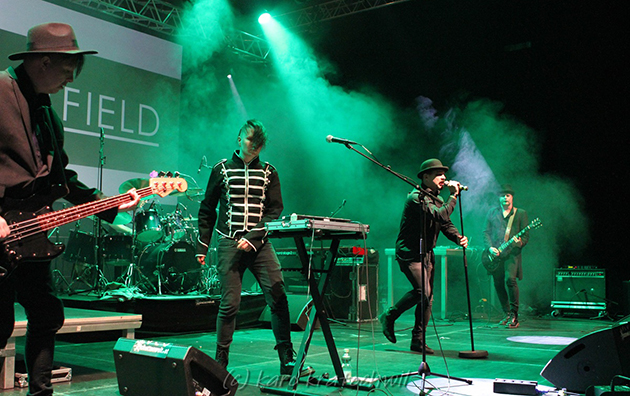 Schramm

The next band on the main stage was my third highlight of the festival - SCHRAMM. It was a sonic and image bomb! The German project playing Electro and Rock is so well-prepared when it comes to their scenic image, sound and music that the only thing left to do is to stand up (if you dared to sit down during their show) and applaud them with all the strength you have. They were formed in 2006, their most recent album, 'Nuclear Fetisch', is a sparking, dynamic mixture for the fans of dancing to harder, heavier sounds. Just like I mentioned before their concert was a strong invitation to dance.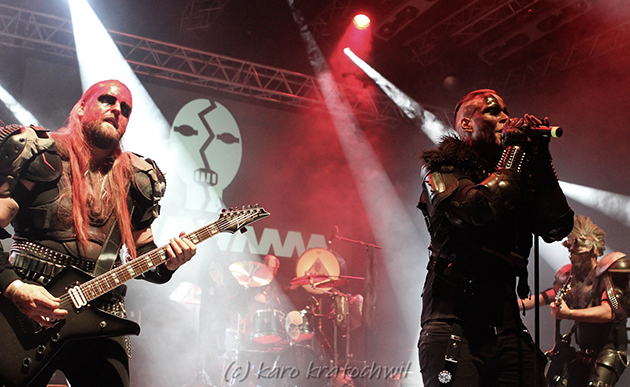 Catchy, strong, harsh melodic lines, raging guitars perfectly combined with electronics and deep strong vocal unified in one by smooth fast melodic tempo and perfection of interchanging tones - it was like a pure energy shot straight to the bloodstream. The artists' image was a real visual feast too - spectacular, expressive make-ups and apparel, frequent change of instruments (also to those most incredible like a gigantic keys) and the overall performance - it was impressive. I must say it was one of those shows my muscles will remember for long. Bravo! // https://www.facebook.com/schrammoffiziell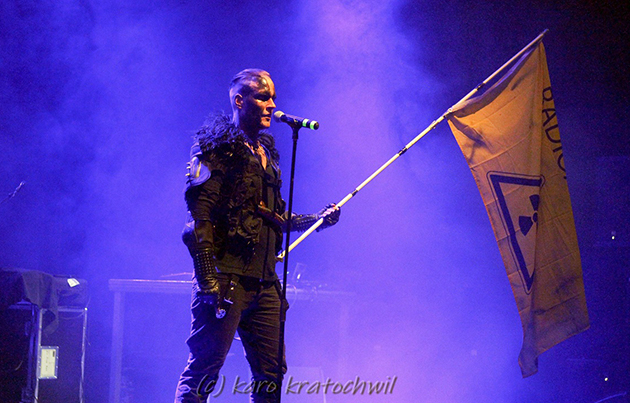 Amnistia

The club stage day was opened by the Body Wave / EBM project AMNISTIA. Tino Claus and Stefan Schotz have been active since 2003, their recent release of 2016 is entitled 'Dawn'. Dark, electronic mixture and quite simple scenic ambiance were enough to make the audience start dancing. Vigorous rhythms ad harsh vocal combined in a concise entity is what the German duo presented in Vienna. // https://www.facebook.com/AMN.official // Setlist: 01. Init7 / 02. Package Of Regrets / 03. Self-Defence (Steel-Alloyed Edit) / 04. Abyss / 05. Through The Night / 06. I.M.G. / 07. Dawn / 08. Faceless / 09. The Haunted / 10. Money / 11. More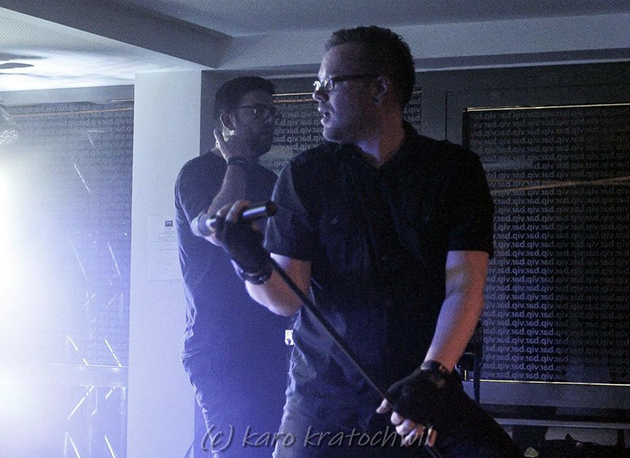 Frozen Plasma

FROZEN PLASMA, the project of Vassi Vallis and Felix Lang, is a well-known Synth Pop quality. Dancy rhythms, gentle, warm vocalic line and emotionally loaded lyrics is what we can always expect of them. They have released eleven albums including the one of 2015 entitled 'Dekadenz'. Numerous shows, devoted fans and scenic power - that's what they artists are renowned for.They got to the stage with full energy and did not slow down for majority of the show - the fans gathered by the stage got involved in the dancing party right on the spot and the hits such as 'Maniac', 'Crazy', 'Murderous Trap' or 'Living on Video' turned the positive tempo up right alright.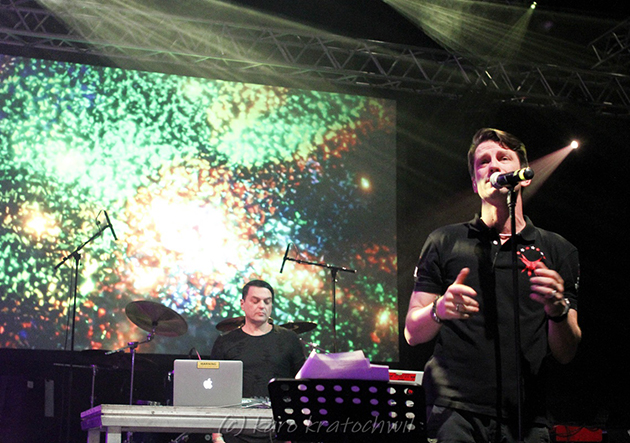 Felix Lang is one of those vocalists who interact with the audience in a great way (enough to mention the sea of hands waving to and fro together with him) and share the energy to the highest level. It's fantastic to take part in the concert where it is clear it's all about good fun, pure joy and where nobody spares vitals for better times - the concerts of FROZEN PLASMA for sure are such moments when you may just release your energy and simply enjoy good music and dancy sounds. Well played, bravo! // https://www.facebook.com/FrozenPlasma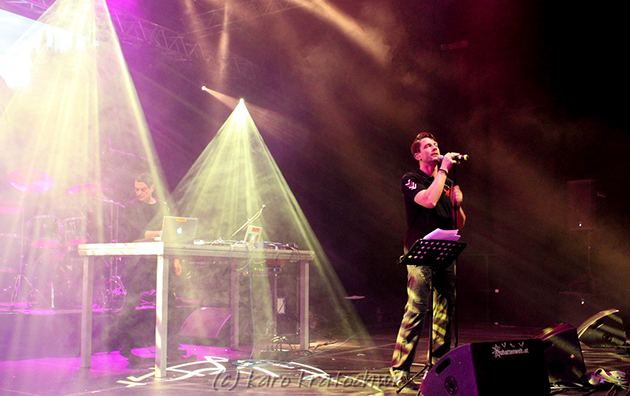 Lahka Muza

LAHKA MUZA is the most beautiful Darkwave, Gothic project from Slovakia. They present refined and sophisticated sounds in a theatrical, opera like ambiance. By combining profound vocal with hypnotizing music and rich show they achieve the mesmerizing aura of a magical spectacle. In Vienna they presented the concert with the participation of a ballet dancer - altogether it was like a bit unreal, incredible sonic journey. Fantastic show! // https://www.facebook.com/Lahka-Muza-103368653072959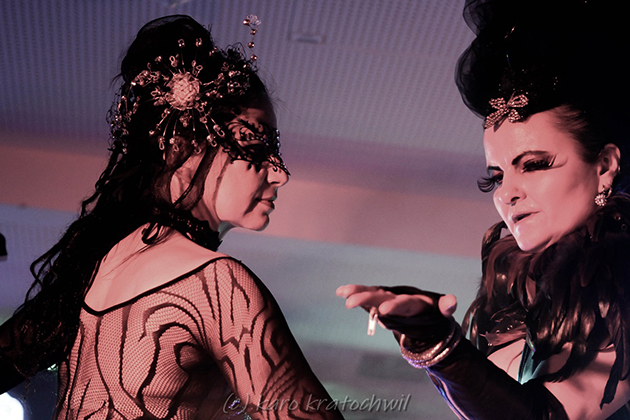 Ash Code

The Italian trio ASH CODE played a climatic concert with the flood of stylish lights that built up the most amazing, dreamy atmosphere. The band was founded in 2004 in Naples by Alessandro Beluccio, Claudia Nottebella and Adriano Beluccio - they play Post Punk, Synth Pop and EBM. Their most recent album of 2018 is entitled 'Perspektive'. Radiant lights, the artists as if lost in the depths of the stage, completely focused on the music, flooded by light beams - the impression was incredible. Reverberating sounds, cold vocals, emotional load of soulful sounds and total performance precision… that what the concert was like. Harmonizing synths and guitars intermingling with the smooth, chanting vocal gave a bit dark, gloomy and most stunning effect. // https://www.facebook.com/ashcodemusic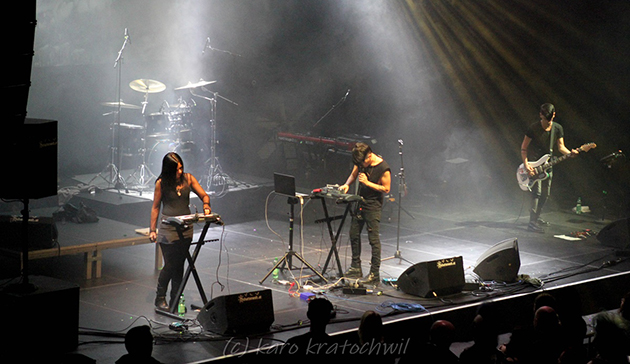 Orange Sector

The ORANGE SECTOR show was one of those my demolished muscles will remember for long. The Hanover based project have been active since 1992, so by all means they are experienced in warming the audience up. Their recent release of 2017, entitled 'Endzeit', is an explosion of strong beats, catchy melodies and dance power. I haven't experienced such a grand dose of scenic power and positive vibrations for long. Just like I mentioned before, it's great to participate in a concert of the band that has the talent to share their energy so well - it's as if someone recharged my emotional batteries and added to the vital strengths stock. It's actually what I appreciate the EBM projects for - ORANGE SECTOR is definitely one of the genre's best reps - their life force is incredible and dance, scenic movement and power they emanate from the stage is inspiring! Lars Felker and Rene Nowotny won the audience in 100% and to see and be a part of it was a real fun. Hits such as 'Der Maschinist', 'I Hate You' or 'Dynamit' are dancefloor killers and the audience fully enjoyed them. Great show, thank you Guys! // https://www.facebook.com/OrangeSector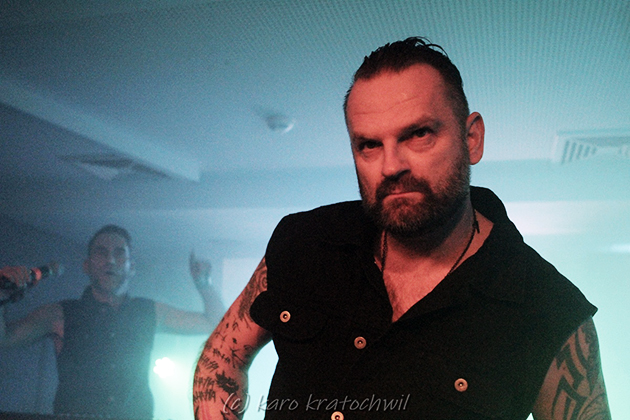 Diorama

The concert many fans had been waiting for in particular was the one by DIORAMA. I believe the project need no special introductions, enough to say they are working on the new material right now, parts of which they also presented during Schattenwelt Festival. The phenomenon of the particular band probably lies in their ability to overcome all emotional barriers their fans might have and getting straight to their hearts. During the show I realized it's a great privilege to see both the artists in action on stage and the instant reactions of the audience to the music. Thus I can put into words the emotions I saw: the listeners' faces - dreamy, focused, and happy. And their eyes; sometimes sparkling with joy, excitement and energy, sometimes a bit steamy of emotions, with a single sneaky tear falling down their cheeks - it's a beautiful view and this is what I saw by the stage in Vienna.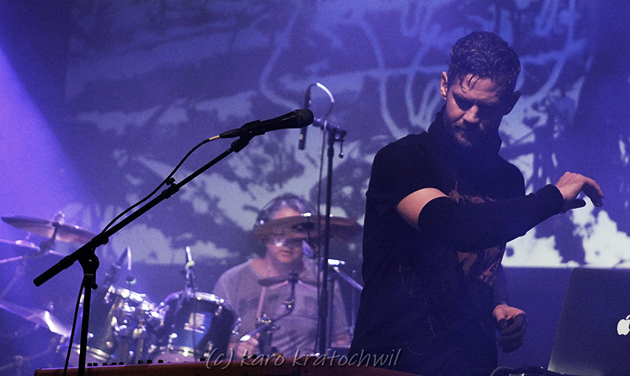 As to the concert itself… the gentlemen presented some of their greatest hits such as 'Child of Entertainment', 'Synthesize me', 'Ignite', 'The Scale', 'Apocalypse Later', or my beloved 'Why' and 'Exit the Grey'. Splendid scenic arrangement and unison, sound perfection, expressive image and Torben warming the audience up to dance or hypnotizing them with his focus and subtlety - it all stood for the band's magic and power to influence and inspire. The moment I found the most heart-touching was the one when during one of the songs (I think it was during 'Why', but I won't stake on it) the artists presented the visuals of old band's photos in retrospective. We could see those of backstage, those with fans, concerts, travels, those when Torben had that eye-shocking blond, those still with Sash, those when the DIORAMAs were still very, very young, those of 'Cube' photo shooting and more - and on seeing these pictures I thought how big a part of my musical journey is related to them. The very fact they keep on creating, sharing their ideas, imagination, sensitivity, vision, words, emotions and sounds with the fans is notable and highly inspiring.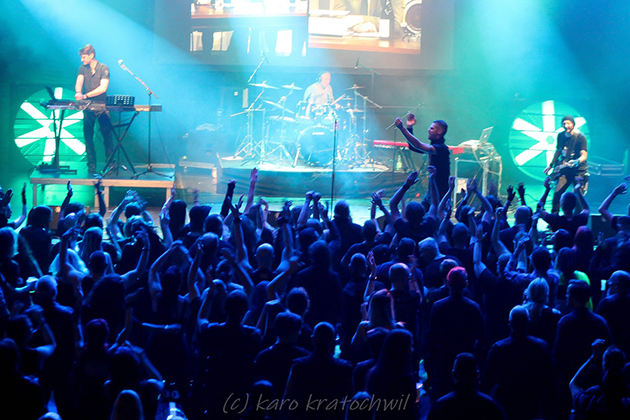 I'd guess it's the reason why they are important for so many people as well. Probably also because they can put into words the difficult, sometimes unwanted feelings, situations, emotions and by doing so define and tame them, make them more bearable, to decrease their negative impact. By setting these into the soundscape of most beautiful music they create a reality one may take on his/ her own conditions. Well, but that's DIORAMA, they got us used to marvellous concerts - it's just pity this particular one was relatively short, I'm sure the fans in Leipzig will get much more. But these are the rules of festivals, still it was a fantastic show - good for dancing, thinking and feeling. Thank you. // https://www.facebook.com/dioramawastaken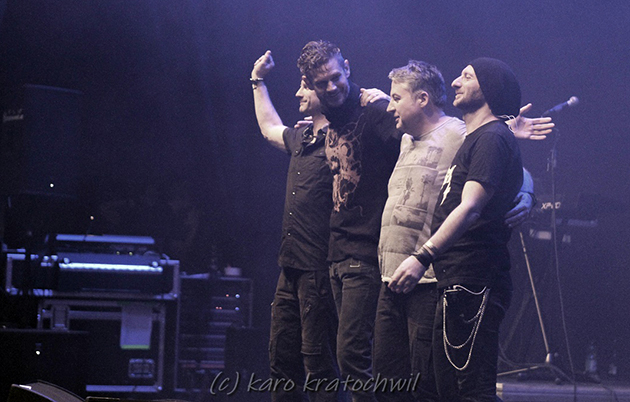 And One

The absolute blast, the major highlight of the festival was, of course, the concert of AND ONE. I do not know how they do it, but every time I attend their concert, from the very first sound I feel as if someone poured champagne straight to my bloodstream and the imperative "dance till you're out of breath" is irresistible. Steve Naghavi and the band appeared on stage in great moods - Steve even gave a hello hug to some members of the audience - and they won the fans on the spot. The frontman is a real energy volcano. He seemed to be omnipresent on the whole stage: he was moving, dancing so fast - on the stage, by the stage, with the audience, in the photo pit, on the barriers - his spark is incredible and his charisma, vitality and energy - absolutely inspiring and incredible!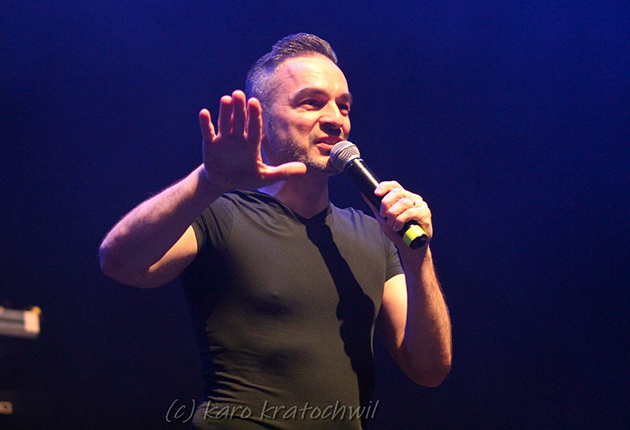 And the music... what can I say… dance power, enthusiasm, joy, euphoria, endorphins flying, dynamism, pure energy outburst! It's always like that and it's what I love AND ONE for - the quality of their work, the energy they share, passion and style - it's all high class! The pieces that made the audience blood boil were e.g., 'Krieger', 'Get you Closer', 'Shining Star', 'Deutschmaschine', 'Shouts of Joy', 'Panzermensch', 'Body Nerv', 'Back Home', 'Für', 'Body Company' or 'Military Fashion Show'. It was mind blowing, a real blast! // https://www.facebook.com/ANDONEoffiziell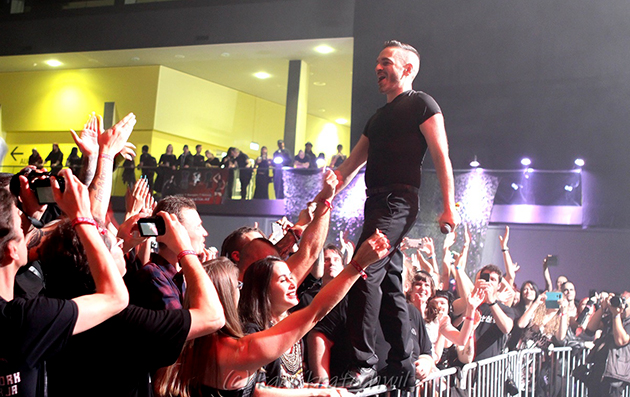 Conclusion

To sum up - Schattenwelt Festival was a magnificent event - when it comes to organization music and most beautiful audience - it was just perfect. Thank you very much for the experience and see you next year!
All pictures by Karo Kratochwil
See also (all categories):