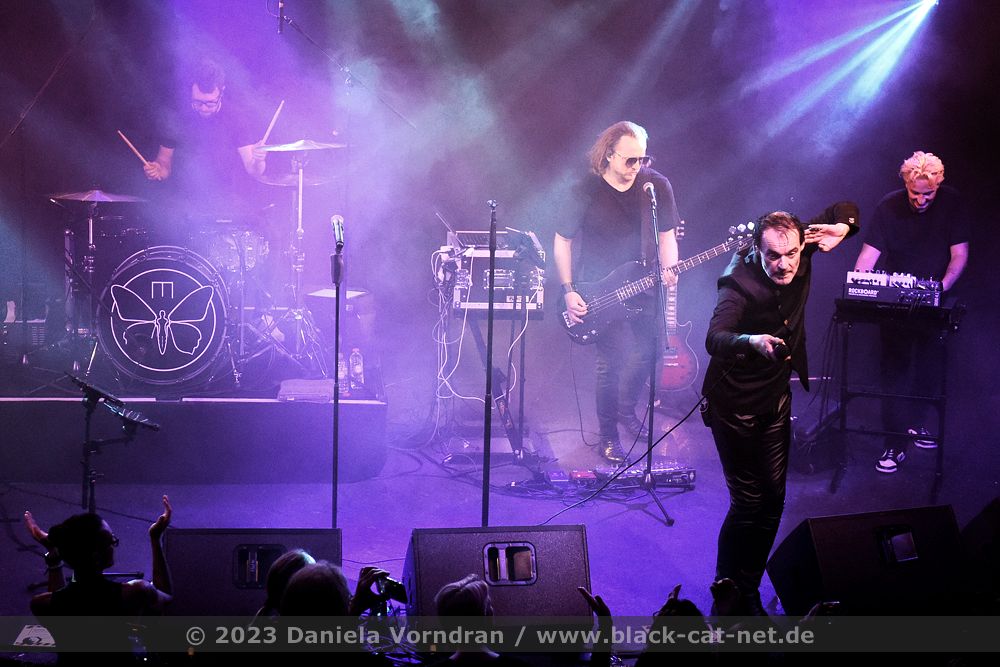 Kulttempel, Oberhausen, Germany
27th October 2023
Morphose - Support: Bon Harris & JanRevolution

On 13th October, Christoph Schauer released his first official album, 'The Open Shutter', with his unique project MORPHOSE. We extensively explored it
here
. For the physical release on 27th October, MORPHOSE are performing at Kulttempel Oberhausen. JANREVOLUTION and Bon Harris (NITZER EBB) are invited as special guests, and we certainly didn't miss the first of four release shows (two of them in support of NEUROTICFISH).
In addition to the core live line-up, consisting of Christoph Schauer (guitar, bass), Arc Morten (vocals, keyboard), Marius Lürig (drums), and Max Filges (keyboard), today, Lennart A. Salomon (SONO) and Sascha Mario Klein (NEUROTICFISH) join as featured artists. Also joining the project on stage today is Sven Friedrich (SOLAR FAKE, ZERAPHINE), who will play an exclusive club show here at Kulttempel tomorrow with his band SOLAR FAKE. We will, of course, report on that as well. But that's a different story.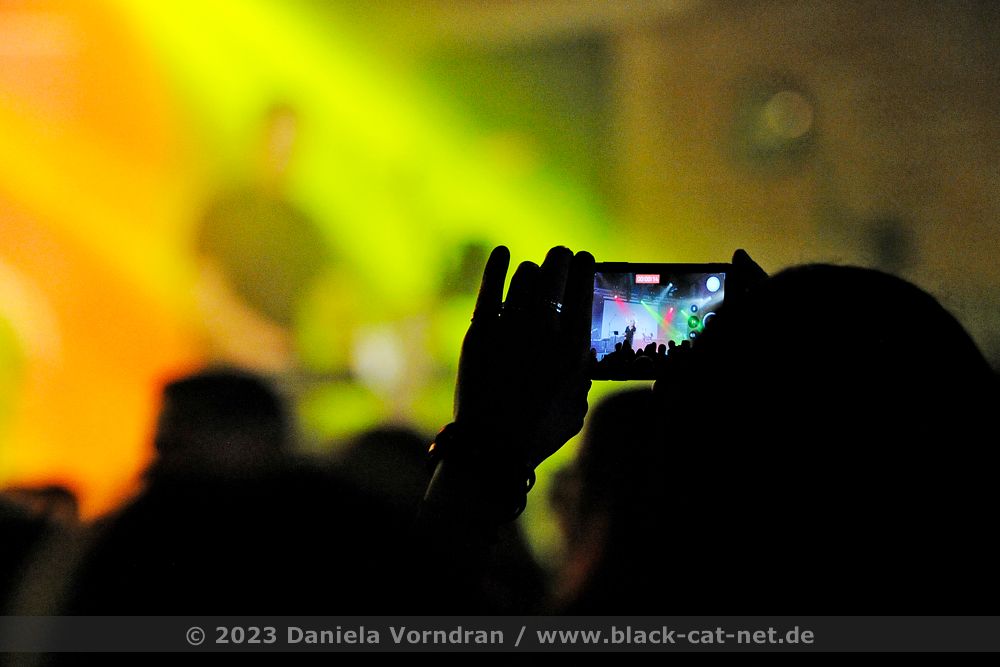 The evening at Kulttempel today starts promptly at 8:00 PM. There are noticeably fewer music enthusiasts gathered in Peter Jurjahn's club than we are accustomed to. However, for a relatively unknown band playing only their third concert of this kind today, one can certainly be content. Although I had hoped for a few more guests for the musicians and for the Kulttempel team. Well, all the more space for those present to dance and celebrate, which they will make full use of. Many already know each other to some extent. And so, there is plenty of chatting, hugging, bantering, and laughter. Somehow, the evening has a family reunion feel, and many faces will be seen again tomorrow at the SOLAR FAKE show. But you know how they say, first things first, but not necessarily in that order.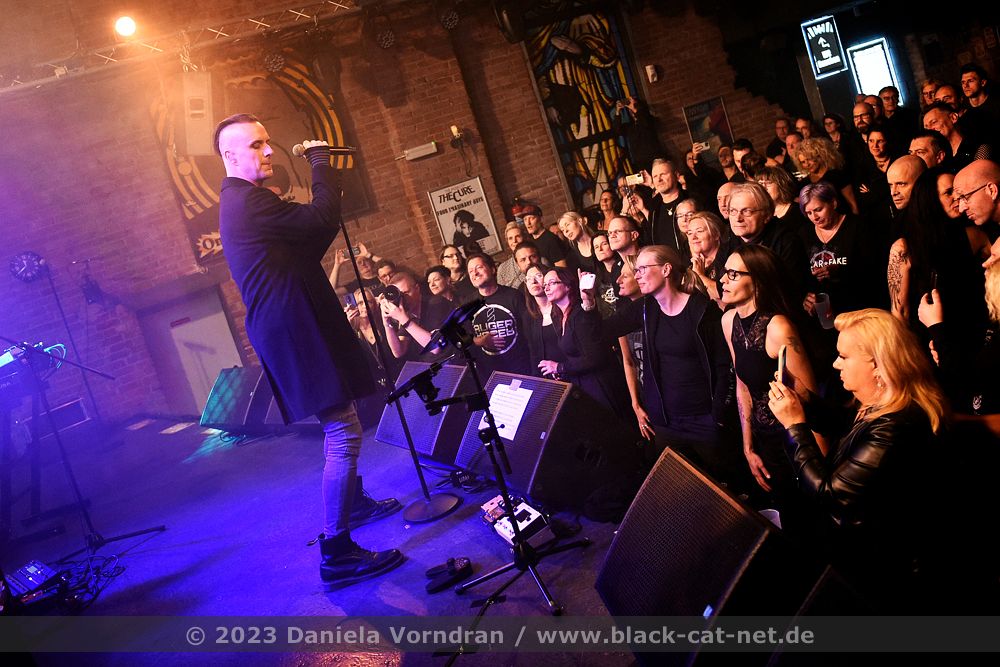 JanRevolution

The Electro-Pop rockers Jan Borowski (vocals), Alex Noize (guitar), and Daniel Riedel (keyboard) released their EP 'Herzdenkmal' in July and have been quite frequent guests on German stages this year. They performed in January as a support act for ALIENARE at their release show for the current album 'Emerald' in Erfurt, toured with SHE HATES EMOTIONS, and will accompany BLUTENGEL (as they did already in spring) on the second leg of their 'UN:STERBLICH' tour.
https://www.facebook.com/JanRevolution.Music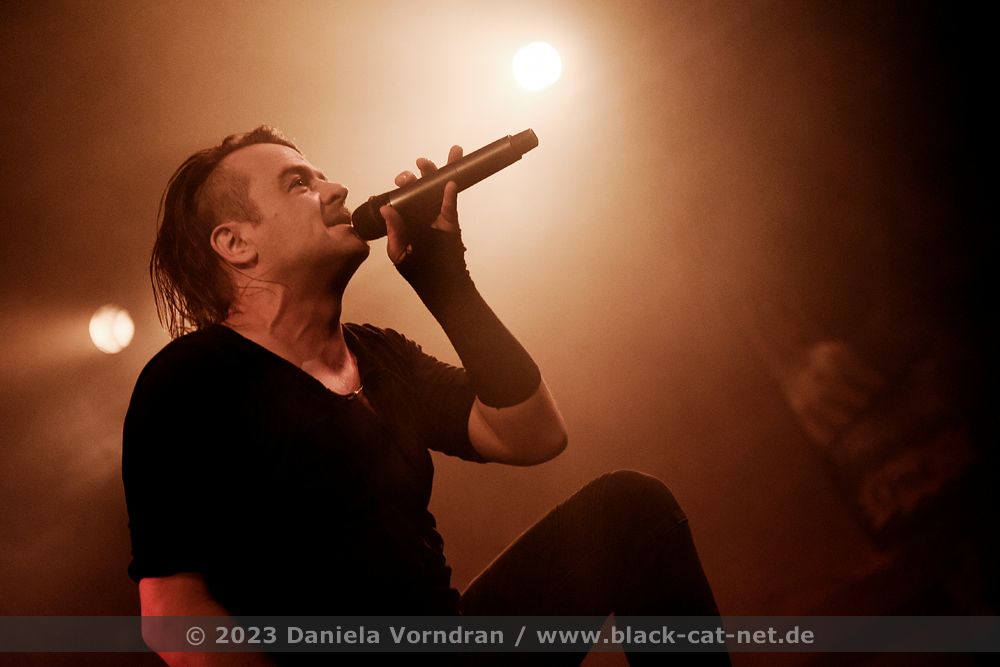 Music & Performance

At Kulttempel, the lights go out at 9:00 PM, and shortly after, Alex follows Daniel onto the stage, where they both take their positions at their instruments, closely followed by Jan. Jan is once again sporting a hoodie with the hood pulled low over his face, which is additionally concealed by sunglasses. It seems like the three musicians have brought their fan club with them. At least some have donned the band shirt and JANREVOLUTION are welcomed with cheers and enthusiastic applause for the intro. The title song of their current EP 'Herzdenkmal' kicks off the evening and immediately sets a lively mood. Even now, people are singing and dancing in front of the stage. The same goes for the following 'Reminiscence' for which Jan removes his sunglasses and pulls the hood from his face. Jan wastes no time and has the audience on his side right away. "It's so great to be back in North Rhine-Westphalia's living room." The frontman effortlessly infects the crowd with his energy. Everyone is dancing, and many are singing along.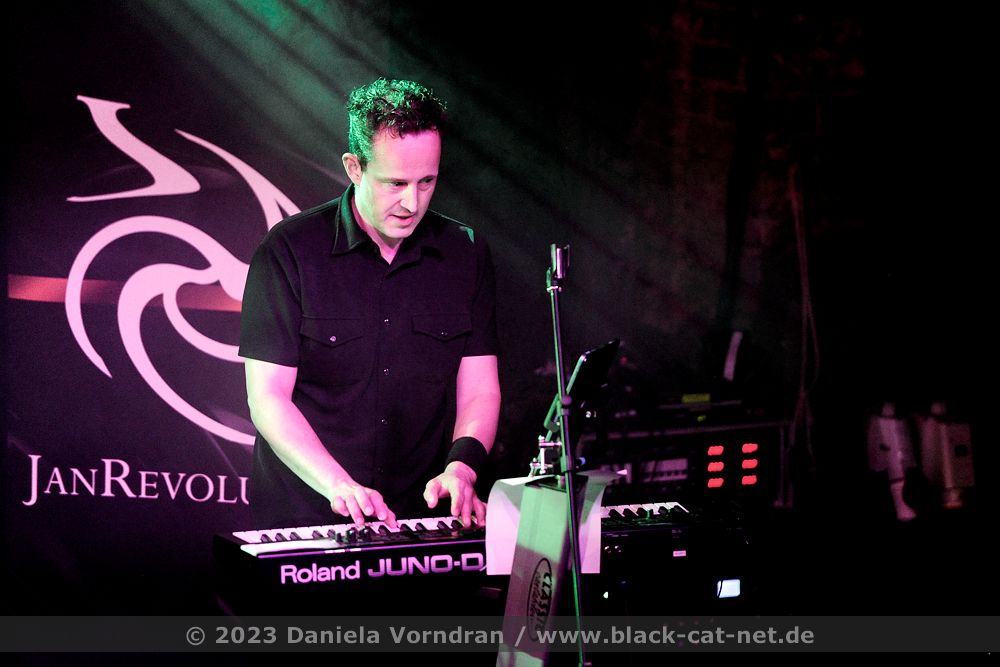 'Freier Fall' then initiates a "little German round". On the screen, the animated band logo illuminates the stage backdrop. The lighting is truly beautiful tonight. Red and green spotlights shine from the back, with yellow accents from the front. The only thing that seems a bit excessive is the fog; a bit less would be more appropriate. Despite the relatively small audience by Kulttempel standards, the atmosphere is extremely good. "Because it's so nice right now, we'll stick with German", Jan says. Even during '1000 Worte' the crowd sings along, claps, and dances with enthusiasm. Those who have experienced JANREVOLUTION live before know that there's usually a little cover version included in every concert. Today, Jan lets Daniel "surprise" him, who gives him a VNV NATION classic. 'Gratitude' already impressed me in January during the concert with ALIENARE and is well-received today as well. Jan misses his cue twice, which embarrasses him. "Anyway, live is live, right?" The audience doesn't hold it against him. Instead, they pick up on his words right away, and the crowd passionately sings the eponymous 80s hit 'Live Is Life' by the Austrian band OPUS. Jan has no choice but to join in before it gets a bit rockier.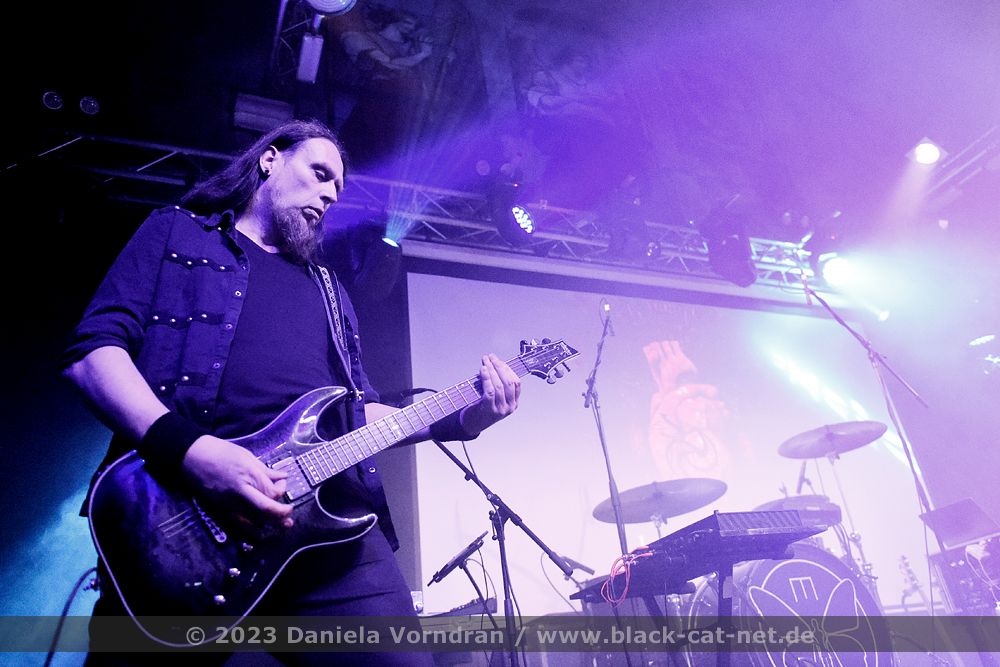 During 'Amnesia' Jan goes all out, and Alex shows off his guitar skills. Unfortunately, JANREVOLUTION are already at the end of their set. There's only one song left (even though there are actually two more on the setlist). However, 'Chasing Through The Night' is sure to get the party started, and accordingly, it gets really lively once more. Suddenly, Jan not only holds the microphone out to the audience but also hands it to Hagi Grimm (HZWEIG, TBA), who is partying in the crowd. He wastes no time, takes the microphone from Jan and comes on stage where he sings together with Jan before handing the microphone and the stage back to him. In the meantime, merch-man Thomas has also climbed onto the stage, waving the poster that belongs to the song. What a party, it's truly a blast. With the audience's cheers, Jan leaves the stage while Alex and Daniel finish the song.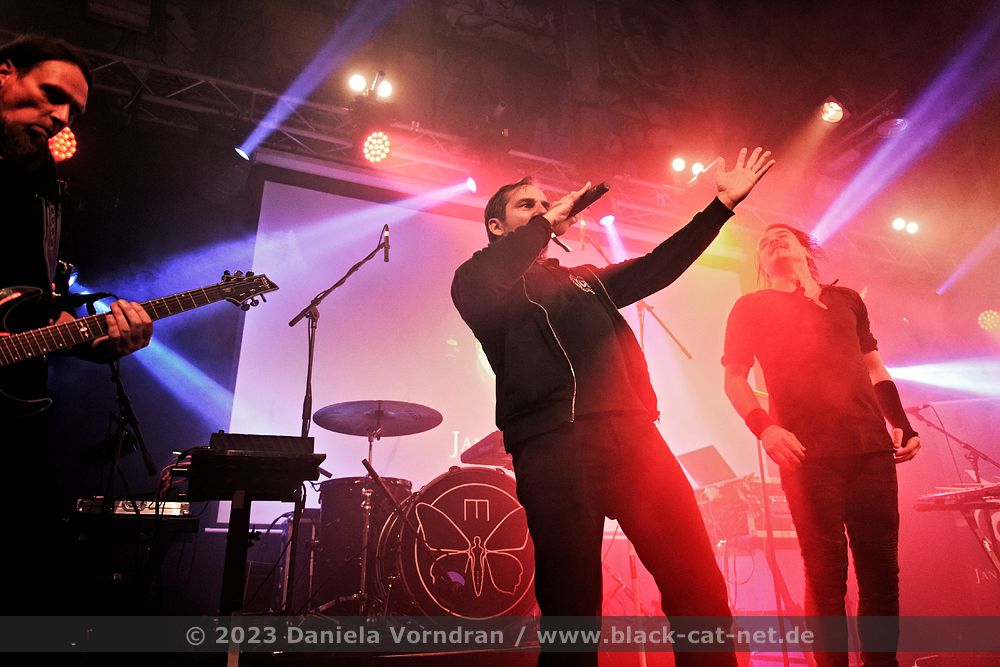 The two don't seem sure if that was it or if they should stay for another song. Especially because the crowd loudly demands an encore. Unfortunately, there's no time for that. We're already a bit behind schedule, so JANREVOLUTION says goodbye after seven songs and nearly 40 minutes on stage.
Setlist

01. Intro + Herzdenkmal
02. Reminiscence
03. Freier Fall
04. 1000 Worte
05. Gratitude (VNV NATION cover)
06. Amnesia
07. Chasing Through The Night
Rating
Music: 8.5
Performance: 8.5
Light: 8
Sound: 9.5
Total: 8.6 / 10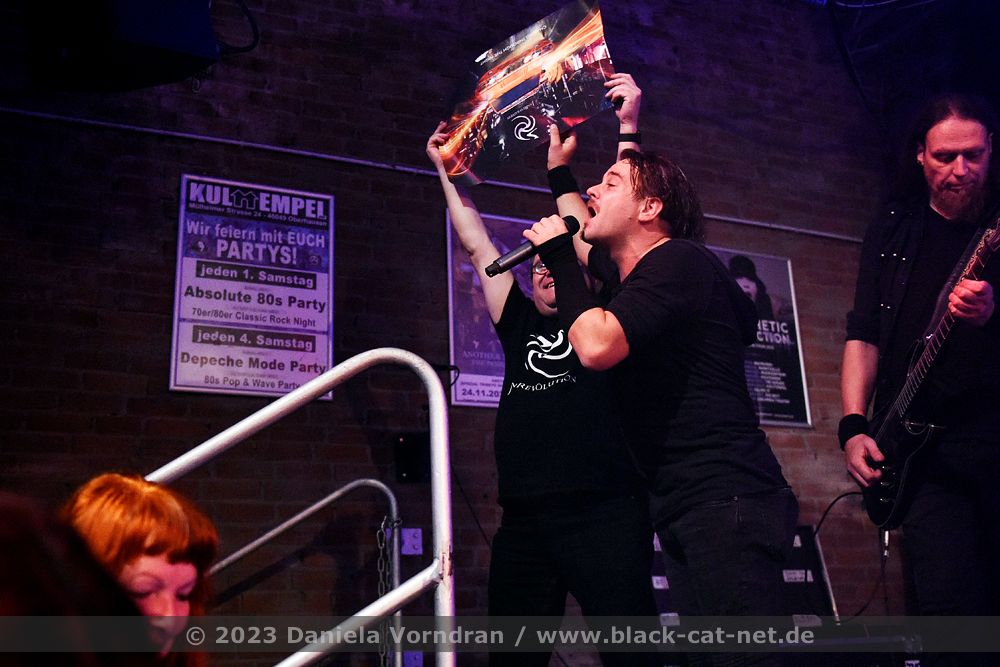 Bon Harris - Songs from the Lemon Tree

Bon Harris is likely to be known to many as a founding member and musician of the Electronic Industrial legend NITZER EBB. During the 2020 lockdown due to the COVID-19 pandemic, Harris decided to return to singing. He started by releasing short a cappella social media clips of various songs that were filmed during a walk in his garden. Under the lemon trees in Los Angeles, where the British artist lives and works. Due to the reactions and numerous requests for the short clips, Bon Harris began arranging a series of special cover versions in his unique and personal synthesizer style and performing them under one of the lemon trees in his garden. These little "concerts" were filmed and shared on various social media platforms. Since 2022, Bon has been taking his 'Songs From The Lemon Tree' to various stages in Europe.
https://www.facebook.com/bonharrisarts360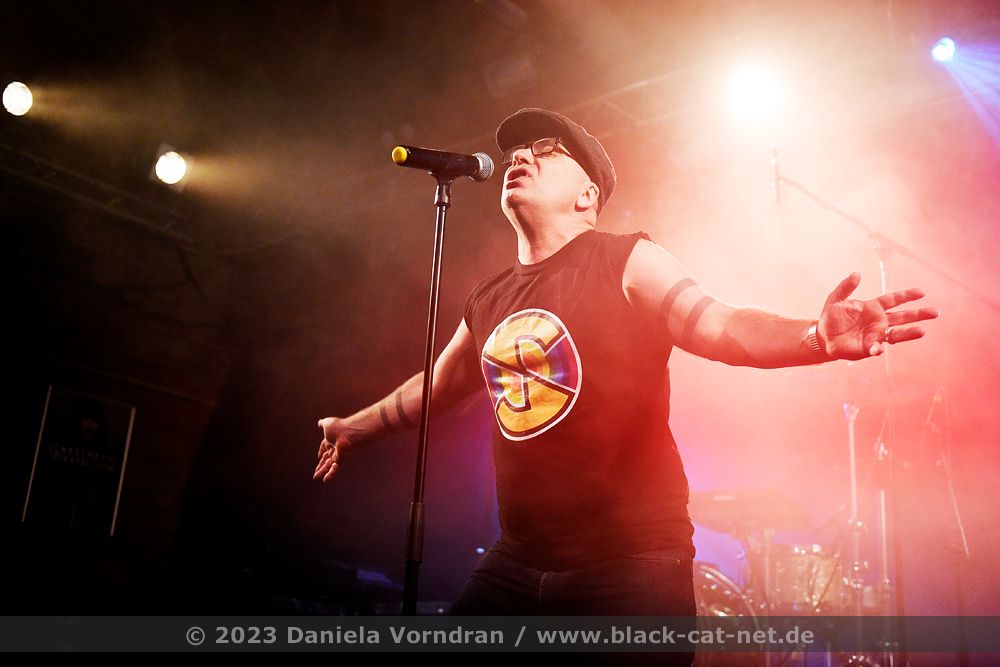 Music & Performance

During the changeover, the crew doesn't waste any time. When Bon Harris enters the stage just 10 minutes later, some of the audience appears to still be taking a breath of fresh air, using the restroom, or getting a drink at the bar. There is plenty of space to dance in front of the stage. However, the artist remains undeterred and presents us his cover versions of quite different songs. The song selection and interpretation may not be to everyone's taste, but I am simply fascinated by the artist's performance. I find the xylophone interludes particularly entertaining. The man has fantastic stage presence and clearly a lot of fun. It's infectious, and some songs are sung along, and of course, there is dancing. The lighting is also very atmospheric, and happily, they are using the fog more sparingly now.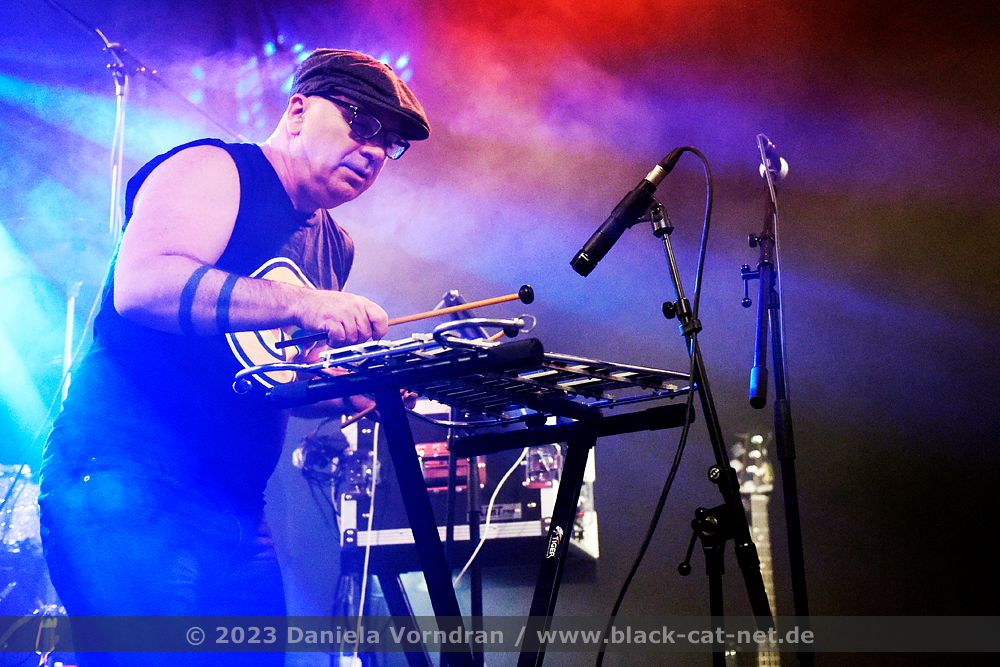 It all starts with 'Compulsion'. The Joe Crow cover may be known to some, at least in the version by Martin L. Gore (DEPECHE MODE). Bon's interpretation has something, and I groove right back into it. "This is 'Songs From The Lemon Tree'... if you know this song and you like it, sing along." Some are happy to respond to this invitation. As I mentioned before, the artist's unique cover versions may not be to everyone's cup of tea, and the song selection is quite unusual. But Bon Harris manages to impress me today. I'm definitely having fun. It continues with 'Bennie + The Jets' (Elton John), 'Natural's Not In It' (GANG OF FOUR), and 'Sweetheart Contract' (MAGAZINE). The audience is not as enthusiastic as during JANREVOLUTION's performance.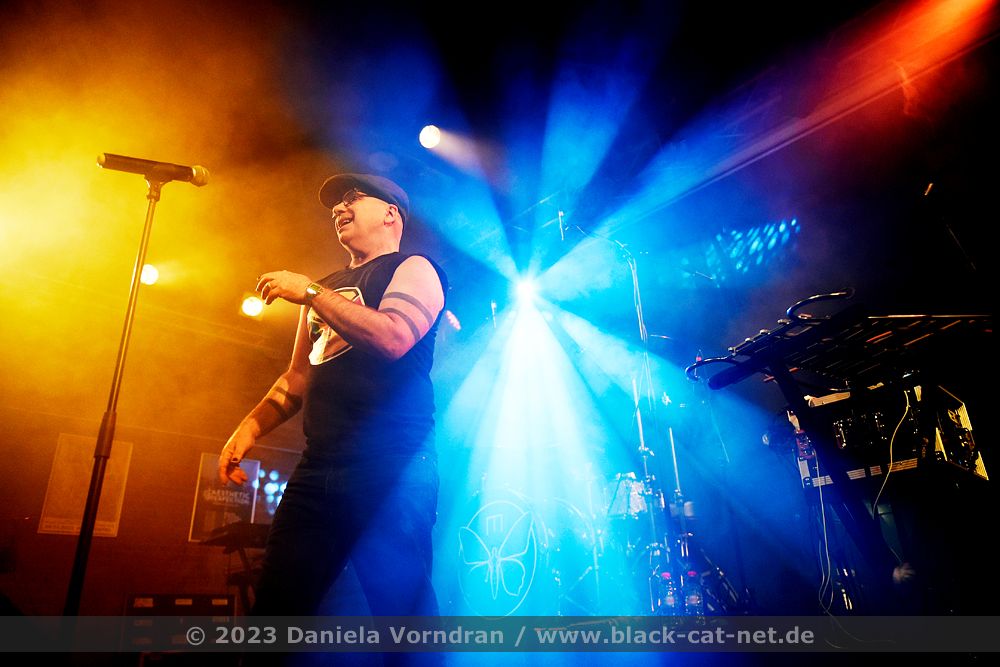 There is some light swaying and only a few people sing along. But some are still caught up in Bon's energy and passion, and the applause after the songs confirms it. Especially with the faster songs, some are tempted to dance. More popular songs like 'Ice Machine' (DEPECHE MODE), 'Children Of The Revolution' (T.REX), and, last but not least, 'Tainted Love' (Gloria Jones), which in the version by SOFT CELL has been heating up many dance floors since the 80s, do not fail to have their effect. By now, everyone is singing and dancing with all their might. When Mr. Harris leaves the stage at 10:30 PM, he has truly earned his applause, and we are richer for a beautiful experience, had fun, and are looking forward to today's headliner.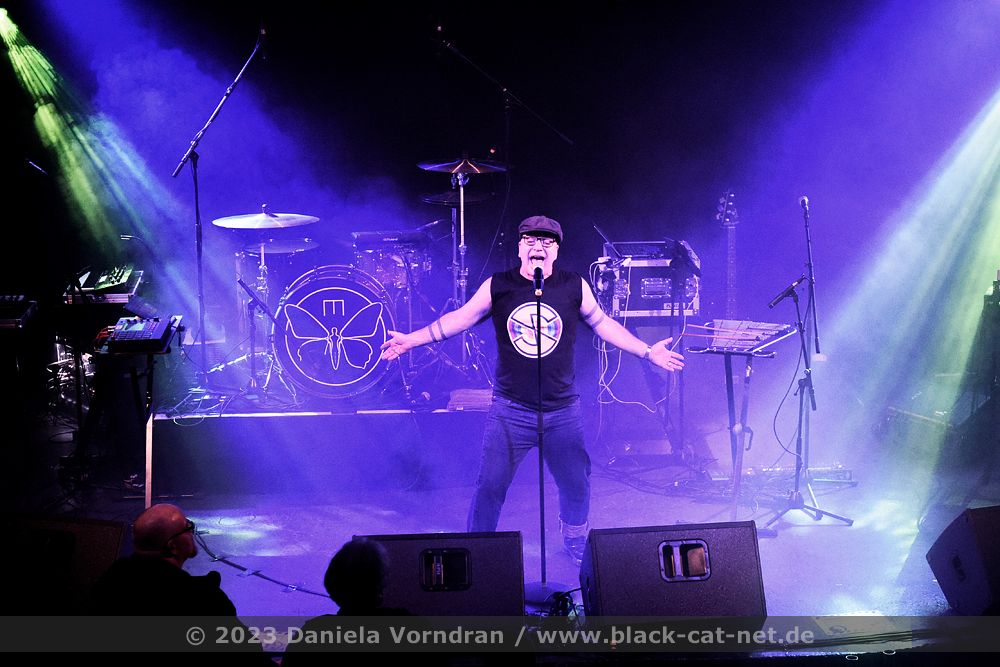 Setlist

01. Compulsion (M. L. Gore (Joe Crow))
02. Bennie + The Jets (Elton John)
03. Natural's Not In It (GANG OF FUN)
04. Sweetheart Contract (MAGAZINE)
05. Germfree Adolescence (X-RAY SPEX)
06. Ice Machine (DEPECHE MODE)
07. Rock On (David Essex)
08. Breaking Glass (David Bowie)
09. Children Of The Revolution (T.REX)
10. Tainted Love (Gloria Jones)
Rating

Music: 7
Performance: 8.5
Light: 9
Sound: 9.5
Total: 8,5 / 10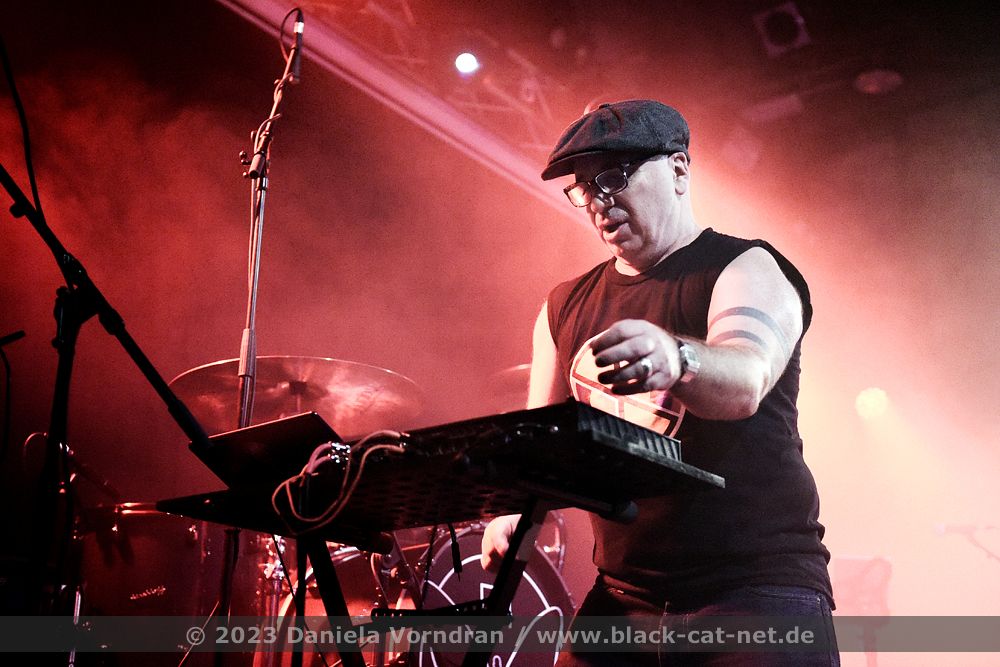 Morphose

As previously mentioned, MORPHOSE is playing only its third concert of this kind today. The project was initiated by musician, composer, and producer Christoph Schauer in 2014. After an initial release and several live performances, the project was put on hold for a while. Christoph focused more on film music. Together with Arc Morten, he released some singles and EPs under the name CYTO and the duo also had several live performances together. In 2021, it was time for Christoph to revive his passion project MORPHOSE and in October 2022, the projects second EP was released, celebrated with a release show in Hannover. At that time, Christoph and Morten were already on stage with Marius Lürig (drums), Viktorija Kukule, and Sascha Klein (NEUROTICFISH). Lennart A. Salomon (SONO) couldn't perform due to illness, and his part was played via tape and video.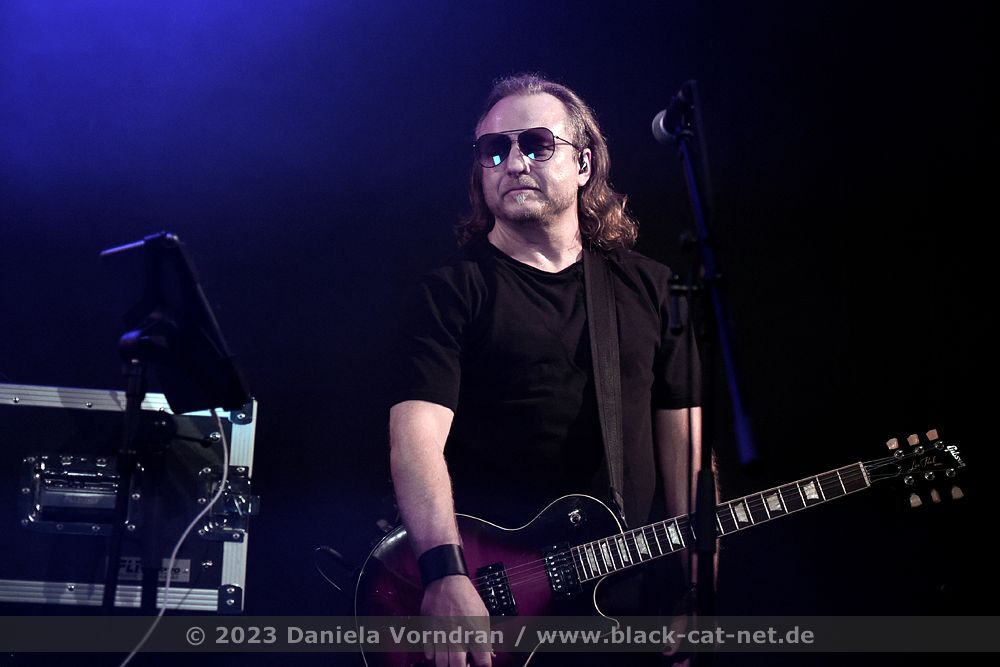 The second performance in this format took place at the Bergfest in Ballenstedt in June of this year. This time, Lennart was part of it, but Viktorija had to miss the performance for health reasons. In Ballenstedt Sven Friedrich (SOLAR FAKE, ZERAPHINE) made his first appearance on stage and Max Filges also had his live premiere with the project. Each MORPHOSE show is unique and different because you never know exactly who Christoph will have on stage for it. This is not so easy, given the packed schedules of the participating musicians. For example, at the four planned 'The Open Shutter' release shows, Sven is only with MORPHOSE today in Oberhausen. Christian Schottstädt will join the project for the headliner show in Hanover. And Lennart will be back with them in Hamburg. But back to tonight and in the Kulttempel in Oberhausen.
https://www.facebook.com/Morphoseproject
/
https://www.morphose-music.com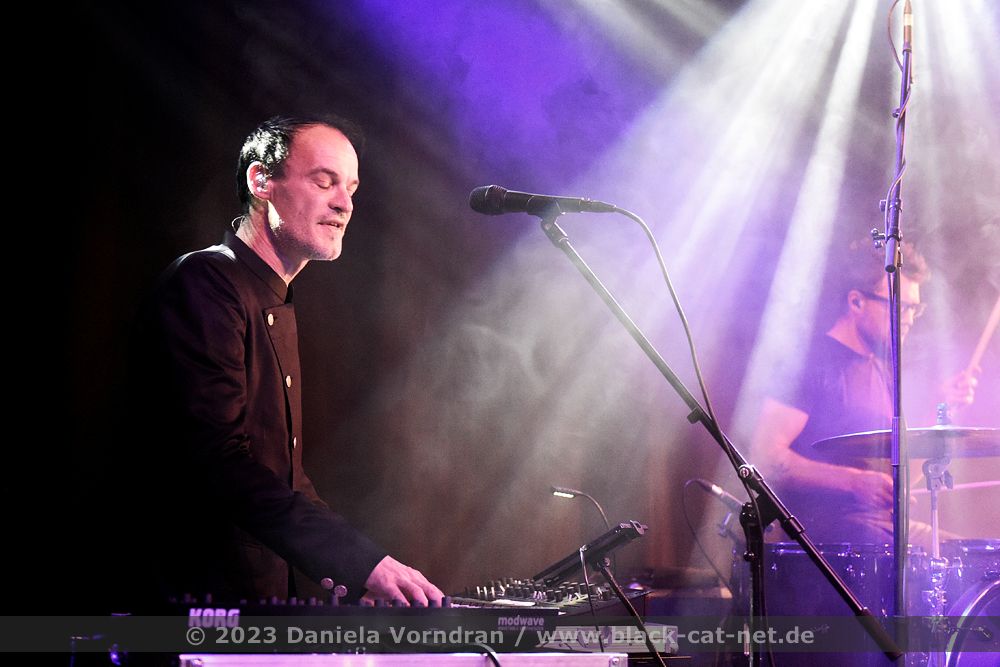 Music & Performance

Even now, the crew doesn't waste any time, and the stage is quickly rearranged. Today, there are no long breaks, and after about 10 minutes, it's lights out, fog on, intro in. Max is the first one on stage, closely followed by Morten. The stage is dark. Morten doesn't wear his sunglasses on his nose; instead, he has one of the earpieces between his teeth and places the glasses aside. Both musicians take their positions behind the keyboards, left and right on the stage. Then Marius follows and takes his seat at the drums. Christoph follows and finds his place next to Max, also wearing sunglasses. He waves to the cheering audience and arms himself with the guitar. The stage is still dark. Only Morten and Christoph are lit. Christoph greets us with a friendly "good evening, we are MORPHOSE" and then the lights come on. Morten puts on his sunglasses, and 'Open Shutter' gains momentum.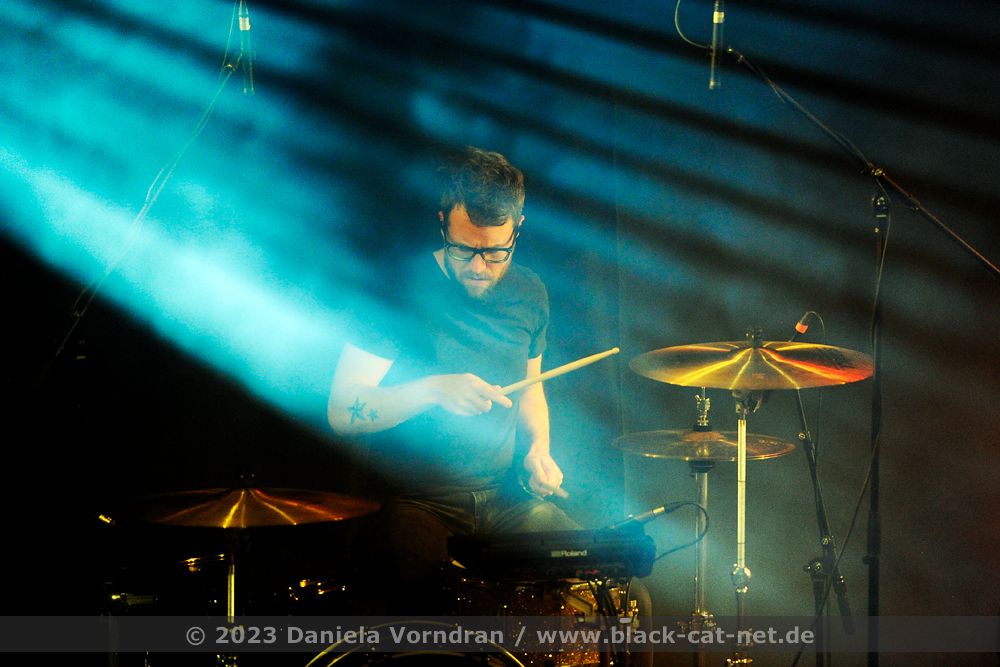 The stage is bathed in blue light, matching the first line of the lyrics, and the spotlights pulsate to the beat of the album opener. The driving beat and Morten's expressive vocals immediately captivate the audience. Then Lennart (also armed with his guitar) comes onto the stage, grabs the microphone stand, which is still next to Morten, takes his place right at the centre of the stage, and starts with the refrain. Everyone around me is already dancing. The audience has obviously learned the lyrics of the new songs and sings along loudly. Then Lennart greets us, not with a "Moin" from Hamburg this time, but with a "good evening, Oberhausen". While Lennart was completely dressed in white at the Bergfest, today he wears black jeans and a black shirt, which he rolls up the sleeves of now. 'Encounter' maintains the tempo, and the well-measured fog enhances the atmosphere, along with the wonderfully used lights. That's the way it should be. Christoph (now on bass) comes forward and encourages the audience to join the celebration. When Lennart is not singing, he uses the entire stage, switching from left to right, heating up the audience. The guests (who have gathered in front of the stage again) are in high spirits and readily return the dynamism and enthusiasm coming from the stage. It's real party atmosphere.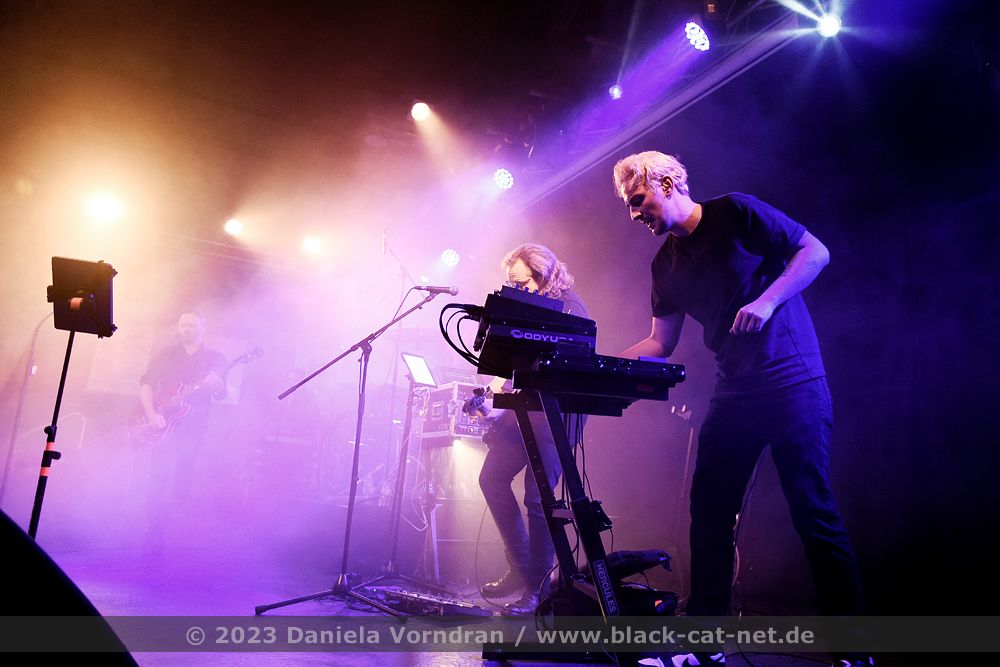 "This song has just been released, along with a very nice video that we shot in Athens in March this year. If you haven't seen it yet, you should check it out." For 'Sounio' Lennart doesn't need the guitar, and he casually slings it over his shoulder. He focuses on singing. I close my eyes and find myself on the beach in the twilight. (Fun fact: there's also the matching wine for the song with the band's own label available at the merch.) "Are you doing well?" Judging by the enthusiastic cheers, yes! 'Spin The Wheel' immediately gives me goosebumps. Marius' drumming is fantastic, and Lennart impresses not only with his incredible voice but also with his charisma and stage presence. He easily captures the audience's attention with just small gestures, and they are completely engrossed. Lennart leaves the stage to a cheering audience after the song, and Morten steps forward, whispering a quiet "Hi" into the microphone as a greeting. The audience responds with loud applause. Now Morten gets to show what he's got as the frontman and singer. His expressions and gestures are incredibly expressive, not to mention his immense vocal power. With his voice, demeanour, and facial expressions, he conveys so much emotion. So, when it comes to the following, quieter 'Beneath It All', it doesn't take much to captivate the audience.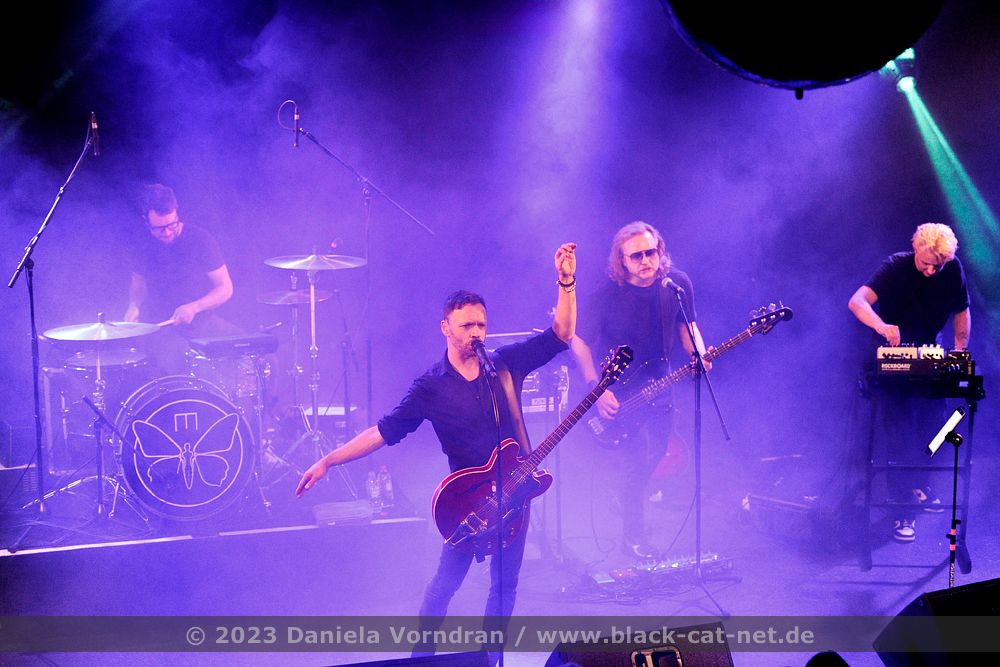 Christoph switches back to the guitar now, and it takes me a moment to recognize 'Patronize'. This may be because Viktorija Kukule isn't here today to perform the song herself, and Morten takes over the vocals. He does it with so much emotion that it sends shivers down my arms once again. I could use an emotional break at this point. It's good that we can lean back and unwind during 'Intermediate Screen' while Sascha awaits his turn. The singer is greeted with enthusiastic cheers. With his positive and friendly demeanour, he immediately brings a smile to everyone's face in the room. Whenever you look at the guy, you just feel like everything will be fine. And when you hear a friendly "'n Abend" (Good evening) from him, nothing can go wrong. The stage is bathed in blue light again, pierced by green spotlights that travel through the room during 'Moveout'. Christoph comes forward and encourages the audience to clap along, and somehow, I'm back in the groove. The vigorous applause is briefly interrupted by a shout from the back rows. "Undress!" Sascha has to laugh about that. "Seriously? Have you looked at me?... Let's stick to making music." But nevertheless, Sascha is a bit taken aback.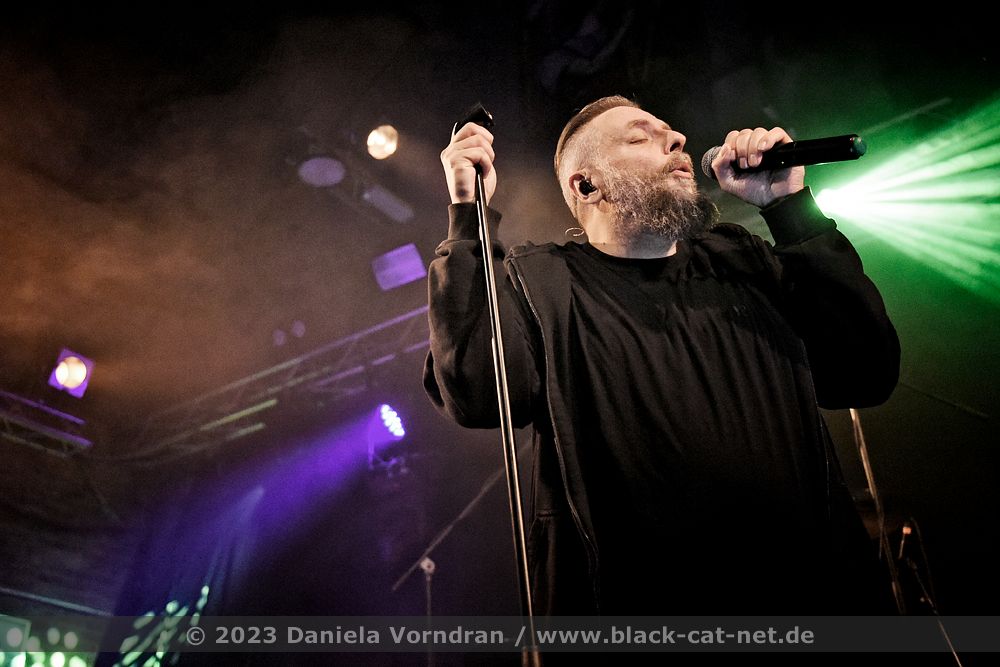 However, as the tempo picks up again with 'Undertow', he's back in his element. People are dancing and singing in front of the stage again. Sascha's charisma and presence are simply infectious. And Christoph seems to enjoy coming forward repeatedly. This is also the case for 'Surrender', one of my absolute favourite songs. The audience starts clapping from the beginning, and they're dancing, and especially during the chorus, they sing along loudly. Before Sascha finishes the song and makes room for Sven, it's his job to introduce the band again: "Ladies and gentlemen! On keyboards, Max Filges. On keyboards, Arc Morten. On sunglasses (Editor's note: I love Sascha's humour), Christoph Schauer. On drums, Marius Lürig." Then Sascha says goodbye with a heart-warming smile and is enthusiastically cheered as he leaves the stage.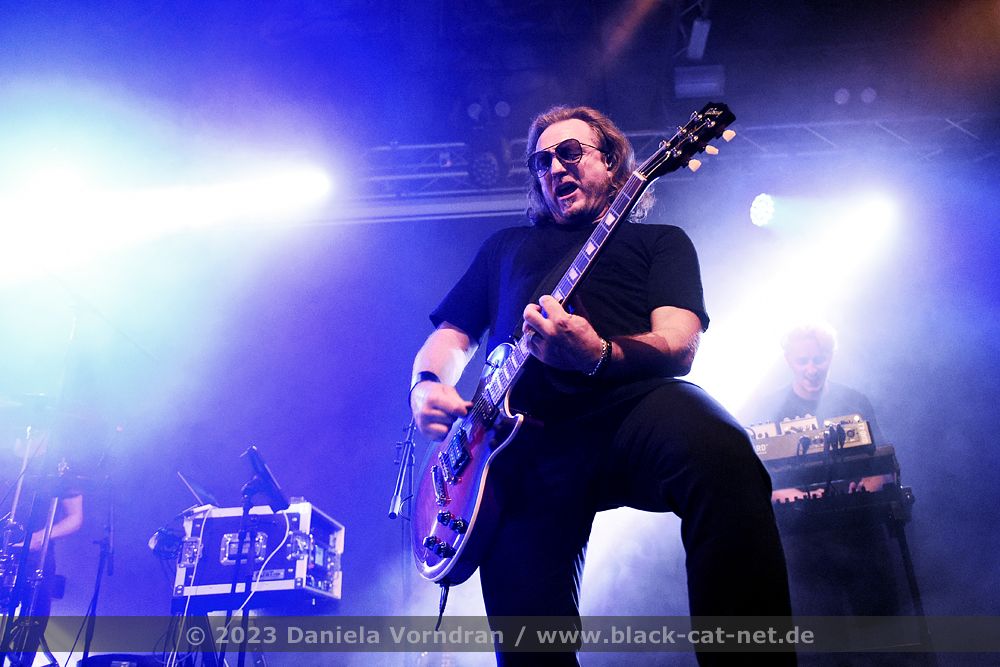 Next, Sven comes onto the stage, sets up the microphone and iPad stand, and he greets us in his own charming, almost shy way. "So, hi everyone!" The artist, affectionately known as "Friedel" by friends and fans, appears (as usual) in his black short coat and seems (as always) a bit nervous. But he also seems to be in a great mood and fires us up with 'Disappointing' right away. Clapping begins right from the start (even Max joins in), and there's enthusiastic singing, and Sven receives thunderous applause as well. Sven gets to "sing a second song". He laughs because he messed up the song at the Bergfest. But today, everything goes well, and 'All Comes Back To You' is celebrated enthusiastically. Everyone is dancing and singing. The audience creates an atmosphere as if it's a full house today. Consequently, the artists are later sent off the stage with frenzied cheering and applause. However, the continuous cheers, applause, and calls for an encore quickly bring the musicians back. Unfortunately, there's only time for one encore. 'Closed Shutter' concludes the evening, with the stage bathed in blue light, just like at the beginning. The song starts relatively quietly and slowly pulls us in once again, almost building up hypnotically, and during the 'Open Shutter' theme, everyone is clapping. Morten holds the microphone out to the audience, listens, and encourages us with his gestures. I believe that the guy is truly enjoying himself today. The lyrics tonight are not "And I lose my way", it´s "But I find my way". What a successful conclusion to this unique concert experience.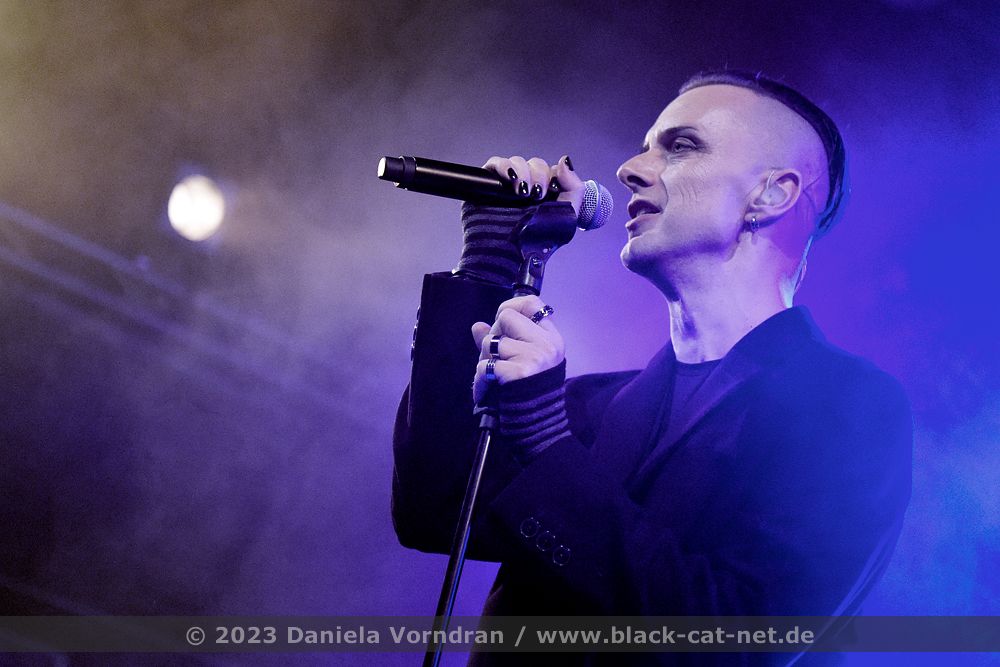 Morten leaves the stage, followed by Max, Christoph, and Marius. However, even if there's no more song tonight, the four return and bring Lennart, Sven, and Sascha with them so they can all bid farewell properly. The musicians bow once again at the end and savour the continuous applause for a few seconds before they finally leave the stage shortly before midnight. But for most people, it's not time to go home yet. Many of them stay for the after-show party or visit the merchandise stand. There's an opportunity to briefly talk to some of the evening's artists, get autographs, take photos, and, of course, go shopping. For Sascha, Lennart, and the MORPHOSE core line-up, it continues tomorrow in Rüsselsheim, where MORPHOSE will perform as the support for NEUROTICFISH (so Sascha has a sort of double show, and Bon Harris is once again a support act). Sven, on the other hand, will be back on the Kulttempel stage tomorrow for a very special club show. The next MORPHOSE release show will be on 25th November at SubKultur in Hanover. And on 9th December, the project will again support NEUROTICFISH, this time at the Markthalle in Hamburg.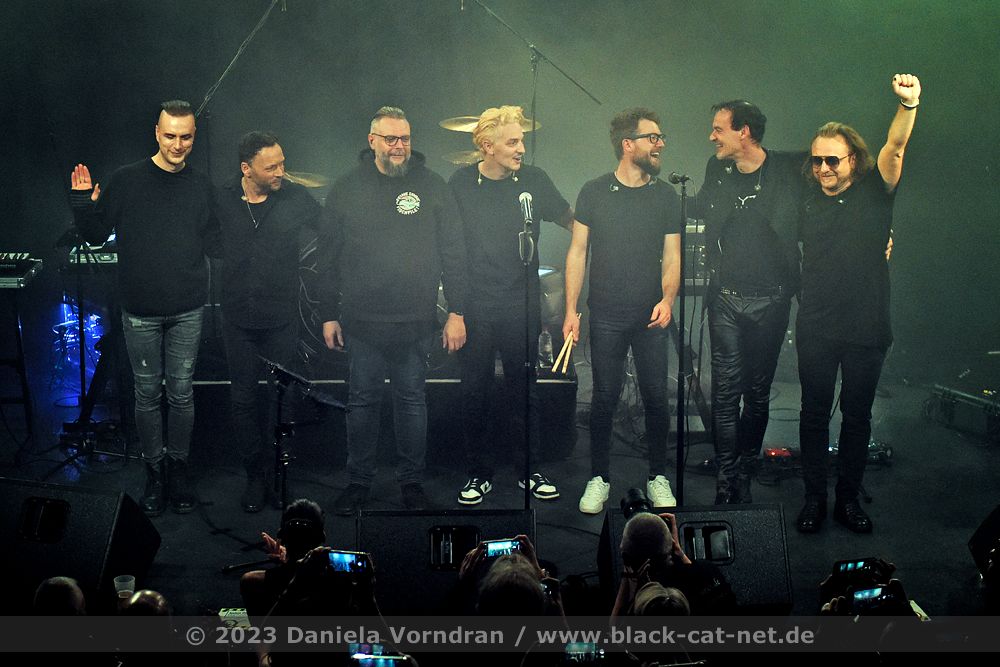 Sascha and Henning are also releasing their new album 'The Demystification Of The Human Heart' on 15th December and have already announced that they will present some new songs in Hamburg. So, the evening is doubly worth it. With that, we also say goodbye for the after-show party, even if we probably won't stay very long. After all, we have an event to attend here at Kulttempel in the afternoon tomorrow. But as I said, that's a story for another day.
Setlist

01. Open Shutter
02. Encounter
03. Sounio
04. Spin The Wheel
05. Control
06. Beneath It All
07. Patronize
08. Intermediate Screen
09. Moveout
10. Undertow (Album Version)
11. Surrender
12. Disappointing
13. All Comes Back To You
---
14. Closed Shutter
Rating

Music: 10
Performance: 10
Light: 9.5
Sound: 9.5
Total: 9.8 / 10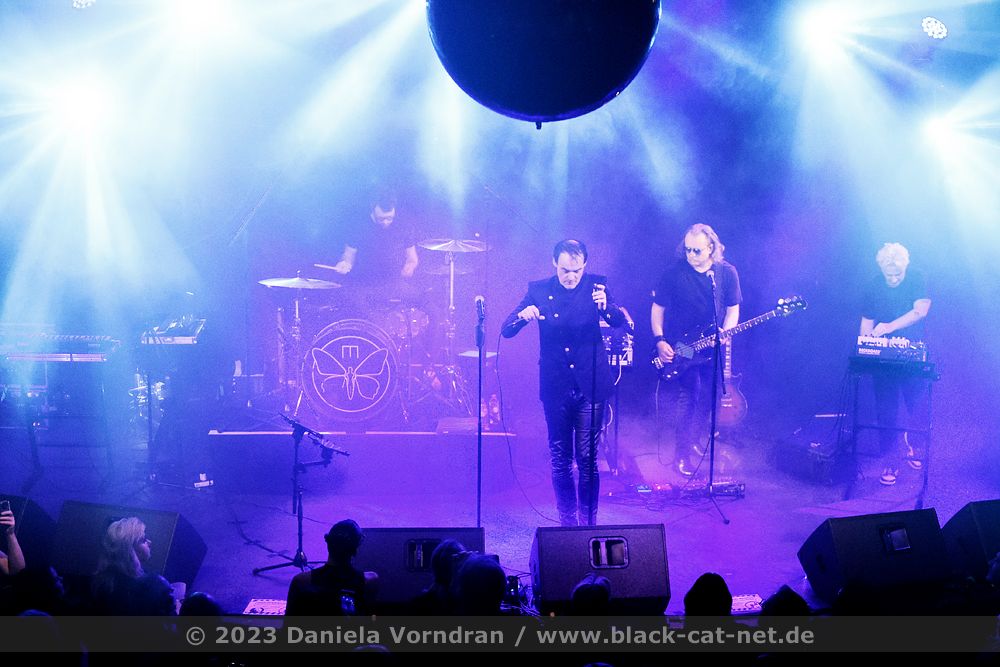 All pictures by Dani Vorndran (
http://www.vorndranphotography.com
/
http://www.facebook.com/blackcatnet
)
See also (all categories):