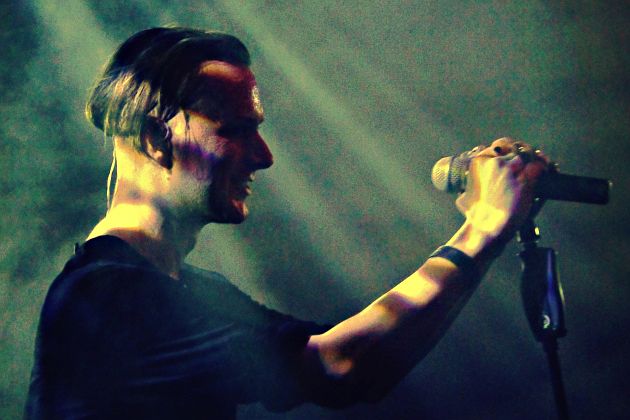 Kulttempel, Oberhausen, Germany
31st October 2017
Solar Fake, JanRevolution

"Trick or Treat" was the motto of a very special All Hollow's Eve show taking place at the Kulttempel in Oberhausen this October. The "temple" with its huge sacral paintings spared neither trouble nor expense to vamp up their already atmospheric venue with more spook-tacular decorations: a zombie corpse greeted the visitors at the entrance, there were dead leaves spread on the ground, various huge skeletons at the brick masonry, a cut off head in a cage and other bloody body parts hanging from the ceiling. Some folks even dressed up for the occasion; no too carnivalesque costumes, but definitely some creative make-up, extravagant hairstyles and accessories. Girls, guys and ghouls were lured to the cult-y venue's Halloween show and after-party. Looking back, three things can be noted: Firstly, no tricks were played at all. In fact, and secondly, we all were in for a real treat.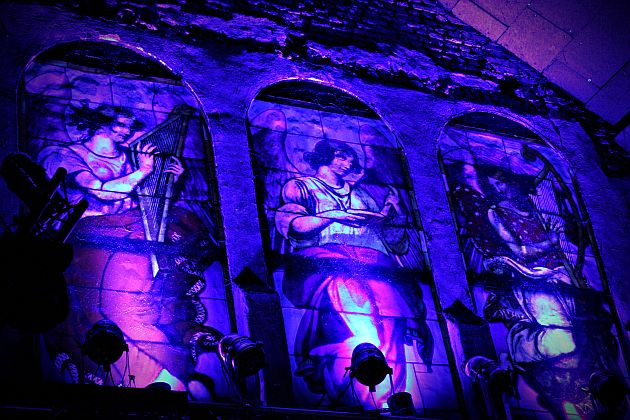 Electro favourites SOLAR FAKE stunned their fans with a superb two-hour show spoiling them with a lot of ear-candy. Thirdly, another entertaining duo, JAN REVOLUTION, got a powerful Synth Pop celebration started with ease. Conclusion: It was a most wonderful evening at the Kulttempel to spend the pumpkin party at. This calls for repetition!
JanRevolution

JAN REVOLUTION
, around since 1998, are Jan Christian Borkowski (music, lyrics, vocals) and Thomas Paul (programming, keys). Back in 2005 they've released their EP 'T.I.M.E' and in 2009 'Lifeline' followed. Their latest, hook-laden album, 'Return to Sender', has been out since March 2016 celebrating a unique cocktail of Electro, Future, Power Pop and Rock sounds. Some of the SOLAR FAKE & PROJECT PITCHFORK fans might have come in touch with JAN REVOLUTION thanks to their collaboration with Peter Spilles. Remember the IMATEM tune 'Blind Alley'?! And / Or they're probably also familiar with JAN REVOLUTION's various remixes. In any case, the act's latest Kulttempel gig showed that the well-travelled duo exactly knows how to excite an audience, old as well as new fans alike. // https://www.reverbnation.com/janrevolution / https://www.facebook.com/JanRevolution.Music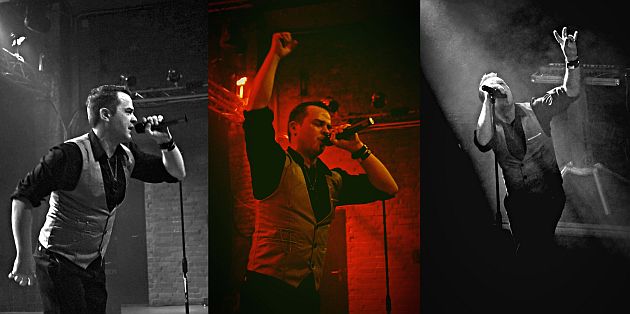 Music & Performance

JAN REVOLUTION have decorated their keyboard with a cute chain of pumpkin lights. Next to their band banner there was also gravestone on stage. First, Thomas hit the darkened stage to play the instrumental intro tune titled 'Away' that also introduces their last record. Shortly thereafter, his partner in crime, Jan, joined in for a smashing Synth opener: With their hit single 'Man without Return', the duo kicked off a melodic and danceable Electro Pop show and convinced the cheering and clapping crowd right from the very beginning on. Jan confessed that they'd been "slightly jittery" before the show and thanked the audience twice for "such a heartfelt welcome". He also kindly thanked Kulttempel manager Peter Jurjahn for offering us all such amazing nights out, just like today, at a venue that had become "something like a musical living room in the Ruhr Valley" since its opening in 2011. Another round of applause from the crowd.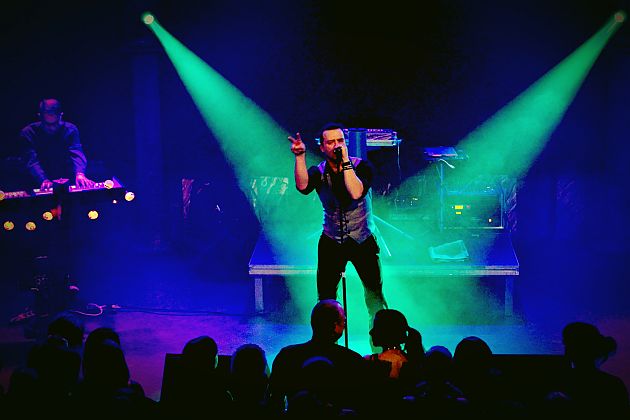 Not just the people, but also the charismatic musicians were in very good spirits. Jan's powerful vocals filled the venue, he danced around and jumped across the stage while smiling Thomas pushed the keys. Those few initially sceptic JAN REVOLUTION newbies also couldn't resist the revolution as the show went on presenting six further tunes from 'Return to Sender'. People were dancing or nodding following the beats of club tunes 'Our Time' and 'Reminiscence' and also the more melancholic 'Here Forever'. The German tune 'Freier Fall' kind of spread some BLUTENGEL vibes during its chorus making the crowd stomp along. In between, JAN REVOLUTION threw in the brand new tune 'Conqueror' which you will find on their next record. An electronic version of the song 'Amnesia', which Jan had originally written for his former band LOST AREA, marked the end of a successful show full of catchy hooks and driving beats. JAN REVOLUTION easily managed to warm up the Halloween folk. There's no doubt that great things are ahead of the duo and their following.
Setlist
01. Away (Intro)
02. Man without Return
03. Here Forever
04. Our Time
05. Momente
06. Conqueror
07. Pray
08. Reminiscence
09. Freier Fall
10. Amnesia
Rating

Music: 8
Performance: 9
Sound: 7
Light: 8
Total: 8 / 10

Solar Fake

Those who know
SOLAR FAKE
, know that the well-attuned duo Friedrich & Feller knows perfectly how to charm their audience. Now there's been a lot of "knowing" in this first sentence. In case, that you're into electronic music but haven't heard of SOLAR FAKE yet, I don't know what to say, though. Maybe I would give you an introduction telling you about Sven Friedrich's idea of an "only electro" project "without any compromises" next to his bands DREADFUL SHADOWS and ZERAPHINE when the multi-instrumentalist and vocalist began writing the first SOLAR songs in 2006. Next, I might take you through the discography starting with the debut 'Broken Grind' (2007) and ending with the fourth long player titled 'Another Manic Episode' (2015). Probably I'd tell you about André Feller (also former DREADFUL SHADOWS, now as well HERZFEIND and THE SHINING BRIGHT) joining in 2014 to replace the first live-keyboardist Frank.

We might talk about SOLAR FAKE's tours across various countries and their successful appearances at all those black festivals around, and also about their very special 'Sedated' acoustic shows or the orchestral gig at the Gothic Meets Klassik Festival. Also their masterful video releases and popular outtakes or their hilarious "loo vids" that they like to shoot after shows to entertain their ever growing following on Facebook - all that I could mention, if you somehow have missed out on SOLAR FAKE till now. But in reality, I think I wouldn't do any of this. Instead, I would give you some hours' detention, dear electro fan, and make you do your homework. I would hand you my SF discs and simply let SOLAR FAKE's music speak for itself. And after this, you would just know and there would be no need for talk. // http://solarfake.de / https://www.facebook.com/SolarFake

Music & Performance

Electrifying and also enchanting. Energetic and truly heartfelt. Danceable yet deep. That's how one could summarise SOLAR FAKE's "Trick or Treat Show" at the Kulttempel. The fans enjoyed two hours filled with SOLAR FAKE's doubtlessly addictive tunes and Sven's characteristically stellar vocal performance. And even though André confessed he'd been kind of worn out, no one noticed as he raved at the keys and animated the crowd as usual. One could even say that SOLAR FAKE had outdone themselves that night. The sound was absolutely top-notch making the show a fest of melodic and driving electro at its finest. The last time Sven and André were in Oberhausen was when they had kicked off the 'Manic Episodes Tour' last year. Of course they were more than welcome to raise the roof of the temple once again. And so they did starting with 'Not What I Wanted' from the latest album. Soon after, the doomy and at the same time fierce 'Why Did I Raise the Fire' from 'Frontiers' (2011) followed. After the wonderfully dark and dreamy verse, the lyrics-perfect fans screamed along the forceful chorus at the top of their lungs making the Kulttempel tremble. "Wow," Sven answered with a laugh, "There's only one problem: now I'm kind of dead beat already."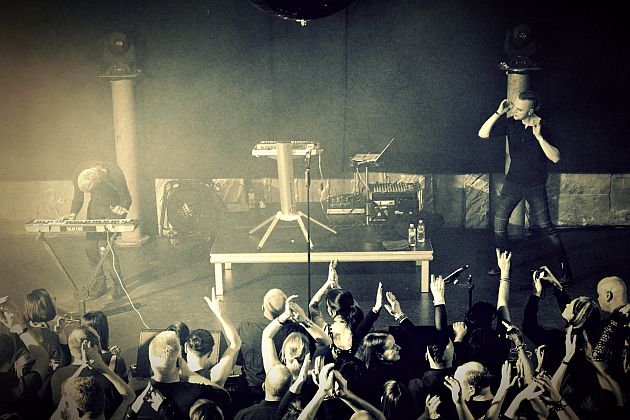 What made the show also special was that SOLAR FAKE gave their fans the chance to pick five personal favourite songs for a ranking of the top 15 SOLAR must-hears. Then the gents put all in all actually 23 tracks into a "nice order", as Sven told us, for this Halloween request concert. On top of this, they crowned the setlist by giving us a taste of the new material they are currently working on. The melodic and truly beautifully sung 'The Pain That Kills You Too' is a new piece of the calmer kind. It was played for the first time on German soil earning spontaneous and heartfelt applause. To be honest, this was the tune I had stuck in my head after waking up the following day. In addition, between some older songs, SOLAR FAKE presented two international premieres. When Sven announced the new titles 'I Quit' and 'I Don't Fight Back' the curious crowd grew silent full of expectation. 'I Quit' knocked our socks off with its interesting vocal melody and the way it unfolded into a wrecking electro beast. And 'I Don't Fight Back' convinced as a stomper with harsher vocals and a catchy chorus. What a blast! Needless to say that all SF-fanatics hunger now even more for the upcoming opus.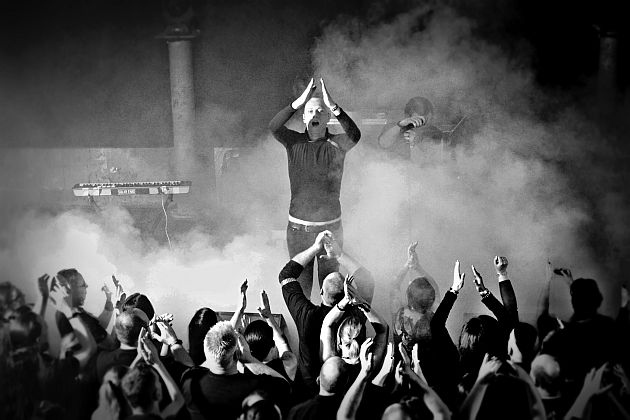 The party with SOLAR FAKE went on with further smashing hits such as the gritty 'Parasites' and the up-tempo tune 'Observer' next to the super-fun cover songs that the audience had requested: 'Somebody Told Me' by THE KILLERS, the 80s TALK TALK classic 'Such a Shame', and EDITORS' 'Papillon' which made the audience jump and go berserk. As already mentioned, SOLAR FAKE is a project that also touches deeply and so tonight's more melancholic titles 'Here I Stand' and 'Where Are You', the incomparable 'Hiding Memories From the Sun' and of course the newer, beseeching ballad 'Stay' as well as the older, familiar closing title 'The Pages' made sure of a lot of goose bumps moments. While some were sway dancing to and fro, others stood still listening as if mesmerised and enjoying every note. For SOLAR FAKE's encore part two, I personally was also very thankful for as they shared two further titles from their awesome debut: It always feels like the stars start to glister lighting up the dark once the amazing intro of 'Under the Skies' resounds and who doesn't gladly drown in the poetic 'Your Hell is Here'?!

What can we say? This show was an aural delight covering SOLAR FAKEs entire discography and much, much more - A clear case of 10 outta 10 *twinkling* stars! Visually, the vast, white cones of light moving slowly across the stage and reaching for the audience during the slower pieces were also a fitting and beautiful extra. Besides, also the stage fog was kinda cool wrapping the musicians in a colourful cloud from time to time, it only made it somewhat difficult to take pictures. Those who have the post-SOLAR-FAKE-live-blues can pre-order "Sedated – Live & Acoustic" now, which will out on December 8th (digipack limited to 1,000 copies). It immortalises the acoustic show at the Laeiszhalle in Hamburg, which took place earlier this March, on two CDs and includes a bonus DVD. Back to Oberhausen: After SOLAR FAKE's fantastic "Trick or Treat" performance the first COVENANT song kicked off the after-show party that should've been lasting until dawn. In a nutshell: This year's Halloween had been a real treat at the temple!
Setlist

01. Not What I Wanted
02. Under Control
03. Here I Stand
04. Why Did I Raise the Fire
05. More Than This
06. Parasites
07. All the Things You Say
08. I Don't Want You In Here
09. Observer
10. The Pain That Kills You Too
11. Papillon (EDITORS cover)
12. Reset to Default
13. I Quit
14. Where Are You
15. I Don't Fight Back
16. Somebody Told Me (THE KILLERS cover)
17. Stay
---
18. Hiding Memories From the Sun
19. I Hate You More Than My Life
20. Such a Shame (TALK TALK cover)
---
21. Under the Skies
22. Your Hell is Here
23. The Pages
Rating

Music: 10
Performance: 10
Sound: 10
Light: 10
Total: 10 / 10
All pictures by LAy
See also (all categories):