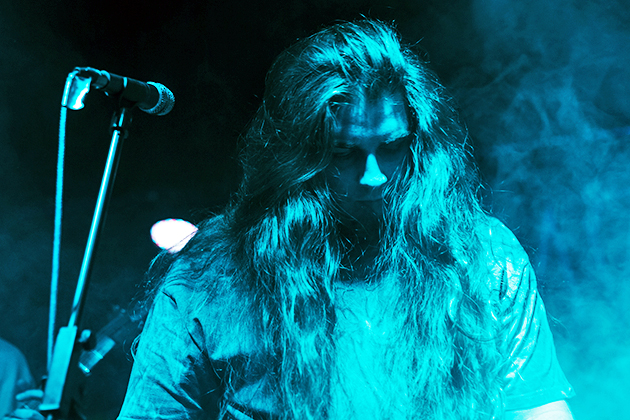 Volume Club, Kiev, Ukraine
7th December 2018
Stoner & Doom Festival with Ritual Service, Mother Witch And Dead Water Ghosts, Goosla

The temperature inside Kiev's Volume Club almost matched the icy chill on the streets outside, and the variety of looks, styles, eccentricities and peculiarities on offer in the audience matched the wonderful variety of musical outpourings from the stage. There was tea-drinking! There was vodka! There was a guy asleep in the corner! Another with a face full of angry tattoos munching merrily on crisps! There was denim - not seen any of that for a while… And there were three bands, who really seemed to give it their all, to a good natured and largely appreciative crowd of about a hundred.
Ritual Service

First up were Odessa (Ukraine) band RITUAL SERVICE, who wasted no time in settling into their dark, sludgy groove. Long drawn-out twists and turns were occasionally punctuated by massively over-reverberated and echo-drenched vocals which wafted through the melee - a bit more of this would have been welcome it has to be said to break up the unrelenting fudge that occasionally threatened to trip itself up. But frequently, the band teetered on the edge of some great riff - think BLACK SABBATH at their doomiest - only to pull back and tease away from the obvious. And with enough unexpected touches here and there - a surprise drum roll, a squeal of feedback - this performance was black and cold as a Kiev winter, and highly commendable.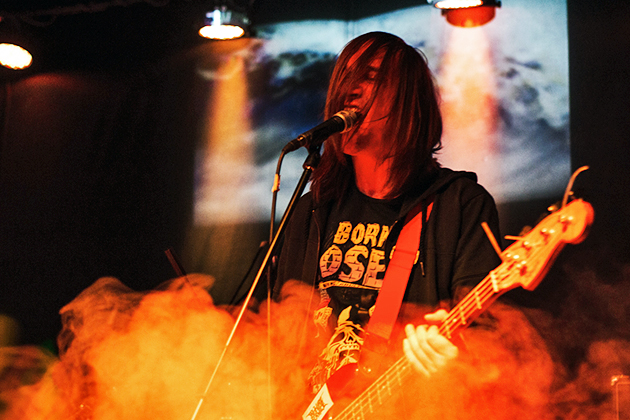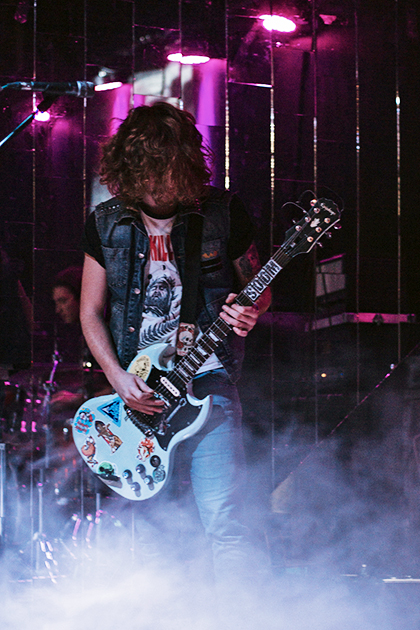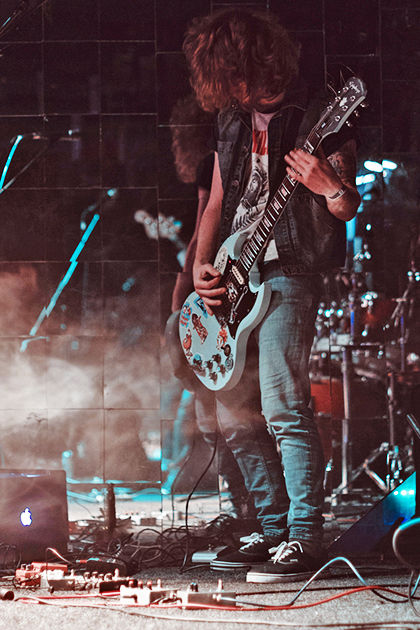 Mother Witch And Dead Water Ghosts

Also from Odessa, but flying an entirely different flag, were 5-piece MOTHER WITCH AND DEAD WATER GHOSTS, who managed to combine a seemingly endless number of styles and genres into their set, while having a distinctly refreshing sound of their own - if you crossed COLD IN BERLIN with 'Strange Machine'-era THE GATHERING you'd be fairly close tonight. There were some good, strong melodies carrying many of the songs, and a heady mix of loud and soft moments to keep things interesting, and all carried forward professionally by the singer's captivating stage presence. Witchy indeed, at times. They finished their set with a real flourish, a rock-bastard of a song that felt like two spliced together, confident and bursting with attitude - it knows it's good, and so does the crowd. There is no doubt in my mind that this band could go on to achieve great things.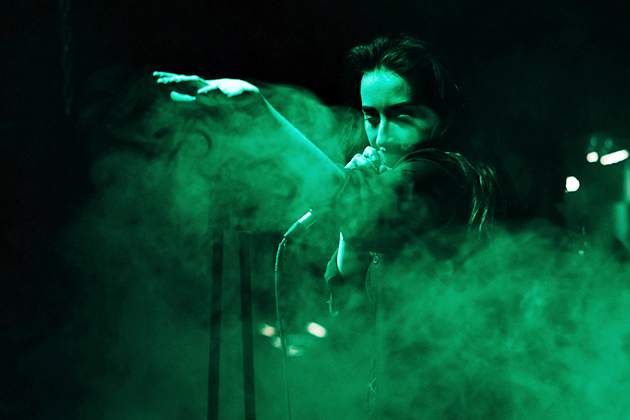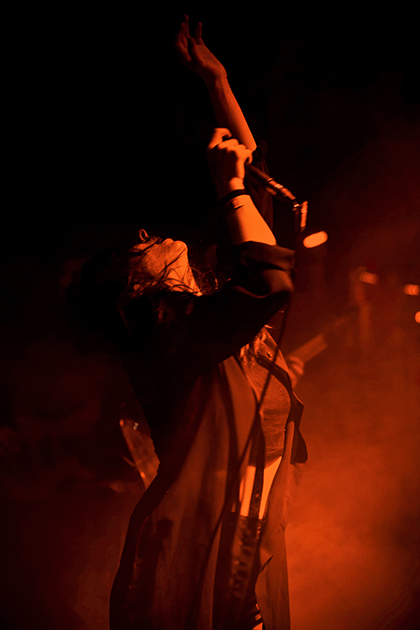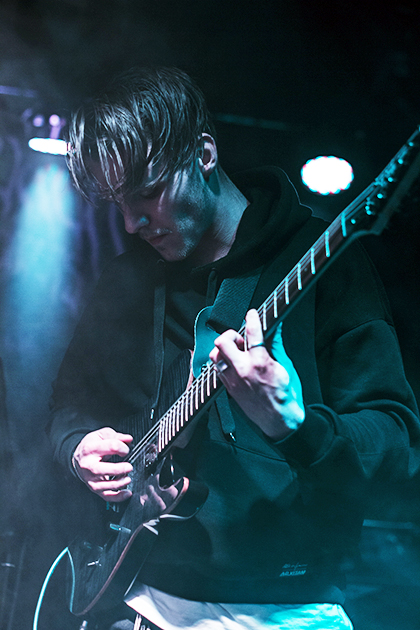 Goosla

Polish and Ukrainian band GOOSLA headlined, and their Stoner/ Doom wall-of-sound built steadily throughout their set as if going through one gear after another, patiently raising the volume and intensity with an almost alarming show of discipline. GOOSLA are all about the extras that fill out their density, and there's plenty of additional percussion in there, as well as sheets of white-hot noise occasionally knifing aggressively through the stage smoke. Throw in some trippy, almost bluesy passages, and you have a worthy headline set from a band who feel confident in the genre they inhabit. Gaps between songs slightly marred the flow, and the encore was superfluous because their superb last song was impossible to better, but these were minor gripes and did little to diminish a thoroughly enjoyable performance.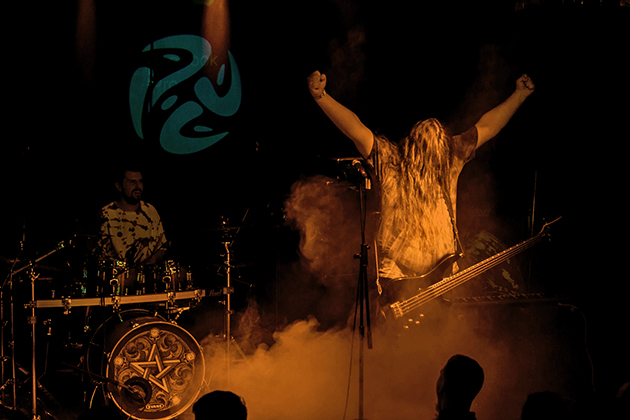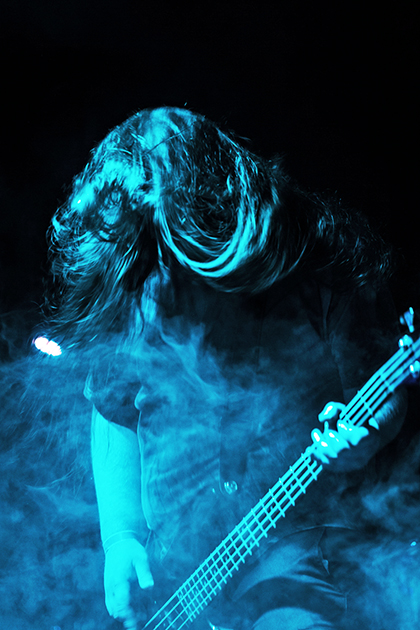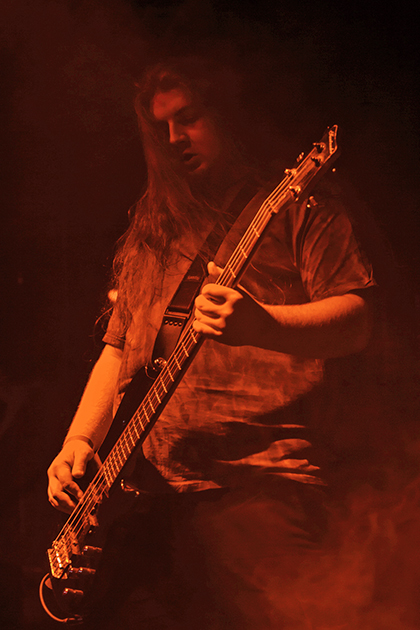 The promoters should be commended here for putting on a good and varied show - no-one wants to hear three identical sounding bands, right? But with each band having enough in common to ensure everyone stayed for the duration, and the whole event flowed nicely and professionally. The lighting and sound were good, and other than the lack of heating (who needs heating at a gig, come on!) the venue was great. Check these bands out, there's a lot of talent hiding out there…
Overall Rating

Music: 8
Performance: 8
Sound: 7
Lights: 7
Total: 7.5 / 10
All pictures by Victoria Alexeeva