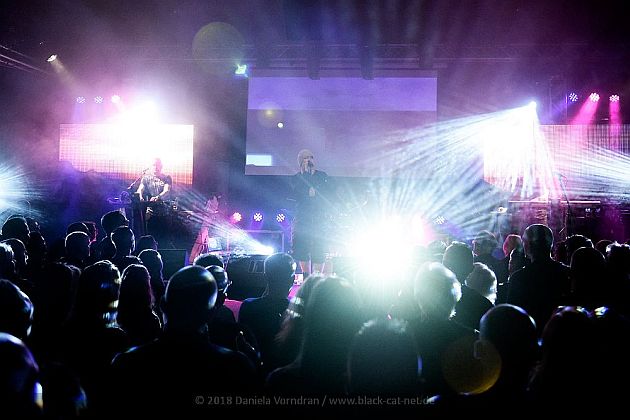 Kulttempel, Oberhausen, Germany
16th September 2018
Mesh & M.I.N.E.

British synth band MESH are on their 'Retrospective' tour and due to popular demand they played an additional date at the Kulttempel in Oberhausen, Germany. The Sunday show was less busy than the packed Saturday night gig but fans were treated with a unique setlist.
M.I.N.E.

Special guest on "Involved - the MESH retrospective tour 2018" is M.I.N.E. aka Marcus Meyn, singer of renowned German Synth Pop act CAMOUFLAGE. You will all remember the chart hits #The Great Commandment' and 'Love Is A Shield', which slingshot the band to stardom in the late 1980s. M.I.N.E. Is completed by Volker Hinkel on the guitar and keyboards, who is also member of German Pop act FOOLS GARDEN, and Jochen Schmalbach on drums. Both have also been members of the CAMOFLAGE live line-up for a long time. http://www.facebook.com/minemusicband/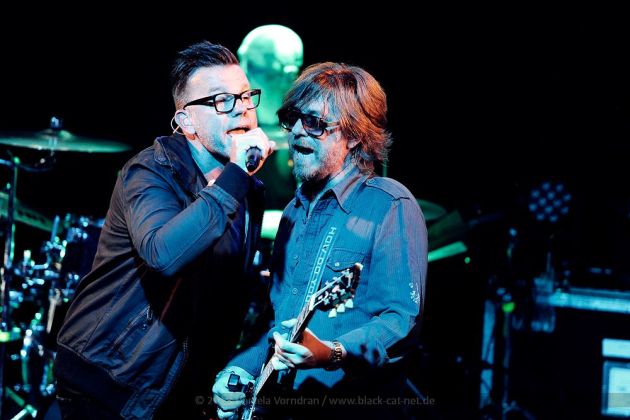 Music & Performance

Being an experienced unit, M.I.N.E. played a solid set with a surprising high portion of CAMOUFLAGE songs, given that M.I.N.E. has already released two EPs and their debut album, 'Unexpected Truth Within'. But if you have killer tracks like 'Shine' or the mighty 'Great Commandment' in your back-catalogue it would be probably foolish not to use them! Focal point of the show was, of course, singer Marcus Meyn and his 30-year experience truly showed. Great voice, great performer! The M.I.N.E. songs certainly did matter, too, and especially 'Dangerous' and the marvellous 'The Things We've Done' made the hearts of all synth pop lovers beat faster. Some may say that M.I.N.E. is just a filler for the long gaps between CAMOUFLAGE albums, and musically the two projects do sound very similar, but the quality alone justifies this project. In February M.I.N.E. Will come back for headline shows, so don't miss them!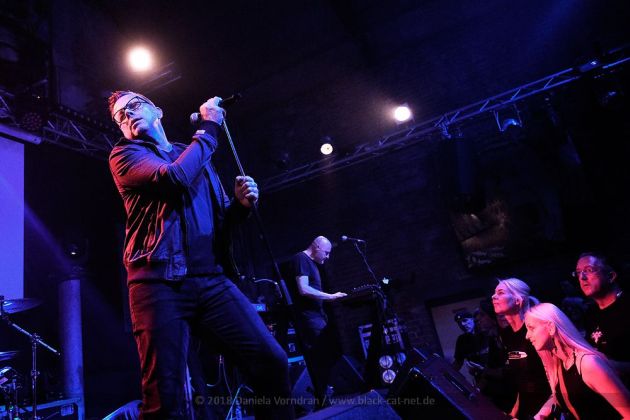 Setlist

01. Memory
02. That Smiling Face
03. The One
04. Shine
05. Dangerous
06. The Things We've Done
07. Same But Different
08. The Great Commandment
09. You Were There (by Resistance D.)
Rating

Music: 8
Performance: 8
Sound: 10
Light: 8
Total: 8.2 / 10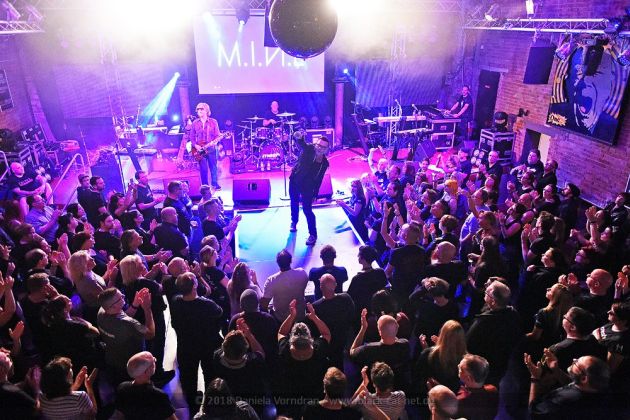 Mesh

After their brilliant 'Looking Skyward' album and the successful two-part "Touring Skyward" tour in 2016/17 it was time for something new in the MESH camp. Or rather something very old once again, as this autumn tour was preceded by the re-release of the 1999 album 'The point at which it falls apart', which is still a fan favourite and is now available in a re-mastered edition with extras via Dependent Records. Such a re-release is always a good excuse to embark on a retrospective tour to perform songs which haven't been played in years - or maybe even never - along with some fan favourites. "Touring Skyward" was MESH's most successful tour to date, and this year's "Involved retrospective tour" obviously manages to catch up with this success.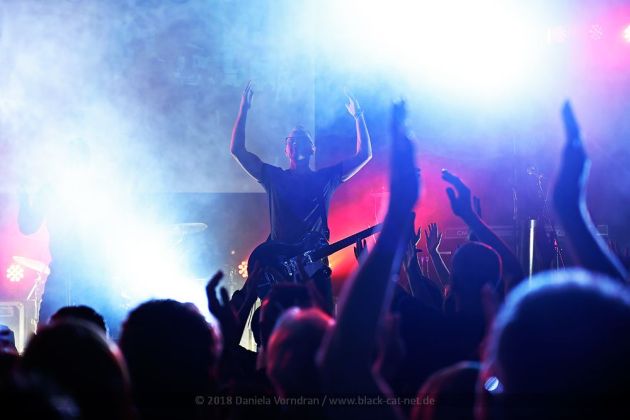 The shows in Oberhausen, Berlin, and Frankfurt even sold out so quickly that MESH added second dates in these cities. The band from Bristol, England, surely placed itself firmly on the map of all Synth Pop lovers and with their last album scratching at the German Top 10 they are on the brink of becoming a mainstream act here. Their Pop appeal is undeniable, as anyone knows who followed MESH through the years. 'You Didn't Want Me', 'Trust You', 'Leave You Nothing', 'Crash', 'Born To Lie', their list of catchy singles you can't get out of your head for days seems endless. It's just a shame that MESH's home country, the UK, doesn't appreciate the Pop genius of her sons. However, in places like Scandinavia, Russia and especially Germany MESH are going from one high to the next. http://www.mesh.co.uk / http://www.facebook.com/meshtheband/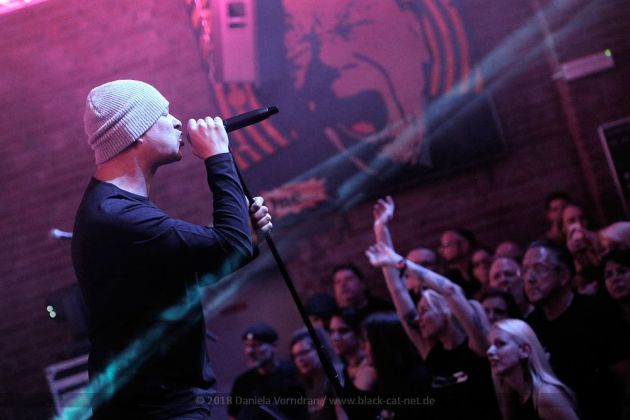 Music & Performance

MESH's Saturday night show at the fabulous Kulttempel club in Oberhausen, right in the heart of the Ruhr area, the largest urban area in Germany, was packed to the roof. The additional date was less crowded and the upper balcony was closed for the public but still the band managed to sell more than 400 tickets for the Sunday show. The doors opened quite early at 5:30 pm, which is a nice feature for a Sunday show as working week, and thus getting up early, is lurking just around the corner. MESH had a huge video screen in the backdrop of the stage and a smaller LED screen on each side, plus a short but broad catwalk in front of the stage. This was a significant change to the setup to the night before, by the way, when they had a tiny platform in front of the FOH mixing desk which singer Mark Hockings used for one song in the encore as some sort of b-stage. Perhaps they changed it to make the place look more crowded, which actually wasn't really necessary, but just a few songs into the set Hockings discovered that it was quite fun to perform on the catwalk.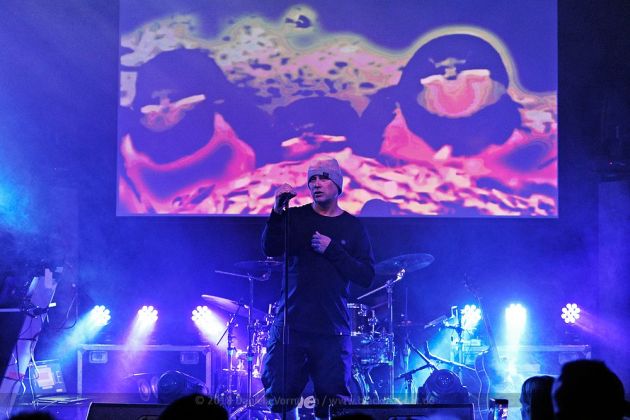 MESH promised to change the setlist a little for the additional date, and in fact they changed it rather significantly. While visitors of the first night were a wee bit puzzled that a retrospective tour didn't feature some of the biggest of the band's early hits, such as 'It Scares Me', 'Trust You' and 'Not Prepared', attendees of the Sunday show got the full hit treatment. And probably thanks to the early start, MESH played a longer set than the night before, a total of 26 songs - quite amazing, really! How many bands do get away with performing a good dozen of songs? You truly value for money here, and the musical quality doesn't have to hide behind the quantity of songs. If this Retrospective tour proved anything, than it's that MESH is a band whose "obscure" songs often have a quality other Synth acts would kill for.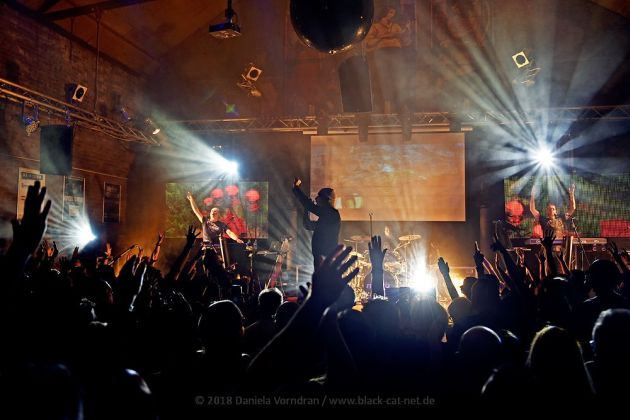 The show started with 'Remember Who You Were', a song from the very early years when MESH were still an unsigned band and which already has all the virtues which made MESH popular later and live it sounds just as fresh as the tracks from their latest album, 'Looking Skyward'. 'In the Light of Day' was only a single B-side back then and yet it has a chorus of epic proportions. And whoever decided to abandon a glorious song like 'Safe With Me' on a B-side some twenty years ago should see his or her error when seeing a crowd singing along to it in 2018. 'I Can't Imagine How It Hurts' from the 2002 album 'Who Watches Over me?' is a heart-breaking ballad and yet MESH didn't perform it in some five years before this tour. And the list goes on and on - MESH promised to play rare stuff on this tour, and they delivered!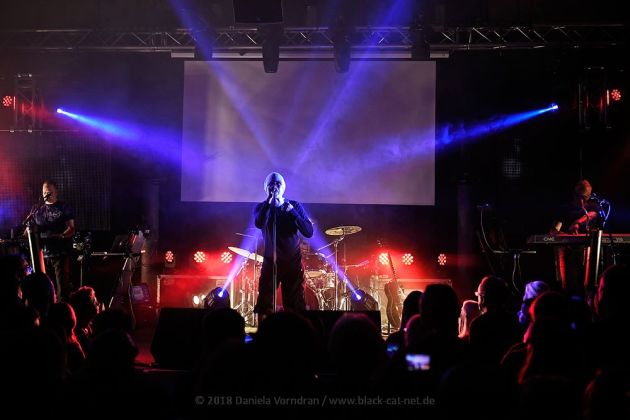 That their fans know and cherish all these "obscure" songs speaks volumes, and the atmosphere on this Sunday evening was happy, relaxed and celebratory. The best moment came when MESH played 'The Last One Standing' to finish the main set, and the crowd simply refused to stop singing the chorus even when the band already left the stage. So the band returned quickly from the backstage room to join into the sing-along and restart the song in a semi-acoustic version. Just wow! An extensive encore was of course obligatory on a night like this, and with the very last song MESH satisfied a secret wish of mine: 'Fragile', the title track of the band's very first release and the song which made me a fan back in the day, was performed the first time on this tour, and probably the first time in years. After this perfect ending I couldn't ask for more, really!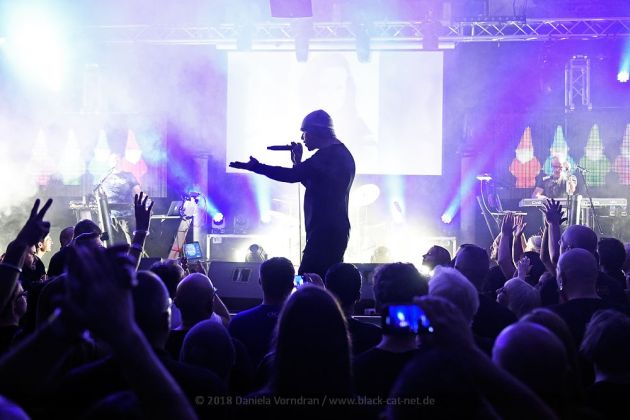 Setlist

01. These Empty Rooms [intro ]
02. Remember Who You Were
03. Involved
04. Trust You
05. Crisis
06. Open Up the Ground
07. The Place You Hide
08. Hurt
09. I Can't Imagine How It Hurts
10. State of Mind
11. From This Height
12. Not Prepared
13. In the Light of Day
14. Leave You Nothing
15. My Saddest Day
16. Safe With Me
17. It Scares Me
18. My Defender
19. I Fall Over
20. The Fixer
21. The Trouble We're In
22. Friends Like These
23. The Last One Standing
---
24. Born to Lie
25. The World's a Big Place
26. Taken for Granted
27. Fragile
Rating

Music: 9
Performance: 9
Sound: 10
Light: 10
Total: 9.5 / 10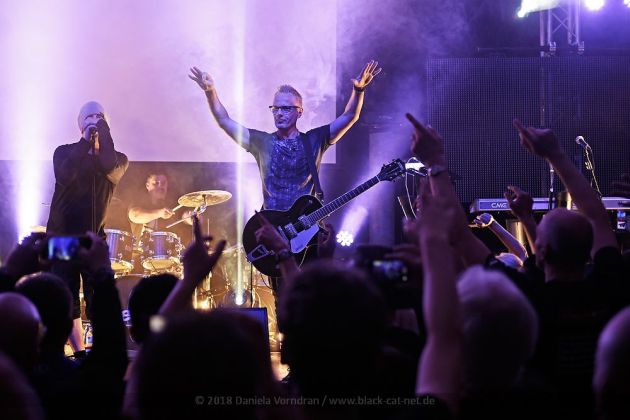 All pictures by Daniela Vorndran (
http://www.vorndranphotography.com
/
http://www.facebook.com/blackcatnet
)
See also (all categories):