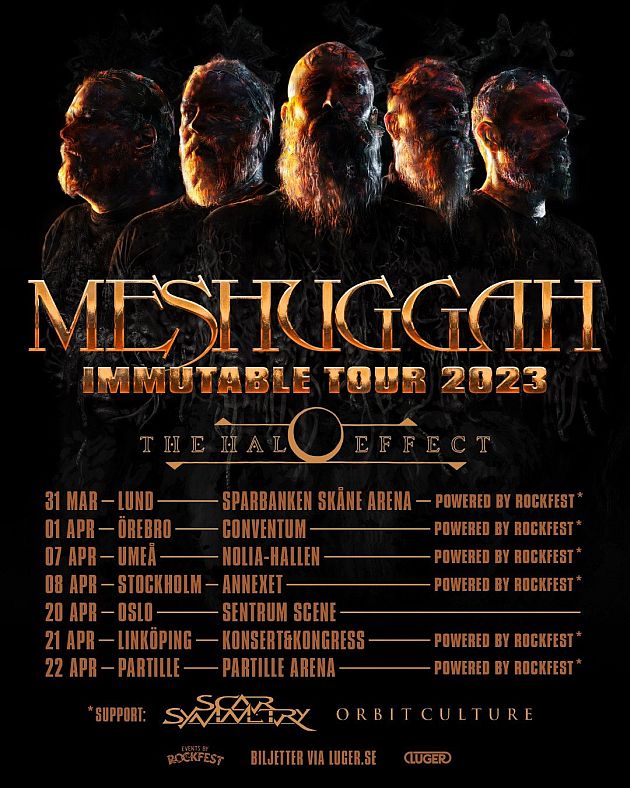 Sentrum Scene, Oslo, Norway
20th April 2023
Meshuggah & Special Guest: The Halo Effect

Progressive, brutal and tirelessly creative - MESHUGGAH's position as one of the most influential Metal bands of all time remains undisputed. And even though it's been 30 years since the band formed, they haven't lost an ounce of the uncompromising attitude that has become their signature. Something that their new and ninth album 'Immutable' is a clear example of. For a band that has never stopped, the title, which is a synonym to "unchangeable", may seem a bit paradoxical. But if anything, it tells the story of a group of pioneers who never sounded like anyone but themselves. And once again, MESHUGGAH shows that music absolutely can be irresistibly captivating and infinitely complex at the same time.


With the acclaimed album 'Immutable' in their backpack, MESHUGGAH will bring their much talked about, relentless live show to Oslo in 2023, and as anyone who has ever experienced the controlled chaos live before can tell you; the experience is both insane, expansive and deeply physical. The Death Metal supergroup THE HALO EFFECT is special guests!

The event has an age limit of 18, with ID required. No guardianship arrangement. All audience members who are assumed to be under 25 years of age will be checked for identification. Valid identification is a national ID card, passport, bank card with photo or physical driving licence. A digital driver's license is not valid identification. Photo on ID must be easily identifiable with the user. The doors open at 19:00. The event starts approx. 1 hour after doors open. It is recommended to arrive at least 45 minutes before the event starts, as there may be queues. Unnumbered standing places in the main hall and seats in the gallery, first come, first served.

Additional Concert Info
Doors: 19:00
Start: 20:00
Tickets: Sold out!
Info: https://www.rockefeller.no/
Facebook Event: https://www.facebook.com/events/836828234239013


See also (all categories):