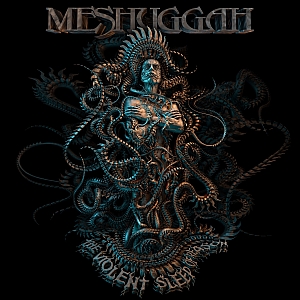 Artist: Meshuggah
Title: The Violent Sleep Of Reason
Genre: Extreme Metal / Math Metal
Release Date: 7th October 2016
Label: Nuclear Blast
Album Review

During their 30 years in existence in music the Swedish Tech Metal band has proven itself as prime pioneers, inventors and re-inventors, settling imaginative frontiers that have had many other bands trailing in their footsteps as the band keeps improving in its prowess and vision lengthening the distance so they are hard to catch up. They are here with highly anticipated eighth album 'The Violent Sleep Of Reason'. Its ten songs were recorded live in the studio, making a break with the modus operandi of previous output of the last 20-25 years. Listeners had a chance already to hear 'Nostrum' and 'Born In Dissonance' but as other outstanding songs I'd pick out 'MonstroCity' that in being true creates multi-layered sonic and complex metropolis and 'Stifled' – for its magnificent ending that's just a nicely innovative, that is unpredictable touch. There's more I could say about song-by-song but how do you dissect something complex without writing tltr essays is the question, one only I'm willing to answer by saying no more on this count.
Regardless of what I just said, I do have a niggle, and that is to say that in some ways I wished that some of the songs were left instrumental; I found the vocal at many times distracting and even annoyingly in a way. Music at that level communicates enough by itself. I'm not advocating that Kidman retires on vocals, but that perhaps could have taken a back seat a bit. It took me several listens to get into the album for this very reason. Or was it my unreason? It is a paradox to state it and yet acknowledge the importance of the lyrical input in here, these after all are very intelligent gentlemen for whom thinking is very integral part of their being. The name of the album is a nod to one of Goya's famous etchings 'The Sleep Of Reason Produces Monsters', perhaps also to 'Power of Unreason' by Jamie Barlett and Carl Miller (? There goes my little conspiracy theory) to tie the past of Goya's targeting of Inquisition (and of course in turn being target of its censure) and the present times so the history as the mythical ouroboros repeats itself, both as tragedy and farce (*nods to Marx). So what we have under the musical and lyrical microscope here are the extremist, terrorists' cells with the religious dogma being their plasma examined in detailed, precise work. And at the end here comes the root of my little niggle; the details are so fantastic and intrinsic that you just want to worm yourself into its every nook and cranny. So I'm waffling on a quite a negligible thing here really, not a real criticism as such.
Whereas previous album 'Koloss' was pared down, the experimental jazzy approach comes back on board alas in enhanced way – these guys aren't sleeping on laurels of the past. Whereas we have been a cold, mechanical, futuristic, detached and alien landscape before, it now feels warmer, more urgent and intense in terms of immediacy and in that the more organic composing/ recording approach worked really well. So yes, they've set the benchmark higher up yet. Making impossible possible? Just call that MESHUGGAH.
Tracklist

01. Clockworks - 7:15
02. Born In Dissonance - 4:34
03. MonstroCity - 6:13
04. By The Ton - 6:04
05. Violent Sleep Of Reason - 6:51
06. Ivory Tower - 4:59
07. Stifled - 6:31
08. Nostrum - 5:15
09. Our Rage Won't Die - 4:41
10. Into Decay - 6:32
Line-up

Jens Kidman – lead vocals, rhythm guitar
Fredrik Thordendal – lead guitar, backing vocals
Tomas Haake – drums, spoken word vocals
Mårten Hagström – rhythm guitar, backing vocals
Dick Lövgren – bass
Websites

http://www.meshuggah.net
/
https://www.facebook.com/meshuggah
Cover Picture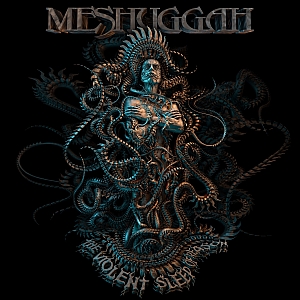 Rating

Music: 10
Sound: 10
Total: 10 / 10

See also (all categories):