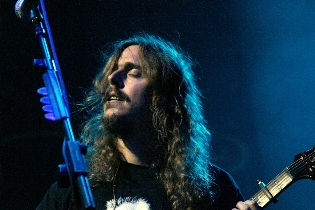 Catton Hall, Tamworth, UK
August 13th- 15th 2010
Bloodstock Open Air Day 1: Snakebite, Black Spiders, Ross the Boss, Rage, Ensiferum, Gorgoroth, Sonata Arctica, Cathedral, Meshuggah, Opeth

Bloodstock has gone from strength to strength in recent years as all good festivals should. Starting some 10 years ago as a modest affair, it has grown into what resembles WACKEN's baby English cousin. As ever organisation was great, toilets generally tolerable and the food and drinks in the metal village wasn't so overpriced it made you wince (£3.00 for a burger, £1.50 for a coffee). So with tent pitched we razzed on down to the arena, to see the bands, and it went something like this...
Snakebite 10.30 - 10.50

First up were a harder than hell outfit from London, SNAKEBITE. I love these guys as they're everything a metal band should be, and describe themselves as being like "an over excited hippo on a water bed". Nice! From the second I was told that I knew they were my kind of band. Lead singer Jason really piled all his energy into dragging the audience on board with him and he pulled it off beautifully with a charismatic and guttural display of vocal art. They're hot, hard and heavy, with a great line in mammoth enthusiasm, killer riffs and absolute dynamism making you want to jump on the stage and join in. The setlist was tragically brief, only twenty minutes and I'd have liked another half hour of these guys, but it was perfectly executed getting everyone off to a fabulous start.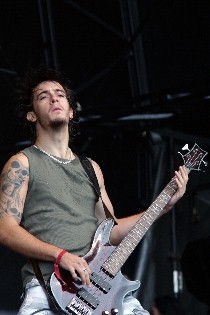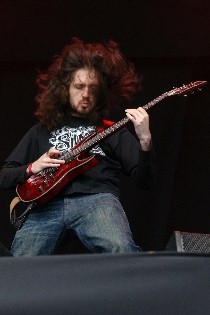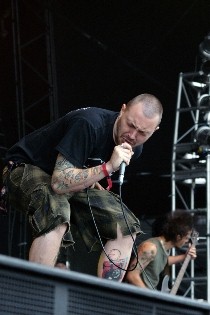 The audience raved for them, with a circle pit appearing, which considering they were the first band and it was drizzling miserably as only England can, was some damned thing to happen. Awesome, check them out at all costs!
http://www.myspace.com/snakebiteuk
Setlist

01. Visceral Pissery
02. Destroy the seed
03. Monolith
04. 60 units
Rating

Music: 9
Performance: 9
Sound: 9
Light: - (daylight)
Total: 9 / 10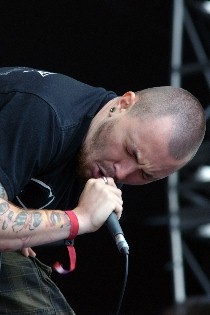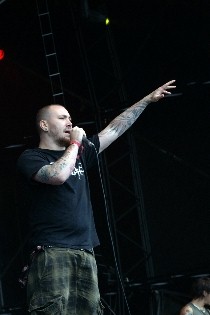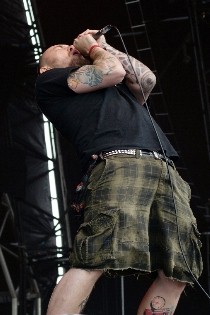 Black Spiders (11.00 - 11.40)

These guys are allegedly like "Black Sabbath eating Guns n Roses for breakfast". Whilst I'm sure BLACK SABBATH could actually do that, these guys were a little short of that, but it has to be said only a little, being a top band for the number two slot of the day. They have a hot and funky sound to them with a good drive to it and they put a huge amount of effort into their half an hour set and God do they sound authentic. This type of band takes me back further than I'll usually admit to having an earthy 70's hardcore feel to it. They're a great band if you like your rock retro and hardcore and have a genuine air of not giving a shit about what's popular and what's not. How very Rock'n'Roll of them!
http://www.theblackspiders.com/
/
http://www.myspace.com/theblackspiders
Setlist

1. El Diablo
2. Stay Down
3. Just Like A Woman
4. St. Peter
5. Kiss (Tried To Kill Me)
6. Blood On The Keys
Rating

Music: 8
Performance: 8
Sound: 9
Light: - (daylight)
Total: 8.2 / 10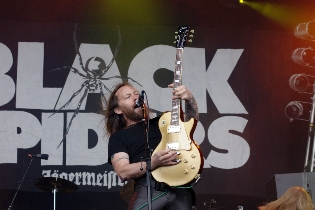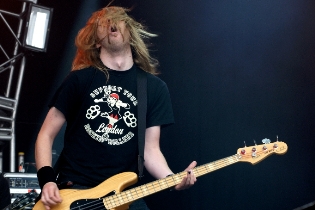 Ross the Boss (with Scott Columbus) (12.00 - 12.40)

Whilst the name might be slightly cheesy there is nothing in that dept of these guys amongst who we have founding members of the likes of MANOWAR. These guys are solid hardcore badass metal mayhemmers that your mother really wouldn't like you to bring home. They had an interesting start being a fusion of Ross himself (founder of MANOWAR) and a MANOWAR tribute band who proved so good that they decided to form an entirely new band and play original material instead of just covers of their, erm…, former selves. Got that? Good. As for the gig at Bloodstock, they went down a storm with courageous and harsh vocals that ripped the air from your lungs and screaming instrumentation. This is a class act, well worth your time if they're anywhere within a hundred miles of you.
http://www.ross-the-boss.com/
/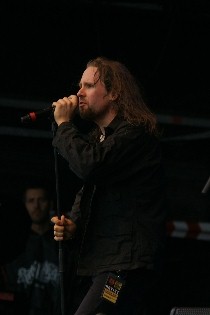 http://www.myspace.com/officialrtb
Setlist

01. I.L.H.
02. Blood of Knives
03. Hail to England (Manowar cover)
04. We Will Kill
05. God of Dying
06. Kill with Power (Manowar cover)
07. Thor (The Powerhead) (Manowar cover)
08. Fighting the World
09. Catch the Rainbow (Rainbow cover)
10. Hail and Kill (Manowar cover)
Rating

Music: 8
Performance: 8
Sound: 9
Light: - (daylight
Total: 8.2 / 10
Rage (13.05 - 13.45)

A very interesting band from western Germany came next in the form of RAGE whose diverse style and pure artistic skill really took my fancy. A straight mix of heavy metal, hardcore, and thrashy elements were tempered with a very prog and classical sound in places, which worked fantastically well. The drum master that is André Hilgers is legend, and for a three piece outfit their sound is HUGE. I would love to have seen them play more than their forty minute set and they dazzled particularly with the beautifully executed final song ' Down'.
http://www.rage-on.de/
/
http://www.myspace.com/rage
Setlist

01. The Edge Of Darkness
02. Soundchaser
03. Hunter and Prey
04. Drop Dead
05. Empty Hollow
06. Higher Than The Sky
07. Down
Rating

Music: 9
Performance: 9
Sound: 9
Light: - (daylight)
Total: 9 / 10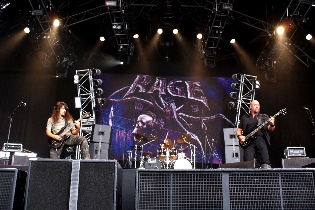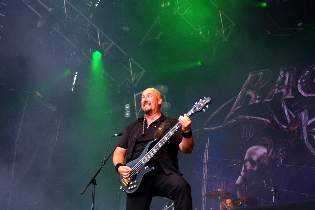 Ensiferum (14.10 - 14.55)

Next came fantastic Finns ENISFERUM with their own brutal brand of melodic Viking metal, sounding utterly fantastic even in the pouring rain with their enormous sound which all at once manages to sound violent, terrifying and serenely beautiful. That's a very clever trick to pull off. On CD they are very intricate indeed, and I was pleased to see no less so live. The show itself was also great, with them putting every fraction of themselves into their performance giving the audience a truly great experience and making them one of the highlights of the whole festival and well worthy of the ten rating I have given them across the board.
http://www.ensiferum.com/
/
http://www.myspace.com/ensiferum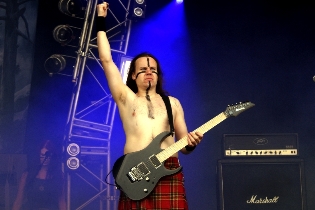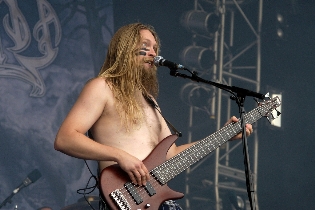 Setlist

01. By the Dividing Stream
02. From Afar
03. Twilight Tavern
04. Into Battle
05. Token of Time
06. Ahti
07. Stone Cold Metal
08. One More Magic Potion
09. Iron
Rating

Music: 10
Performance: 10
Sound: 9
Light: - (daylight)
Total: 9.8 / 10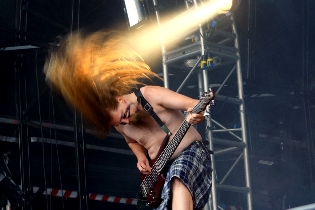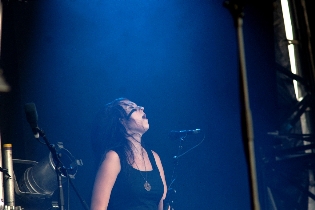 Gorgoroth (19.40 - 20.30 )

Keeping the metal flag flying for Norway come GORGOROTH, a legendarily odd and controversial black metal group from Bergen who despite being known for their over the top pretentious diabolical shenanigans actually weren't half bad. Thankfully they didn't do what they came to fame in Poland for (displaying sheep heads on pikes and revelling in 80 litres of sheep's blood on stage) but lead singer Infernus ( interesting name for his mother to have called him) certainly has a stage presence and set off proceedings well with a good performance. If you like over the top 'Devil rides out' type black metal then these guys are for you, but I find it hard to get past all the unnecessary trappings that they portray (they look like KISS after a particularly heavy night, but take themselves VERY seriously) which gets in the way of the music, not to mention it comes off as a bit comedic and cheesy. If I was Satan and these guys were my representatives on earth I'd be a bit cross, still that being said, image aside, the set was not really lacking much and everyone seemed to be enjoying themselves.
http://www.gorgoroth.info/
/
http://www.myspace.com/gorgoroth
Setlist
01. Bergtrollets Hevn
02. Aneuthanasia
03. Forces Of Satan Storms
04. Profetens Apenbaring
05. Destroyer
06. Unchain My Heart!!!
07. Revelation Of Doom
Rating
Music: 7
Performance: 7
Sound: 9
Light: - (daylight)
Total: 7.4 / 10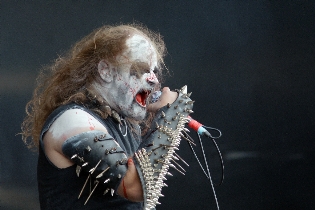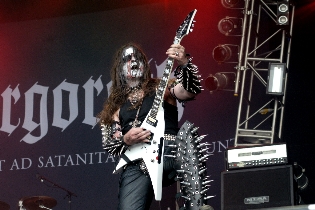 Sonata Arctica (16.40 - 17.25)

Then it was back to Finland for one of the best bands of the festival SONATA ARCTICA, much more my thing next. Kicking off with and at the end reprising with 'Everything fades to gray' they played a killer set that set the crowd on fire. Relaxed and easy on stage they are consummate pass masters in their performance. 'Don't say a word' was awesome as was 'Fullmoon' and I wished that they'd been headlining so we could have another hour or so of them for this is symphonic and amazing to behold live. Lead singer Tony Kakko is a brilliant front man, never taking himself too seriously (he slapped his arse in the ' turn another cheek' lyric form 'Paid in Full') but he definitely respects his audience and makes for a really great spectacle.
http://www.sonataarctica.info/
/
http://www.myspace.com/sonataarctica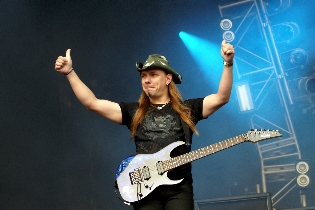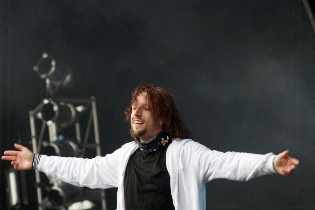 Setlist

01. Everything Fades To Gray (Instrumental)
02. Flag In The Ground
03. The Last Amazing Grays
04. Last Drop Falls
05. FullMoon
06. Juliet
07. 8th Commandment
08. The Dead Skin
09. Paid in Full
10. Don't Say A Word
11. Vodka / Everything Fades To Gray
Rating

Music: 9
Performance: 10
Sound: 9
Light: - (daylight)
Total: 9.4 / 10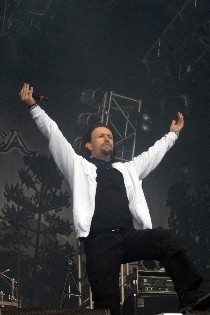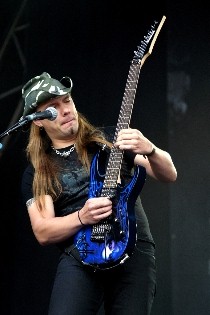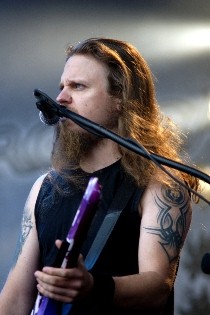 Cathedral (18.00 - 19.00)

If you happen to be BEHEMOTH then you can't get friends much better than CATHEDRAL who stood in for them at a moment's notice after ill health forced them to cancel. So, nice guys, but better than that they were totally epic! Famed doom metallers from the UK, they put on a colossal show which lasted a full hour. Highlights were 'Funeral of dreams' and the set finisher 'Witch finder general' but truthfully they didn't play a bad track and I might even have enjoyed them more than I would BEHEMOTH. Class!
http://www.cathedralcoven.com/
/
http://www.myspace.com/cathedral
Setlist

01. Vampire Sun
02. Utopian Blaster
03. Funeral of Dreams
04. Cosmic Funeral
05. Corpse Cycle
06. Ride
07. Hopkins (Witchfinder General)
Rating

Music: 9
Performance: 9
Sound: 9
Light: 8
Total: 8.9 / 10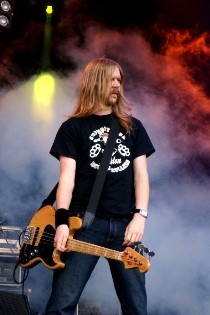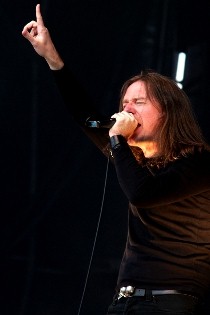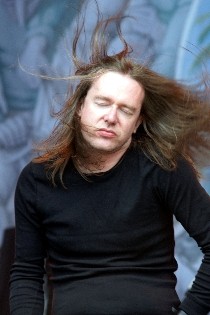 Meshuggah (19.35 - 20.35)

Hailing from Stockholm, these Swedes had big expectations lumped on their shoulders and they did not disappoint in any shape or form. The show starter 'Rational Glaze' with it's disjointed riffs was a master class in how to begin your show, whilst other top efforts included 'Combustion' and 'Lethargica' which came back to back in a shower of pure talent. They have a name for themselves these guys and now I know why, because their live show is spectacularly energetic and infused with a real will to please the audience being shown by Jens Kidman, their killer vocalist. After they closed with 'Straws pulled at random' I remember thinking "God, OPETH will have to be good to top that", which is all you can really ask of a band.
http://www.myspace.com/meshuggah
Setlist

01. Rational Gaze
02. Bleed
03. Electric Red
04. Pravus
05. Stengah
06. Combustion
07. Lethargica
08. Sane
09. Straws Pulled At Random
Rating

Music: 8
Performance: 9
Sound: 9
Light: 8
Total: 8.5 / 10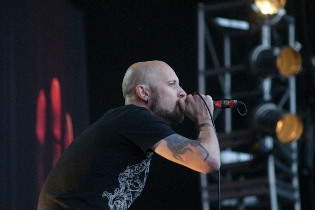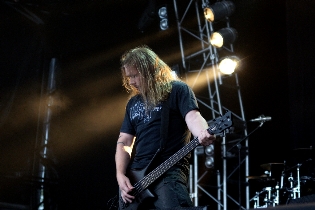 Opeth (21.15 - 22.45)

So, were OPETH good? Damned right, they were! With a fusion of every genre you could shake a stick at, these proggy metallers from Sweden have it taped down perfectly. You'd imagine it'd be easy to get bored when the average song lasts 10 minutes but they are so fluid and diverse that it never really occurs to you as they meander through style and melody in a seemingly endless and effortless way. 'The Moor' was for me the best offering of the night, although 'Bleak' came a very close second with its howling agonised riffs and its mournful wandering nature. These guys deserve all the acclaim that they have received and probably a whole lot more. Mikael Akerfeldt and co are without doubt a very special band indeed. Only one criticism, the lighting was horrible, other than that sound was pretty perfect and performance was outstanding.
http://www.myspace.com/opeth
/
http://www.opeth.com/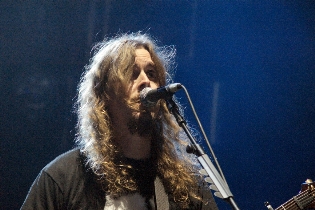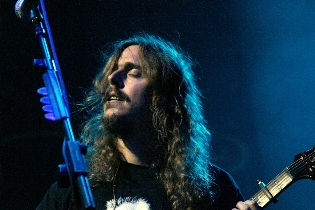 Setlist

01. Windowpane
02. The Grand Conjuration
03. The Lotus Eater
04. The Drapery Falls
05. The Moor
06. Bleak
07. Catch The Rainbow (Rainbow cover)
08. Deliverance
09. Demon of the Fall
Rating

Music: 9
Performance: 9
Sound: 9
Light: 6
Total: 8.6 / 10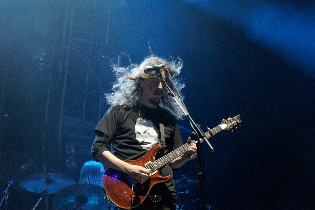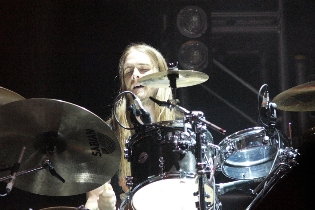 And so that was the end of the music for me on the first excellent night. I did think about having an early night ( for about five seconds) but instead decided to head off to one of the many parties going on as Bloodstock is one of the friendliest festivals you'll ever go to and it wouldn't be a review without trying out the local hospitality. However I was up bright and early (or I might not have gone to bed) for day two which was every bit as exciting as day one!
All pictures by Maddi Isaacs
{jos_sb_discuss:18}
See also (all categories):