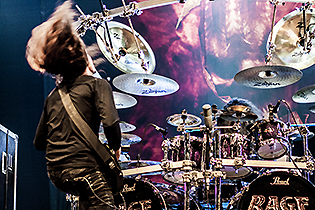 Ballenstedt, Germany
12th - 14th July 2012
RockHarz Festival Day 1: Night In Gales, Tanzwut, Pain, Oomph!, Rage

The weather was not looking good at all and after seeing the police giving out warnings about an upcoming storm, we did not really were in the mood for the first day of the festival. But fortunately the sky cleared up and we made our muddy way to the main stage to see fantastic bands like PAIN and RAGE.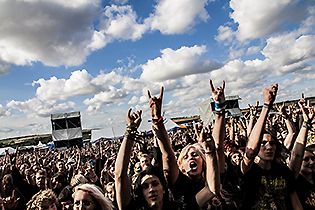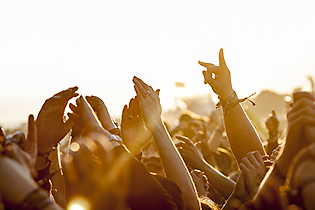 Night In Gales

The band was founded by Christian Müller (vocals), Jens und Frank Basten (guitars), Tobias Bruchmann (bass) und Christian Bass (drums) in 1995. After their first release 'Sylphlike', Christian left the band and was replaced by their current singer Björn Gooßes. After the changing of their label, the band toured with GOD DETHRONED. Shortly after, many members left the band in order to focus on own projects. Now, the band is back together, having a new drummer named Adriano Ricci. In 2011, the band released their current CD 'Five Scars'. http://www.night-in-gales.com/ / www.myspace.com/nightingales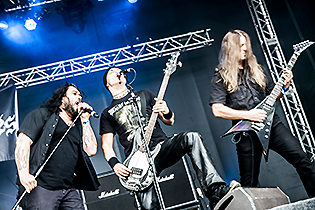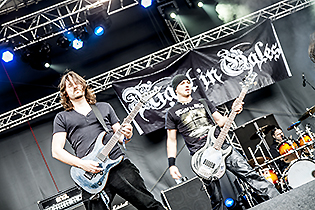 Music & Performance
The show started off with a rather smooth sound consisting of strings but then immediately turned into heavy melodic death metal. NIGHT IN GALES are back, louder than ever! It was almost a decade ago that the metal community had heard about the guys but now they are back again with their new album 'Five Scars'. The band had the audience's attention right away, convincing with powerful vocals by singer Björn. The band supported the great vocals with a sound that was loaded with energy and you could easily see that the band was happy to be back on a stage. Even the weather god finally brought out some sun and gave a nice view over the whole festival ground. This, and of course the good music, brought a lot of people in front of the stage and the festival began with a solid performance by NIGHT IN GALES.

Rating
Music: 8
Performance: 8
Sound: 8
Light: 8 (+ daylight)
Total: 8 / 10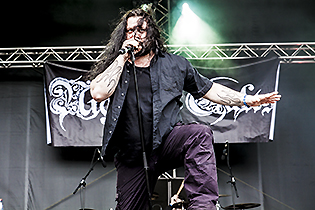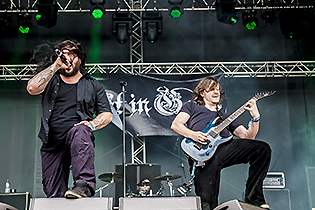 Tanzwut

TANZWUT is a German Neue Deutsche Härte and Medieval Metal band which originated as a side project of CORVUS CORAX members. The band uses a medieval theme during their live performances which are expressed through their stagecraft, costumes and choreography. TANZWUT are known for their heavy use of bagpipes, an unusual instrument for a metal band. The group has achieved international success, filling concert halls as far away from their home country as Mexico. The band's recent releases have been gravitating towards a more industrial metal approach, incorporating the use of more down-tuned guitars, harsher vocals and darker atmospheres. In 2011, the band released 'Weiße Nächte'. TANZWUT is Teufel (vocals, bagpipe), Martin Ukrasvan (guitar, davul), Der Zwilling (bass, bagpipe), Ardor (bagpipes), Thrymr (bagpipes), Jagbird (keyboard, e-drums, drums) and Shumon (drums). http://www.tanzwut.com / http://www.myspace.com/tanzwutmusic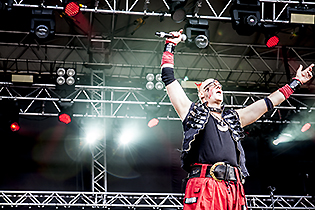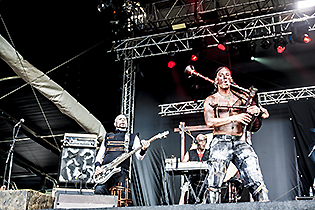 Music & Performance
The sun kept shining and so we enjoyed the afternoon and stayed for the next band to come: TANZWUT. Some people do not like their mixture of medieval sounds combined with electronic parts but I think the band knows how to heat up a crowd with their style of music. Singer Teufel was of course the centre of attention. The whole band had a lot of fun on stage and knew how to transport that to the audience. The line-up has changed over the time but the band still has a good harmony on stage, presenting their current album 'Weiße Nächte' with songs like 'Wie Phoenix Aus Der Asche'. Altogether, the band delivered a good show with a lot of fun. As one of their last song, the band played their DIE ÄRZTE cover 'Bitte Bitte' which is part of every concert the band is playing. One can wonder if the cover is better than the original or not but there is no doubt that the song clearly attracts a lot of people due to its prominence.

Rating
Music: 8
Performance: 8
Sound: 8
Light: 8 (+ daylight)
Total: 8 / 10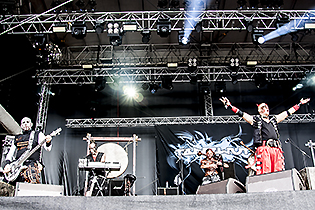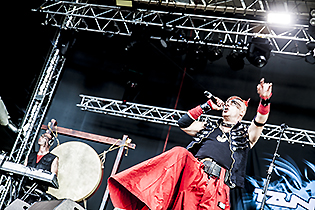 Pain

PAIN is a musical project from Sweden that mix heavy metal with influences from electronic music and techno. The project started out as a hobby project for front man Peter Tägtgren, whose idea was to fuse heavy metal with 1980s-inspired electro-industrial and techno influences. Tägtgren, who is also the vocalist/guitarist of HYPOCRISY and producer of his own The Abyss studios, is the only current member. PAIN's self titled debut was released in 1997, and since then Pain has released five more albums and a DVD. Currently, the band is under the Nuclear Blast Records banner. They released their seventh album 'You Only Live Twice' on 3rd June 2011 via Nuclear Blast. http://www.painworldwide.com/ / www.myspace.com/pain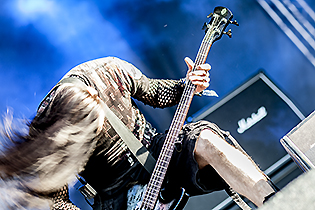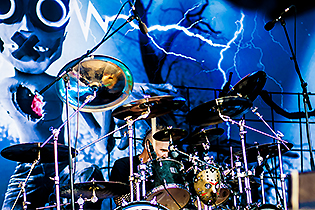 Music & Performance
Last year, his other prominent band HYPROCRISY made its way to Ballenstedt and this year, well-known Peter Tägtgren is presenting PAIN on this year's ROCKHARZ Festival! The band entered the stage with a little delay but made up for it with a really nice gig on this Thursday evening! However, the sound was rather bad which seems to be due to the fact that the wind was still blowing like crazy but this is not changing the mood the band is bringing with them. PAIN are giving us some new material like 'Dirty Woman' from their current CD 'You Only Live Twice' as well as older classics like 'On And On'. Altogether, the band showed some nice skills and attracted quite a lot of people which was consisting of quiet a lot of women which might be due to their mixture of some electronic sounds within heavy metal riffs. For me, it was a really nice gig which I enjoyed a lot! And the last song "Shut Your Mouth" was just placed just right.

Setlist
01. Crashed
02. Monkey Business
03. Dirty Woman
04. Don't Care
05. I'm Going In
06. Dark Fields Of Pain
07. The Great Pretender
08. Same Old Song
09. On And On
10. Shut Your Mouth

Rating
Music: 9
Performance: 8
Sound: 7
Light: 8 (+ daylight)
Total: 8 / 10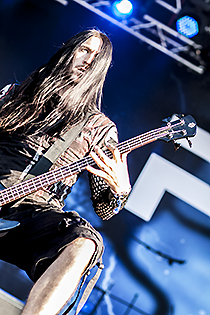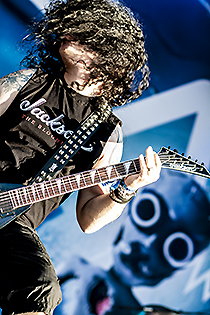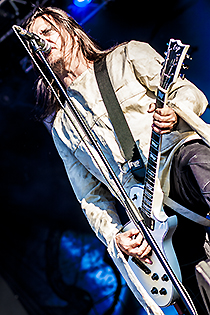 Oomph!

For almost 20 years, this band is a true force in the independent music scene. Albums like 'Defekt' (1995) and the unbelievably successful conceptual album 'Wunschkind' are milestones with their unique fusion of the electronic world with the unrelenting power. Every new album opened another door and critics overthrew themselves in trying to categorize the sound and with their 1999 output 'Plastik' they finally made their breakthrough in catapulting their music into the German Charts. 2003 was the year of change. OOMPH! signed to the Major label GUN Records and in the eyes of many old fans, they sound drifted into a more commercially and mainstream oriented direction from there on with the two albums 'Wahrheit oder Pflicht' or 'GlaubeLiebeTod', but maybe OOMPH! just sound like they want to sound. Whether you like that direction or not this is and stays a matter of personal taste. The current album 'Des Wahnsinns Fette Beute" was released in May 2012. OOMPH! is Dero (vocals, drums), Crap (guitar, keyboards) and Flux (guitar, sampling). For live shows, they are supported by Leo on drums, Hagen on bass and very newly by El Friede on Keyboards and Okusa on percussions. http://www.oomph.de / http://www.myspace.com/oomph / https://www.facebook.com/oomphband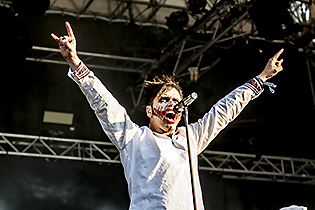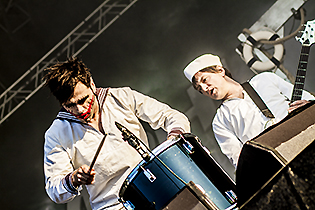 Music & Performance
To be honest, we only decided to watch OOMPH! in order to give them a second chance after their performance at this year's Zita Rock Festival which wasn't really good if you ask me. Well, let's put it this way: the band didn't do any better at the ROCKHARZ Festival. The band still looked like huge babies and Dero (vocals) still matched the appearance of the joker the morning after a lot of alcohol. Altogether, one can say that their show was exactly like the one we had seen about a month ago. I can understand why a lot of people find that band attractive but I still don't get why they consist of so many people. The music surely doesn't sound like it is being made by 7 people. The music might be not as well-balanced as one might think by the amount of people on stage but there is no doubt that the band knows how to entertain the crowd. Especially Dero is quite a magnet when it comes to girls. Unfortunately his mic didn't always work out and so wasn't heard by everyone. Altogether, the band still didn't convince me but surely entertained a lot of people.

Setlist
01. Intro + Unzerstörbar
02. Labyrinth
03. Mein Schatz
04. Bis der Spiegel zerbricht
05. Niemand
06. Mitten ins Herz
07. Zwei Schritte vor
08. Gott ist ein Popstar
09. Seemannsrose
10. Sandmann
11. Augen auf

Rating
Music: 6
Performance: 8
Sound: 8
Light: 8 (+ daylight)
Total: 7.5 / 10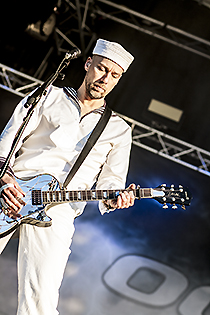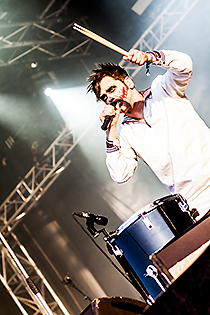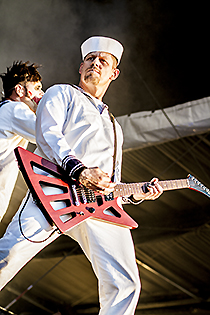 Rage

RAGE is a German heavy metal band, formed in 1984. They were part of the German heavy/ speed/ power metal scene to emerge in the early to mid 1980s, along with bands such as HELLOWEEN, RUNNING WILD and BLIND GUARDIAN. The band played at Bundesvision Song Contest 2009 (BUVISOCO) on 13 February 2009, the Festival was hosted by Stefan Raab (TV Total). The band became more famous through their participation in the show, as well as by being placed third. RAGE released their current album '21' in 2012. www.rage-on.de/ / www.myspace.com/rage

Music & Performance
We decided to skip HATEBREED due to their lack of musical competence and made our way back to the stage just in time to see RAGE – well at least that was what we thought. As soon as we arrived there, we were informed that HATEBREED had a blackout and therefore had to stop for quite some time. This of course set the whole schedule back and we had to wait for RAGE to enter the stage.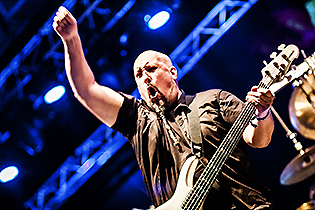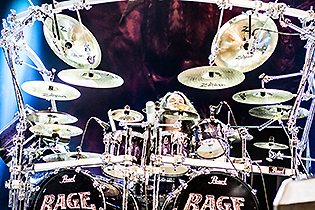 It was past midnight as the guys finally showed up on stage and instantly had the whole crowd in their hands with their pure metal sound combined with Peavy's great voice. Right from the beginning, the band entertained everyone who was still up and running. The band knows how to play together and surely has a lot of fun which they delivered right back to the people in front of the stage. All three guys are smiling constantly and passed it on to everyone else. Victor is one of the best guitarist of our times and clearly showed his skills during the show. RAGE presented newer songs from their current album '21' as well as older ones and clearly proofed that they are one heck of a metal band! What a nice ending to our first day at the ROCKHARZ Festival.

Setlist
01. Twenty One
02. Forever
03. Paint the Devil on the Wall
04. Feel My Pain
05. Serial Killer
06. Suite Lingua Mortis V - No Regrets
07. Empty Hollow
08. Refuge
09. Great Old Ones
10. Higher Than the Sky
11. Soundchaser

Rating
Music: 10
Performance: 10
Sound: 9
Light: 8
Total: 9.5 / 10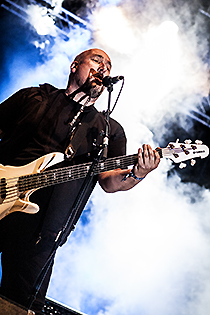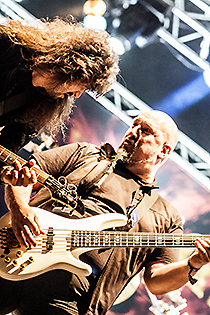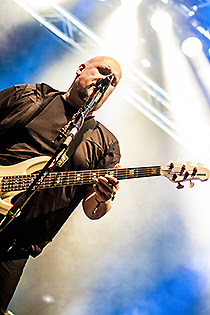 All pictures by Anne Kuhfuß




See also (all categories):