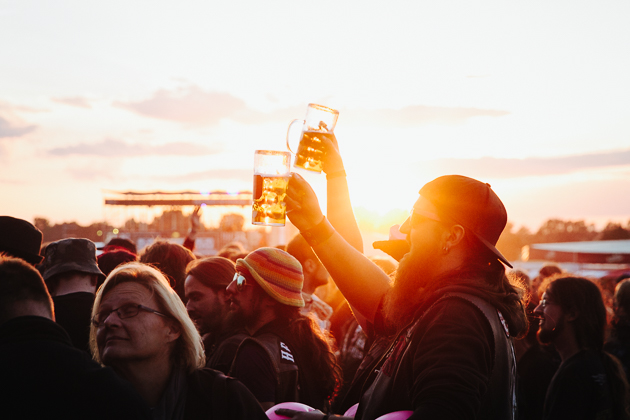 Airport, Ballenstedt, Germany
6th to 9th July 2016
RockHarz Festival Day 1: Impressions & AFM Label Night with Mors Principium Est, Shakra, Kissin' Dynamite, J.B.O., Onslaught

Hard to say if the first day of RockHarz is really a full festival day. The ground is blocked more or less in the middle, only one stage is open and most of the merchants are closed. It seems, that this day is more a preparation day for the three upcoming days with full entertainment on both stages and giving the people some more time to settle down on the camping ground. The first night was organized by AFM Records and was called the AFM Label Night. AFM stands for "Allendörfer Fischer Musik", the focus of the label is on the heavy metal music genre. This year they celebrate their 20th anniversary. AFM organized six bands for the evening, with KISSIN' DYNAMITE and J.B.O. two bands announcing new albums.
Mors Principium Est

The opener of the AFM Label Night was MORS PRINCIPIUM EST, a Finnish melodic death metal band formed in 1999, actually working on their sixth album. The band performed songs like 'I will return', 'Life in black' and finished their set with 'Altered state of consciousness' from their second album 'The Unborn' (2005). //
http://www.morsprincipiumest.com
/
https://www.facebook.com/MPEofficial
Shakra

The Swiss Rock legend is looking back on a successful career including great shows as support of legends such as WHITESNAKE or GUNS N' ROSES. After John Prakesh left the band in 2014, Mark Fox has been back as singer since October 2015. You can hear his charismatic voice on their new work of art High Noon. SHAKRA mixed up older songs like 'I will be there' with songs from the new album 'High Noon' like 'Raise your hands', 'High noon' or 'Wild & Hungry', a song bringing everything together what SHAKRA is made of: killer riffs, a super precise rhythm section squared off with cool, catchy vocal lines. With 'Rising high', a heavy and groovy song from their album 'Rising' SHAKRA finished their remarkable performance. //
http://www.shakra.ch
/
https://www.facebook.com/ShakraBand
Kissin' Dynamite

The last time the Southern Germans rocked the RockHarz was in 2014. This year they were really happy to celebrate the release of their new album 'Generation goodbye'. Starting with 'DNA' singer Johannes Braun was able to bring up the people from naught to sixty. The new album is to be released two days after RockHarz, so KISSIN' DYNAMITE played the songs like 'If Clocks Were Running Backwards' for the very first time ever and everyone noticed that this was a very special and proud moment for the band. Before that special moment they performed older songs like 'She's a killer', 'Money, Sex & Power', 'Love Me, Hate Me'. Again older songs like 'Sex is war' and 'Ticket to paradise' were mixed up with new material like 'Hashtag Your Life'. Finally KISSIN' DYNAMITE finished the performance with 'I will be king' and 'Operation supernova' with outstanding support from the crowd. As stated with their own words it is seems more confident than ever before: KISSIN' DYNAMITE is a band whose members are young but well versed, who have toured the world, advanced as songwriters and matured as performers. //
http://www.kissin­dynamite.de
/
https://www.facebook.com/Kissindynamiterocks
J.B.O.

When people appear in fancy dresses, mostly in the colour pink, holding pink animals in their arms or just absurd signs like "Ich bin doof" (I am silly) ­ it is definitely time for a band which is a must-see on RockHarz called J.B.O. Even the security was prepared, wearing T-shirts, I don't know the English words. J.B.O. was founded 1989 as a Fun Metal band and people like this band ­ or not. For RockHarz this band is a fast friend and the people are able to sing along most of the songs in German. J.B.O. just released their new album '11' and also presented for the first time some of the songs in live. //
http://www.jbo.de
/
https://www.facebook.com/kickersofass
// Setlist: 01.Ällabätsch, ällabätsch, nänänänänänä! / 02.I Don't Like Metal / 03. Walk With an Erection / 04. Jetzt isser drin / 05. Geh mer halt zu Slayer / 05. Wacken (RockHarz) ist nur einmal im Jahr (new album) / 06. Wir lassen uns das Blödeln nicht verbieten (new album) / 08. Bolle / 09. Vier Finger für ein Halleluja / 10. Gänseblümchen / 11. Ich hätt gern mehr (new album) / 11. Der Hofnarr / 12. Dr. Met / 13. Ein guter Tag zum Sterben / 14. Verteidiger des Blödsinns / 15. Ein Bisschen Frieden / 16. Ein Fest
Onslaught

As a hard break the Thrash Metal Band ONSLAUGHT followed J.B.O. and really, the contrast could not be harder. But for the writer of this text it was time to leave RockHarz and also most of the people went back to the camping ground, preparing the tents for the first night on RockHarz. For those who missed the gig, ONSLAUGHT will be on tour in September. //
https://www.facebook.com/onslaughtuk
All Pictures by Chris W. Braunschweiger (
https://www.facebook.com/ChrisWBraunschweigerPhotographie
)
See also (all categories):