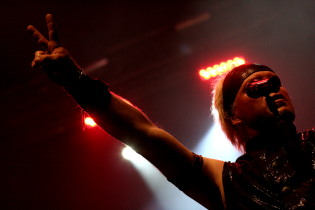 Roitzschjora, Delitzsch, Germany
Sunday, 6th July 2008
With Full Force Festival Day 3: J.B.O., Life of Agony, Avenged Sevenfold, Cavalera Conspiracy, Primordial, Moonspell, Ensiferum and Subway to Sally


It was the last day of this year's With Full Force Festival and I was excited since bands like AVENGEND SEVENFOLD, CAVALERA CONSPIRACY, MOONSPELL and SUBWAY TO SALLY stood on the plan for today. After an already really hot morning, the day started out with J.B.O. first.



J.B.O.

J.B.O. (James Blast Orchester) was founded in 1989 as a fun-metal band in Erlangen, Germany. Known for their cover versions of various modern rock and disco songs, each of their covers often has humorous modifications to the lyrics. Since 2000, the band has begun producing more self-written compositions, however they continue to produce Blöedsinns (this is an intentional misspelling used by the band: The correctly spelled word is "Blödsinn" (nonsense) which refers to the nonsensical covers they perform). The original name was JAMES BLAST ORCHESTER. On July 31st 2004 the band celebrated its fifteenth year of existence under the motto "30 Halbe!" (30 halves!).
http://www.jbo.de/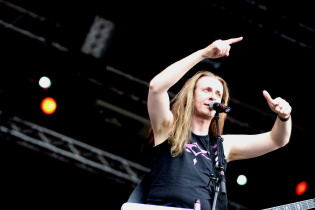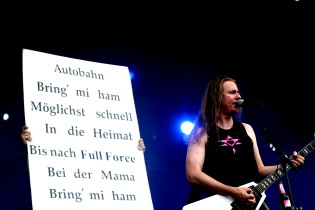 Music & Performance

They started their show and already from the beginning on, the crowd stood behind the band. Everybody who has seen this band before knows how much fun they are on stage. They were laughing and talking to the fans all the time. With songs like 'Party!' (Originally by THE BACKSTREET BOYS) and 'It's raining blood' (originally from TINA TURNER), they put lots of energy onto the people. It was just amazing to see how great and funny they were. It doesn't matter how lame a festival is, as soon as J.B.O. enter the stage, everybody just goes crazy and the party starts. And this day, of course, they had a guy from their team who always came on stage and showing some weird stuff. One time, he held a big sign up for the crowd so that they could sing along with the band. It was really fun watching him. All in all, it was a great show with some great music!
Rating

Music 9
Performance 10
Lights - (daylight)
Sound 7
Total: 8.8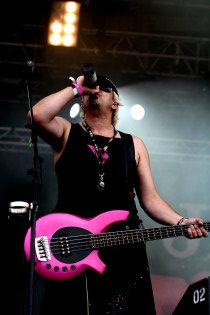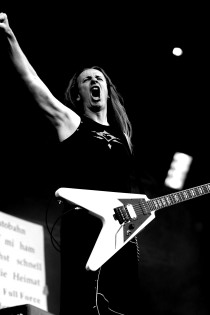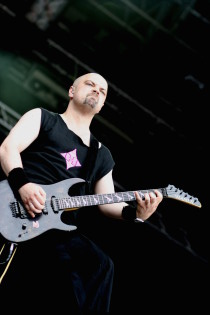 Life of Agony

LIFE OF AGONY (LOA) is an alternative metal band from Brooklyn, New York. The band was formed in the summer of 1989 by singer Keith Caputo, bassist Alan Robert and guitarist Joey Z. After playing with several drummers, they enlisted TYPE O NEGATIVE drummer Sal Abruscato before recording the debut album 'River Runs Red' (1993) after they signed to Roadrunner Records. Most recently, Keith Caputo is featured on the track 'What Have You Done', from the band WITHIN TEMPTATION. The song has been a minor hit all around the world.
http://www.lifeofagony.com/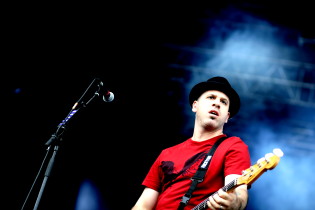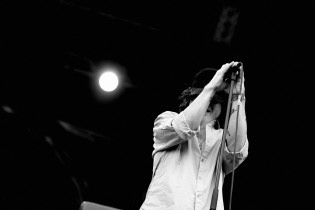 Music & Performance

This was probably the worst band I have ever seen on a festival. They sounded like a real bad version of NIRVANA or something like that. The voice of Keith Caputo was so annoying, that I had to protect my ears after the first song. The guitars were lame and the music just crap. After the great performance of J.B.O. the show was even worse. Last week, at the Rock Harz Festival, I saw WITHIN TEMPTATION and they played their new song 'What have you done'. In the background you could see a guy who was singing with her (showed as a clip on a big screen). Now, I know that it was the singer of LIFE OF AGONY but between those two performances was a huge gap. At the With Full Force Festival they were just horrible. Sometimes, he sounded like he was on drugs or something. He was jumping around which didn't make it any better. Since I really wanted to see the band that was playing after them, AVENGED SEVENFOLD, I decided to stay during the concert, so I was already there to see the band. This was a huge mistake because I have never seen such a crappy band on stage. I hope I don't have to see them again, ever!
Rating

Music 0
Performance 3
Lights - (daylight)
Sound 7
Total: 3
Avenged Sevenfold

AVENGED SEVENFOLD (also known as the abbreviation "A7X"), is an American rock band from Huntington Beach, California. They have achieved mainstream success with 'City of Evil', which spawned singles such as 'Bat Country', 'Beast and the Harlot' and 'Seize the Day'. The success followed with their self-titled album, 'Avenged Sevenfold' with singles such as 'Almost Easy', 'Afterlife' and most recently 'Dear God'.
http://www.avengedsevenfold.com/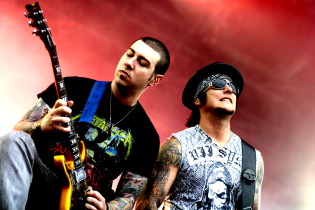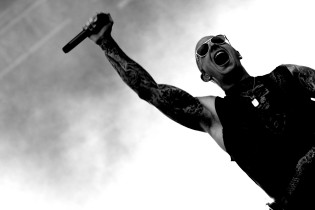 Music & Performance

"We almost didn't make it to the show", that's how they started the show. I just thought "Thank god, they made it!" AVENGED SEVENFOLD is one of my favourite bands ever and I finally got to see them perform. They started out with some old songs like 'Bat Country'. M. Shadows (vocals) was wearing his typical sunglasses and he just looked great although it was the first time I saw him without any hair. The other members just looked as great as he did and I was excited to see how they would perform in front of the audience. The band was in really good shape, the guitars were strong and the voices deep and full of energy, although sometimes, the back-up vocals sounded kind of weird, but this time, it didn't really matter. The sound was good, and so were the lights. The audience was happy to see this band although by looking in the faces of the people, you could see that not everybody knew the band. At the end, I wished they would have played even longer and I didn't even mind the raining that started during the last couple of songs. Finally, as their last song, they played my favourite song 'Unholy Confessions'. With this song put at the end, they had a great end to their concert and I am sure that a couple of people in the audience won't forget AVENGED SEVENFOLD for some time.
Rating

Music 10
Performance 9
Lights 8
Sound 8
Total: 9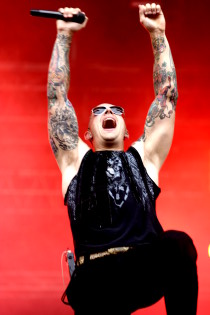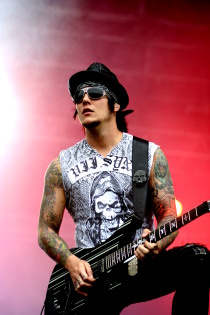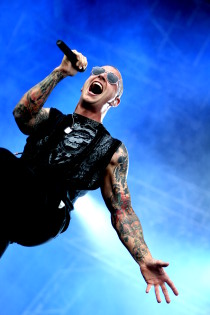 Cavalera Conspiracy

CAVALERA CONSPIRACY is a groove/thrash metal band featuring members from Brazil, France, and the United States. The band features Max Cavalera (SOULFLY, ex-SEPULTURA) on vocals and rhythm guitar, Igor Cavalera (ex-SEPULTURA) on drums, SOULFLY guitarist Marc Rizzo and Joe Duplantier on bass. CAVALERA CONSPIRACY also marks the reunion of the Cavalera brothers after 12 years and is the first time they have made music or shared a stage together since the infamous SEPULTURA break up on December 16th, 1996 in London. Originally, Max chose the name INFLIKTED for the project, but the name has been used before. As a result, he changed the name to CAVALERA CONSPIRACY in order to avoid potential legal conflicts which would hold up the album release, and chose to use the name 'Inflikted' for the band's debut album.
http://www.cavalera-conspiracy.de/
Music & Performance

The concert started out with a bad message: only photographers standing on a special list were allowed to take pictures. And since I wasn't, I didn't get to take pictures of the band which was really sad because they had a great performance with some great lights. It was just pity. A friend of mine, who was with me at the festival, knew the band before which I didn't and he explained to me that the guys from CAVALERA CONSPIRACY used to play at SEPULTURA and SOULFLY, two bands I like. So, I was looking forward to the concert. The first thing I noticed was that the mike stand was too high for the small Max Cavalera (vocals). This looked pretty funny although I also felt a little sad for him. They played a lot of songs that were originally performed by SOULFLY or SEPULTURA. It was so nice to watch them because you could see how great they felt on stage. Since they used to be in a fight for a long time, it was even better to watch them. They were smiling and laughing all the time. The sound wasn't too good in the beginning but it became better after some time. The lights were great and all in all it was one of the best concerts I have ever seen.
Rating

Music 10
Performance 9
Lights 8
Sound 8
Total 9
Primordial

PRIMORDIAL is a black metal band formed in 1991 in Skerries, Ireland by Pól MacAmlaigh (bass) and Ciáran MacUiliam (guitars). The band's roots stretch back to 1987 when Pól and Ciarán first began playing together with Pól's brother, Derek. The band (who were called FORSAKEN for a brief period) initially played a rough, hybrid mix of early, primitive Thrash and Death Metal (playing covers of DEATH, SEPULTURA and others).
http://www.primordialweb.com/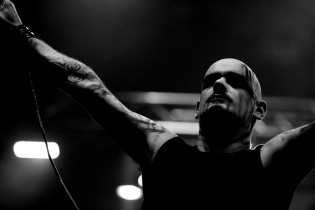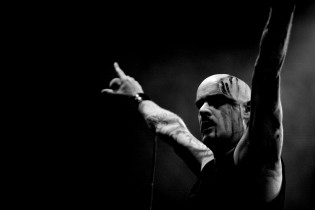 Music & Performance

They entered the stage and started playing and I just wanted to run. They reminded me of a bad version of DIMMU BORGIR, and I hate DIMMU BORGIR. The sound was awful and so was the band. After the first two songs, I left the concert because I couldn't stand the music anymore.
Rating

Music 1
Performance 3
Lights 5
Sound 6
Total 3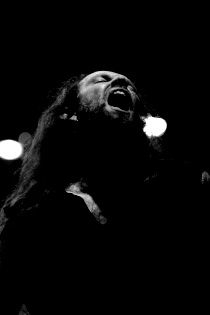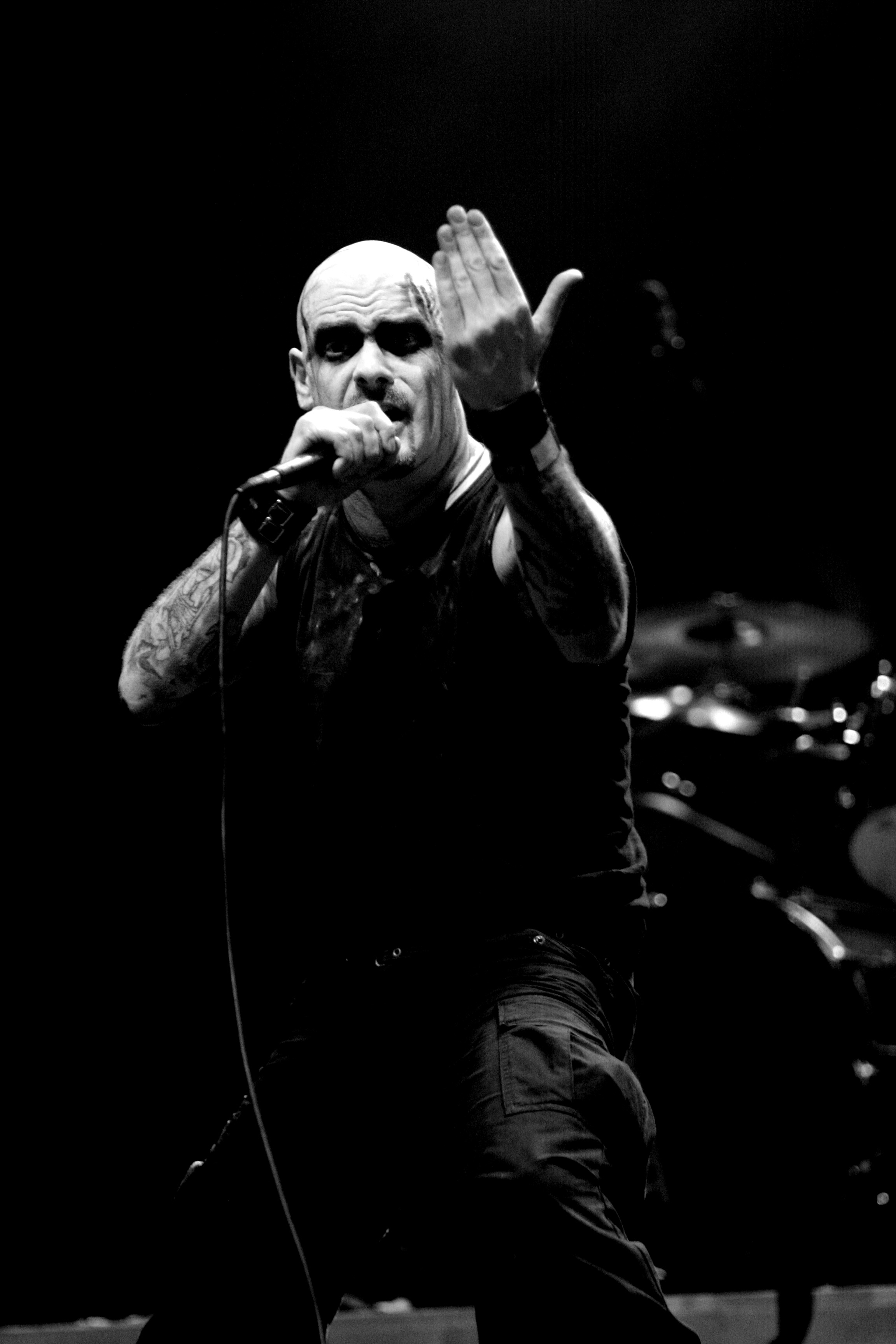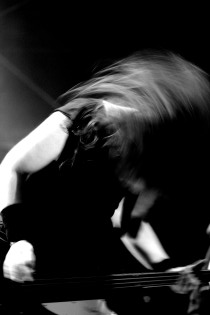 Moonspell


MOONSPELL is a Portuguese metal band, formed in 1989 as Morbid God. After renaming themselves MOONSPELL in 1992, they released their first EP 'Under the Moonspell' in 1994, a year before of the release of their first album 'Wolfheart'. The band quickly gained status and became one of the most recognizable metal bands from Portugal.
http://www.moonspell.com/
Music & Performance

MOONSPELL is a great Gothic Metal band that really knows how to play their instruments. The singer's voice was stunning as always and the guitars really had their own thing to it. The drums were brilliant and the whole setting was just great. This night, MOONSPELL really showed what they are able to do and this was definitely one of the best concerts I've seen so far.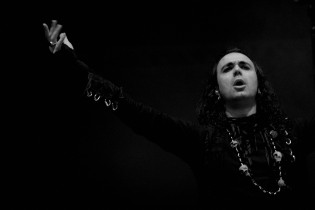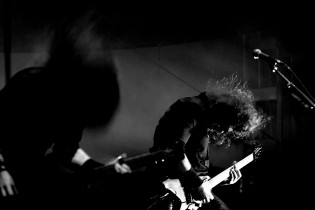 After PRIMORDIAL played their show, the tent stage was filled with people and you could barely walk in it without stepping on somebody's feet. MOONSPELL was one of the bands I was really looking forward to this year and with their performance, they really proofed all their skills in playing music. They had a big scene build up behind them on stage with a huge picture of the MOONSPELL logo. The only bad thing about the concert was the lighting. You could barely see the guys because of all the fog and really dark light. It was really pity. The guys really know how to rock the stage and the audience - and me.
Rating

Music 10
Performance 9
Sound 8
Lights 4
Total 8.5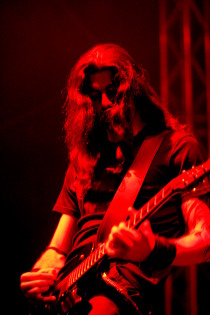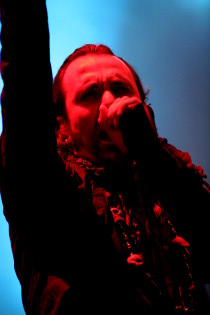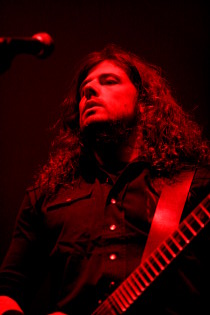 Ensiferum

ENSIFERUM was formed by Guitarist Markus Toivonen in 1995. Markus discovered the word "Ensiferum" in a Latin dictionary when looking for a band name, the word and meaning was perfect for the band he aimed to create. The band recorded their first Demo in 1997, which sold almost 300 copies in the first year. Unfortunately keyboard player Meiju Enho is no longer with the band as of September 2007. The first Live DVD was released in the summer of 2006, having been recorded on the band's 10th Anniversary (December 31st 2005).
http://www.ensiferum.com/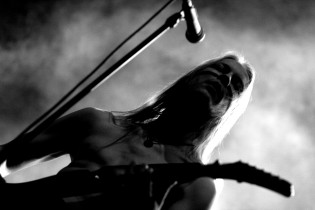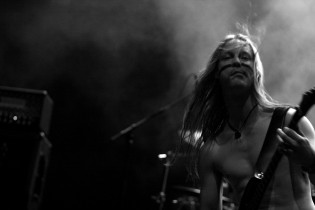 Music & Performance

So far, I have only heard them on CD and on pictures they always looked like those typical Viking metal guys from a Scandinavian country. The first thing I thought when they entered the stage was "Oh my god, they are so thin and small!" I didn't know what to think at that moment but gave them a chance. And that was a great decision because they were really good. Although the guys were small, they had a huge energy. Petri Lindroos (vocals) had such a strong voice that it was a pleasure listening to this "invasion of the Finnish warriors". It was pity that they only played on this small tent stage because the stage was way too small for this energetic band if you ask me. Looking into the audience you could see two people in the first row who looked like the band. They wore the same make-up as the band which looked pretty funny. After the concert, the people were really loud and tried to bring the band back which unfortunately didn't work out.
Rating

Music 9
Performance 9
Sound 8
Lights 6
Total 8.5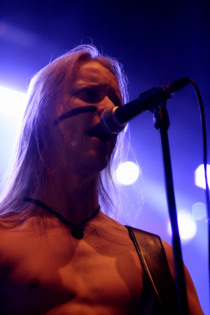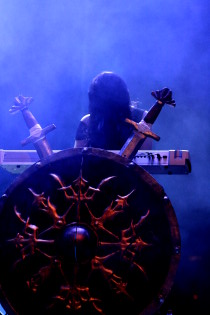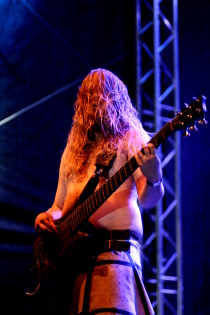 Subway to Sally

SUBWAY TO SALLY was founded in 1992. The seven musicians from Potsdam/Germany are considered to be a great live band. Trademark of the band is heavy rock and metal supplemented with mediaeval sounds that are integrated by bagpipe, hurdy-gurdy, lute, mandolin, shawm, violin or flute. The lyrics are exclusive in German and mostly deal with romantic, love and living in mediaeval times. SUBWAY TO SALLY are Eric "Fish" Hecht (vocals, flute, bagpipe, shawm), Silvio Runge "Sugar Ray" (bass), Ingo Hampf (guitars, mandola, lute), Silke Volland "Frau Schmitt" (violin), Simon Michael (drums, percussions), Michael "Bodenski" Boden (acoustic guitar, hurdy-gurdy, vocals) and Simon (acoustic guitar, vocals).
http://www.subwaytosally.de/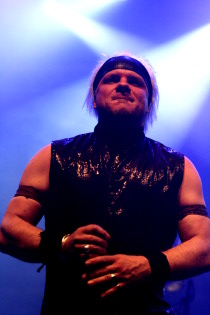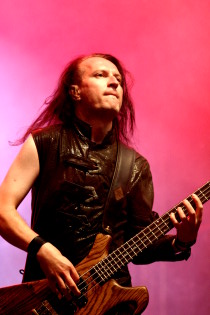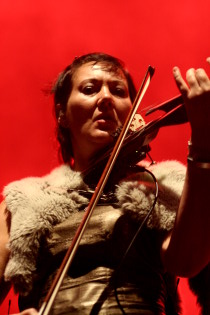 Music & Performance

Of course, SUBWAY TO SALLY had a huge fire show just like they have on every concert they are playing. Eric Fish (vocals) entered the stage and the people started screaming. They played some of the old hits like 'Henkersbraut' and 'Sieben' and, of course, they played their 'Auf Kiel' from the "Bundesvision Song Contest" of Stefan Raab. They praised themselves like they were gods or something like that. The song is a really good song, no doubt, but why do they always have to make a huge show out of that? I just do not understand it but I guess, I will never understand it. Besides this, they had a really good show. The sound was great. The only thing that wasn't quite good was the lighting. If you ask me, the fire show was just too much. SUBWAY TO SALLY are such a good band, they do not need this huge show. I don't know why they are still doing it. They have that much energy on stage, it is just great. Frau Schmitt (violin/vocals) really knew how to play her instrument. All in all, it was a great ending to an awesome With Full Force Festival of 2008. On our way back to the tent, we could hear their hymn 'Julia und die Räuber' and all the people who were singing along with them. Just awesome!
Rating

Music 9
Performance 9
Sound 7
Lights 4
Total 7.8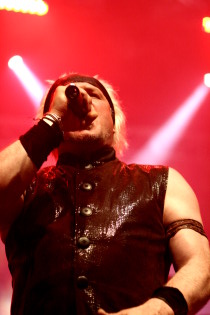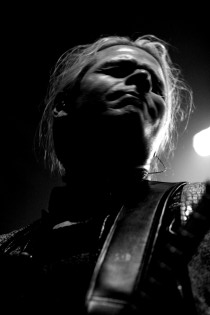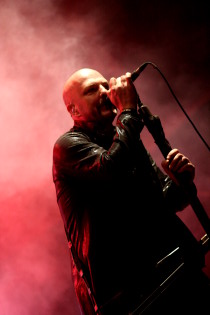 All pictures by Anne Kuhfuß

{jos_sb_discuss:18}

See also (all categories):