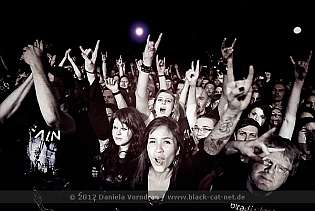 Matrix, Bochum, Germany
24th November 2012
Into Darkness Festival: Pain, Moonspell, Swallow the Sun, Lake of Tears & Scar of the Sun

Darkness has many faces – and many musical outputs. For the second time, Rock the Nation invited to a tour under the banner "Into Darkness", stating on 9th November. The package offered a varied dark line-up, from Industrial Metal to Gothic or even dark-romantic Doom. The show in Bochum was the second last one and when I arrived, the queue was not so very long. Reason might have been the early starting hour – at 18:00 – and later on, the venue was luckily really packed with people eager to enjoy this great dark line-up.



Scar of the Sun

After Greek band SCAR OF THE SUN first recorded a demo album, they soon started working on a first proper release starting in October 2007. Rhys Fulber collaborate with the band in co-producing and mixing the album. The album, titled 'A Series Of Unfortunate Concurrencies', was finished in September 2008 and contains 10 tracks, spanning approximately 56 minutes of music. It took quite long afterwards to release the album. In the beginning of 2011, the band signed a deal with Italian record label Scarlet Records in order to release the debut album, being out finally in June 2011. SCAR OF THE SUN consists of Terry (vocals, keys & programming), Alexi (guitar), Greg (guitar), Panagiotis (bass) and Thanos (drums). http://www.scarofthesun.com / https://www.facebook.com/scarofthesun / http://www.myspace.com/ScarOfTheSun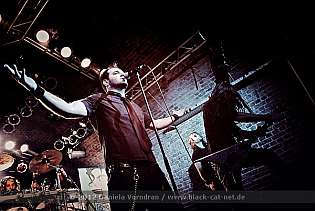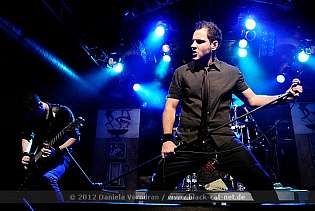 Music & Performance
The hall was still quite empty when the band entered the stage at the early hour of 18:00 - very early for a Saturday night bit well, there were all in all five bands playing during the evening and after the show, there was the usual Saturday night party at the club. Musically, the band is pretty good in my eyes with a mix of Doom, Gothic, Metal Core, Power or Melodic Death Metal. Maybe the mix is a bit too wild and the band would do better when choosing a real direction. But anyway, I like their stuff they call themselves "Modern Atmospheric Metal". When third song 'I Lost' started, the hall was already better filled and people started to take part in the show by clapping along. Constant side changes of guitarists and bassist bring a lot of movement onto the packed stage making the show also visibly attractive. Visibly unattractive on the other hand was the light… it seemed just to fit the motto "into darkness" for the first three bands. Anyway, for me, the band was a positive surprise, even the set lasted only little less than 30 minutes!

Setlist
01. 8th Ocean Dried
02. Disciple Of The Sun
03. I Lost
04. Swansong of Senses
05. Gravity

Rating
Music: 7
Performance: 7
Sound: 7
Light: 6
Total: 6.9 / 10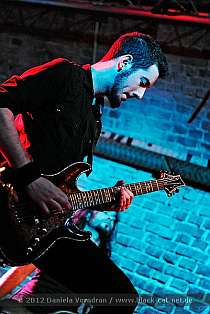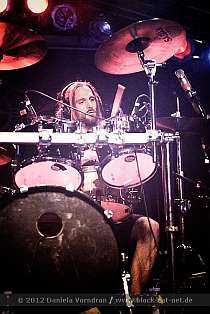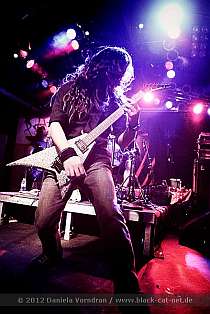 Lake of Tears

LAKE OF TEARS is a Swedish band, generally considered to play gothic and doom metal. However, their sound has evolved considerably over the course of their career, expanding to include psychedelic rock and progressive metal. LAKE OF TEARS' 1999 album, 'Forever Autumn', did not follow the trend settled by 'Headstones' and 'A Crimson Cosmos', which were heavily influenced by bands like Pink Floyd, resulting in an intensely quiet and introspective album. By this time melody had effectively eclipsed all traces of their doom metal heritage. The band broke up in 2000 amid creative differences, but reunited in late 2003, releasing the acclaimed album 'Black Brick Road'. Their new album titled 'Illwill' was released in April 2011. LAKE OF TEARS is Daniel Brennare (vocals, guitar), Johan Oudhuis (drum), Fredrik Jordanius (guitar, bass, vocals) and Mikael Larsson (bass). http://www.lakeoftears.net / https://www.facebook.com/thelakeoftears / http://www.myspace.com/thelakeoftears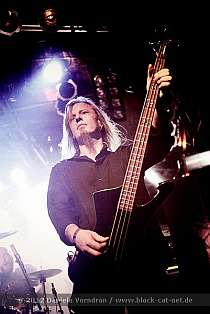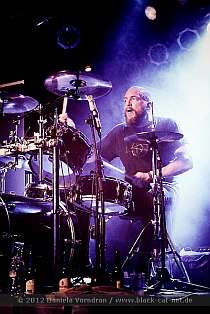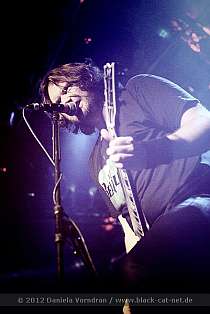 Music & Performance
After only 10 minutes break, the stage was ready for kind of legend, Swedish band LAKE OF TEARS. The venue was now pretty crowded and it was obvious that the band attracted a lot of people. Musically great, the band was a little downer performance-wise since the show was quite steady and motionless. The band performing before definitely spread more fire. Anyway, music was great and the show started with kind of marching intro, when only drummer Johan was present on stage and people clapping along. When the rest of the band finally entered the stage, they opened the show - that shall last 45 minutes, a little longer than expected - with 'Taste of Hell' and morbid 'Illwill', both from the latest album. The sound was not too bad from the start but lights were quite dark like during the first band. After several older songs like 'Raven Land' or 'The Greymen', quite calm 'So Fell Autumn Rain' started with a string intro fitting very much to the mood of the song.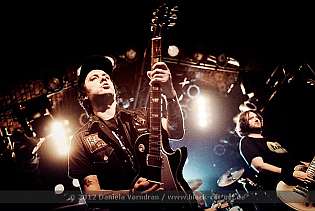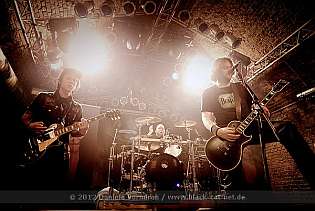 With calm 'House of the Setting Sun' followed the last song of the latest album before the set ended with 'Crazyman' and several screams for encores.

Setlist
01. Taste of Hell
02. Illwill
03. Demon You / Lily Anne
04. Raven Land
05. The Greymen
06. Boogie Bubble
07. So Fell Autumn Rain
08. House of the Setting Sun
09. Crazyman

Rating
Music: 8
Performance: 7
Sound: 7
Light: 6
Total: 7.3 / 10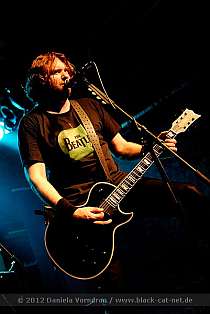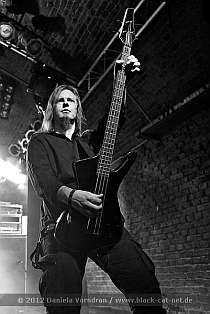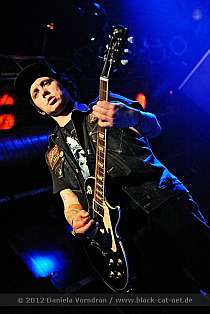 Swallow the Sun

SWALLOW THE SUN was founded in autumn 2000 and gradually grew to a real band with member by member joining the line-up. In autumn 2002, they started writing songs for a demo that was eventually recorded in 2003 and landed them a deal with Firebox Records who released their first album 'The Morning Never Came' in 2003. The second album 'Ghosts of Loss' followed it up already in 2005 and made it to #8 of the Finnish charts. After relocating to a new label, they hit the road for a European tour. The latest album, titled 'Emerald Forest and the Blackbird' came out in this year's February. SWALLOW THE SUN is Mikko Kotamäki (vocals), Juha Raivio (guitar), Markus Jämsen (guitar), Matti Honkonen (bass), Aleksi Munter (keys) and Kai Hahto (drums). http://www.swallowthesun.net / https://www.facebook.com/swallowthesun / http://www.myspace.com/swallowthesundoom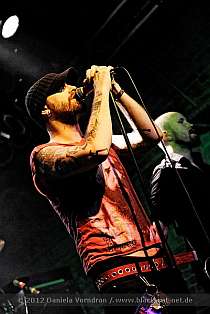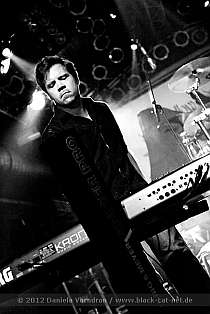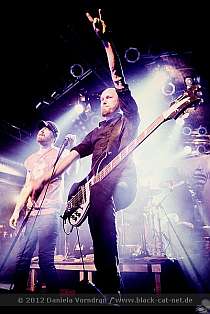 Music & Performance
Another short break, another 45 minutes set. It went now really dark with Finnish Doom metallers SWALLOW THE SUN. And so, the band greeted the audience with the words "Welcome to the darkness". The whole set contained only 6 songs whereof four were taken from the latest album. Only six songs does not mean the set was too short or without any variations. The songs were long and full of variations making the show not boring at all. Mikko's vocal alternation of a clear voice and deep growls accompanied by music moving from soft passages and almost spherical sound with a female voice to hard guitar parts and harsh metal sound made the show something special, even though there was not too much movement on stage… no surprise due to the limited space on stage and six people trying to find their place on it.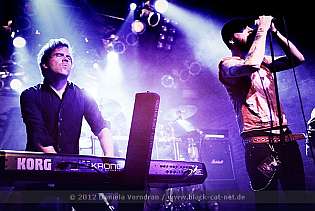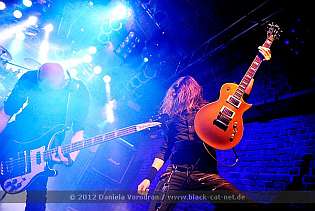 When the set ended with 'Nigh will forgive us' from the latest album, you could have the impression you just hear one huge gloomy doom song during the evening. Well, I enjoyed this set a lot.

Setlist
01. Emerald Forest and the Blackbird
02. Out of This Gloomy Light
03. Labyrinth of London (Horror pt. IV)
04. Cathedral Walls
05. Descending Winters
06. Night Will Forgive Us

Rating
Music: 9
Performance: 8
Sound: 7
Light: 5
Total: 7.8 / 10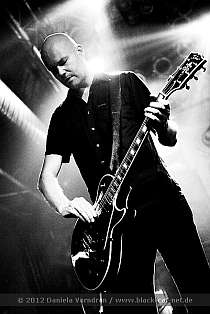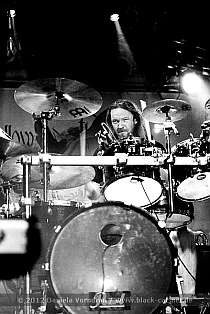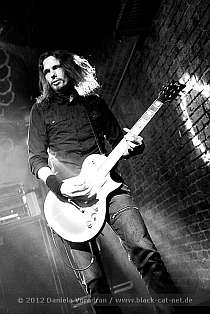 Moonspell

The band was founded as MORBID GOD in 1989 by Fernando Ribeiro. Until 1992 they recorded some demos and then decided to change the name to MOONSPELL. After the release of mini-album 'Under the Moonspell', the band signed with Century Media for six albums. Their debut 'Wolfheart' initially received only sparse attention but later it was to be considered as a milestone in the history of Portuguese Metal. Simultaneously it was the springboard for an emergent career. The second album 'Irreligous' came out in 1996 and sold over 10,000 copies and that only in Portugal. The band entered a rather experimental path with their following albums 'Sin/Pecado' (1998) and 'The Butterfly Effect' (1999) to return into more confided but matured territory after that period. It took quite a while after 'Night Eternal' from 2008 until the band released a new album with 'Alpha Noir' being out in April 2012. MOONSPELL is Fernando Ribeiro (vocals), Ricardo Amorim (guitar), Pedro Paixão (guitar, keyboards), Aires Pereira (bass) and Miguel Gaspar (drums). http://moonspell.com / https://www.facebook.com/moonspellband / www.myspace.com/moonspell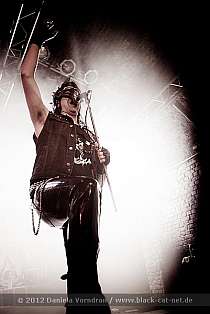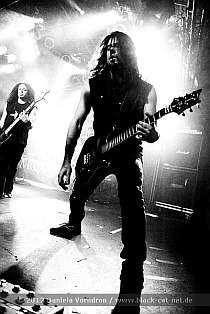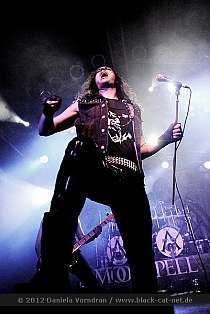 Music & Performance
Last time I saw MOONSPELL was at Castle Rock Festival 2011 in more or less daylight which does not really fit to the dark and gloomy Goth Metal the band from Portugal presents. Today, the surrounding was much better and accompanied with lost of smoke and fast strobe lights, the band marched onto stage for 'Axis Mundi' from the latest album with Fernando being last wearing some kind of Roman helmet and mask. Right from the start of the powerful set, the audience was with the band and especially the first row was banging their heads hard. Screaming loudly, the fans soon could welcome another song from the latest album, the title song 'Alpha Noir', before the band went to older gems with all-time hit 'Opium'. Soon, not only the band was sweating, also the audience was soaked, but there was not time to take a breath. Not only musically the band could convince, also the performance was really experienced and the band knows how to get the audience going, might it be by posing or firing them up with words and gestures. After two more new song, the final trio was really old-school with Dark Wave Death metal mix 'Vampiria', 'Alma Mater' and last song 'Full Moon Madness'.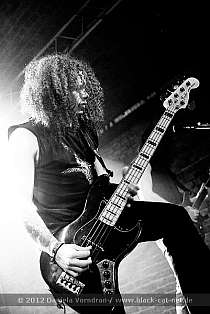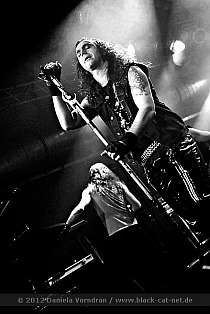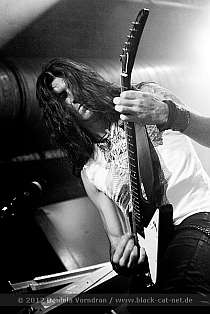 This was really an entertaining show where not only Fernando could convince vocally; it was especially Ricardo who convinced with one or another guitar solo part. All in all, about an hour was in my opinion much too short for this show, I easily would have enjoyed a longer set containing also such songs as 'Finisterra', 'Night Eternal' or 'In Memoriam'.

Setlist
01. Axis Mundi
02. Alpha Noir
03. Opium
04. Awake
05. Wolfshade (A Werewolf Masquerade)
06. Lickanthrope
07. Em Nome Do Medo
08. Vampiria
09. Alma Mater
10. Full Moon Madness

Rating
Music: 9
Performance: 9
Sound: 7
Light: 7
Total: 8.4 / 10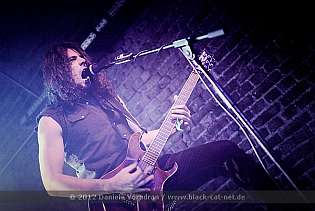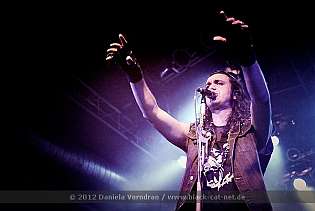 Pain

PAIN is an industrial metal band from Sweden. The band started out as a hobby project for front man Peter Tägtgren, whose idea was to fuse metal with techno influences. Tägtgren is also the vocalist/ guitarist of HYPOCRISY and producer of his own The Abyss studios. The sound of PAIN is often described as Industrial Metal but, apart from the question if this description is apposite or not, it is rather Metal than anything else when performed live. PAIN's self titled debut was released in 1997, and since then PAIN has released several more albums, and a DVD. Currently, PAIN is signed to Nuclear Blast records, where the band also released its current album 'You only live twice' in June 2011. During the "Into Darkness" tour, to be exact on 16th November 2012, PAIN released their DVD/ Blu-Ray 'We Come In Peace'. PAIN is Peter Tägtgren (vocals & guitar), David Wallin (drums), Michael Bohlin (guitar) and Johan Husgafvel (bass). http://www.painworldwide.com / https://www.facebook.com/OfficialPain / http://www.myspace.com/painfranceofficial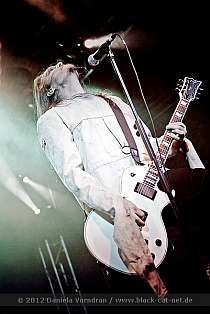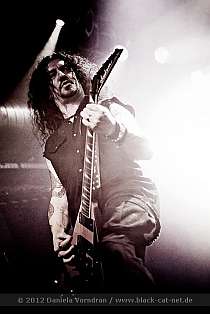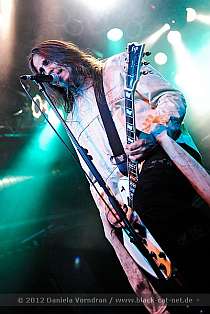 Music & Performance
After the fulminant show of MOONSPELL it would be hard for PAIN to compare with them. The audience already gave anything and I was curious if band and fans could keep the high level. And what shall I say, both could, even though latter one seemed every now and then a little bit tired, but PAIN managed perfectly to wake them all up again. PAIN was originally planned as solo project of HYPOCRISY's Peter Tägtgren but over the years, it developed to a real band that is always good for a great live experience. And this experience started much to my pleasure with one of my favourite PAIN songs, 'Same Old Song', receiving huge applause right from the start. Peter was vocally in top form and also visibly an eye catcher on stage with his white straight-jacket and mad look. Finally, you could really see what the band was doing and especially Peter's facial expressions since at the end the light engineer found the right knob to enlighten the stage. What followed in the coming hour was a fine sound mix of Rock, Industrial Metal and even Pop elements where the keyboard parts as usually were coming from backing tape. But who cares when the rest of the show bans you?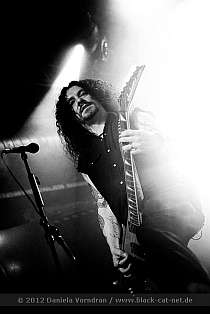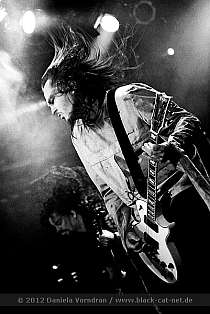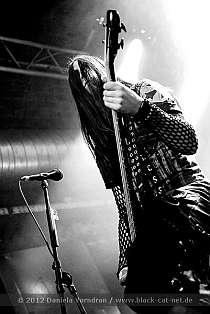 Within the 14 songs being playing throughout the show, only two songs from the latest album were presented: 'Dirty Woman' going out to all the ladies in the hall, and 'The Great Pretender' earning huge applause. Following 'Dark Fields of Pain' was rising some kind of nightmarish atmosphere. Having a DVD/Blu-Ray just out, of course a hint by Peter was obligatory before 'Let me out' was nailing it again. No one was standing still and for last song 'Shut Your Mouth', PAIN had the full vocal support of the audience. Luckily, this song was not the last as planned, the band was up for one more being 'Bye/Die', very appropriate for the end. What's left to say? After the MOONSPELL show I was not sure if PAIN could top it and are the right headliner. But the headliner choice was a good one and PAIN once more could fully convince with their energetic, stirring show. It was a long and exhausting evening with five well selected bands and looking into the faces around you could see happy people leaving the hall.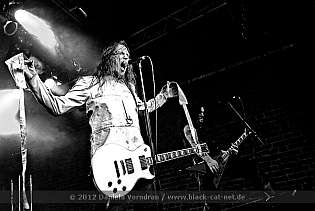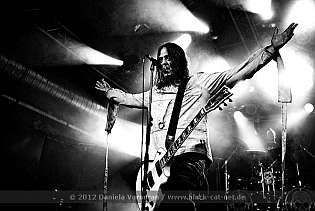 Setlist
01. Same Old Song
02. I'm Going In
03. Walking on Glass
04. Zombie Slam
05. Dirty Woman
06. Monkey Business
07. End of the Line
08. The Great Pretender
09. Dark Fields of Pain
10. It's Only Them
11. Let Me Out
12. On and On
13. Shut Your Mouth
---
14. Bye/Die

Rating
Music: 9
Performance: 9
Sound: 7
Light: 8
Total: 8.6 / 10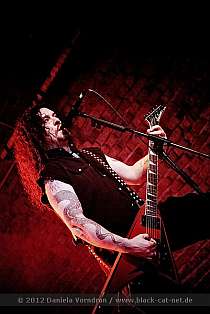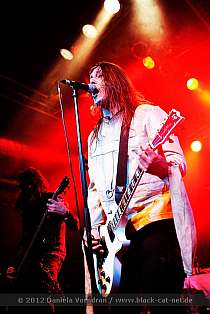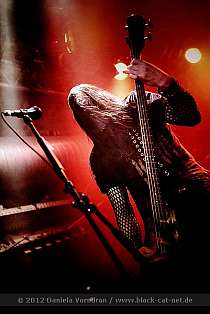 All pictures by Daniela Vorndran (http://www.vorndranphotography.com / http://www.black-cat-net.de/ / http://www.myspace.com/vorndranphotography / http://www.facebook.com/blackcatnet)



See also (all categories):