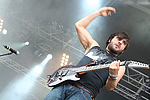 Airport Roitzschjora, Löbnitz near Leipzig, Germany
29th June to 1st July
With Full Force Day 3: UNEARTH, SONIC SYNDICATE and CHIMAIRA


The last day of the WFF 2007 arrived and it was a pity, I couldn't stay all day because the bands performing that day were just great. But I got to see at least a few of the bands which made my last day of the festival just right to go back home and be happy.



UNEARTH

UNEARTH (formed 1998) is a metal core band with melodic death, groove, and thrash metal influences from Winthrop, Massachusetts. Their debut album, 'The Stings of Conscience', was a popular offering in the underground metal-core scene. Their music is a mixture of metal and hardcore, categorised by complex, sweep arpeggios, melodic guitar and bass riffs, rapid kicks, non-throaty screaming vocals, highly melodic breakdowns, and politically based lyrics. In their most recent album 'III: In the Eyes of Fire' they have developed a more thrash metal sound. They are also well known for playing seven-stringed guitars, while the bass player plays a five-stringed bass. They have contributed a new song, titled 'The Chosen', for Aqua Teen Hunger Force Colon Movie Film for Theatres. The song can be heard at the movie's official website and is available in the Aqua Teen Hunger Force Colon Movie Film for Theatres Colon the Soundtrack.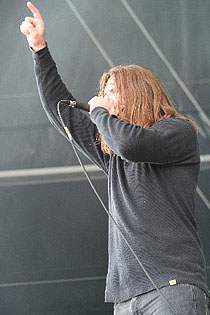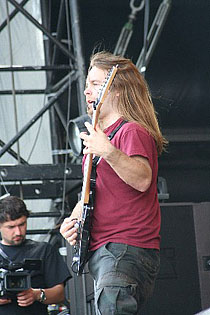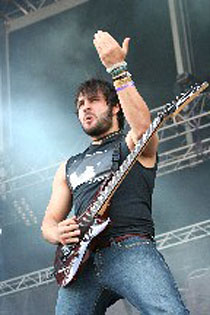 Music & Performance

UNEARTH entered the stage, the band came to the end of the stage and the fans just screamed their lungs out. A thing I found was really great is that they always tried to look in the eyes of some of their fans. They were not just simply playing their songs, always looking either up or down, no, they always tried to hold the connection towards their fans. The singer didn't say much to us but it actually didn't matter because of their good performance. In my eyes it's one of the best metal-core bands (with some other influences) I know and I've seen so far. Their guitars are heavy and the riffs are great. I just loved listening to their music. Although, the sound was a little too loud, their music was still an experience and I hope to see them performing live again!
Rating

Performing 9
Music 9
Lights - (daylight)
Sound 8
Total 8.8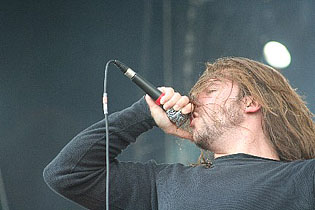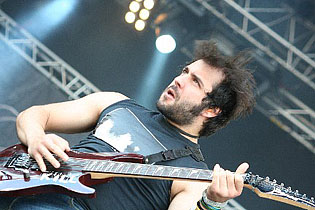 SONIC SYNDICATE

SONIC SYNDICATE is a melodic death metal band from Falkenberg, Sweden. The band was formed in 2002 and was originally known as Fallen Angels. They are highly influenced by other Swedish melodic death metal bands such as IN FLAMES and SOILWORK.
Music & Performance

I hadn't seen that band before that day. To be honest, I didn't even know who they were. But that definitely changed that day! First, by looking at them I thought they were some kind of those new Emo bands that were coming up like hell those days but then they started and you could see the passion in their eyes.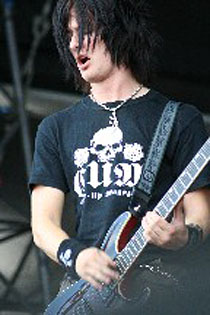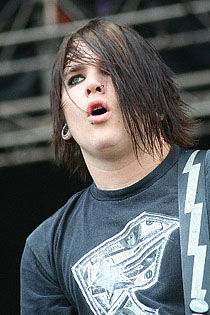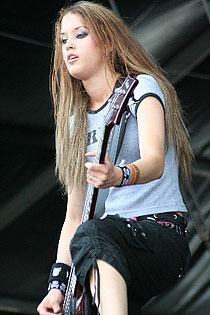 And I have to say, that female bass-player didn't look too bad (I wasn't the only one thinking that I suppose). So all in all, their performance as a newcomer band was really great! Nice guitars, nice bass, 2 voices = great compilation, especially because those two voices were completely different. One of them was just screaming and the only one was singing too which gave a really nice expression to it. And don't forget about the drums. The whole setting was just great, and so, the music turned out to be really, really good!
Rating

Performance 8
Music 9
Lights - (daylight)
Sound 9
Total 8.5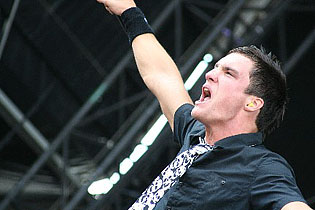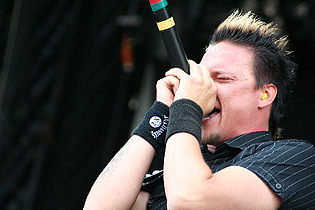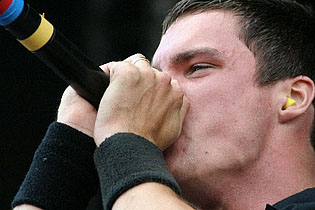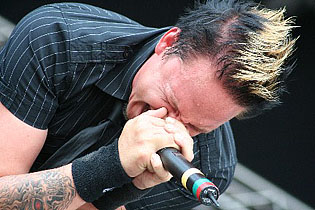 CHIMAIRA

CHIMAIRA are a metal band from Cleveland, Ohio. The name is derived from the word "chimera", which refers to a lion-headed monster in Greek mythology. CHIMAIRA's initial line-up consisted of vocalist Mark Hunter, lead guitarist Rob Arnold, rhythm guitarist Jason Hager, bassist Jim LaMarca, drummer Andols Herrick, and Chris Spicuzza who handled keyboards, electronics, and samples. An early demo the band recorded began to receive widespread airplay on several college radio stations around the area. Even landing a spot performing on the short lived USA Network show Farmclub.com. In 2006, the band was released from their contract with Roadrunner Records and eventually signed with Ferret Records for United States distribution.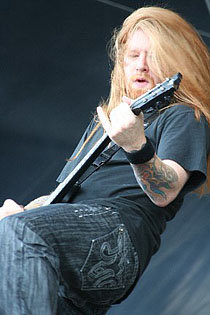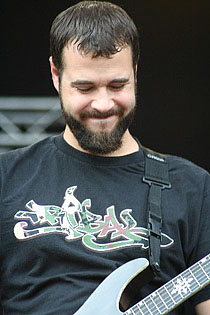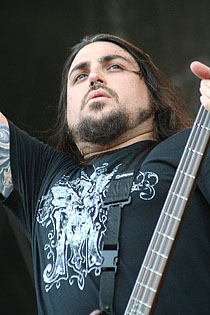 They also struck a deal with Nuclear Blast for international operations. The band was said to be excited about their new deals and have recently finished constructing their fourth LP, entitled 'Resurrection', which was released on March 6th, 2007. Hunter and Arnold have revealed that this album has shaped up to be their heaviest and most musically technical album to date. The band feels rejuvenated after their split with Roadrunner and the readmission of Herrick on drums.
Music & Performance

"They are looking good", I thought when they entered the stage. Those guys just looked happy and like they were looking forward to their show that day. They always tried to keep in touch with the audience by talking or so which was really nice. They showed how they loved being on stage and performing for people, especially their fans, of course. I've known that band for a long time and I listened to a lot of music by them and I have to say, they never really convinced me by their work on CD but that day proved they can do so much more! The guitars, the drums, the bass, just the whole setting on stage were just perfectly matched out. So, you could hear almost every single note they played which was just fantastic!
Rating

Performance 9
Music 9
Lights - (daylight)
Sound 9
Total 9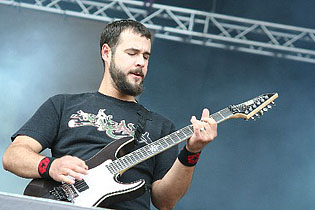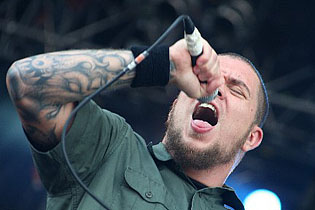 All pics by Anne Kuhfuß
{jos_sb_discuss:18}
See also (all categories):