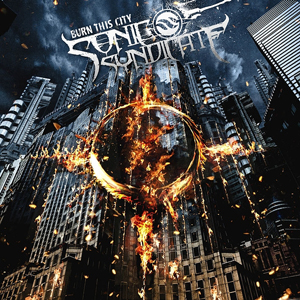 Title: Rebellion
Artist: Sonic Syndicate

Genre: Modern Metal, Metalcore
Release Date: 6th November 2009
Label: Nuclear Blast Records
Album Review


Sonic Syndicate were formed in 2002 in Falkenberg, Sweden, at first calling themselves FALLEN ANGELS. The three initiators are the brothers Roger, Richard and Robin Sjunesson. With several demos at hand, they gathered concert experiences all over Scandinavia. At the end of 2004, they were signed to Pivotal Records, changed their name to SONIC SYNDICATE and recorded their debut album 'Eden Fire' in early 2005. One year later, they participated in a talent competition by the German label Nuclear Blast and won the first price, including a record contract.
In November 2006, they entered the studio with Jonas Kjellgren (SCAR SYMMETRY), who produced 'Only Inhuman', to be released in March 2007. In the following year, they played on summer festivals and as support for bands such as DARK TRANQUILLITY, SOILWORK, AMON AMARTH, NIGHTWISH and IN FLAMES. During September 2008, their third album 'Love and other Disasters' was released, once again produced by Jonas Kjellgren. Singer Roland Johansson announced his pullout of the band due to personal reasons. With Nathan J. Biggs, the band introduced his successor in August 2009.
The EP at hand, 'Rebellion' shall give a foretaste to a new album scheduled for 2010. Already after the first listen, it becomes clear towards which direction the young Swedes are heading: Modern, melodic, playful metal! Significant are the changes between clear sung parts and screamed elements. The resemblances towards influential bands such as IN FLAMES are highly audible: The beginning of 'Burn This City' would have also fitted to IN FLAMES' most recent output. The chorus fixes itself into the listener's auditory canals. The more calm and melodic part around the last third of the song gives a variance towards the singing and shows Nathan J. Bigg's qualities and also phases in the inescapable violin for atmospheric moments. 'Rebellion in Nightmareland' kicks off a bit heavier but also disposes of its very melodic elements.
The EP consists of three songs, whereas the first and the last are pretty much alike except for the addition "Radio Edit" and one second in duration. With 'Rebellion', SONIC SYNDICATE is presenting their new, promising singer and a teaser for the upcoming album. SONIC SYNDICATE is probably a band for haters as well as for lovers serving a very modern type of metal. The EP could have improved if the band had added some live material. Interviews would have also been a nice idea to make the EP worth its money.
Tracklist

01. Burn This City
02. Rebellion in Nightmareland
03. Burn This City (radio edit)
Line-up

Nathan J Biggs - Vocals
Richard Sjunnesson - Vocals
Roger Sjunnesson - Guitar
Robin Sjunnesson - Guitar
John Bengtsson - Drums
Karin Axelsson - Bass
Website

http://www.sonicsyndicate.com/
/
http://www.myspace.com/sonicsyndicate
Cover Picture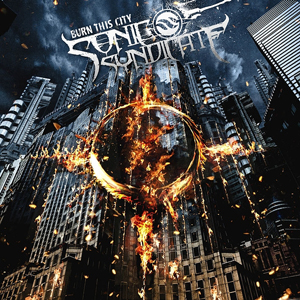 Rating

Music: 5
Sound: 7
Extras: -
Total: 6 / 10
{jos_sb_discuss:19}
See also (all categories):