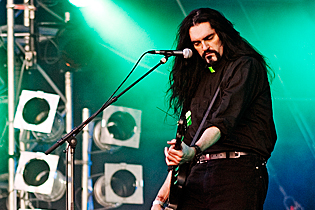 Wacken, Germany
4th August 2007
Wacken Open Air - Day 3: Sonic Syndicate, Disillusion, Moonspell, Secrets of the Moon, The Vision Bleak, Type O Negative, Immortal, In Flames, Haggard, Subway to Sally, Spellbound


The last day of this year's Wacken Open Air arrived and I was anxious to see all the upcoming bands. Some of them I've already seen at this year's With Full Force Festival but actually, it didn't matter to me to see them again. The weather was great: sunshine and a little wind blowing. The 3rd and last day could come!



SONIC SYNDICATE (Anne Kuhfuß)


SONIC SYNDICATE is a melodic death metal band from Falkenberg, Sweden. The band was formed in 2002 and was originally known as Fallen Angels. They are highly influenced by other Swedish melodic death metal bands such as IN FLAMES and SOILWORK.
Music & Performance

It was early that day when SONIC SYNDICATE entered the Black Stage of the Wacken Open Air. Looking in the faces of the audience, you could see that a lot of them didn't really know what to think about the upcoming young band. The show began and the first song was played pretty fast. I've seen them at the WFF this year and their performance there was just awesome. And I gotta say, their performance here was just as great as the other one. They played a lot of songs of their new album 'Only inhuman' which I've known for a long time and which I really like. So, the concert was just great for me. Their voices just completely nailed the songs, doesn't matter if they sung or screamed. The guitars were great and looking at the female bassist was just awesome, especially for the male audience.
Rating

Performance 9
Music 9
Lights - (daylight)
Sound 9
Total 9
DISILLUSION (Ruth Gräbeldinger)


DISILLUSION is a German metal band who plays a unique combination of black, death, progressive, symphonic, thrash, and more recently industrial metal. The band was founded in 1994 by five students.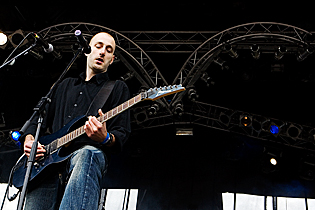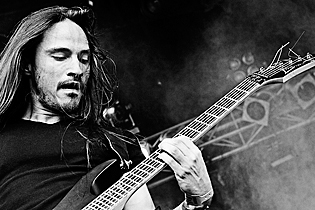 Music & Performance

DISILLUSION from Leipzig were the first band to play on the Party Stage this Saturday; they started at about 12 o'clock in bright sunshine. Luckily the organisers had moved the Party Stage to a different place, on the right side of the two main stages and sufficiently far away from them. I still remember standing in front of that Party Stage in 2005, listening to the band playing on it, but constantly also hearing the one which was at the same time appearing on the True Metal Stage.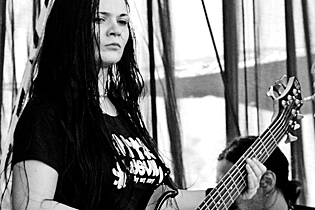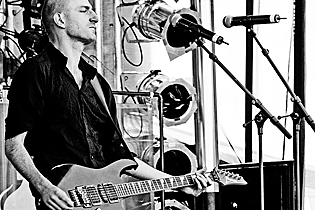 So this was a considerable improvement! DISILLUSION finally had a bassist on stage with them - Alla Fedynitch has joined them this year and completed the line-up. They delivered a very nice show to their enthused audience; quite a few people had made it to the Party Stage despite of the early daytime. Singer Vurtox as always managed to impress with his special voice and strong stage presence, whereas guitarist Rajk seemed to get all absorbed with the music, but still elicited his instrument the right tunes. All in all a fantastic start into this festival Saturday, and the concert was over way too early.
Rating

Music: 9
Performance: 7
Sound: 7
Light: - (daylight)
Total: 7.9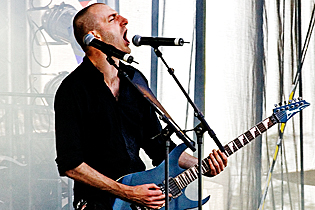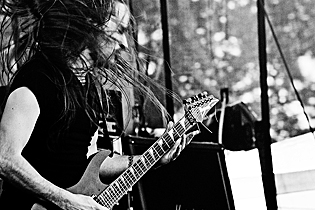 MOONSPELL (Anne Kuhfuß)


MOONSPELL is a Portuguese Gothic Metal band, formed in 1992 and released their first EP 'Under the Moonspell' in 1994, a year before of the release of their first album 'Wolfheart'. The band quickly gained status and became one of the most recognized metal bands from Portugal.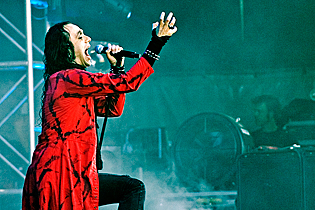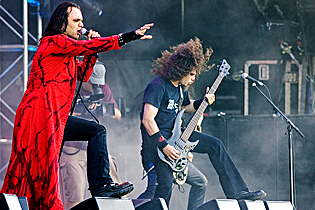 MOONSPELL reached the Portuguese top first with their album 'Sin/Pecado' and were, along with METALLICA and IRON MAIDEN the only metal band to reach the first place of the Portuguese charts after the release of their latest album, 'Memorial' in 2006. With 'Memorial', MOONSPELL also became the first Portuguese heavy metal band to have a record certified gold status. They are also very popular in Germany, where 'Memorial' entered in 68th in the Top 100 Chart.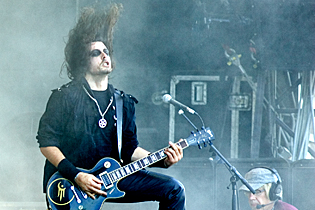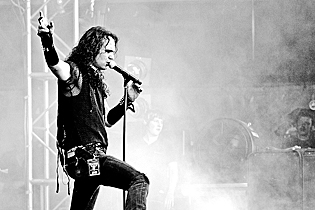 Music & Performance

That was the second time I saw MOONSPELL performing live this year and I gotta say their show was just as good as it was the last time! It was just a little too short if you ask me. His voice was brilliant, the instruments great and just the whole setting of the concert was perfect. I really like how they were not just playing their songs one after another but they tried to keep in touch with everybody, it gave a really nice feeling. I really enjoyed this concert!
Rating

Music: 10
Performance: 9
Sound: 9
Lights: - (daylight)
Total: 9.4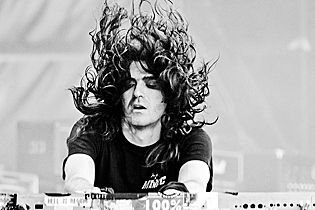 SECRETS OF THE MOON (Ruth Gräbeldinger)


SECRETS OF THE MOON is a black metal band from Germany, founded in 1995. They will play at the Summer Breeze Open Air in August 2007 and at the Hellfest Summer Open Air in June 2007. The band is from Osnabrück.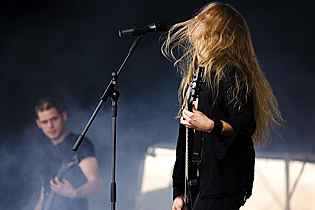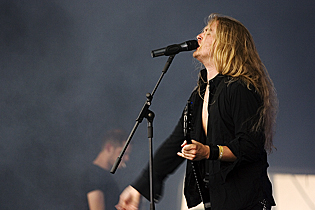 Music & Performance

I was pretty curious to see SECRETS OF THE MOON performing live at the Wacken Open Air; it was to be my first time to see them. I had discovered them and their music just a few months before the festival, and I like their own special way of Black Metal as well as their appearance not indulging in the prevailing clichés. They played on the W.E.T Stage (tent stage) in the afternoon, where quite a few people had gathered at that time.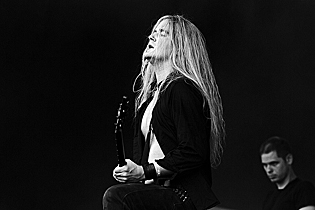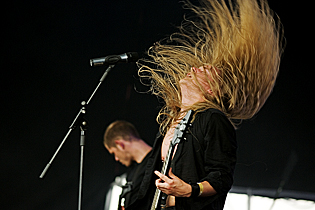 And they did not disappoint me at all; their show was very energetic, without any theatrical attitude, just four guys on stage doing good music. Their latest album "Antithesis" appeared last year via Lupus Lounge, which is a division of Prophecy Productions. So I just hope to hear and see more from them in the future.
Rating

Music: 8
Performance: 7
Sound: 7
Light: - (daylight)
Total: 7.5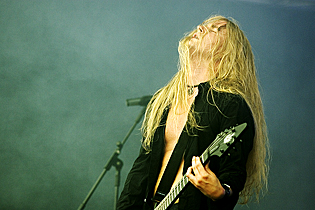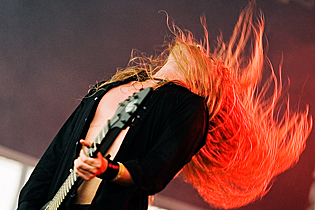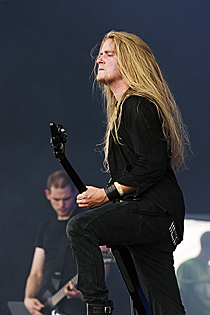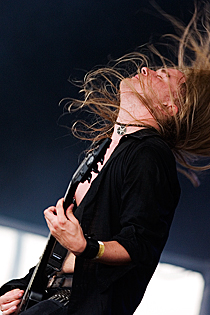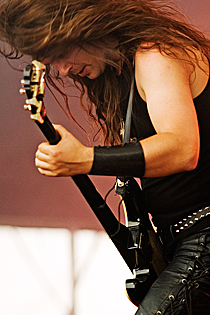 THE VISION BLEAK (Ruth Gräbeldinger)


THE VISION BLEAK is a gothic metal band from Germany formed in 2000, consisting of former EMPYRIUM member Ulf Theodor Schwadorf and former NOX MORTIS member Allen B Konstanz. The band's themes are most notably orientated towards horror.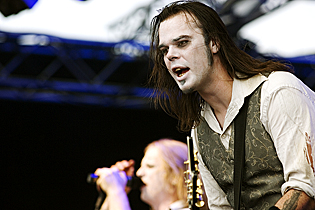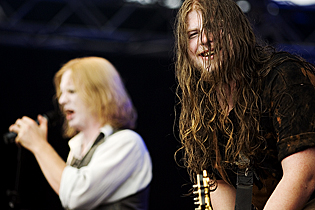 Music & Performance

While some people are still regretting the end of EMPYRIUM, Ulf T. Schwadorf's famous Metal/Folk project, in 2002, he has been and is still playing in several bands during the last years, amongst them the Gothic Metal formation THE VISION BLEAK. The band is a duo consisting of Schwadorf and Allen B. Konstanz, also a member of EWIGHEIM. I very much like their fantastic compositions, often being able to create a gloomy atmosphere and reminding of horror movie scores. The two musicians name horror films as well as literature as a main influence for their songs, and they are frequently using samples or textual excerpts from them. Their latest album "The Wolves Go Hunt Their Pray" has just appeared at the end of August via Prophecy Productions.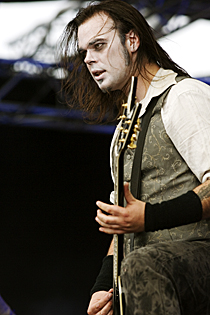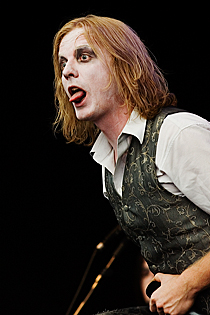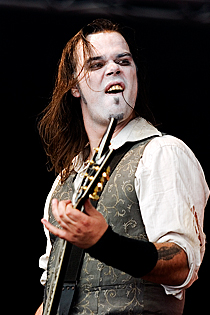 Schwadorf and Konstanz came on stage wearing white make-up and ancient clothing and delivered a fantastic show together with their live musicians. It is nearly impossible to bring their compositions on stage adequately, but they managed to show a different side of their songs to their numerous fans who had come to the W.E.T Stage to party with them.
Rating

Music: 10
Performance: 9
Sound: 7
Light: - (daylight)
Total: 9.1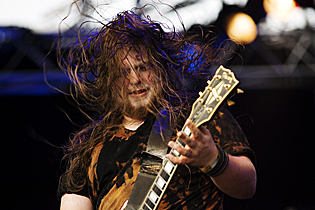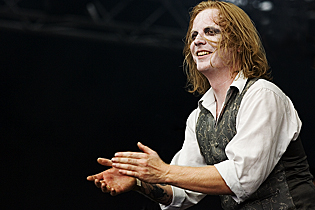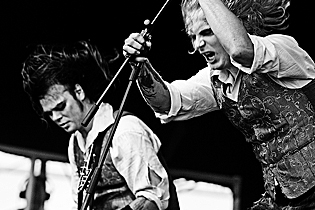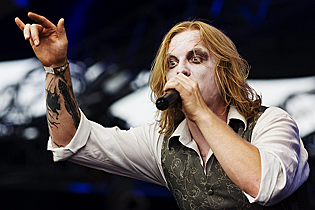 TYPE O NEGATIVE (Anne Kuhfuß)


TYPE O NEGATIVE is a band from Brooklyn, New York. They are notable as one of the earliest successes in the Goth / Doom metal style, complete with distorted guitars, frequent keyboard use, and the low, operatic vocals of Peter Steele. In addition, however, the band has always balanced a variety of non-Goth influences, such as THE BEATLES (sometimes referring to themselves in jest as "The Drab Four").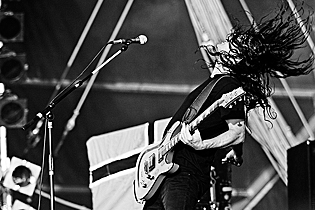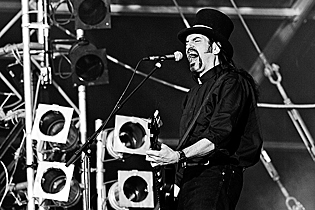 Despite a dramatic lyrical emphasis on themes of sex, romance, depression, and death, TYPE O NEGATIVE is also known for an irreverent and self-deprecating sense of humour. Their popularity grew in 1993 with the album 'Bloody Kisses', which featured the provocative hits 'Christian Woman' and 'Black No. 1 (Little Miss Scare-All)'. Their most recent album is 2007's 'Dead Again'.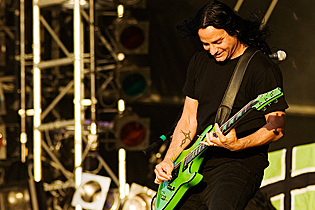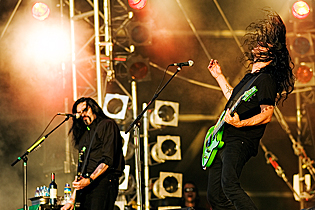 Music & Performance

When a friend told me TYPE O NEGATIVE would play at the Wacken instead of BULLET FOR MY VALENTINE, I first didn't know what to think about it. I had never seen them performing on stage but reading some other reviews about them, they were supposed to be really interesting. I was standing in the far back and although they had their huge screen, there were so many people that I couldn't see they were doing on stage. So, I can only judge their music and the music was just great! His voice, the guitars, the drums, just great! I really liked it and I'm definitely happy I decided to watch their show!

Rating

Music: 8
Performance -
Lights: 9 (+ daylight)
Sound: 9
Total: 8.7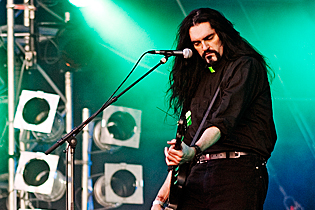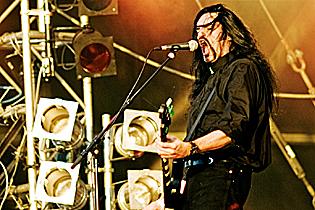 IMMORTAL (Anne Kuhfuß)


IMMORTAL is a pioneer black metal band from Bergen, Norway. The band was formed from the remnants of Amputation, a death metal band from 1989. Immortal decided to split during the summer of 2003 for personal reasons of the band members. However, in mid-October 2005, Abbath, Demonaz, and original Immortal drummer ARMAGEDDA reunited, and along with ex-GORGOROTH bassist King ov Hell and ENSLAVED guitarist Arve Isdal, they began work on a new project, dubbed I. This new band entered the studio at the end of April 2006 to record their debut album and was released November of 2006. Demonaz is the primary lyricist for the band. In July 2006 it was announced that IMMORTAL would reunite for a string of summer shows in 2007. They were headlining the Inferno Festival in April, the Tuska Open Air festival in June/July, Metal Camp festival in July, and the Wacken Open Air festival in August.
Music & Performance

IMMORTAL entered the stage and the crowd just freaked out. Hands flew up in the air and growling started everywhere. It was interesting to see them performing with all those spikes all over their bodies. But they managed it and their show was just great. The lights were awesome, just as always and their make-up just completely matched the image of the band. They always looked "trve" but hearing them talk to the audience, you could see that weren't as bad as they always tried to be. You couldn't understand a word they were growling but it was still fun. I didn't really know stuff from them before, so I was excited to see how their music would be if they perform live. And I have to say, I'm happy I didn't miss that concert!
Rating

Performance 10
Music 9
Lights 10
Sound 9
Total 9.6
IN FLAMES (Anne Kuhfuß)


IN FLAMES is a melodic death metal band from Gothenburg, Sweden founded in 1990. Along with DARK TRANQUILLITY and AT THE GATES, they pioneered what is now known as melodic death metal. The band was founded in 1990 as a side project of Jesper Strömblad who was at the time in a death metal band called CEREMONIAL OATH.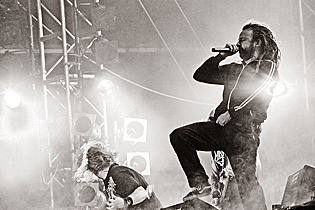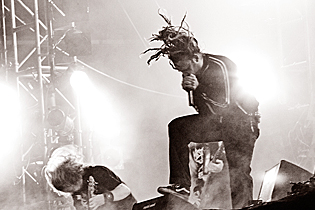 Music & Performance

The music they did in the last couple of years wasn't really my thing but I really like all the old stuff they were doing back in the days, so I hoped for old stuff to be played that day. And my wish came true. I really enjoyed looking at them at the screen and seeing him just rocking the stage as good as he could. The sound was great and contributed to the whole great music. At the end of the show, I actually was sad. In my eyes, they could have played even another hour!

Rating

Music: 9
Performance: 9
Lights: 9
Sound: 9
Total: 9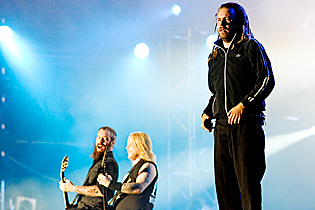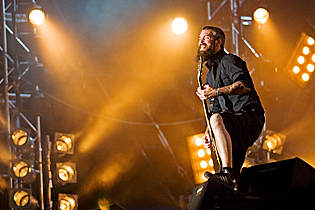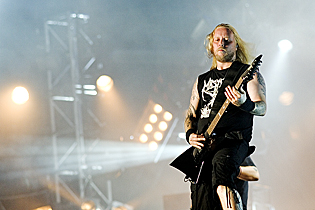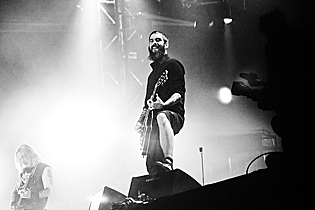 HAGGARD (Anne Kuhfuß)

HAGGARD is a German symphonic metal musical group founded in 1991. The group combines folk, classical, renaissance and medieval music with melodic death metal. Currently, HAGGARD are working on their fourth album, 'Tales of Ithiria', which will be based on a fantasy story, according to an interview given by Asis Nasseri to folkmetal.de in August 2005.The release of 2Tales of Ithiria2 has been postponed by Drakkar Records, although the band assures it will be out by September 2007.
Music & Performance

HAGGARD consists of many people standing on the stage, so it's really fun to watch all the people performing up there. The concert was at the party stage which is really small, so it looked kinda funny how this big group of people was standing there. Although, the singer Asis Nasseri was the only one really acting and talking on stage, you could see that every single person was having fun performing in front of this huge crowd. You can't just listen to HAGGARD, you have to feel it. That's the impression I got from the concert that day. All these different kinds of instruments just perfectly matched together, so the whole setting was just right. You could almost hear every single instrument on its own. Just phenomenal!
Rating

Performance 8
Music 10
Lights 8
Sound 9
Total 8.8
SUBWAY TO SALLY (Anne Kuhfuß)


SUBWAY TO SALLY was founded in Potsdam, Germany, in the early 1990s. It is a rock band with clear folk and medieval influences, later also with gothic and metal elements added to the mix. With their continuous inclusion of oriental sounds and elements of classical music (noted for instance by the use of the arrangements of the backup vocals) and the use of instruments less frequently seen in metal bands, such as bagpipes, shawm, violin, hurdy-gurdy and lute, the band has acquired the label of medieval metal. They have released 8 studio albums, one live album and one live DVD. Their fame is mainly in the German-speaking countries, having played only a handful of concerts outside of their "turf".
Music & Performance

People told me their last performance at the Wacken last year wasn't good at all, so now they tried to redo that with all different kinds of fire coming up from the ground, shooting a live-video and constantly talking to the fans. Basically, for me, it was too much. But the contrast for that is definitely that the only song they played as a bonus was 'Julia und die Räuber' which wasn't really quite enough although it was the last concert of this year's Wacken. They played all different kinds of song from their past albums and of their current album 'Nord Nord Ost' which was really great. The audience just screamed along with every song they played that night, so the mood was fantastic. The instruments were played perfectly and so, the music was just as great as always!
Rating

Performance 7
Music 10
Lights 10
Sound 9
Total 8.7
SPELLBOUND (Ruth Gräbeldinger)


SPELLBOUND was founded in 1999 and they are resident in Überlingen which is directly at the lake of Constance. The current line up is Dave Maier (guitar, lead vocals), Daniel Tschoepe (guitar, backing vocals), Andy Flache (drums) and Hannes Jäger (bass, backing vocals). The concept of the musicians is based on combining old school 80ies Thrash Metal with modern elements without sounding antiquated or sterile. After having played live at some festivals and the "W:O:A Roadshow-Tour 2006", the band had to deal with several line-up changes.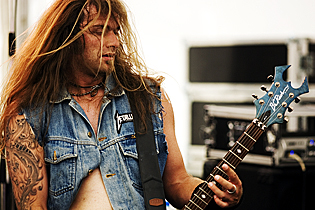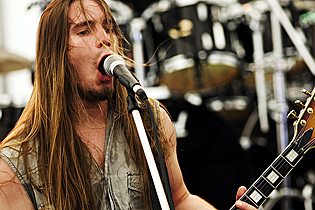 SPELLBOUND entered the Stage-One-Studio again in November 2006 to record the 'Incoming Destiny' successor 'Nemesis 2665' together with Andy Classen. The result is an outstanding evolution of the typical "spellboundsound" which should help the band catapult them to the top of the German underground! Beside the musical adjustment, the textual contents are another important component to the band. Thus text writer David argues with theories of confidential knowledge and conspiracy theories. But different to most of the other bands, which deal with this "topical" themes, David is not looking for culprits but lights up rather the consequences in the form of interpretations beyond the human imagination.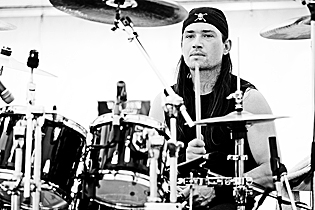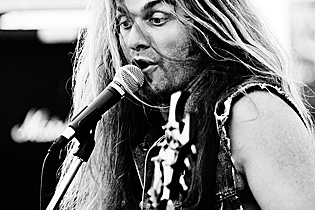 Music & Performance

With their latest output "Nemesis 2665" in baggage, which has been recorded under very difficult conditions, as their former singer and bassist had left the band shortly before entering the studio, SPELLBOUND had come to the Wacken Open Air. They played a short gig in the press tent. Their original singer Dave has taken up the microphone again and does a pretty good job. Though, according to some critics, their new album had needed a little more time to age, I liked their stuff when played live, and I guess most of the attendees in the press tent would agree with me, and I hope to see them again soon.
Rating

Music: 7
Performance: 7
Sound: 7
Light: 7
Total: 7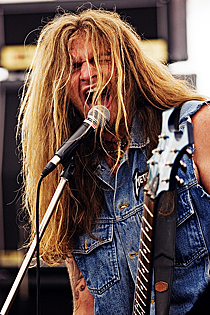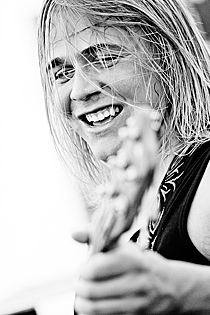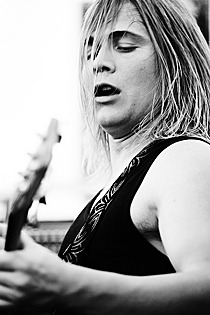 All pics by Ruth Gräbeldinger
{jos_sb_discuss:18}
See also (all categories):