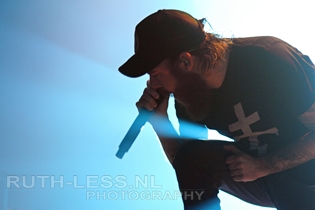 013, Tilburg, The Netherlands
30th November 2011
In Flames, Trivium, Ghost, Rise to Remain, Insense

With IN FLAMES and TRIVIUM as headliners, the evening of 30th November already looked promising. But with three (!) support acts by the names of INSENSE, RISE TO REMAIN and GHOST, this event cannot be missed by metal(core) fans. So let's see if all bands could fulfil our expectations...



Insense

INSENSE was founded in 1999 by vocalist / guitarist Tommy Hjelm and guitarist Martin Rygge. The Norwegian metal quartet was completed with the addition of drummer Truls Haugen and bassist Ola S Hana. They describe their music as "a schizophrenic mesh of death metal, thrash, grind core and hardcore". Over the years, INSENSE has toured Norway and many European countries, while releasing several albums such as 'Soothing Torture'(2005), 'The Silent Epidemic'(2007) and their latest release 'Burn in Beautiful Fire'(2011). INSENSE is Tommy Hjelm (guitar & vocals), Ola S Hana (bass), Truls Haugen (drums), Martin Rygge (guitar). www.myspace.com/insense / www.insense.no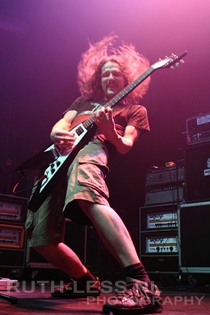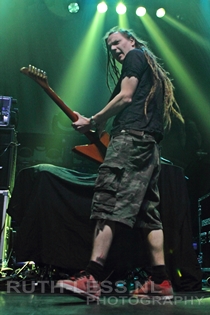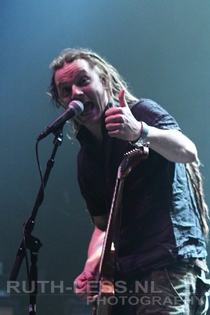 Music & Performance
Enthusiastic right from the start and knowing the (right) name of the town you're playing is a pretty good way to start. Front man Tommy welcomes the Tilburg audience after their opening song 'Death for Me, Death for You' from their latest album 'Burn in beautiful Fire'. The next song originates from their album 'The silent Epidemic' from 2007, followed by two new songs, one of which is the title song from their latest album. INSENSE's music has a dynamic build up and energetic atmosphere. The vocals reminded me somewhat of SILVERCHAIR, but way more brutal. Their enthusiasm lasts through every song in their short set, joking around and interacting with the audience. Just before their last song, Tommy reminds the audience that since we probably don't know them, they were so kind as to bring all their CD's and merchandise out to Tilburg.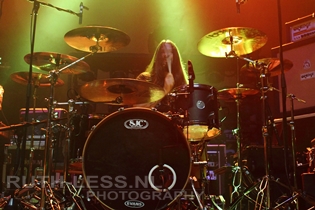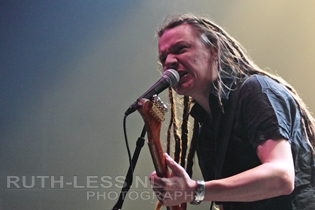 INSENSE finishes their part of tonight's' line up with a song called 'Gasping for Air' from their first official release 'Soothing Torture'. With only a short set list, INSENSE proves to be perfectly capable of getting the audience ready for some more guitar noise and blasting drums.

Setlist
01. Death For Me, Death For You
02. Welcome Whore
03. Surviving Self Resentment
04. Burn In Beautiful Fire
05. Gasping for Air

Rating
Music: 8
Performance: 8
Sound: 8
Light: 6
Total: 7.5 / 10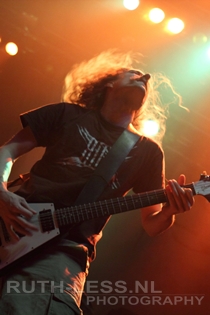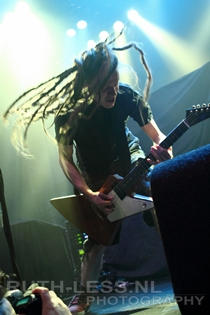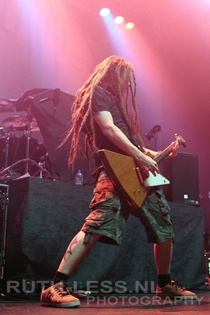 Rise To Remain

RISE TO REMAIN from the UK started out in 2006. Their first release, the EP 'Bridges will Burn' was given away for free with the UK metal magazine Metal Hammer. This exposure worked out really well for the boys of RISE TO REMAIN, and besides a busy touring schedule, they won several music awards. So far, the band has shared the stage with BRING ME THE HORIZON, BULLET FOR MY VALENTINE and legendary IRON MAIDEN. In September 2011, RISE TO REMAIN presented their debut album 'City of Vultures' at EMI records. RISE TO REMAIN is Joe Copcutt (bass), Austin Dickinson (vocals), Will Homer (rhythm guitar), Pat Lundy (drums) and Ben Tovey (lead guitar). www.myspace.com/risetoremain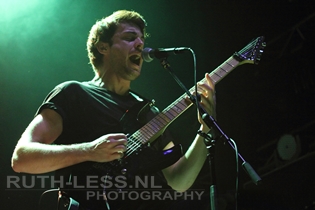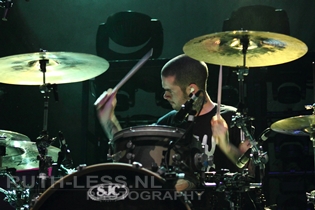 Music & Performance
The music of RISE TO REMAIN breathes a similar atmosphere and shares a focus on dazzling guitar solos just like BULLET FOR MY VALENTINE. Leaving no room for competition, the band works the stage no less enthusiastically than their predecessor INSENSE. RISE TO REMAIN treats the audience to a selection of songs from their debut album 'City of Vultures'. After an introduction and thank you for showing up this early to check out other bands than the headliner, RISE TO REMAIN presents the audience with the title song of their album. The vocals of front man Austin are a bit shaky at times, especially in the clean parts, which is not surprising if you saw the way he works out on stage. In between fast rhythms and beats, drummer Pat seems pretty much at ease, even has time for a trick or two twirling his sticks in the air. During 'Power through Fear', the first pit in 013 is a fact and people start to move.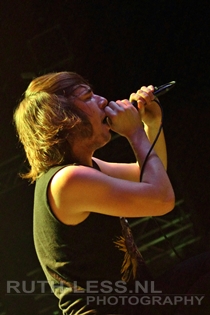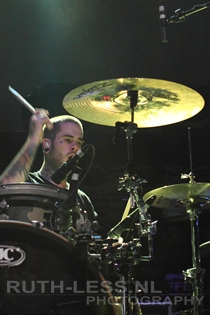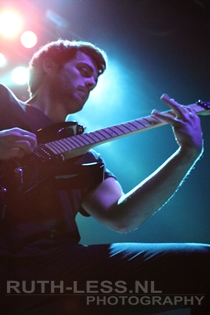 During RISE TO REMAIN's last song 'Bridges will Burn' Austin heads off the stage into the audience to try a little crowd surfin'. Unfortunately, the audience doesn't seem to feel like that (yet), so he quickly climbs back on the stage again to finish the show.

Setlist
01. Serpent
02. The Day is Mine
03. City Of Vultures
04. Power through Fear
05. Nothing left
06. Bridges Will Burn

Rating
Music: 8
Performance: 8
Sound: 7
Light: 5
Total: 7.3 / 10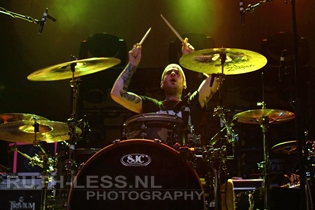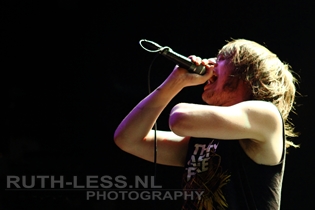 Ghost

GHOST is an occult heavy metal band from Sweden, formed in 2008. They gained notoriety quite fast by their eccentric and secretive appearance on stage. Their demo was released in 2010 followed by the single 'Elizabeth', and eventually their debut full length album 'Opus Eponymous'. The album has received mostly positive reviews and ever since increased their popularity significantly. Several famous musicians have shown their appreciation for this band of 'nameless ghouls' as they call themselves. For example, James Hetfield of METALLICA hailed the band by wearing a GHOST t-shirt while playing with "the big four" in Gothenburg, Sweden. The music of GHOST can be identified as occult sinister but catchy 70s hard rock influenced by bands like BLACK SABBATH and URIAH HEEP. http://ghost-official.com/ / www.myspace.com/thebandghosts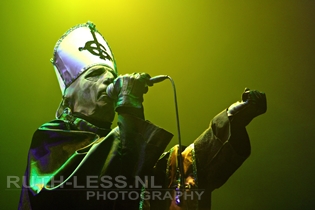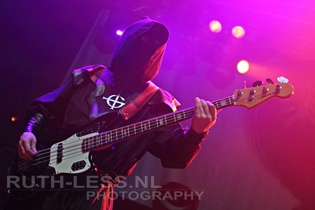 Music & Performance
I must note that this is the second time I saw GHOST in a live show, and although I was pretty much looking forward to seeing them again… it wasn't as good as the last time. Habituation is a bitch. GHOST's members, wearing dark hooded robes and a cardinal outfit with skull make-up enter the stage as before. After some incense has been waved into the audience, GHOST takes of with their catchy repertoire starting with 'Con Clavi Con Dio' leaving most of the audience in astonishment. Some pleasantly surprised, some irritated and asking how the hell this band ended up in tonight's line up. Up next are 'Elizabeth', 'Prime Mover' and 'Stand by Him' from their album 'Opus Eponymous'. GHOST is catchy and dark at the same time, and the vocals of GHOST singer are simply beautiful. At this time of year and in The Netherlands, it could be expected of course that the resemblance with Sinterklaas (Saint Nicholas) would be noted. Or perhaps the comparison with the horror version of this saint in a Dutch movie 'Sint' is a better one.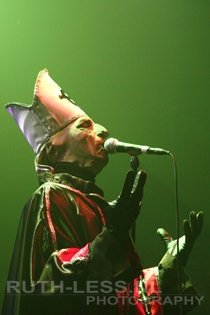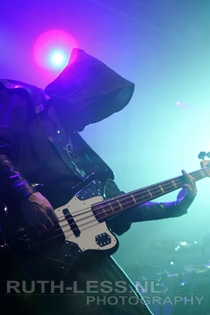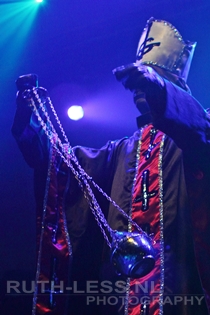 Halfway their set, the audience starts singing 'Sinterklaas' songs to the band. I'm not really sure how that was appreciated or understood behind those masks. Overall, GHOST puts up a great show for those who can appreciate their music, but a big part of the audience is only moderately enthusiastic. What's lacking for me is the facial expression due to their masks in combination with only sparse communication to the audience.

Setlist
01. Con Clavi Von Dio
02. Elizabeth
03. Prime Mover
04. Stand by Him
05. Satan Prayer
06. Ritual

Rating
Music: 7
Performance: 7
Sound: 7
Light: 6
Total: 6.8 / 10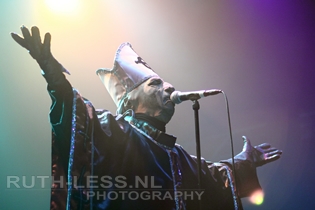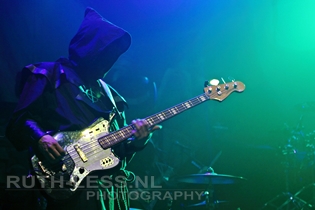 Trivium

TRIVIUM was formed in Orlando, Florida, USA in 1999 and has so far released four studio albums, eleven singles and 12 music videos. TRIVIUM's music has influences from metal core, thrash metal, progressive metal, groove metal and death metal. The band has stated that in general they are influenced by musical groups such as METALLICA, IN FLAMES, MACHINE HEAD, and IRON MAIDEN. In 2008, TRIVIUM released their fourth full-length album, 'Shogun', which made it to Number 1 in the UK Rock Album Charts. In august 2011, TRIVIUM will release their 5th studio album, called 'In Waves'. TRIVIUM is Matt Heafy (guitar, lead vocals), Corey Beaulieu (guitar, vocals), Paolo Gregoletto (bass, Vocals) and Nick Augusto (drums). www.trivium.org / http://www.myspace.com/trivium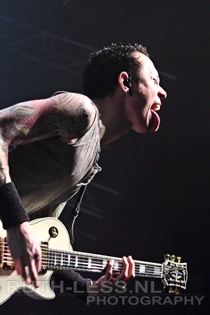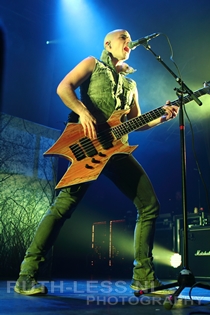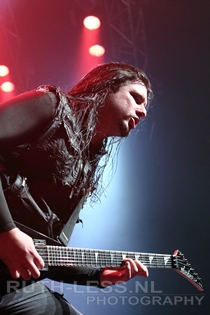 Music & Performance
When TRIVIUM takes the stage, 013 has had a proper warming up with the three previous bands and most of the audience is ready to blow off some steam. The venue is sold out tonight and quite busy. TRIVIUM starts loud and hi-speed with 'In Waves', the title track of their latest album. Soon after, the first crowd surfers appear. It also seems though that the boys enjoy being taken away by the corridor crew, of which most are girls ;-). Front man Matt thanks the audience for their warm welcome and proudly shows off his Dutch vocabulary. TRIVIUM continues with 'Drowned and Torn Asunder' and 'A Gunshot to the head of Trepidation, both from their 2005 album 'Ascendancy'.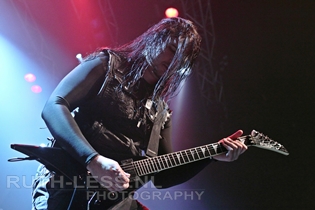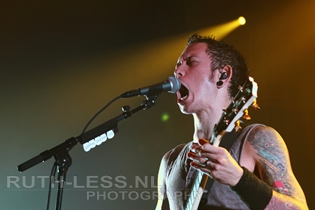 Judging by the T-shirts in the audience, most of them came to see TRIVIUM and IN FLAMES tonight. Therefore, it was no surprise that even the old songs are sung along by the audience. After some new stuff, the band plays two more old tracks 'Dying in Your Arms' and 'Pull Harder on the Strings of Your Martyr' both from 'Ascendancy'. Time flies when you're having fun, and we're already at the end of TRIVIUMs set. For the last two songs, Matt commands the audience to give all they've got and that's that. Their show is finished with two songs from their fore last album 'Shogun' and the audience does as they're told. Great music, performance technically strong and entertaining in between as well: TRIVIUM gets the thumbs up!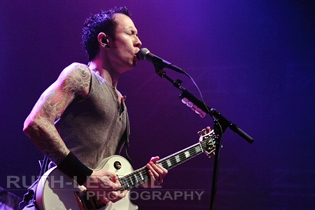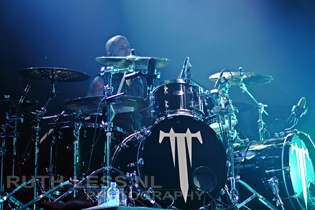 Setlist
01. Capsizing the Sea
02. In waves
03. Drowned and Torn Asunder
04. A Gunshot to the Head of Trepidation
05. Built to Fall
06. Caustic are the Ties that Bind
07. Black
08. Dying in Your Arms
09. Pull Harder on the Strings of Your Martyr
10. Down from the Sky
11. Throes of Perdition

Rating
Music: 8
Performance: 8
Sound: 8
Light: 8
Total: 8 / 10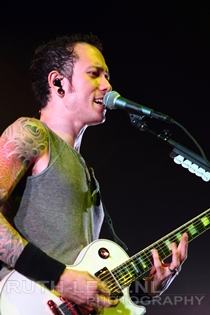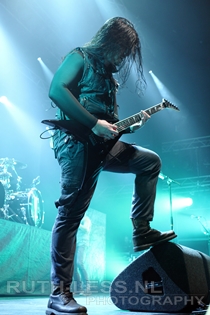 In Flames

IN FLAMES started out as a Gothenburg-death metal band that has transformed over the years into a metalcore flavoured formation. Since the band's first release in 1993, IN FLAMES has released ten studio albums and one live DVD. Over the years IN FLAMES has toured with big names like JUDAS PRIEST, SLIPKNOT, SLAYER, SEPULTURA and many more. In 2011, IN FLAMES released their tenth studio album 'Sounds Of A Playground Fading'. IN FLAMES' musical style has changed a bit over the years but is still characterized by the use of lead guitar melodies and screaming-style singing along with growling. IN FLAMES has been a big inspiration for many new wave metalcore bands, such as TRIVIUM, who will also headline tonight. IN FLAMES is Anders Fridén (vocals), Björn Gelotte (guitar), Daniel Svensson (drums), Peter Iwers (bass) and Niclas Engelin (guitar). http://www.inflames.com/ / http://www.myspace.com/inflames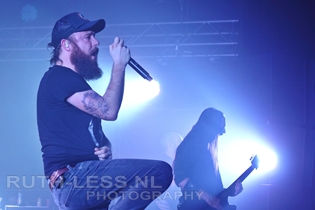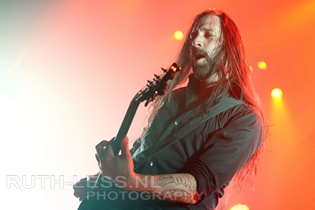 Music & Performance
IN FLAMES doesn't just have an enormous backdrop, also a gigantic front drop is being pulled up before their show. At the start, the front drop comes down and IN FLAMES takes off with the title track of their latest album 'Sounds of a Playground Fading'. The band continues with their latest album by playing the next two tracks on the CD 'Deliver Us' and 'All for Me'. After this, IN FLAMES takes a big leap back in time with 'Trigger' from their 2002 album 'Reroute to Remain', followed by more oldies like 'Colony' and 'Swim'. The audience has no trouble at all following this historical journey and the announcement of the titles is enough to make the heads bang and the pit going.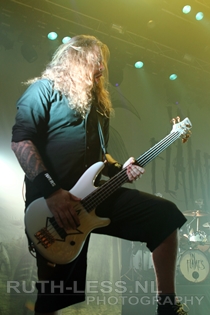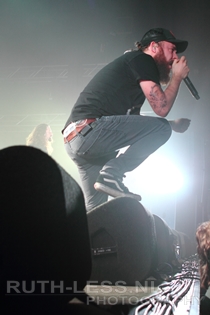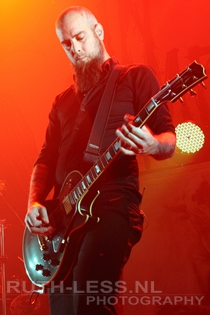 About halfway their set, Anders asks the audience to start crowd surfing like mad. Right away, people came surfing from the back of the venue, which has a nice tiered structure, so everyone can see the stage and vice versa. The second part of their show mainly focuses on 'Sounds of a Playground Fading' which is definitely one of my most played CD's at the moment. The show continues to be great, with one criticism though…With bands, there's singers that entertain and there's singers that talk. Unfortunately, front man Anders is not part of the first club. The big-IN-FLAMES-self-appraisal-fiesta became pretty annoying after a while…but was also easily forgotten with a few more of those wicked tracks such as 'Liberation', 'Only for the Weak' and 'Delight and Angers'.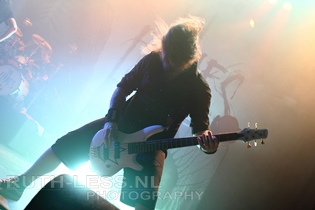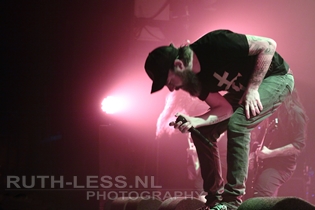 Looking back at their set list at 013, I'm amazed that each and every track of each and every album IN FLAMES made over the years still sounds so great: awesome show!

Setlist
01. Sounds of a Playground Fading
02. Deliver Us
03. All for Me
04. Trigger
05. Alias
06. Colony
07. Swim
08. The Hive
09. The Quiet Place
10. Where the Dead Ships Dwell
11. Fear Is the Weakness
12. Come Clarity
13. Ropes
14. Darker Times
15. Liberation
16. Only for the Weak
17. Delight and Angers
18. Cloud Connected
19. The Mirror's Truth
20. Take This Life

Rating
Music: 9
Performance: 8
Sound: 8
Light: 8
Total: 8.3 / 10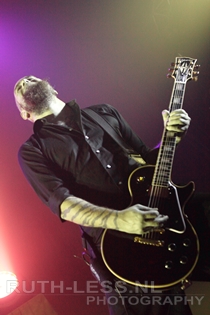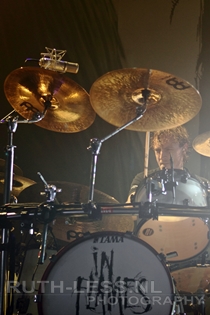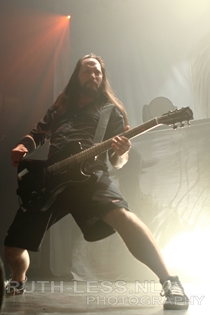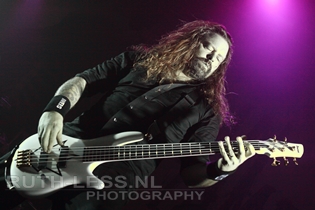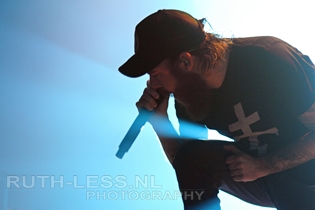 All pics by Ruth Mampuys (www.ruth-less.nl)



See also (all categories):