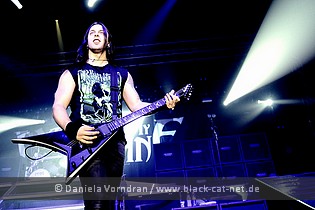 Turbinenhalle, Oberhausen, Germany
3rd December 2010
Bullet for my Valentine, Funeral For A Friend, Rise To Remain
It really doesn't matter for which venue or city around here a show of BULLET FOR MY VALENTINE is announced, you can be sure that fans travel great distances to see one, many of them. The last show of the European leg of the tour was going to take place in Oberhausen and was completely sold-out.
Rise to Remain
The band was formed in 2006 under the name HALIDE as a mere side project. Under that name they recorded one EP, released via MySpace. Upon getting offered a slot at Download festival, the band changed members and name to RISE TO REMAIN. In 2008, the band recorded their first EP under that moniker 'Becoming One'. In the following time, they were doing extensive touring and shared stages with the likes of FIVE FINGER DEATH PUNCH or THE HAUNTED before taking on the next recording, which was the EP 'Bridges Will Burn'. Currently, the band is working on their debut album. RISE TO REMAIN is Austin Dickinson (lead vocals), Ben Tovey (lead guitar), Joe Copcutt (bass guitar), Pat Lundy (drums) and Will Homer (rhythm guitar).
http://www.facebook.com/risetoremain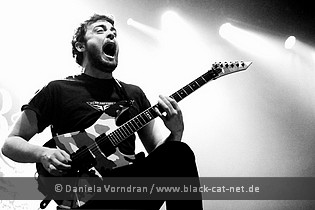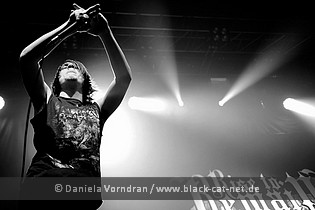 Music & Performance
Soon after getting in and having a good place outside the turmoil a sold-out show brings, the first act, UK-based outfit RISE TO REMAIN, started the evening by walking in to the Imperial March of Star Wars; not very original but anyway. Then 'Illusive Existence' started the show with unbridled energy, musically and performance-wise, since you couldn't see anyone up there except the drummer standing still, really. The people of the audience showed their appreciation with hailing them and partying. When 'Nothing Left' broke upon them they were already all under the band's spell and when asked for a head banging orgy by singer Austin for a new track, 'The Serpent', off the yet untitled debut album, they followed the order right away. A furious 'Bridges Will Burn' was their farewell bid for the audience and it's been one to remember for them for sure.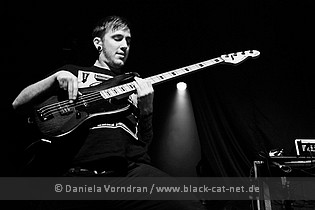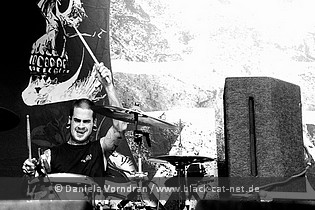 Setlist
01. Illusive Existence
02. Nothing Left
03. The Serpent
04. Purify
05. Power Through Fear
06. Bridges Will Burn
Rating
Music: 8
Performance: 8
Sound: 7
Light: 7
Total: 7.6 / 10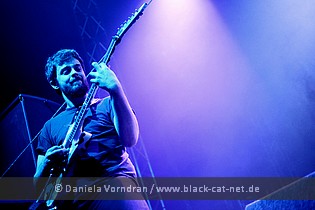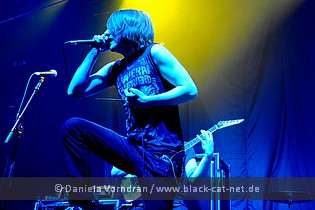 Funeral for a Friend
The band was founded in the early years of 2002. All band members played already in other bands before. Their first EP 'Between Order and Model' attracted the attention of Warner Music and got them a record deal. Two further EPs followed until the first album 'Casually Dressed and Deep in Conversation' was released to critical acclaim in the UK. Following are the albums 'Hours' and 'Tales don't tell themselves', cementing their status in the post-core scene even further. Come 2008, the band returned with their already fourth album 'Memory & Humanity' on Roadrunner Records. In 2009, a best of by the name of 'Your History Is Mine 2002 – 2009' was released. The newest release is an online EP, exclusively released via pledgemusic.com, called 'The Young & Defenceless'. FUNERAL FOR A FRIEND is Matthew Davies (lead vocals), Gavin Burrough (guitar, backing vocals), Ryan Richards (drums, aggression vocals), Kris Coombs-Roberts (guitar, backing vocals) and Richard Boucher (bass).
http://www.funeralforafriend.com
/
http://www.facebook.com/funeralforafriend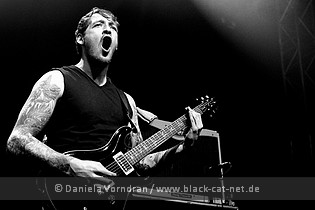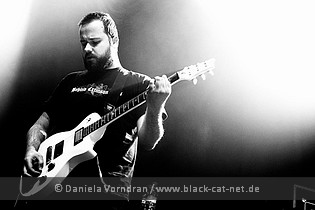 Music & Performance
Band shirts of various people gave away that FUNERAL FOR A RIEND must've had a solid fan base here as well who then freaked out accordingly when the band kicked it off with the weeping and infuriating 'Roses For The Dead' with a clearly higher amount of clean vocals. 'Serpents In Solitude' announced itself with an electronic intro, venturing into hard-pumping riff attacks and beats. Before they went on to play some "old-school shit" with 'The End Of Nothing' Matthew Davies wanted the crowd to split up in the middle for a wall of death after he tested his German skills on them a bit prior to the track. The most hilarious part of that show, and maybe one expectable on the last Europe day, was a guy named Kevin coming up on stage in, I'm hesitant to call it dress, but something like that it was. Anyway, the guy needed to show his naked ass to the crowd who requited that with laughter. Sometime later he ran off again and after a remark about small genitalia the show continued with 'Damned If You Do, Dead If You Don't' that would be followed by 3 more songs, keeping the audience on their toes. Not a bad performance at all!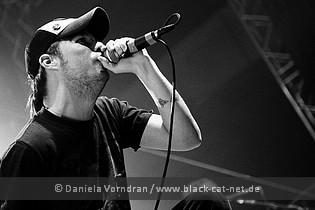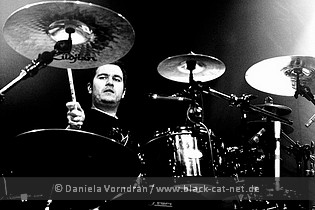 Setlist
01. Roses For The Dead
02. Serpents In Solitude
03. End Of Nothing
04. Sixteen
05. Damned If You Do, Dead If You Don't
06. All The Rage
07. Front Row Seats To The End Of The World
08. Escape Artists Never Die
Rating
Music: 7
Performance: 8
Sound: 7
Light: 7
Total: 7.3 / 10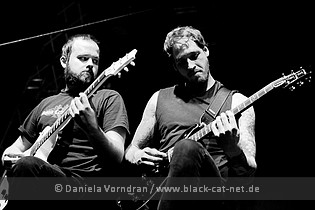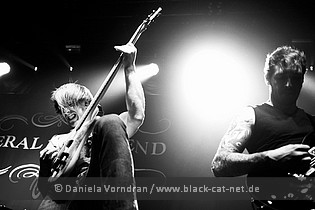 Bullet For My Valentine
They excite old Heavy Metal fans as well as a young, growing generation of listeners of hard music. The Welsh four-piece BULLET FOR MY VALENTINE is unstoppable since the release of their debut 'The Poison' in 2005. The immense amount of sold records by now speaks volumes about the popularity of the Scottish band that like a shooting star lit up on the rock firmament, not intending to cease again so soon. With ever new show the audience got bigger, the halls larger and coinciding with the ever-growing number of fans the tours got much longer ever since it all started. By now, BULLET FOR MY VALENTINE have released their third studio long player 'Fever'. BFMV is Matthew Tuck (lead vocals, rhythm guitar), Michael Paget (lead guitar, backing vocals), Michael Thomas (drums, percussion) and Jason James (bass guitar, vocals).
http://www.bulletformyvalentine.com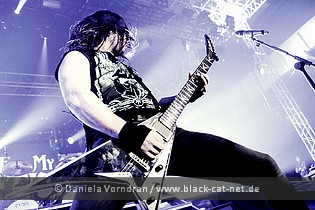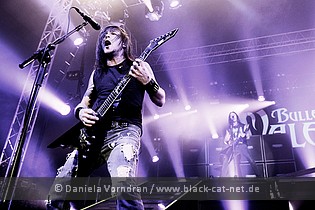 Music & Performance
So the warm-up part was done eventually and the waiting began for what was people's main reason to do the journey in the first place. After a monumental intro the band, just called "Bullet" by their fans, started with the first proper track 'Your Betrayal', sung along right away. With the second, fast and kicking, track 'Pleasure And Pain' you were up to see a surging mass of people. Security had a lot to do this evening with getting out people passing out, or nearly getting squashed inside the turmoil. That's what too much adrenaline does. Some loose every sense of what's happening around them and at times I think don't really care. 'Waking The Demon' had everyone moshing like hell. You just could see people jumping around and against each other. But you can't just keep that pushing vibe up for the entirety of a show, so it was soon time for something "a bit more chilled out" with 'Bittersweet Memories' that initially presented Matthew Tuck along on stage with guitar and doing vocals, before an eruption was ripping gaping holes into the calm.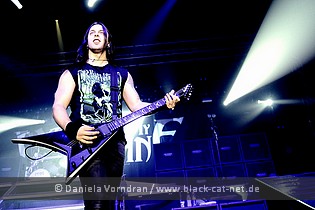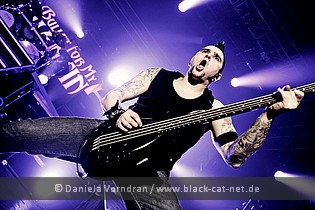 'Room 409' then returned to the propulsive theme of the show, including a loudness test with the audience and the next mosh-pit, before 'Say Goodnight' calmed things down again. The grand finale was supposed to be made with the track 'Alone' and it became a grand celebration literally before the band vanished into the depths of the backstage area. Riled up as everyone was, they called for an encore, but they had to call and clap and everything a bit longer until finally the band appeared again to play two additional songs for their craving fans. The show was crowned with one of the band's older tracks 'Tears Don't Fall', fulfilling the wishes that had been made audible short before the song actually was announced. The last date in Europe surely has to be called an overall success for the band and, judging by the looks on everyone's faces and their comments, also for the fans.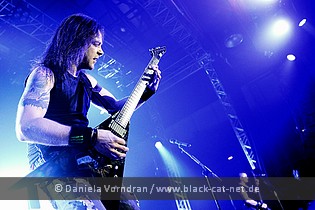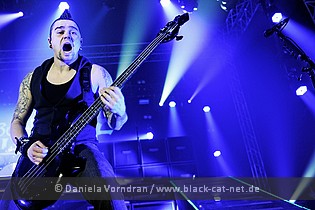 Setlist
01. Your Betrayal
02. Pleasure and Pain
03. Waking the Demon
04. The Poison
05. Bittersweet Memories
06. Room 409
07. Say Goodnight
08. Scream Aim Fire
09. The Last Fight
10. Cries in Vain
11. 4 Words (To Choke Upon)
12. Alone
---
13. Hand of Blood
14. Tears Don't Fall
Rating
Music: 8
Performance: 8
Sound: 8
Light: 8
Total: 8 / 10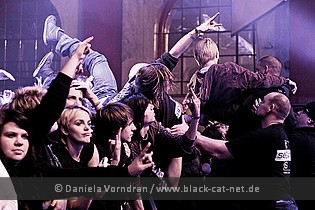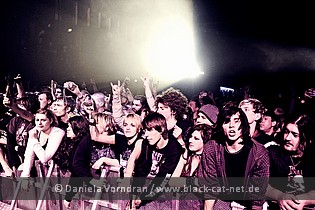 All pictures by Daniela Vorndran (
http://www.vorndranphotography.com/
/
http://www.black-cat-net.de/
/
www.myspace.com/vorndranphotography
)
{jos_sb_discuss:17}
See also (all categories):