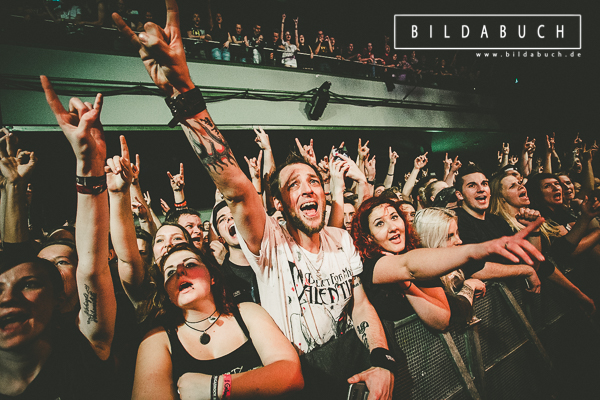 Weststadthalle, Essen, Germany
7th November 2015
Bullet For My Valentine, While She Sleeps & Coldrain

The new album 'Venom' is out so this means a new tour. But what a surprise to hear the guys will play in a small venue like the Weststadthalle in Essen which was sold out soon. Although smaller concerts are much nicer but the BULLETS are normally on a higher level. But there was no place for their big stage with stairs and all this stuff. Nevertheless we got a fantastic metal concert, but this hall was definitely too small for the bands, the crowd surfing, all the jumping and partying.
Coldrain

COLDRAIN was formed in 2007 in Nagoya and consists of five members: vocalist Masato, bassist RxYxO (Ryo), drummer Katsuma, and guitarists Y.K.C (Yokochi) and Sugi. The band gained their first followers from performing as a local band in their home-town while distributing demo discs after each performance. Shortly thereafter the band started becoming well known despite their songs all being sung in English by half-American singer Masato. The band mixes melodic singing alongside screams typical of the Post-Hardcore [
http://en.wikipedia.org/wiki/Post-hardcore
] genre. About a year after COLDRAIN formed, they were offered and later signed a major contract with VAP, after which the band released its debut maxi single 'Fiction' on 5th November 2008. They then set off for their first nationwide tour and played in 30 venues across Japan. On December 2013, COLDRAIN signed with Raw Power Management. This allows the band to perform for the first time in Europe alongside British band BULLET FOR MY VALENTIN in 2014 and to release a new album worldwide on the same year.
http://coldrain.jp
/
https://www.facebook.com/coldrainofficial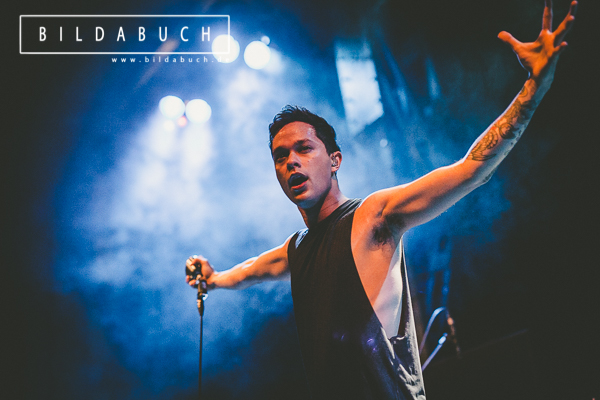 Music & Performance

COLDRAIN were no strangers. They opened already shows for BULLET FOR MY VALENTINE in 2014. In the half hour they had for their performance they brought us all of their power. They enjoyed the gig and so did the audience. It was the beginning of a big Metalcore party. They have also presented a new song called 'Gone'. Because of comments like "Essen you are fucking awesome I think they had so much fun as the audience had." I'm sure these guys don't have to stay in Japan, they will find or maybe have already their fan base in Europe.
Setlist

01. The Revelation
02. Evolve
03. Words Of The Youth
04. No Escape
05. Gone
06. The War Is On
Rating

Music: 8
Performance: 7
Sound: 8
Light: 7
Total: 7.5 / 10
While She Sleeps

WHILE SHE SLEEPS are a British Metalcore band from Sheffield, England. Formed in 2006 the group consists of vocalist Lawrence Taylor, guitarists Sean Long and Mat Welsh, bassist Aaran McKenzie and drummer Adam Savage. They are currently signed to Search and Destroy Records in the UK, The End Records in the US and Shock Records in Australia. They have released one mini-album, 'The North Stands for Nothing', in 2010 and two studio albums, 'This Is the Six' and 'Brainwashed', on 13 August 2012 and 23 March 2015 respectively. They received the Best British Newcomer award at the Kerrang! Awards 2012.
http://www.whileshesleeps.com
/
https://www.facebook.com/whileshesleeps
Music & Performance

When WHILE SHE SLEEPS entered the stage there was clear this will gonna be a wild show. With the greeting "Hey Motherfuckers" they have started their set and the song 'Brainwashed'. During this song the micro stand was thrown to the side of the stage by singer Lawrence. And wow...this man is like a wild animal on stage. Even though I'm not into their sound but this man and the whole band knows to catch the audience. They started a circle pit, started crowd surfing and also with Lawrence himself. Fans in the first row knew the lyrics quite well, so these guys are already more famous than some people maybe think. The contact with the audience was very close during the whole show. One guy had his happiest moment when Lawrence brought him on stage to sing or better shout with him. The last song should be in a kind of Festival-Style so Lawrence wanted to see the girls on the shoulders of their boyfriends. With 'Four Walls' a big wild party came to its end with many smiling faces.
Setlist

01. Brainwashed
02. This is the Six
03. Death Toll
04. Our Courage, our Cancer
05. Trophies of Violence
06. New Wolrd Torture
07. Seven Hills
08. Four Walls
Rating

Music: 8
Performance: 9
Sound: 7
Light: 6
Total: 7.8 / 10
Bullet For My Valentine

BULLET FOR MY VALENTINE are a Welsh heavy metal band from Bridgend formed in 1998. The band is composed of Matthew Tuck (lead vocals, rhythm guitar), Michael Paget (lead guitar, backing vocals), Jason James (bass guitar, backing vocals), and Michael Thomas (drums). They were formed under the name Jeff Killed John and started their music career by covering songs by METALLICA and NIRVANA. Jeff Killed John recorded six songs which were not released; two of these tracks were reworked later in their career as BULLET FOR MY VALENTINE. Financial difficulties dictated the name change, which was followed by a change in music direction. In 2002, the band secured a five-album deal with Sony BMG. The band has stated that their music is influenced by classic metal acts such as METALLICA, IRON MAIDEN, and SLAYER. The band is part of the Cardiff music scene. Since the release of their debut album 'The Poison' in 2005 BULLET FOR MY VALENTINE count to the most important representatives of the international Metalcore.
http://www.bulletformyvalentine.com
/
https://www.facebook.com/BulletForMyValentine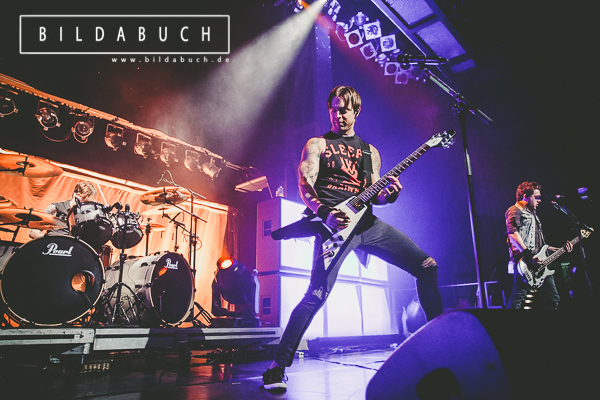 Music & Performance

There was a wild and hysterical screaming when the lights went out and the BULLETS came on stage. A powerful show right from the start. Unfortunately the sound wasn't good as during the show of the support bands. The crowd surfing continued also the next 90 minutes. The album 'Temper Temper' seemed to be forgotten, but was not really missed because the guys played a good mix of old and new songs. Moshing people who were singing along the songs were everywhere and there was no other way then to freak out. The beginning of 'The Last Fight' was slow. It was just Matthew's singing and his guitar on 1st verse and chorus before it changed into the real version. The poor security stuff had enough to do with the crowd surfing people and they also gave water to the people at the front. Well done! Bullet For My Valentine are professionals so I have nothing to complain, though there must be another way to go off stage nearly every song to change guitars. Too many quiet moments. The roadies could bring the guitars while the guys are talking to the people. This were much nicer. Anyway the sweaty set was over too soon and also the new songs are live such fantastic as on the album. Reaching the end we listened to QUEEN's 'We are the champion's' and the BULLETS gave some presents to the fans.
Setlist

01. No Way Out
02. 4 Words
03. You Want a Battle? Here's A War
04. Raising Hell
05. Scream Aim Fire
06. The Poison
07. The Last Fight
08. Venom
09. Alone
10. Worthless
11. Guitar Solo
12. Army of Noise
13. Tears Don´t Fall
14. Hand Of Blood
---
15. Your Betrayal
16. Waking The Demon
Rating

Music: 10
Performance: 10
Sound: 7
Light: 8
Total: 9 / 10
All pictures by Tobias Kästner (
www.bildabuch.de
)
See also (all categories):