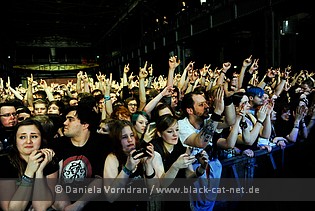 Palladium, Cologne, Germany
10th February 2014
Bullet For My Valentine, Callejon & Coldrain

This concert was already planned for November 2013. WHILE SHE SLEEPS and ASKING ALEXANDRIA should be the guests for BULLET FOR MY VALENTINE. But these bands had some differences so the show was now supported by COLDRAIN and CALLEJON, who were great openers btw. Most of the girls and boys in the audience were just about 20-25 years old, but also some older fans joined this evening of rock.
Coldrain

COLDRAIN was formed in 2007 in Nagoya and consists of five members: vocalist Masato, bassist RxYxO (Ryo), drummer Katsuma, and guitarists Y.K.C (Yokochi) and Sugi. The band gained their first followers from performing as a local band in their home-town while distributing demo discs after each performance. Shortly thereafter the band started becoming well known despite their songs all being sung in English by half-American singer Masato. The band mixes melodic singing alongside screams typical of the post-hardcore genre. About a year after COLDRAIN formed, they were offered and later signed a major contract with VAP, after which the band released its debut maxi single 'Fiction' on 5th November 2008. They then set off for their first nationwide tour and played in 30 venues across Japan. In October 2009 they released their first album 'Final Destination' and embarked on another successful sold-out nationwide tour.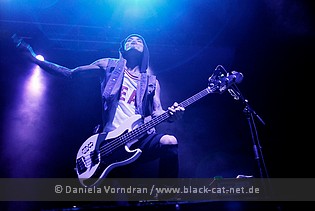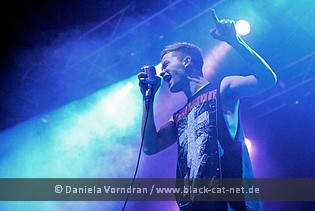 The band released their EP 'Nothing Lasts Forever' on 23rd June 2010. One of the songs, 'We're Not Alone', was used as an opening theme of the anime series Rainbow: Nisha Rokubō no Shichinin. Another song, 'Die Tomorrow', was used in the Pro Evolution Soccer 2011 soundtrack. On 30th November 2012, in a statement on their official website, COLDRAIN announced the release of their third studio album scheduled for spring 2013. 'The Revelation', produced by David Bendeth, was released on April 17, 2013. They collaborated with Bendeth for the second time: indeed he also worked with them on their second EP 'Through Clarity'. On December 2013, COLDRAIN signed with Raw Power Management. This allows the band to perform for the first time in Europe alongside British band BULLET FOR MY VALENTIN in 2014 and to release a new album worldwide on the same year.
http://coldrain.jp
/
https://www.facebook.com/coldrainofficial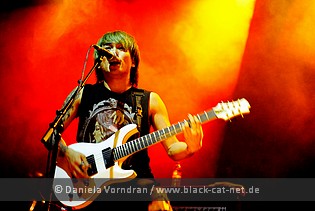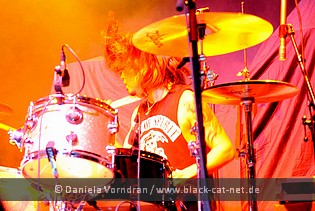 Music & Performance

When COLDRAIN from Japan entered the stage and started with 'No Escape' they had the audience directly on their side. Singer Masato was wearing a CALLEJON T-shirt so there must be a new friendship. Masato said they came all the way from Japan to have good time. You could see that all band members did have a really great time also there in Cologne. Masato wanted the people to sing along with him for example at 'Voiceless'. It worked quite well. Masato wasn't only good in Screams and Shouts, he could also impress with a clear voice. Their part was over soon, but no chance of being bored.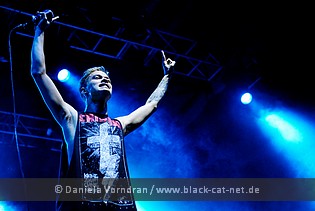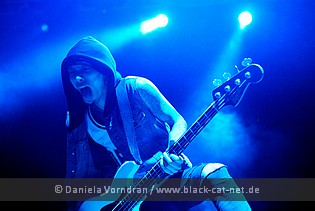 Setlist

01. No Escape
02. The Revelation
03. Die Tomorrow
04. Voiceless
05. The War Is On
06. Inside Of Me
Rating
Music: 8
Performance: 7
Sound: 8
Light: 7
Total: 7.5 / 10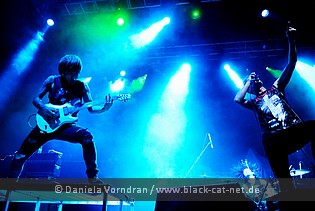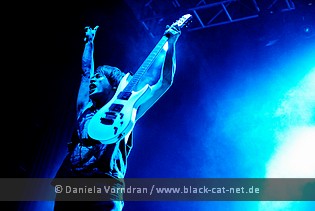 Callejon

The fact that some having been hit by 'Blitzkreuz' for the first time feel reminded of RAMMSTEIN in the first moment of shock is not so much due to the unbelievable force with which the opener of the fourth CALLEJON album impacts, but rather with the combination of hard guitars and German lyrics, which almost inevitably evokes associations with RAMMSTEIN - who, internationally speaking, are the most successful German band after all. But even after quickly realizing that there are few musical parallels between the two bands, it may not be so wrong to compare them to each other: CALLEJON have never before sounded as international as big as on 'Blitzkreuz'. That is due partly to the album's mix by star producer Colin Richardson (AS I LAY DYING, BULLET FOR MY VALENTINE, MACHINE HEAD, SLIPKNOT, TRIVIUM...) and partly due to Grammy winner Ted Jensen, who took over the mastering and has worked with AVENGED SEVENFOLD, DEFTONES, GREEN DAY, KILLSWITCH ENGAGE, MASTODON, PANTERA or UNDEROATH before - really just to mention a few bands.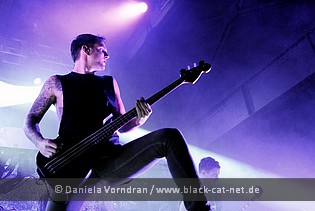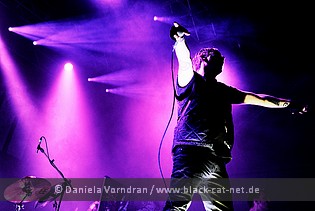 'Willkommen in der Sackgasse' (Welcome to the dead end), the band sings (surely joined by everyone who will ever hear this song) on 'Blitzkreuz'. After all, musical sound barriers can only be broken where it supposedly does not go on. CALLEJON continue their path undeterred and by that open new perspectives to modern metal. 'Willkommen in der Realität' (Welcome to reality). Following the 'Blitzkreuz' album from 2012 is an album in German language, named 'Man spricht Deutsch' (Speaking German), which was released in January 2013 via Four Music (Sony). CALLEJON is BastiBasti (vocals), Bernhard Horn (guitars), Christoph "Kotsche" Koterzina (guitars), Thorsten Becker (bass) and Max "Kotze" Kotzmann (drums).
http://www.callejon.de
/
https://www.facebook.com/callejon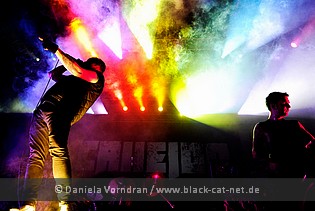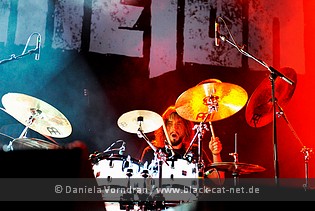 Music & Performance

When the lights went out and the guys weren't on stage yet, the people started to shout already for them. So CALLEJON could be sure they had their own fan base at the Palladium. You could see already at the painting in singer Basti's face that it should now become a harder sound. There was absolutely no doubt CALLEJON are a great live band. They enjoy what they are doing and they know how to act with the audience. Their fans who knew the lyrics were singing with them and they also made it to build a wall of death. Also crowd surfing wasn't missing. While 'Sommer, Liebe, Kokain' they let the girls and boys sing different parts of the lyrics. One balled was played with 'Kind im Nebel'. Even a song against Nazis was on the list. Their cover version of 'Schrei nach Liebe', normally sung by another German band called DIE ÄRZTE. Everyone knew this song so I'm sure everyone was singing it. At least it sounded like this. After their last song 'Porn Of Spain 2' the chords for wanting more didn't stop; but the guys were gone.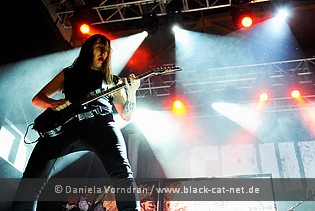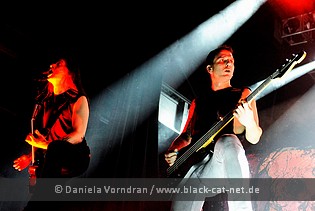 Setlist

01. Atlantis
02. Dieses Lied Macht Betroffen
03. Lass Mich Gehen
04. Blitzkreuz
05. Zombiefied
06. Snake Mountain
07. Sommer Liebe Kokain
08. Kind Im Nebel
09. Schrei Nach Liebe
10. Porn From Spain 2
Rating

Music: 8
Performance: 9
Sound: 8
Light: 6
Total: 7.8 / 10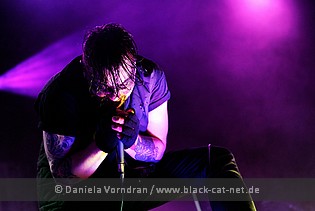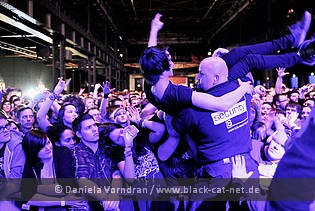 Bullet For My Valentine

BULLET FOR MY VALENTINE are a Welsh heavy metal band from Bridgend formed in 1998. The band is composed of Matthew Tuck (lead vocals, rhythm guitar), Michael Paget (lead guitar, backing vocals), Jason James (bass guitar, backing vocals), and Michael Thomas (drums). They were formed under the name JEFF KILLED JOHN and started their music career by covering songs by METALLICA and NIRVANA. JEFF KILLED JOHN recorded six songs which were not released; two of these tracks were reworked later in their career as BULLET FOR MY VALENTINE. Financial difficulties dictated the name change, which was followed by a change in music direction. In 2002 the band secured a five-album deal with Sony BMG. The band has stated that their music is influenced by classic metal acts such as METALLICA, IRON MAIDEN, and SLAYER. The band is part of the Cardiff music scene.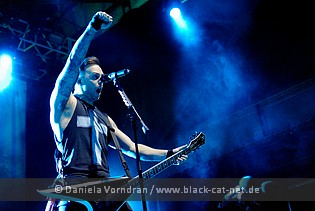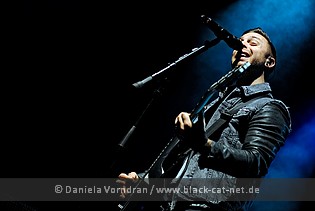 Since the release of their debut album 'The Poison' in 2005, BULLET FOR MY VALENTINE count to the most important representatives of the international Metalcore. The band's latest album, 'Temper Temper', was released in February 2013 via Smi Col (Sony).
http://www.bulletformyvalentine.com
/
https://www.facebook.com/BulletForMyValentine
Music & Performance

You could hear 'O Fortuna' from Carl Orff which went over in a thunder of drums and turned out to be the non-album track 'Raising Hell'. What a start! They were shooting through the evening with 'Scream Aim Fire' and 'Your Betrayal'. First quiet stop for a short while was 'All These Things I Hate (Revolve Around Me)', when everyone should sing with Matt. 'The Last Fight' got a completely new beginning with Matt just playing his guitar and sang the first lines.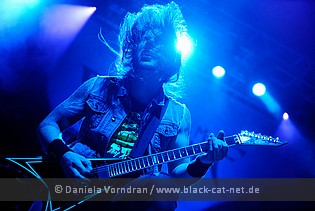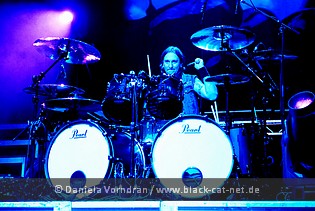 Before it became the normal version the audience was shouting for the BULLETS. After 'Bittersweet Memories' we got an amazing guitar solo by Michael Paget. Matt mentioned that next year it is the 10th anniversary of the album 'Poison'. All we can hope for is maybe a little 'Poison' tour or something. These guys know what they are doing and they are doing it quite well. Such a rock show with so much power and energy. As extra songs were chosen a cover of MOTÖRHEAD's 'Ace Of Spades' and 'Tears Don't Fall' which sounded like simply every person was singing with Matt. The Top Gun Anthem was played while the guys gave still some presents to the fans like drum sticks or plectrums and waved good-bye.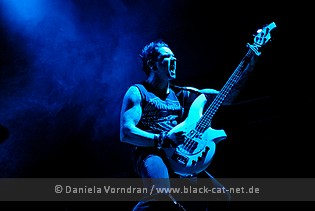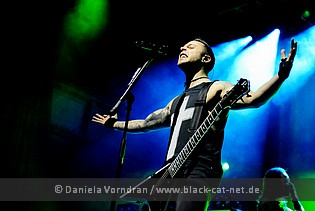 Setlist

Intro O Fortuna (Carl Orff)
01. Raising Hell
02. Scream Aim Fire
03. Your Betrayal
04. All These Things I Hate (Revolve Around Me)
05. 4 Words (To Choke Upon)
06. Temper Temper
07. The Last Fight
08. Bittersweet Memories
09. Guitar Solo
10. Dirty Little Secret
11. Hand of Blood / Room 409 / Hearts Burst into Fire / Begging for Mercy / Riot
12. Waking The Demon
13. Pleasure and Pain
---
14. Ace Of Space (Motörhead cover)
15. Tears Don't Fall
Outro: Top Gun Anthem
Rating

Music: 10
Performance: 10
Sound: 9
Light: 8
Total: 9.3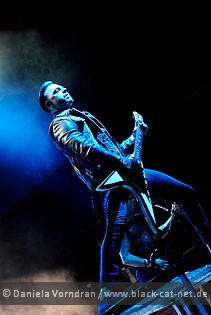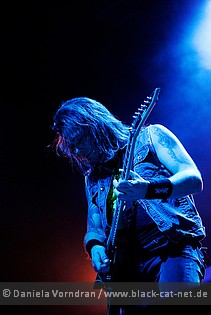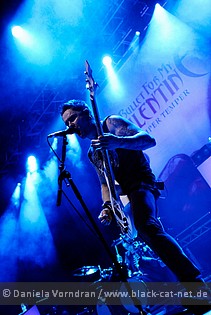 All pictures by Daniela Vorndran (
http://www.black-cat-net.de
/
http://www.facebook.com/blackcatnet
)
See also (all categories):