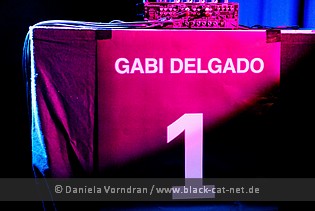 Kulturfabrik (KuFa), Krefeld, Germany
28th February 2014
Gabi Delgado

On the day of the album release '1', the first solo album of GABI DELGADO (one half of the duo DAF) after 30 years, the first concert took place in the Kulturfabrik Krefeld. As we all had the chance to hear some snippets of the album on YouTube, surely everybody was excited to hear the songs in full length and how they work live.
Born in Spain, DELGADO moved with his family to Germany as a kid. In the eighties he was the co-founder of the Punk scene Rhine and Ruhr, co-editor of the Punk fanzine 'The Ostrich' and performed in several Punk bands. With Robert Goerl he founded DAF and gained international publicity as lyricist, singer and front man. With their sound they were pioneers for EBM and Techno House. When DAF disbanded, GABI worked on solo projects, and while he lived in Berlin he worked as well as a DJ, was an active member of the House Music scene from hour one by organising the first House Party together with WESTBAM and Marc Gubler and founded with Saba Komossa several Techno House labels. Furthermore he founded DAF DOS with Wotan Wilke Möhring in 1995, a project that was surely more Techno/ House influenced. This project disbanded as well. After two reunions he and Robert started to work on DAF again and he is busy with his solo career nowadays.
http://gabidelgado.com
/
https://www.facebook.com/GabiDelgadoLopezOfficial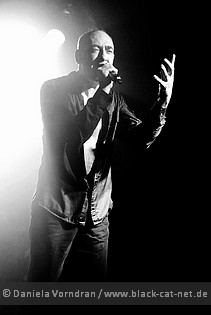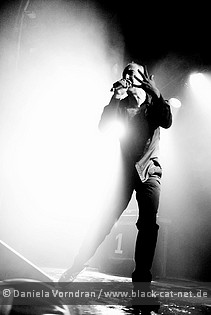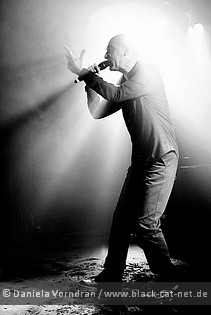 Music & Performance

The concert took place in the smaller hall of the Kulturfabrik. Although the venue was not sold out a good crowd showed up. We had to wait a while before the concert started, but finally GABI entered the stage and greeted us in his charming way with "Good evening boys and girls!" [of course in German - Guten Abend Jungen und Mädchen] and the party started. The stage setting was quite purist: a table with a banner in front of it, a sampler connected with his mobile phone as we learnt a little bit later. In his own distinctive way GABI performed expressively to stress the lyrics. Pulsating Electro sound with influences of Techno/ House and Punk invited the people to dance or pogo and so they did. In the beginning the music was a bit too low for some of the audience and thus they shouted to turn up the volume. With his long lasting experience as a DJ GABI knows how to create music that fills the dance-floors. His trademark is to perform the lyrics more as a recitative than singing, as well as reducing them to their minimum, presented with a perfect timing. But although the lyrics are more like slogans, they are full of smart and sarcastic innuendos about love, sex, drugs, philistinism as well as political topics.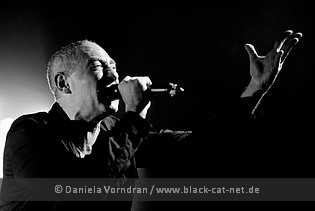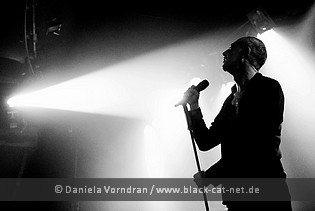 As mentioned before GABI performed very expressive, almost theatrical, always moving fast on stage, except the short moments when he pauses to drink and pour water over his head or spill the rest of the water bottle into the audience. His intense and energetic show is really amazing and it was great to see that he obviously enjoyed performing, too. Not only did he present songs from his album but several songs of DAF DOS. Though all songs are great for dancing, for me 'Nebelmaschine' and 'Friede den Hütten Krieg den Palästen' were my favourite dance tracks. After quite a long set the audience could persuade GABI to play two encores before he left the stage for good.
Setlist

01. Tanzen brutal
02. Sexkamikaze
03. Así soy yo (?)
04. Die Zukunft
05. Nebelmaschine
06. Mutterficker
07. Traum
08. Liebe, Sex, Drogen (?)
09. Lippenstift
10. Nichtgedicht
11. Die neuen Barbaren
12. Puppen
13. Jesus vs. Machiavelli
14. Sciencefictionliebe
15. Langweilig
16. Spieglein Spieglein
17. Laut
18. Neosexi
19. Friede den Hütten Krieg den Palästen
---
20. Zurück nach Marzahn
21. Ich glaub' ich fick dich spatter
---
22. Nebelmaschine
23. Die Zukunft
Rating

Music: 8
Performance: 8
Sound: 8
Light: 7
Total: 7.8 / 10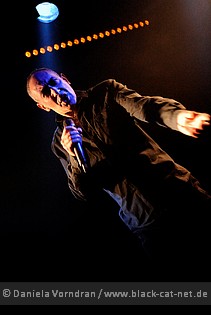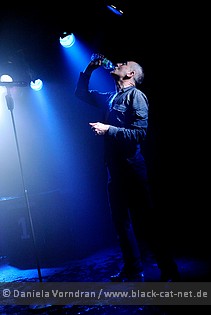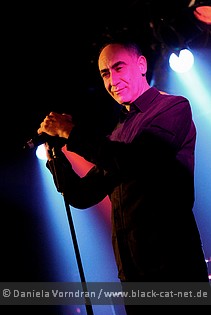 All pictures by Daniela Vorndran (
http://www.black-cat-net.de
/
http://www.facebook.com/blackcatnet
)
See also (all categories):