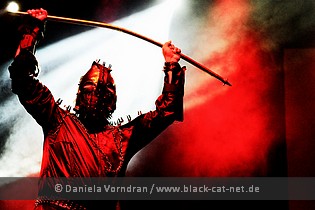 Columbiagelände, Berlin, Germany
26th June 2010
E-tropolis Festival 2010: Hocico, Covenant, Combichrist, Mind.In.A.Box, Feindflug, Mergel Kratzer, DAF, Cyborg Attack, Leaether Strip, She's All That, KMFDM, Patenbrigade:Wolff


Some say it was the perfect festival weather and in some way they were right: No clouds, the sun was shining, but for me and not me alone, it simply was too warm. Anyway, after getting the wristbands and passes first thing we did was to get an overview of the festival grounds before heading into the hall where PATENBRIGADE:WOLFF would soon open the festival. Since there were overlapping stage times, we can only provide some pics of one or another band...
Patenbrigade:Wolff (C-Halle)
Sven Wolff and Lance Murdock make no secret of their obsession with heavy machinery. Endlessly fascinated with what appears to others as the monotonous daily routines of a construction site, they early on became enraptured with loud and gigantic machines, the glare of orange safety vests, yellow hard hats, and striped cordoning tape. However, the focus of their fervent adoration became the gravity-defying conductors in their seemingly never-ending tower cranes. It is exactly this bizarre source of inspiration that seems to have fuelled PATENBRIGADE: WOLFF and the duos zest for musical achievements since 1998. PATENBRIGADE: WOLFF is the soundtrack for this situation and remains dedicated to all tower crane conductors across the world. Ever since their inception they've released a string of albums and EPs. Their most recent release is called 'Baustoff (Musik für Rohrleger)'.
http://www.patenbrigade.com/
/
http://www.myspace.com/patenbrigadewolff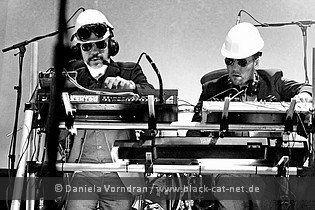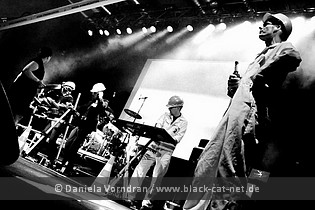 Music & Performance
The stage turned into a construction site for the festival openers of PATENBRIGADE:WOLFF who - with a whole arsenal of additional personnel - took the stage sharp at 3 PM to start with a compound club beat that underscores 'Stalinallee', during which the site was sealed with barrier tape. The supervisor Antje Dieckmann controlled everything on 'Gefahrstoffe' and quite aptly everyone was wearing gas masks during the track while on 'Popmusik für Rohrleger' finally the grinding machine could be seen in action. The audience already was in good temper and some kept dancing and enjoying themselves all the time, while others who might not have seen the brigade before had a wary look on their faces. The set was short, maybe a little too short, but in my eyes made a great start of the day.

Setlist
01. Stalinallee
02. Vorsicht! Feind hört mit
03. Gefahrstoffe
04. Popmusik für Rohrleger
05. Schusswechsel
06. Ostberliner Bauarbeiter
07. Abrissbude
08. Demokratischer Sektor
Rating
Music: 7
Performance: 7
Sound: 7
Light: 7
Total: 7 / 10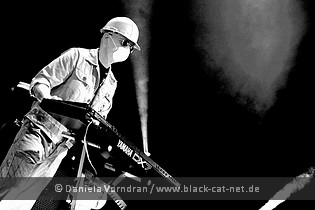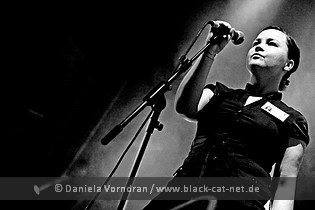 KMFDM (C-Halle)
KMFDM's foundation can be traced back to 1984 for a performance at the opening of an exhibition of young European artists at the Grand Palais in Paris. Sometime later, Raymond Watts and EN ESH would complete the line-up and they release their first three albums solely on European labels before signing to the famous Wax Trax! Brand and subsequently touring as support of THE MINISTRY and later as headliner in support of their sixth album 'Money' in 1992 due to the great feedback they received on the tour with THE MINISTRY. Another four quite successful albums will be released before KMFDM disband in 1999 and send an 'Adios' in the form of a farewell album of the same title. The break-up, however, only was a temporary affair and in 2002, KMFDM reformed with a line-up comprising part new and part former collaborators. The band's return was also marked with the release of a new album called 'Attak' in the same year. The most recent and sixteenth album 'Blitz' came out in the year of the band's 25th anniversary in 2009 followed by the companion release 'Blitz' this year. KMFDM is Sascha Konietzko (vocals, synths), Lucia Cifarelli (vocals, synths), Andy Selway (drums), Jules Hodgson (guitar) and Steve White (guitar).
http://www.kmfdm.com/
/
http://www.myspace.com/officialkmfdm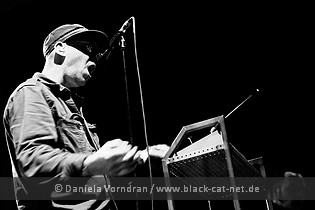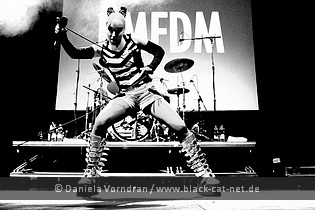 Music & Performance
KMFDM promised to shake the floors of the hall now and unlike a few days back wouldn't be playing in front of 27 people, which isn't the worst in regards to atmosphere, but for a band like KMFDM just seems odd. Opening 'DIY' just hit the nerves of dance willing people in an increasingly hot environment. Not that sweat was dripping off the ceiling already but it was a breath of Sahara coming over already. Lucia must have taken the centre of many male's attention with taking the centre stage position, doing lascivious moves to her vocal delivery on high-speed 'Bait & Switch'. 'Tohuvabohu' was blasted into the audiences afterwards and met with pure excitement, causing even wilder dancing by some in the middle and I think I've seen some moshing as well. A barrage of hard rhythms wouldn't allow even a little break with classic KMFDM stuff as 'Attak & Reload', 'Megalomaniac' and the blistering set closer 'A Drug against War'. It's safe to say that KMFDM blew the crowd away and set high bars for the following act.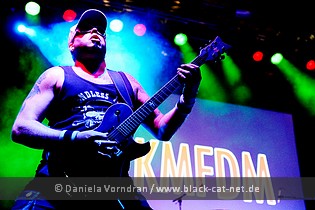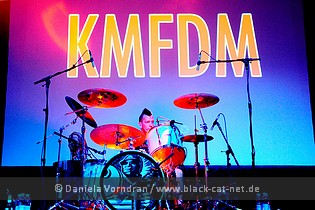 Setlist
01. DIY
02. Bait & Switch
03. Tohuvabohu
04. Son of a Gun
05. Hau Ruck
06. Looking for Strange
07. Potz Blitz
08. Attak And Reload
09. Megalomaniac
10. A Drug Against War
Rating
Music: 8
Performance: 8
Sound: 8
Light: 6
Total: 7.7 / 10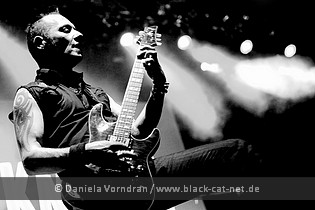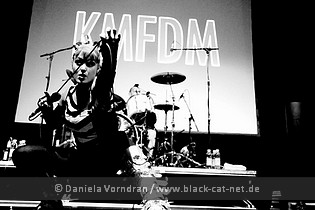 She's All That (Fritz-Club)


The 3 mysterious guys, working under the name SHE'S ALL THAT are active in the music business for a couple of years already. They gained some significant exposure with their song 'Jabtac' being on heavy rotation on BBC Radio1 for over a year, as well as by rocking a string of clubs and festivals into the ground by now. On 12th March, they debuted with the album 'Extra Fruity Disgusting' SHE'S ALL THAT is SueShi (vocals), Nik (drums), Bastard (keys / samples) and Dirty J (live guitar).
http://www.shesallthat.de/
/
http://www.myspace.com/shesallthatmusic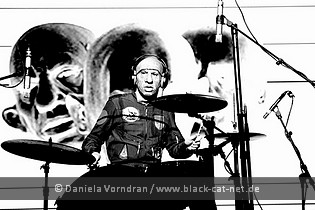 Leaether Strip (C-Halle)
Claus Larsen first released music under the name of LEÆTHER STRIP in 1989, however demos appearing on a later album suggest that the project commenced already several years earlier. LEÆTHER STRIP was one of the earliest and most prominent acts on Germany's now defunct Zoth Ommog record label on which he released his first album 'The Pleasure of Penetration' in 1990 with another collection, entitled 'Science for the Satanic Citizen' following that same year and continue to release albums until 1997, amongst them 'Solitary Confinement' from 1992, deemed today as one of Larsen's best works and influential for a number of epigones that, however, never really came close to its authenticity and genre-defining qualities. As of 2000 follows a dormancy period and except for a remix for German KIEW, nothing would be heard of him until 2005 he signs with Belgian label Alfa Matrix and releases the official comeback, the 'Suicide Bombers EP' only serving only as the start of a series of new releases out of Larsen Headquarters in the following years, another set of which was released in June.
http://www.myspace.com/leaetherstrip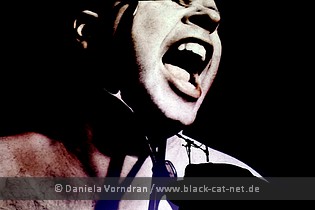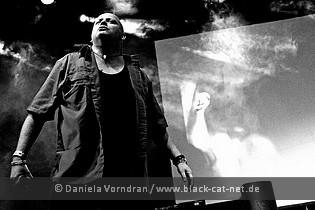 Music & Performance
I hadn't seen Claus Larsen's LEÆTHER STRIP this far and was curious how Larsen would do with compensating the lack of additional personnel on stage. It was just a man and his keyboard / synth. Normally I wouldn't deem this even remotely enough, but after Larsen had performed the first track 'My Shadow Is Your Home' I was bound to revise my opinion on this. It's not the slightest of a theatrical but rather a heartfelt, passionate delivery that he presented to the dark waltz rhythm of the track. It's one of those that really bring back your belief there's more than shallow gestures sadly prevailing at a lot of concerts. 'Turmoil '(Fuel for Fascism)' upped the ante and speed, bringing a straight dancing rhythm that right away had just the desired effect which Claus gladly recognized. The crowd increasingly got more into a dancing fewer while up on stage someone just screamed at the top of his voice. 'Hate Me' and 'Introvert' only would bring the mood closer to a boiling peak, also taking into account the temperatures in the hall at the time.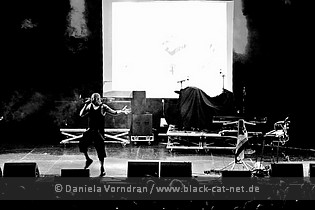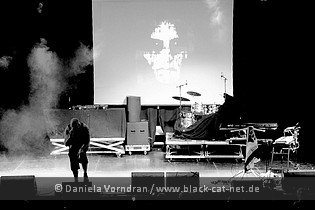 With 'Japanese Bodies' and 'Strap Me Down' some real classics of the back catalogue were presented as well before we got to hear Larsen's comment on the oil crisis in Mexico with an honest "Fuck BP" on 'Black Gold'. LEÆTHER STRIP's performance came to a powerful end with 'Don't Tame Your Soul'. Afterwards, the crowd was really enthusiastic and more importantly Claus was happy with the responsiveness of the crowd. Just great!
Setlist
01. My Shadow Is Your Home
02. Turmoil (Fuel for Fascism)
03. Desert Storm
04. Hate Me!
05. Introvert
06. Japanese Bodies
07. Body Machine Body
08. Strap Me Down
09. Black Gold
10. Don't Tame Your Soul
Rating
Music: 8
Performance: 9
Sound: 8
Light: 6
Total: 8 / 10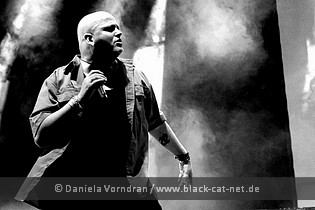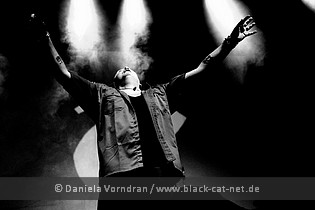 Cyborg Attack (Fritz-Club)
CYBORG ATTACK started in 1995, inspired by rather old-school electro acts such as FRONT 242 or TYSKE LUDDER. First gigs followed up until 1997, the year their debut EP 'TOXIC' came out and the year they split up again. Coming back together in 1999 with an altered line-up, works on the first album started. 'BLUTGELD' then was released in 2001 after a successful performance at Wave Gotik Treffen in 2000. 5 years later, the next album 'STOER***TOR' would be released. CYBORG ATTACK is Punisher (vocals), Eucha (synths & programming), Zerindi (synths & programming) and Eno (sampling & mixing).
http://www.cyborg-attack.de/
/
http://www.myspace.com/cyborgattack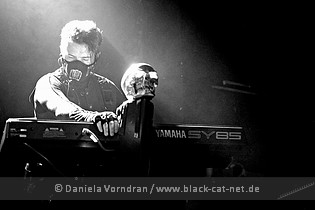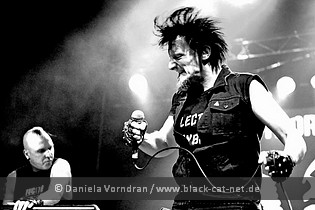 DAF (C-Halle)
DAF (Deutsch Amerikanische Freundschaft) is a band that can be counted amongst the pioneers and influences for such genres as Electro Punk, Techno or the so called "Neue Deutsche Härte". The unpolished, raw sound they've developed should as well be defining for the emerging EBM genre. The album 'Die Kleinen und die Bösen' from 1980 can be named as prime example for this and was and is a milestone for the EBM movement, released by Daniel Miller's Mute label. Shrank to the duo Robert Görl / Gabi Delgado-López, the band continued working on new material which found its way on the two albums 'Alles ist gut' (1981) and 'Für Immer' (1982) with which they finally made their breakthrough. Some of the songs like 'Der Mussolini', 'Die Götter sind Weiß' or 'Ein bisschen Krieg' cause controversies with their provoking lyrics and more than once the two were exposed to hostilities of being fascists. When 'Für Immer' was released in 1982, DAF had already called it quits and every member pursued solo activities.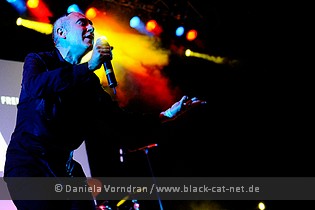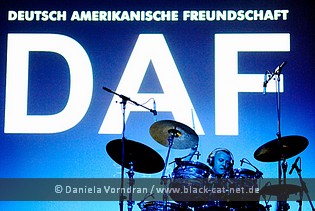 However an album called '1st Step to Heaven' was released under the DAF moniker, it was only intended for the US market and should be the only musical sign of that band until 2003 when they reunited and released '15 neue DAF Lieder' as well as went on world tour after which they broke up again.
www.myspace.com/deutschamerikanischefreundschaft
/
http://www.myspace.com/delgadogoerl
Music & Performance
I opted for a change of scenery to catch the show of DAF from a different angle, particularly from upstairs at the gallery where the air was also a lot better by the way. To the intro 'Gewalt' both Lopez and Görl came up on stage to immediately afterwards start through with 'Verschwende deine Jugend', an absolute ice breaker given there's still ice. 'Ich & die Wirklichkeit', as well as the famous 'Der Mussolini' followed and had the sweat run in torrents. I heard someone saying that you couldn't really catch the mood from up there. Now I can say it's not true.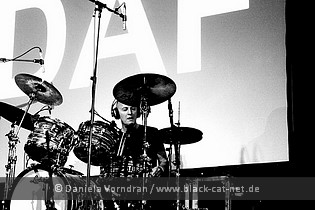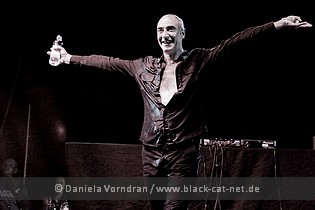 It was absolutely great seeing how the crowd reacted with moshing, plain jumping and dancing to the commanding lines. With 'Ich Will' and 'Muskel', the party continued in the same vein. DAF held the people under control as if it was a walk in the park and it's still fascinating to see how they're doing it even if you've seen them a couple of times before. The show again became a presentation of a hit potpourri of songs, ranging from 'Liebeszimmer' over to 'Sato Sato' or the insane 'Alle gegen Alle'. The band left out nothing again and when they were done left a completely exhausted people who now streamed to the exits or the bars to refill their fluid balance.
Rating
Music: 7
Performance: 8
Sound: 8
Light: 7
Total: 7.5 / 10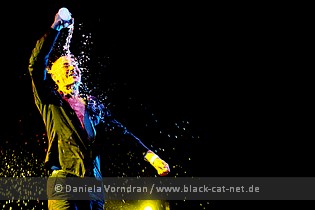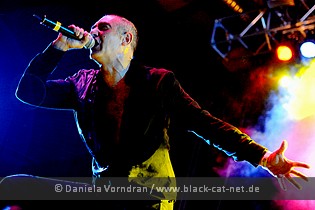 Mergel Kratzer (Fritz-Club)


Joel Nygren, founding member of MERGEL KRATZER started making music in 2004 driven by a fascination for synthesizers. The single 'Virus' was the first release of MERGEL KRATZER on a Swedish underground label. The debut album 'Isotop' has been produced and released by Nygrem who wanted to have full control about every aspect of the chain. Work on new material has already begun as the website states. MERGEL KRATZER is Joel Nygren (vocals, music, lyrics, production), Angelica Klüft (vocals, drums, visuals, design) and Julia Meller (synthesizer, Russian interpreter).
http://www.mergelkratzer.de/
/
http://www.myspace.com/mergelkratzer
Setlist
01. My freezer
02. Deathgame
03. Satisfy
04. Prisoner
05. Fuglesang
06. Iso
07. The Phuckomat
08. Sniper
09. Virus
10. Abducted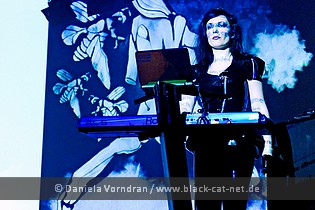 Feindflug (C-Halle)
FEINDFLUG emerged between 1995 and 1996 when the two future band members met by pure chance. The band's name initially was intended as a mere project title to remain flexible concerning possible future thematic changes. The band has been accused of being associated with Germany's neo Nazi-scene and so, they have repeatedly opposed these critics by stating i.e. that every form of adulation regarding WWII runs completely against the intention of the project. FEINDFLUG since its inception has put out a respectable array of releases, staring with the first self-titled album in 1997, whose first three versions never were released through a label and the following first official release with the MCD 'I./ St. G.3' in 1998. Their latest release following a collaboration with SUPREME COURT called 'We'll f*** you up' in 2006, was the Live DVD '…hinter feindlichen Linien', released later in the same year. The latest release from 2009 is 'Feindflug [Dritte Version]', but a new album is being worked on.
http://www.feindflug.info/
/
http://www.myspace.com/feindflug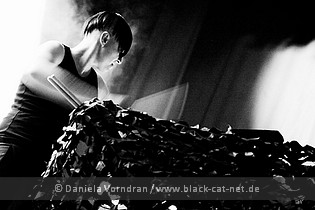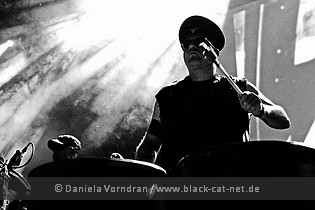 Music & Performance
My knowledge of FEINDFLUG was limited to some sporadic listens I had into their discography. That show was the perfect opportunity to take a deeper look into it and see if it's worth checking them out more. The stage setup looked promising with different kinds of drums; we count in the oil-barrels as well, and camouflage nets disguising the machines. A huge projection screen was hung up in the back as well and sure as hell wouldn't be used to show any soccer scenes. So why the hell was I disappointed by the whole thing? Because I thought there was more to it. There was neither a vibe nor an emotion coming over to me and after a while the guys, performing their instrumental stuff became just too monotonous for my tastes; even the videos in the back depicting atrocities of war wouldn't help, so I left the hall earlier than I had planned.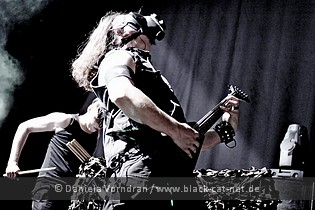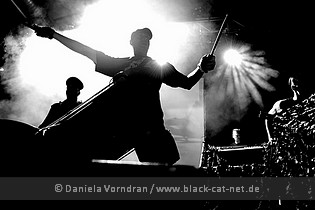 Setlist
01. Jarhead
02. Gulag
03. Machtwechsel
04. Truppenschau
05. Roter Schnee
06. AK 47
07. Ersatzteil
08. Glaubenskrieg
09. Neue Sieger
---
10. Selbstsucht
11. Stukas im Visier
Rating
Music: 4
Performance: 6
Sound: 7
Light: 6
Total: 5.4 / 10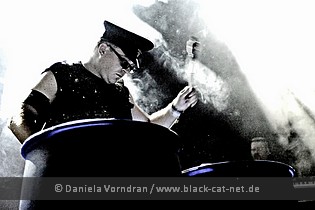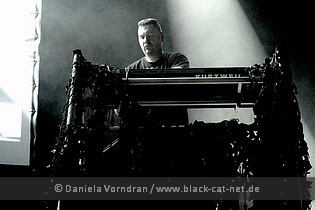 Mind.In.A.Box (Fritz-Club)
The Austrian electronic duo MIND.IN.A.BOX created their own niche inside the electronic music scene. Their unique blend of different styles has conquered the hearts and minds of fans and press all over the world in a storm and is meanwhile known as techno pop. The name MIND.IN.A.BOX is a metaphor "for everything that prevents our Minds from truly being free". The duo was signed to Dependent in 2004 and released their first Album 'Lost alone' in June of the same year, followed by its successor 'Dreamweb' in May 2005. Over 2 years after the release of 'Dreamweb' their new Album 'Crossroads' as the third part of the so called 'Black trilogy' hit the streets in August 2007. In 2010, MIND.IN.A.BOX have put out an homage to one of the most popular home computers back in the days; the Commodore 64 with the album 'R.E.T.R.O'. MIND.IN.A.BOX live is Stefan Poiss (vocals, synths), Roman Stift (bass), Gerhard Höffler (drums) und Adam Wehsely-Swiczinsky (guitar).
http://www.mindinabox.com/
/
http://www.myspace.com/mindinabox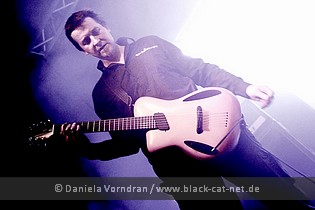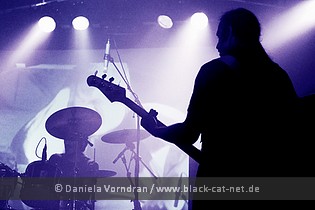 Music & Performance
Being a fan of the Austrian project for years I had high expectations towards their upcoming performance, especially since a friend told me they blew him away when he attended their show at the Arvika festival in Sweden last year. We headed towards the smaller club stage early enough to get a good spot in the front rows. On stage everything seemed to be almost ready and after the little a cappella delivery with some lines of 'Dead End', it was just a few minutes before the lights went dark and the band appeared. The opening, down-tempo 'Remember' was a new song and here already you could hear the difference between a studio and a live version of MIAB. Greatly orchestrated with powerful drums and guitars to the synths, Stefan gave a goose-bump foretaste of what people could expect vocally, and that was a lot. Next one was 'Amnesia', rather a danceable song with the heavily processed vocals; Stefan kept performing completely relaxed from behind the synths he was handling. The live instruments revealed a whole new face of the song, just a little more movement on Stefan's side would've been great. Apart from that it was flawless. Immediately afterwards, the 'Stalkers' invaded the room and while taking a look around, I recognized a lot of people danced happily to the song.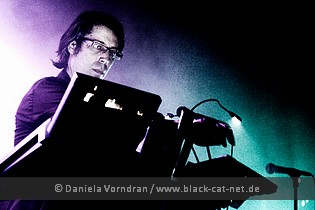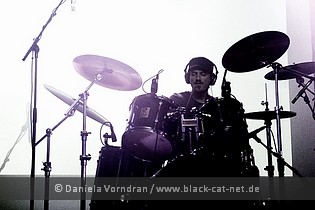 If there was one song I didn't have on the radar for a live performance it was 'Fear', a song I loved from the very first listen and the live version was like an organic counterpart, I mean even the break beats were properly reproduced by the drummer and the chorus was as spine-tingling as can be. 'Certainty' blasted through next and segued fluently into 'Light & Dark', the actual opener of the debut album. Another track of that album followed with 'Questions' which in parts was bearing resemblances to a jam session. That spectacle even drew Eskil from COVENANT to the little club stage, visibly enjoying what was presented. 'Whatever Mattered' closed the last album 'R.E.T.R.O' but not this set and was a real highlight that proved the capabilities of Stefan as vocalist which I was already amazed by when listening to that track on CD - and it was just as touching. Another new song 'Second Reality' marked the end. If that's a taste of a possible new album than we can expect something great to come! A technically perfect showcase came to its end, accompanied by a cheering audience. Everyone knew exactly what they were doing up there. Just a little more movement next time ok?
Setlist
01. Remember
02. Amnesia
03. Stalkers
04. Fear
05. Certainty
06. Light & Dark
07. Questions
08. Whatever Mattered
09. Second Reality
Rating
Music: 10
Performance: 8
Sound: 9
Light: 7
Total: 8.8 / 10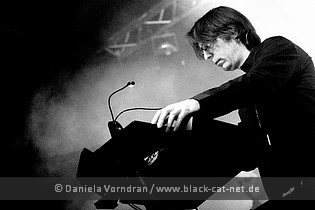 Combichrist (C-Halle)
COMBICHRIST is one of the other faces of well-known singer and ICON OF COIL mastermind Andy LaPlegua who's presenting a much more hard-edged side of industrial with this project. The two first releases, the album 'The Joy of Gunz' and the limited Halloween special 'Kiss the Blade' both being released in 2003, conquered the clubs and dance floors in a storm. Only a year later Andy unleashed the next assault entitled 'Sex, Drogen und Industrial' which marks a change in the sound of COMBICHRIST to more electro and less distortion dominated sounds, yet the tracks remained as energetic as ever. In Spring 2005 it was finally time for the new album 'Everybody Hates You' whose description can be summed up as follows "A journey through hell and high water, through the eyes of a serial killer, sex, violence and plenty of Jack Daniels on ice." 2006 saw the release of a new EP that even took the project to the Hot Dance Billboard Charts and as Andy is a workaholic, he released the next album 'What The F*&$ Is Wrong With You People?' in March 2007. Right in time for the summer, Andy released the 'Frost EP' at the end of June 2008 with new tracks as well as remixes. The most recent album is called 'Today we are all Demons' and came out in 2009. COMBICHRIST is Andy LaPlegua (vocals, lyrics, production), Joe Letz (live drums), Trevor Friedrich (live percussions) and z_marr (live keys, synths).
http://www.combichrist.com/
/
http://www.myspace.com/combichrist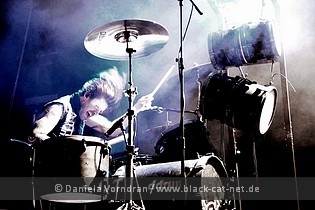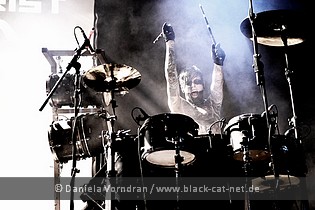 Music & Performance
Now it was time to quickly head over to the main hall since the COMBICHRIST performance was already in full swing. We decided to watch the spectacle from the meanwhile well-filled gallery, where we could see very clearly what the current song 'Without Emotions' did with the audience, riled up by Andy LaPlegua backed by the two drum and percussion maniacs Joe and Trevor, as well as the synth wizard z_marr. Unusually for a COMBICHRIST performance was that they got to play with really awesome lights this time. Maybe not something the common COMBICHRIST attendee pays attention to but a remarkable difference to me. Whatever, 'Feed Your Anger' was the next stop and came like a bombshell, followed by 'Get Your Body Beat' and relentless 'Blut Royale', driving the people to dance a bit more than before. Of course, Joe was keeping the stage hand busy again, kicking or at some point even throwing away part of his drum kit.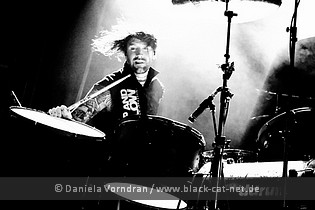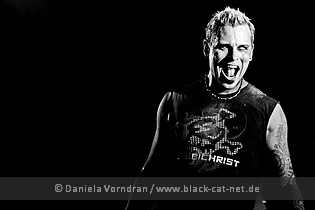 "Put your fingers in the air and say fuck you COMBICHRIST!" said Andy and they did as they were told as a prelude to 'Fuck That Shit' that caused a jolly good party down there, which kept getting wilder with every passing minute and found to its peak with 'This Shit Will Fuck You Up' and the closing 'What The Fuck Is Wrong With You People?' Has anyone recognized there's a lot of "fuck" in COMBICHRIST song titles here? With that last song, the deconstruction of parts of the stage equipment began after which the band left the stage and a content audience.
Rating
Music: 8
Performance: 9
Sound: 8
Light: 8
Total: 8.3 / 10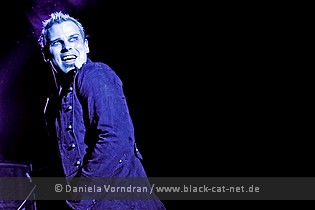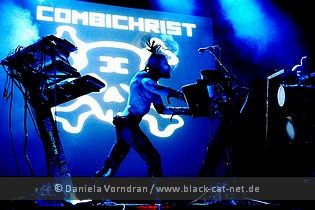 Xotox (Fritz-Club)


Andreas Davids founded XOTOX as a solo project in 1998 and with the first albums, self-released by him; he could establish a small but constantly growing fan base. In 2003, he signed a record deal with the ProNoize label and 'Lichtlos' became the first album under the label's moniker and the track 'Eisenkiller' went on heavy rotation in various clubs. Only a short period of time passed before Andreas pulled of his next album with 'Die Unruhe'. The limited CD was a thank you to the loyal fan base and sold-out soon. The next album '[psi]' hit the shops already in 2005 and peaked at #2 of the German Alternative Charts. Right in time for the 10th anniversary of the project 'In den Zehn Morgen', the third official studio album came out and even reached the #1 of the GAC. The newest release is 'Die Unruhe 2.0' from 2010. XOTOX is Andreas Davids (all music, production).
http://www.xotox.info/
/
http://www.myspace.com/xotox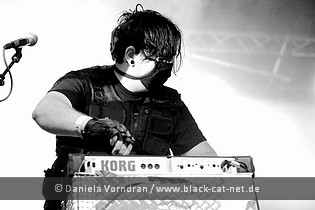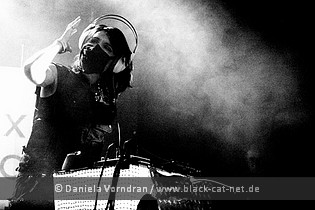 Covenant (C-Halle)
It's the year 1992 and the location is Sweden, where 3 friends have just decided to form a band which would eventually be known internationally as COVENANT with the aim of producing good electronic music. An honourable intention many other electronic acts should have today. With the year 1994, the first album 'Dreams of a Cryotank' arrived, whose track 'Theremin' would become a club hit, however, not as big as the following EP's title track 'Figurehead', still spinning in clubs until today. With the arrival of 'Sequencer' (1996) and 'Europa' 1998, the name COVENANT became an epitome for a sophisticated yet still club-compatible kind of electronic music and tours into every corner of the world made sure their following would grow considerably and still does it today. Greater public exposure came with 'Northern Lite' (2002) as well as the videos of 'Call the Ships to Port' and 'Bullet' going on rotation on many music channels. It took 4 years before the fans could get their hands on the successor and current album 'Skyshaper'. Meanwhile, Clas Nachmansson left the band and sound-wizard Daniel Myer took his place. The trio is currently working on the follow-up 'Modern Ruin. COVENANT is Eskil Simonsson (vocals, songwriter), Joakim Montelius (keyboards, songwriter) and Daniel Myer (keyboards, synths, production).
http://www.covenant.se/
/
http://www.myspace.com/covenant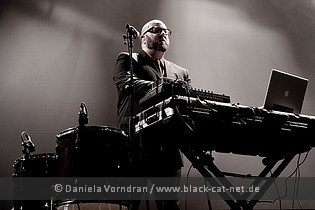 Music & Performance
I've been thinking a long time about how I was supposed to start this review about the COVENANT show, since it was admittedly memorable. It was like writing history in a negative way. Everything started quite normal actually with the three walking up to the stage, taking their places and starting to perform with 'Stalker' after the intro. But in the further course it became more than obvious that someone's had a drop too much that evening. Eskil might not have been sober anymore but compared to one of his band mates, he held his ground better and tried some distraction manoeuvres. Joakim however had a hard time staying on his feet. During 'The Men', I just saw him fall and it took him a long time to really get back up and behind the keys again; he literally crawled around and that was sad to look at. I wasn't standing up at the gallery this time, but if I had it probably would seem much more embarrassing to me now than it already did in front of the stage. I heard the reactions by some people were accordingly and Daniel's expression also gave away a lot about his thoughts at the time.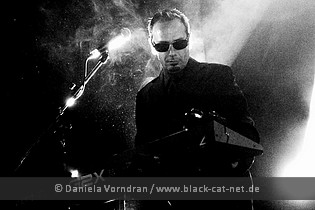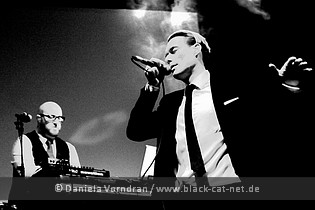 Well, the show had to go on and it did with new songs like 'Dynamo Clock' and 'If I Would Give My Soul', an absolutely great tune, and classic COVENANT stuff like 'Invisible & Silent', 'Ritual Noise' with Eskil trying to hype up the crowd, or the pumping 'Call The Ships to Port' after which the band left the stage to be demanded back for an encore, culminating up in a disastrous front performance that ruined 'Babel' completely for many people. So how do you sum up something like that? Apart from spells of fun I felt disappointed to say the least. I'm considering COVENANT one of my favourite bands. Maybe that's why it hurt so much to see such lack of professionalism. Honestly, walking up on a stage in that state and playing to an audience that has paid for the tickets is inacceptable and I swear. If I ever get to see something like that again I will leave the hall. And I doubt this won't have any further consequences if happening more often.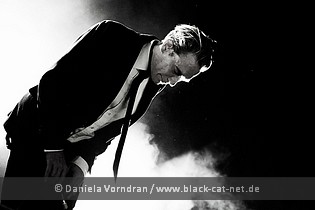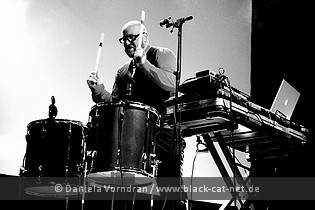 Setlist
01. Stalker Intro
02. Stalker
03. 20hz
04. Dynamo Clock (new song)
05. Invisible & Silent
06. If I would give my soul (new song)
07. The Men
08. Ritual Noise
09. Improvisation
10. Theremin
11. Call the Ships to Port
---
12. Der Leiermann
13. Babel
Rating
Music: 4
Performance: 3
Sound: 8
Light: 7
Total: 4.7 / 10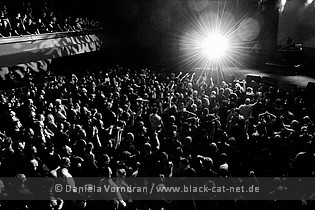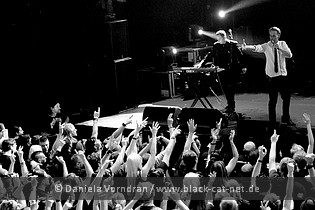 Hocico (C-Halle)
The Mexican cousins Erk Aicrag (vocals, lyrics) and Racso Agroyam (programming) started with making music at a young age. Finally, their interest in EBM sounds led to the founding of HOCICO in 1993. Four years later, HOCICO released the debut album `Odio Bajo El Alma´ that stood out from the crowd of other EBM long-players due to the especially flaming temper and raw-edged sounds that were perfectly in line with the explosive lyrics dealing with religion, sex, death and abuse. The rousing and exhausting live appearances of the guys enthused a large audience in Germany in particular. Aicrag and Agroyam reached their final breakthrough by releasing `Aqui Y Ahora En El Silencio´ (2000) and `Signos De Aberracion´ (2002). In 2008, HOCICO played in Japan for the first time. As the Osaka show was a very special experience, they recorded the live album `Tora! Tora! Tora!´ that delivers a great insight into the spectacular concert atmosphere of HOCICO appearances! A new single was just being released with 'Dog Eat Dog' as precursor for the new album 'Tiempos de Furia'.
http://www.hocico.com/
/
http://www.myspace.com/hocicoh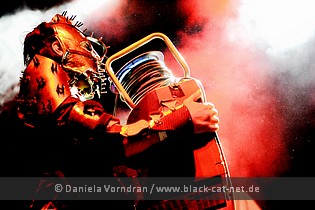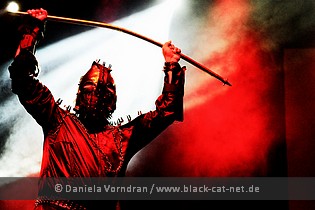 Music & Performance
It was already long past midnight and thus time for the headliner HOCICO to enter the stage. But the first thing you saw was some guys in odd dresses, which reminded me of bugs, walking over the stage carrying little TVs. A kind of creepy introduction for Racso and Erk, entering the stage soon and starting the beat grenade 'A Fatal Desire'! Those beats had hardly kicked in when Erk was gearing up again already, screamed and boosted wherever he could. Even Racso was moving a little behind his tech tower which doesn't happen that often. Next up was 'Born to be Hated' and usually if people can't get themselves to dance to such a track you'd be thinking they're just lazy. The reason here was a different one: People were tired, so even though you saw people dancing it wouldn't be as much as at an earlier time.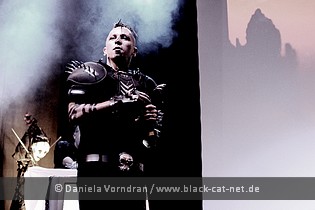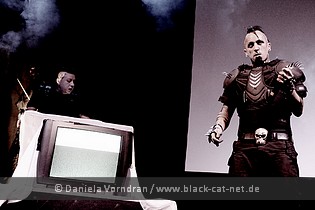 'Spirals of Time' and one favourite 'Untold Blasphemies' continued the mayhem, whereas the latter one called more upon atmosphere. The guys have just released their new single 'Dog Eat Dog' to the world and that one was coming up now. What am I supposed to say? It's a classic HOCICO dance track not standing out too much to me. The dirty and punk-influenced 'Love Posing as a Prostitute' however did. Just a few minutes later, the stage would be drenched in red light for the brutal 'Bloodshed'. A beast from the early days 'Odio Bajo El Alma' ended a set that was bound to be continued with an encore comprising 'Forgotten Tears' and 'Poltergeist'. It was a typically energetic HOCICO performance, nothing more and nothing less.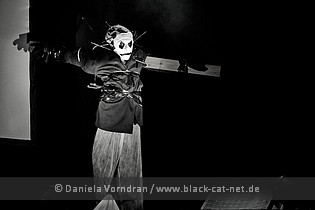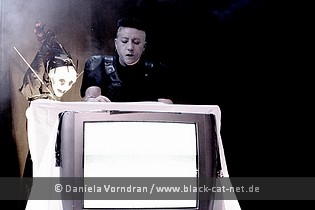 Setlist
01. A fatal desire
02. Born To Be Hated
03. Spirals Of Time
04. Untold Blasphemies
05. Dog Eat Dog
06. Love Posing As A Prostitute
07. Bloodshed
08. About A Dead
09. Escape the Spell
10. Odio Bajo El Alma
---
11. Forgotten Tears
12. Poltergeist
Rating
Music: 7
Performance: 7
Sound: 7
Light: 7
Total: 7 / 10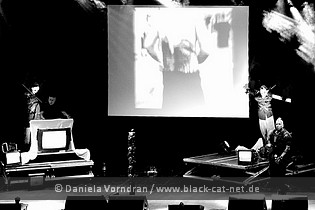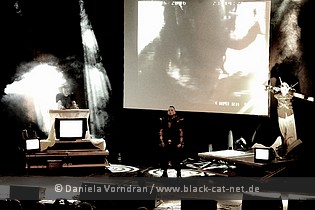 So, this was the first E-tropolis festival. The second edition is already planned for 3rd September 2011. All in all, it was a pretty good festival, even though not everything was perfect organisation-wise. Especially the food situation needs to be improved. There needs to be more variety and of course there needs to be enough food available. But that's the only thing to really moan about. So, be prepared for next year's edition!
All pictures by Daniela Vorndran (
http://www.vorndranphotography.com/
/
http://www.black-cat-net.de/
/
www.myspace.com/vorndranphotography
)
{jos_sb_discuss:17}
See also (all categories):