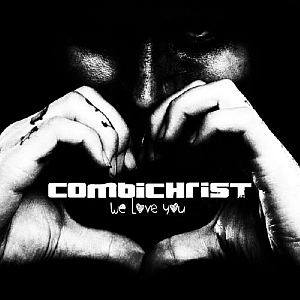 Artist: Combichrist
Title: We Love You
Genre: Techno-Industrial / Aggrotech / Power Noise
Release Date: 24th March 2014
Label: Out of Line / Metropolis Records
Album Review

COMBICHRIST's founding motive was to combine hardcore with electronics into a single, mechanical music monster. Over a decade on, they're still here, grinding it out. By "they", of course, I really mean "he", as in Andy LaPlegua. LaPlegua has enjoyed operating under a number of monikers, but COMBICHRIST is perhaps his best-known outlet by now, and under this guise he's forged a reputation for releasing some of the most uncompromising music in its genre, namely relentlessly hard-edged industrial.
This latest offering finds COMBICHRIST as aggro, abrasive and hard-edged as ever. 'We Love You' finds them snarling, gnashing and blasting their way through a 13-track set, spitting venom through a wall of techno-industrial noise. Unless you count the brief respite of 'The Evil in Me', which is murky, dark and wallows in a swamp in which festers the corpse of MARILYN MANSON and which is by far the album's most "sensitive" track, it doesn't let up from beginning to end, and it's brutal, a relentless assault of serrated edges and pulverizing force. The guitars burn like the fires of hell, while the drums hit hard enough to shatter an elephant's skull.
'Maggots at the Party' brings a more danceable groove, but it's still fucking ferocious. 'Fuck Unicorns' and 'Love is a Razorblade' are about as cuddly as their titles suggest, and it's fair to say that 'We Love You' does nothing – sonically or lyrically – to suggest adoration or appreciation: bringing the band's heaviest, hardest shit to date it's a relentless aural blitzkrieg that raises the blood pressure and makes the muscles twitch involuntarily.
Tracklist

01. We Were Made To Love You
02. Every Day Is War
03. Can't Control
04. Satan's Propaganda
05. Maggots at the Party
06. Denial
07. The Evil In Me
08. Fuck Unicorns
09. Love Is A Razorblade
10. From My Cold Dead Hands
11. We Rule The World, Motherfuckers
12. Retreat Hell Pt. 1
13. Retreat Hell Pt. 2
Line-up

Andy LaPlegua
Joe Letz
Z. Marr
Abby Nex
Website

http://www.combichrist.com/
/
https://www.facebook.com/combichrist/info
Cover Picture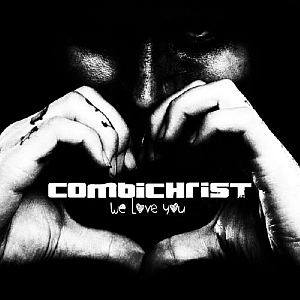 Rating

Music: 7
Sound: 8
Total: 7.5 / 10
See also (all categories):