Logo, Hamburg, Germany
30th July 2018
Combichrist - "Everybody Still Hates You" Tour - Support: Wednesday 13, Night Club

Imagine: It is end of July, the temperatures are for weeks over 30 °C (38 °C a week before) and your plans for this hot Monday night are: spending the time in a sold-out underground club with literally no air condition. And it's COMBICHRIST on stage. You know what that will mean for the temperatures in the venue. When on the way to the club you and your friend just keep asking each other why the hell you're doing this and the only thing that comes to your mind is: it's COMBICHRIST. But to be honest, it was very tempting just to change the direction to the beach and enjoy some ice cream. However, what we've got was totally worth surviving this insane hell of a show.
Night Club

NIGHT CLUB introduced themselves as a band from LA. The band was founded in 2012. The second album, 'Scary World', will be released on 24th of August 2018. https://www.facebook.com/nightclubband/
Music & Performance

NIGHT CLUB sounds to me like a mix of some 80ies and Horror-Pop-Goth-Electro-Punk. If that is a thing. Is it? Check out their video to 'Candy Coated Suicide' to get an idea about what I am talking about.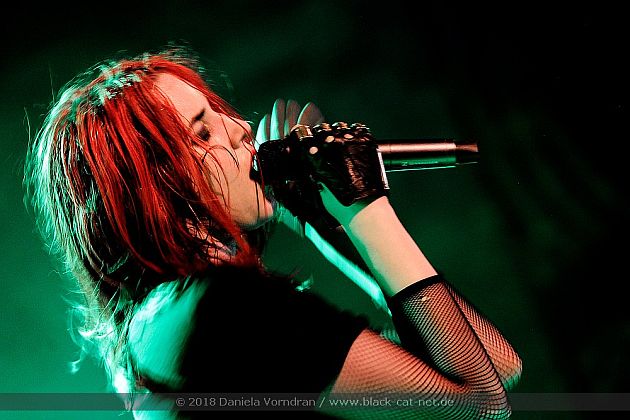 I haven't heard them before, so first I just had to listen to get their vibe. Very interesting and fresh sounds reached out to me. The front singer Emily Kavanaugh brought so much power and crazy happiness onto stage. You just had no chance to ignore this band. She had a very hard start though because even at the beginning the temperatures went up so much, so I guess many people just tried to save some energy for the other two bands at least to survive somehow to not collapse or give up before the end. Nevertheless she was so engaging, dancing, talking to the crowd and conquering the small stage. It was so much fun to watch her. I hope I get the chance to see the band in a bit cooler atmosphere. I would totally join in dancing and partying next time.
Rating

Music: 8
Performance: 10
Sound: 8
Light: 8
Total: 8.5 / 10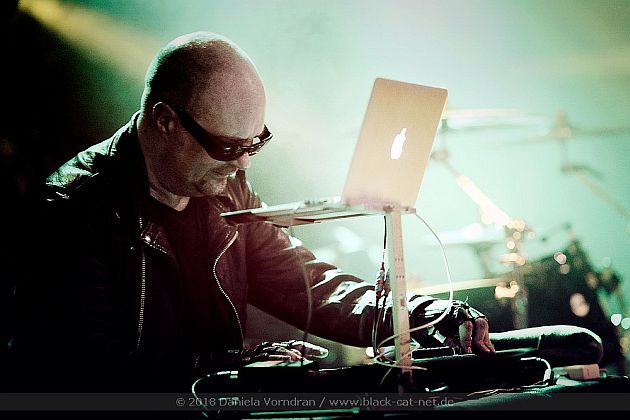 Wednesday 13

WEDNESDAY 13 aka Joseph Poole started playing in several bands in 1992. After all he founded the band that he named after himself - WEDNESDAY 13 - and released a good amount of awesome Horror-Punk and Goth-Glam-Metal since 2005. The latest release is the album 'Condolences' from 2017. https://www.facebook.com/officialwednesday13
Music & Performance

We remembered the last time that we saw WEDNESDAY 13 on stage and that was last year at WGT. Though the location back then, Felsenkeller, is also not known for being cold, the vocalist Joseph Poole entered the stage with much less clothing this time.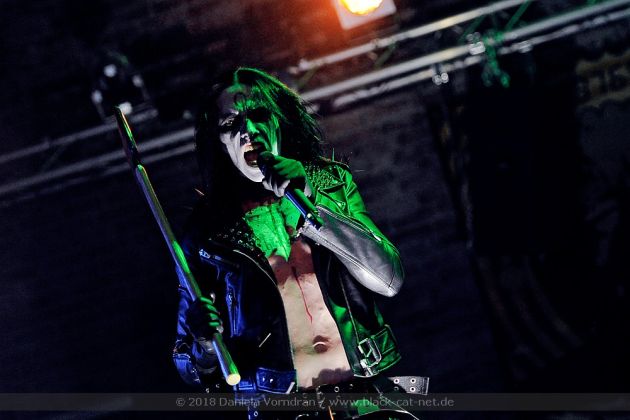 Though he got on some stage outfits later (which we couldn't understand), that was definitely different. But hey, if the guy is wearing devil's mask on stage… maybe he is just used to even hotter places? The theatrical performance and doomy sounds were catchy and fitting to the kind of hell we all created at Logo. Another very atmospheric show and I still wished it would have cooled down just a little.
Setlist

01. What the Night Brings
02. Blood Sick
03. Scream Baby Scream
04. Serpent Society
05. Prey for Me
06. Put Your Death Mask On
07. Gimmie Gimmie Bloodshed
08. Condolences
09. I Want You... Dead / I Walked With a Zombie
10. I Love to Say Fuck (Frankenstein Drag Queens From Planet 13 cover)
11. Bad Things
Rating

Music: 8
Performance: 9
Sound: 9
Light: 8
Total: 8.5 / 10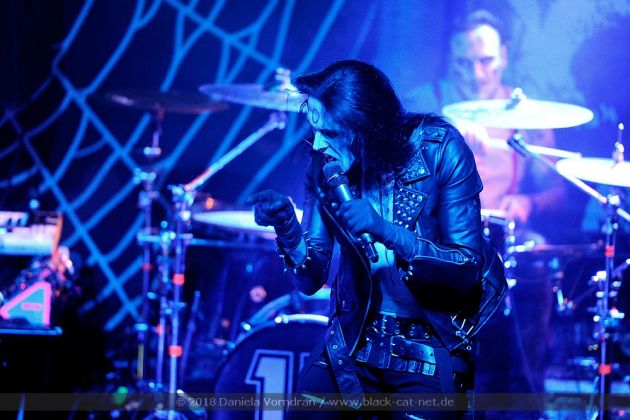 Combichrist

Describing COMBICHRIST? Guarantee for the best time you will have at a concert or dance floor, no matter whether you are just happy like a butterfly or in a mood for killing your ex. Have fun and listen to COMBICHRIST. Aggrotech, Industrial or some Metal riffs? You are welcome to join the party. Founded in 2003 and there are still no indications of becoming smooth or adapted at all. https://www.facebook.com/combichrist/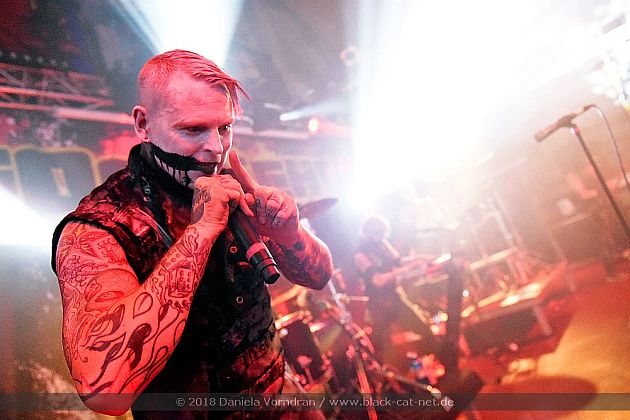 Music & Performance

Honestly, just before COMBICHRIST entered the very small stage (still don't know why they decided to play in such a small venue and of course it was sold-out), I was not sure how to enjoy this show or if I would get at least enough oxygen to breath. Actually, I don't believe there was any left, but somehow human organism can do magic things sometimes. But just from the beginning they managed to do it again: whenever I see COMBICHRIST perform live they just spread their insane energy all over the crowd and even if you feel tired and powerless before, you will be rocking this concert, partying, jumping and shouting out loud. That's what also happened this time. And the setlist convinced with newer and older smashing dancefloor and live performance hits.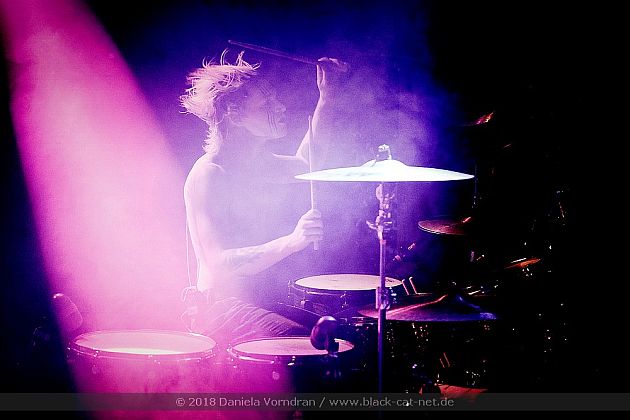 To describe this show in a few words: sweat, endless energy, more sweat, insanity, sauna steam all over the venue, the smell of "people", beer and underground, even more sweat, ice cubes and tones of water from the bar, jumping, half naked bodies and hell of a heat. And COMBICHRIST on stage. Do I need to explain their show? I guess not. I could watch the guys playing their instruments, especially the drums got me, for hours and still wouldn't get bored. Never. Andy LaPlegua just knows how to play with the crowd. 'We love you, now die' was just one of many song phrases that described that evening perfectly.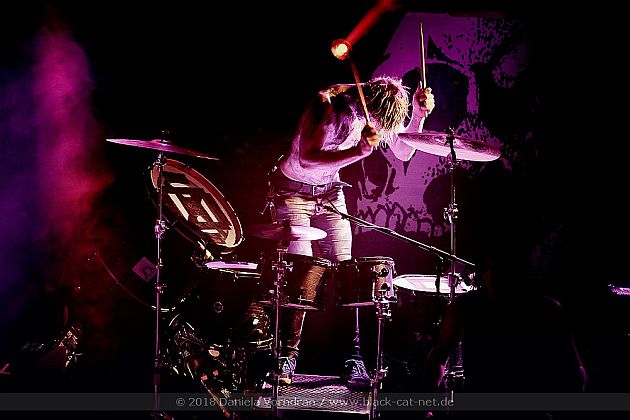 Setlist

01. All Pain Is Gone
02. Blut Royale
03. Can't Control
04. Electrohead
05. Throat Full Of Glass
06. Scarred
07. Fuck That Shit
08. Exit
09. Eternity
10. Denial
11. Beat
---
12. Never Surrender
13. Maggots At The Party
14. What The Fuck Is Wrong With You?
Rating

Music: 10
Performance: 10
Light: 8
Sound: 9
Total: 9.3 / 10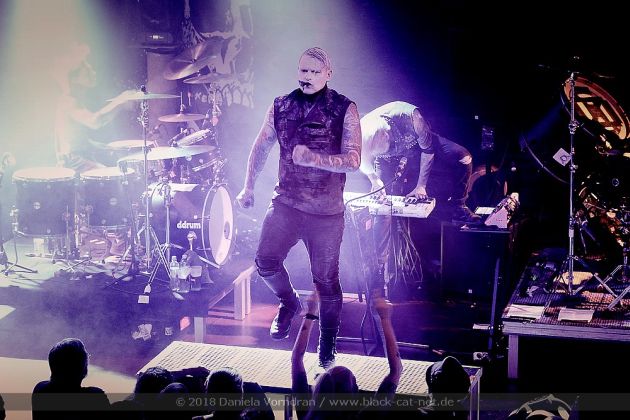 All pictures from the show on Oberhausen by Daniela Vorndran (
http://www.vorndranphotography.com
/
http://www.facebook.com/blackcatnet
)
See also (all categories):