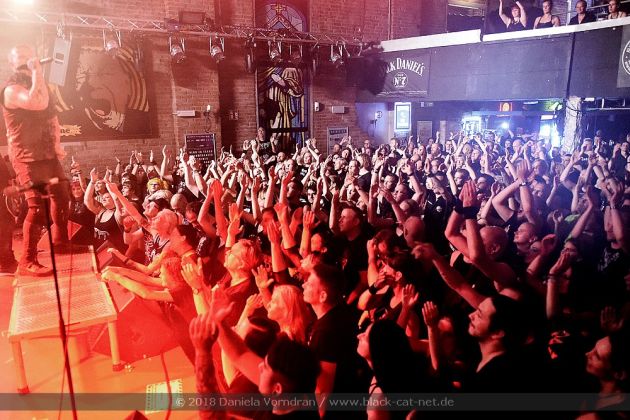 Kulttempel, Oberhausen, Germany
3rd August 2018
Combichrist - "Everybody Still Hates You" Tour - Support: Wednesday 13, Night Club

The hottest German summer in many years. And what does a real music lover do? He goes to a place where it is even hotter. Before COMBICHRIST erupted in the small club, the audience witnessed two support bands that could not be more different in musical directions.
Night Club

NIGHT CLUB is an American electronic band, formed by producer and keyboarder Mark Brooks and singer Emily Kavanaugh in 2012. The band currently resides in Los Angeles and released three EP's and one album, called 'Requiem For Romance', so far. The second LP, 'Scary World', will be released on August 24th. nightclubband.com / facebook.com/nightclubband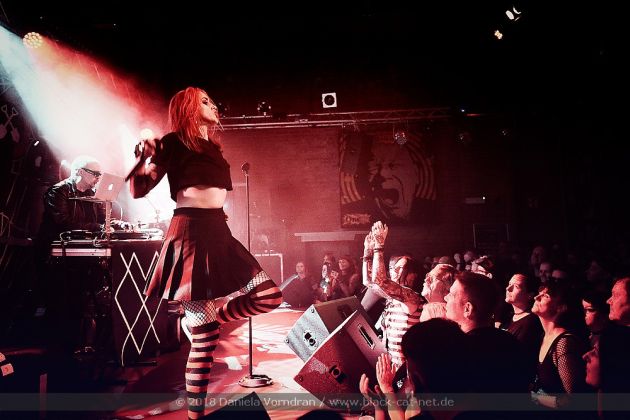 Music & Performance

COMBICHRIST picked up NIGHT CLUB for their "Everybody Still Hates You" Tour for at least one reason: CC keyboarder Elliott Berlin is responsible for NIGHT CLUB's live sound and mixing. He did a great job - and so did Emily. The young red-hair beauty put in a lot of heart and energy – "Ooooberhauseeeeeen, show me your haaaands!!!" was the most often heard sentence in this half hour of stomping mid-tempo Electro-Pop. At least some people in the front rows did like "commanded". But NIGHT CLUB would probably gain more success if they would be playing for live crowds who are not into aggressive music like the two other bands of the evening. Emily delivered a captivating performance and some songs could surely be hits on a dancefloor in a (haha) Night Club.
Setlist

01. Freak Like Me
02. Show It 2 Me
03. Candy Coated Suicide
04. Blood On Your Blade
05. Pray
06. Dear Enemy
07. Bad Girl Rating
Rating

Music: 7
Performance: 9
Sound: 9
Light: 7
Total: 8 / 10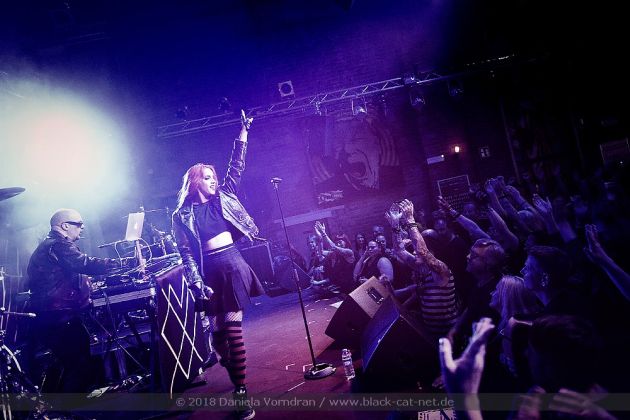 Wednesday 13
WEDNESDAY 13 is an US-American band playing a mix of Horror Punk and Heavy Metal. The band's vocalist Joseph Poole started the group in 2004 after disbanding his former band FRANKENSTEIN DRAG QUEENS FROM PLANET 13. Until now, WEDNESDAY 13 released seven albums and three EP's. http://officialwednesday13.com / https://www.facebook.com/officialwednesday13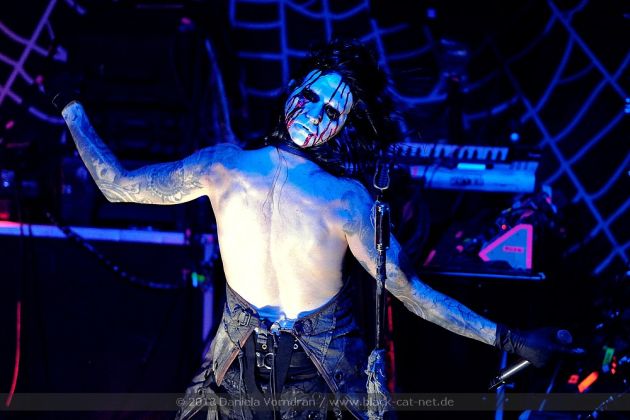 Music & Performance

WEDNESDAY 13 did not play any solo shows in Germany this time, so some people obviously showed up just to witness their 45-minute concert. They performed a dozen of songs, mostly classics and presented some interesting accessories and gimmicks to create a real "evil" atmosphere. A zombie-like make-up is a standard for them - but I have never seen an umbrella with a big middle finger on like the one Poole showed while singing the set closer 'I Love To Say Fuck'. Maybe that would be a great merchandise article next to the sweatpants and underwear they sold this evening. Musically, it was the same thing as it was with NIGHT CLUB: Surely not everyone in the Kulttempel liked the sound. But if you like WEDNESDAY 13's music you definitely weren't disappointed.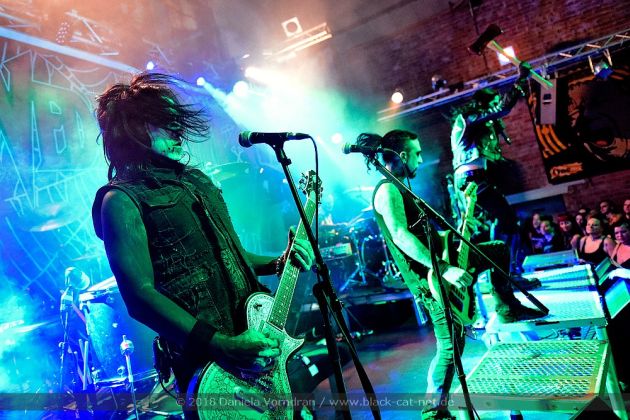 Setlist

01. What The Night Brings
02. Blood Sick
03. Scream Baby Scream
04. Serpent Society
05. Prey For Me
06. Death Mask
07. Gimmie Gimmie Bloodshed
08. Condolences
09. I Want You...Dead
10. I Walked With A Zombie
11. I Love To Say Fuck
12. Bad Things
Rating

Music: 7
Performance: 9
Sound: 8
Light: 8
Total: 8 / 10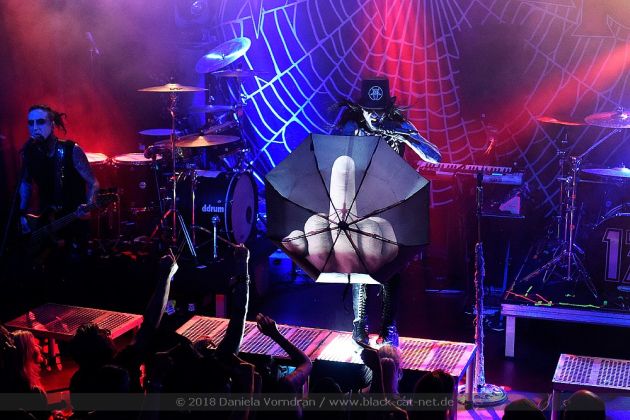 Combichrist

A Norwegian-American band now based in Los Angeles. After some successful Aggrotech albums, like 'Everybody Hates You' (2005) and 'What The Fuck Is Wrong With You?' (2007), the musical style of singer Andy La Plegua's main musical project changed drastically. Their latest LP, 'This Is Where Death Begins' (2016), caused a lot of controversy because of its metal-dominated sound. http://www.combichrist.com / https://www.facebook.com/combichrist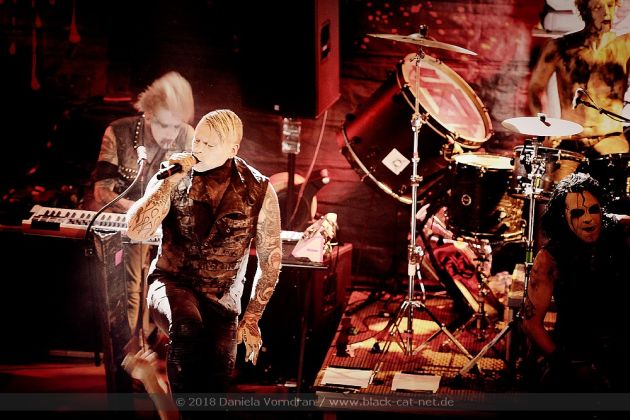 Music & Performance
The change-over took quite some time, but at 10.10 pm the five guys of COMBICHRIST entered the stage. This time without drummer Joe Letz because he was busy filming a video clip with his other band EMIGRATE (you may know it's the side-project of RAMMSTEIN's guitar player Richard Kruspe) but COMBICHRIST showed the same amount of energy they always show. If you didn't know anything about the setlist you received some nice surprises in comparison to the shows in 2016 and 2017. For example the opener, 'All Pain Is Gone', hasn't been played for years. In addition you also got to see live keyboards. Because COMBICHRIST performed a kind of "best of 2007-2014 set" the keyboard sounds were irreplaceable anyway, in consequence the guitar of Eric 13 just filled in as a background instrument.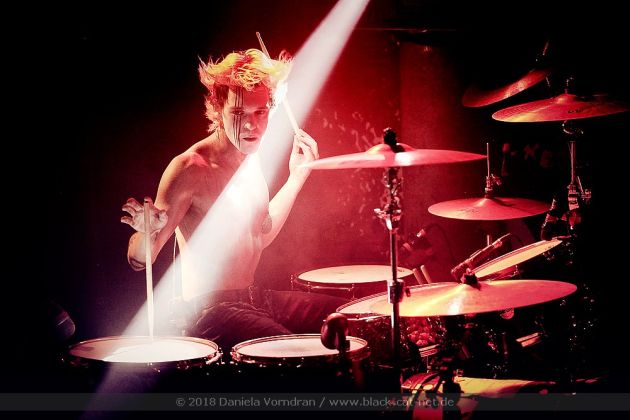 So we got to hear 70 minutes of pounding, fat Aggrotech-sound that quickly increased the warmth in the club to an exhausting number of degrees. Really nice: some crew members of the Kulttempel dished out water ice during the show! Before anyone could go home and take a refreshing shower COMBICHRIST rocked the crowd with their definitely best guitar-driven song, 'Maggots At The Party', and the classic 'What The Fuck Is Wrong With You'. Let's hope they are able to keep up their "live-concert shape" for writing and recording of the next album…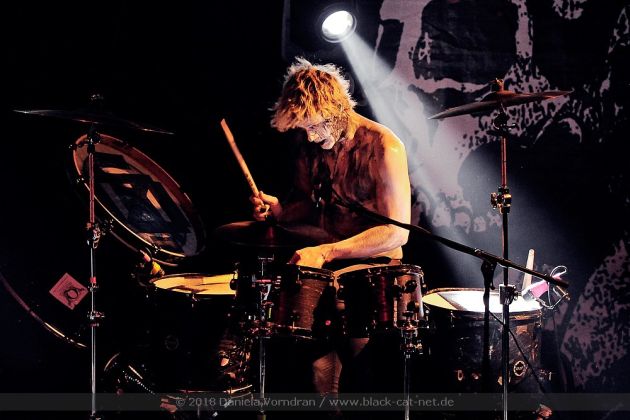 Setlist

01. All Pain Is Gone
02. Blut Royale
03. Can't Control
04. Electrohead
05. Throat Full Of Glass
06. Scarred
07. Fuck That Shit
08. Exit Eternity
09. Denial
10. Get Your Body Beat
---
11. Never Surrender
12. Maggots At The Party
13. What The Fuck Is Wrong With You?
Rating

Music: 9
Performance: 9
Sound: 8
Light: 8
Total: 8.5 / 10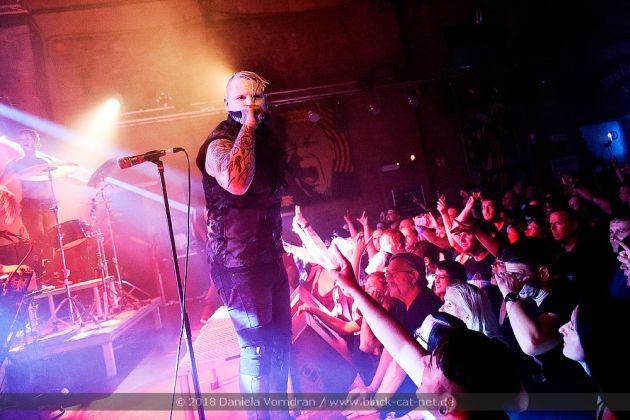 All pictures by Daniela Vorndran (
http://www.vorndranphotography.com
/
http://www.facebook.com/blackcatnet
)
See also (all categories):