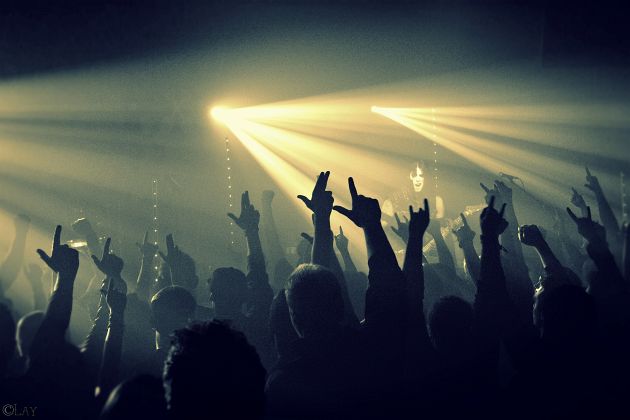 FZW, Dortmund, Germany
13th November 2017
Wednesday 13 & Diablo Blvd

How about some Horror-Punk-Metal-Glam-Doom-Hard-Rock? November 13th seemed just like the perfect day for WEDNESDAY 13 to be in town to celebrate their new and long-awaited release 'Condolences'. Mastermind Joseph Poole and his band mates tore apart the FWZ in Dortmund with the help of their crushing, darkly, rocking guitar riffs and macabre lyrics and put on a ghoulish show. The "grooving monster" DIABLO BLVD from Antwerp came along to get the "Nuclear Blast" Metal party started and present their new piece 'Zero Hour'. With powerful vocals, huge hymns, and a lot of pounding drums they managed to move the initially quite restrained crowd.
Diablo Blvd

Alex Agnew, Andries Beckers, Kris Martens and Tim Bekaert are
DIABLO BLVD
- the very first band from Belgium that got signed to Nuclear Blast. In 2017 they released 'Zero Hour', their fourth piece. Classic metal bands like DANZIG, TYPE O NEGATIVE, METALLICA and BLACK SABBATH are mentioned as their sources of inspiration next to eighties new wave acts like KILLING JOKE, SISTERS OF MERCY and GANG OF FOUR. https://www.diabloblvd.be / https://www.facebook.com/diabloboulevard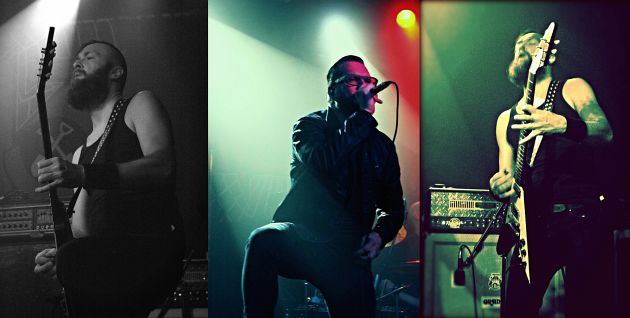 Music & Performance

Truth be told, the beginning of the concert evening at the FZW on November 13th was one of the most "curious" ones compared to the gigs that I've been attending lately - not because of the music, but because of the concertgoers. Somehow the venue was not filled up at all when DIABLO BLVD made their entrance. Maybe this was the case because it was a Monday. But then again, why would a Monday keep a metal head from going out to rock his or her socks off? Though one has to add that the band also hit the stage slightly earlier than expected. Still, those who gathered at the stage frontman Alex described as "the most enthusiastic non-enthusiastic audience" that he has ever encountered. People were just standing there listening politely and it was obvious that most haven't checked out DIABLO BLVD before. Unfortunately, the sound in the small FZW wasn't as crystal clear as one always wishes for, but as the show went on, it improved. It was especially the title song 'Follow the Deadlights' from their previous album that played the trick for me.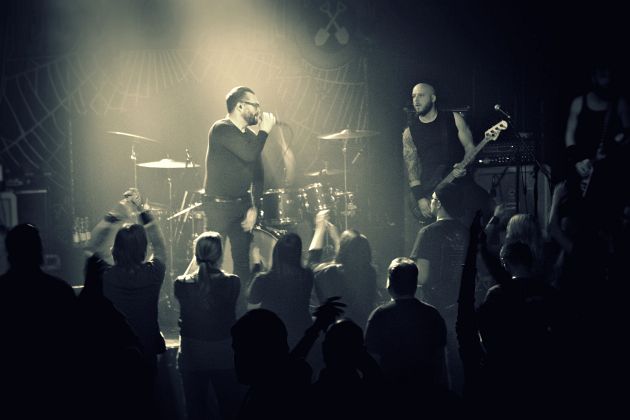 On the whole, DIABLO BLVD did a good job and one can imagine that when playing for their own fan base who's more familiar with their material, things must be way harder and heavier from the audience's side. Nevertheless, DIABLO BLVD managed to heat it up at the FZW making everyone raise their fit in the air. The band convinced with great riffs, anthemic melodies, grooviness and a powerful voice reminding one of VOLBEAT. Alex didn't take the initially somewhat "lethargic" but at any times quite attentive Dortmund crowd as an offense and also made us laugh. The front man used to be on the road as a stand-up comedian before the rock star thing got serious. He invited us to visit them at the merch stand after the show where not only photos might be taken – "Girls as well as the boys are allowed to come and touch me," he declared. Alex also thanked those in front of the stage for lending DIABLO BLVD their ears.
Rating

Music: 8
Performance: 8
Sound: 7
Light: 7
Total: 7.5 / 10
Wednesday 13

WEDNESDAY 13
is a Horror Punk / Glam Metal project formed by former MURDERDOLLS front man Joseph Michael Poole, knows as Mr. "Wednesday 13", in 2004. His bandmates bassist Troy Doebbler, drummer Kyle Castronovo, lead guitarist Roman Surman and Jack Tankersley playing rhythm guitar are helping to bring the W13 sound to life. The band has already convinced at the Wave Gotik Treffen crowd in Leipzig this year and now touring across Germany in support of their seventh studio album 'Condolences'. Tonight's gig at the FZW in Dortmund would be a crazy, creepy and fun ride covering not only the latest piece, but also four older records: 'Transylvannia 90210: Songs of Death, Dying, and the Dead' (2005), 'Skeletons' (2008), 'The Dixie Dead' (2013), and 'Monsters of the Universe: Come Out and Plague' (2015). https://officialwednesday13.com / https://www.facebook.com/officialwednesday13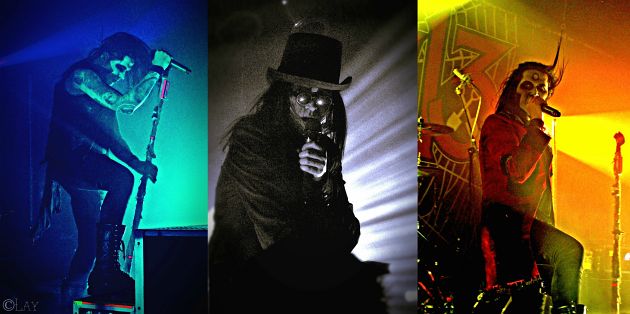 Music & Performance

Once it was time for WEDNESDAY 13 to hit the stage, the venue filled up quite a bit and the initially stoic FZW crowd seemed to had finally awakened. By now it was clear that the majority of the crowd had come to see the ghoulish horror rockers from Hollywood. The audience went from seemingly "unenthusiastic" but still interested to a Hyde-like state partying Hardcore, all fists in the air, stomping and singing along. The band convinced us with their diverse sound playing older songs such as 'I want you Dead' and 'I Walked With A Zombie' from 'Transylvannia 90210', next to four new smashers from the latest album: 'What The Night Brings', 'Cadaverous', 'Condolences', and 'Prey for Me'. After the intro, 'What The Night Brings' kicked off an up-tempo and punky W13 show. Various atmospheric instrumentals taken from horror movies resounded in the dark giving the frontman some time to change his costumes.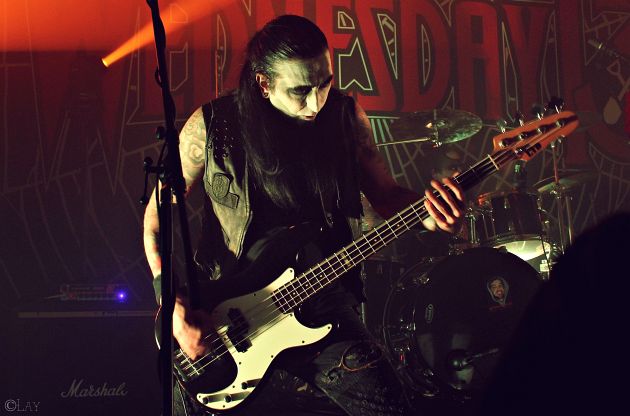 Vocalist Mr. Wednesday vamped up his performance by changing his outfits and hat gear a few times, which contributes to the theatrical aspect of WEDNESDAY 13. During 'I Love To Say Fuck', a cover of the front man's former band FRANKENSTEIN DRAG QUEENS FROM PLANET 13, he was swinging his middle-finger-umbrella towards the people. Loud "F*ck!" cries filled the small venue and a ton of middle fingers were raised. One personal highlight was the wicked and sinister 'Serpent Society' taken from 'Monsters of the Universe: Come Out and Plague' (2015). During this track the stage was fittingly drowned in devilish red light and the frontman appeared in a Luciferian cape and a mask with horns. We also had a hell of a time when W13 presented their new single 'Condolences' from their latest record of the same title. Here, Poole came on stage in the best look of the night, methinks, looking as if he had just stepped out of a Dracula movie. Like a vampire dressed in Victorian London fashion with fancy googles and a bowl he walked around with "the Book" in his hand staring at the fans, as the doomy mid-tempo song resounded.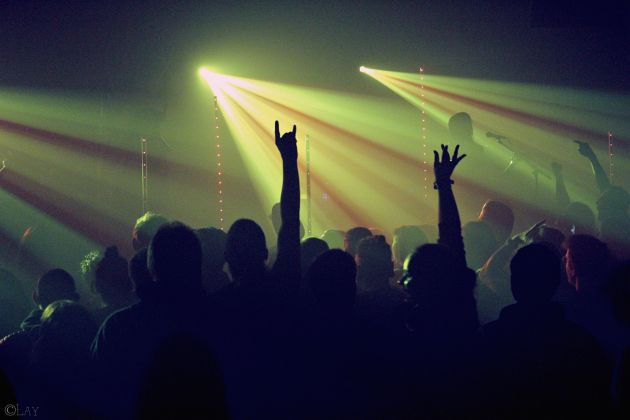 Pretty sure, that also bass-hero Troy reminded a lot people of Bela Lugosi himself. 'Bad Things' marked the end of a great ghoulish and glammy Goth Punk Metal show. W13 and their fans truly rocked out. In the end, I was only wondering why the crowd gave the band a loud, but only short round of applause before leaving super-fast, though it was so obvious that they had a real blast.
Setlist

01. Intro
02. What The Night Brings
03. Scream Baby Scream
04. Keep Watching The Skies
05. Cadaverous
06. Rambo (Frankenstein Drag Queens From Planet 13 cover)
07. Serpent Society
08. The Ghost Of Vincent Price
09. Hail Ming
10. Put Your Death Mask On
11. I want you Dead
12. Condolences
13. Prey For Me
14. I Walked With A Zombie
15. I Love To Say Fuck (Frankenstein Drag Queens From Planet 13 cover)
16. Bad Things
Rating

Music: 8
Performance: 9
Sound: 8
Light: 8
Total: 8.25 / 10
All pictures by LAy
See also (all categories):