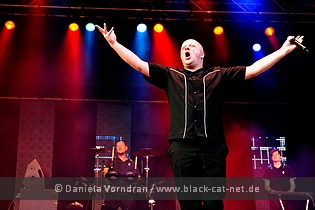 Markthalle & Stadtpark, Hamburg, Germany
8th to 9th July 2011
Nordstern Festival Day 2: Blitzmaschine, Absurd Minds, Ascii Disko, Diorama, Combichrist, IAMX, VNV Nation

The second festival day was taking place outside, at the wonderful little stage at the Stadtpark. Sadly, the weather forecasts were quite mixed and later the day, we had some heavy rain showers, but also very nice weather with warm sun. Headliner VNV NATION had promised to play new songs, so we were looking forward the evening already at 14:30, when first band BLITZMASCHINE entered the stage.



Blitzmaschine

BLITZMASCHINE was founded in 2009 by Holger and Matze. Their music is a combination of EBM bass lines and minimalist vocals. They describe their music as "EBM for the middle class". The debut album called 'Faustrecht' was released in March 2011. http://www.blitzmaschine.com / http://www.myspace.com/blitzmaschine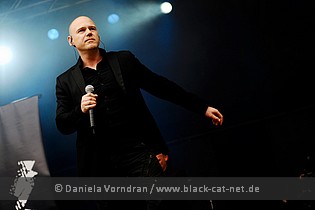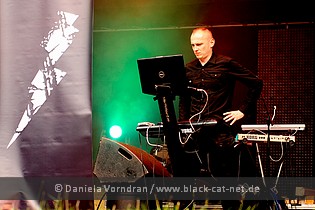 Music & Performance
2:30 pm, just in time the second festival day began in the pretty nice location Stadtpark. The weather was friendly and the sun was shining. BLITZMASCHINE opened the stage and performed a set of five songs. Simple EBM sounds were combined with partly German and partly English vocals. The people who already were in the venue enjoyed the nice weather and took some drinks, a few of them charged the space in front of the stage and partied BLITZMASCHINE.

Setlist
01. Liebe auf den ersten Blick
02. Useless pain
03. Blondes Mädchen
04. Vorwärts
05. Blute jetzt

Rating
Music: 6
Performance: 7
Sound: 8
Light: daylight
Total: 7 / 10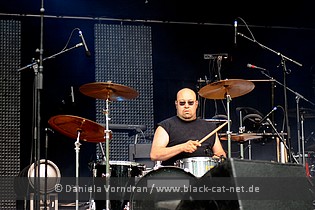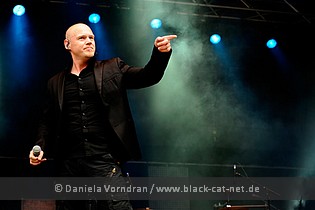 Absurd Minds

The project ABSURD MINDS was founded in 1995 by Stefan Grossmann and Tilo Ladwig. At that time they were musically inspired by the electro-scene of the early 90ies. From 1995 - 1999 ABSURD MINDS released three different CDs with just a very small amount of copies on their own risk and distribution. In 1999 they had their first live onstage appearance in Dresden at the live-club Bunker. In the same year, ABSURD MINDS caught the attention of the German record-label SCANNER. Since that time, label and band work together very close. ABSURD MINDS are Stefan Grossmann (song writing, arranging, programming, vocals), Tilo Ladwig (programming, arranging keyboards) and Timo Fischer (arranging, drums). Since 2006, Toralf Nickisch of LEGACY OF MUSIC completes the band on keyboards and from time to time on vocals together with Stefan. http://www.absurdminds.de / http://www.myspace.com/absurdminds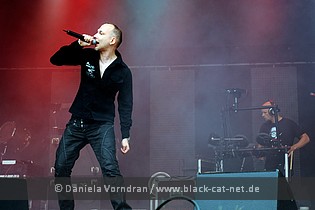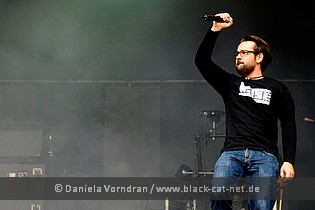 Music & Performance
After a short change over, ABSURD MINDS entered the stage and proceeded the afternoon with pleasing synth pop sounds which remembered still a little bit of PROJECT PITCHFORK. As usually, mail vocals were provided by Stefan, but Tilo joined him so they sang alternated and together and performed their songs passionately and powerful. The weather still was friendly, after several raindrops the sun came back and the people enjoyed the show. The show ran for about 30 minutes and included all in all seven songs.

Setlist
01. Intro + Eternal Witness
02. Countdown
03. Dependence
04. I'm dying alone
05. Interconnectedness
06. Serve or Suffer
07. Brainwash

Rating
Music: 8
Performance: 8
Sound: 8
Light: daylight
Total: 8 / 10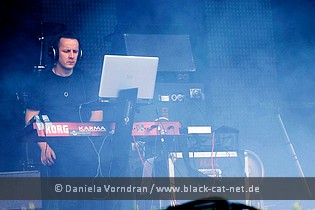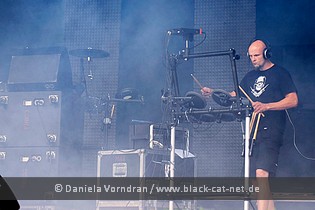 Ascii: Disko

ASCII: DISKO is a musical project of the German producer and DJ Daniel Holc, The song 'Strassen' from the debut EP 'Immer / Strassen' was very successful in the club scene. The current album called 'Black Orchid' and was released in April this year. http://www.asciidisko.com / http://www.myspace.com/asciidisko

Music & Performance
The instrumental set of ASCII: DISKO seemed more like a DJ-set than a live concert, the stage was dominated by a large table with electronic devices and Daniel operated his devices without any contact to the crowd. Having daylight did not really help to create a moody atmosphere. Altogether it was a little bit boring and the most people used the slot to take some drinks or food or meet friends. The most known hit 'Strassen' wasn't played .

Rating
Music: 6
Performance: 4
Sound: 8
light: daylight
Rating: 5 / 10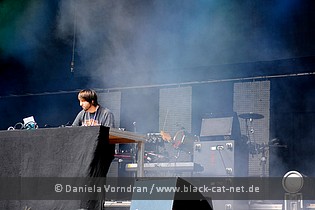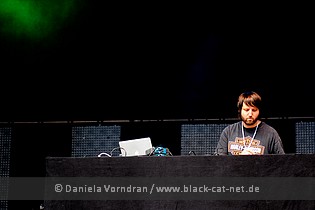 Diorama

DIORAMA was founded by Torben Wendt between 1994 and 1996. His long-time friend Felix Marc soon joined him as a co-producer and keyboard player. Sometime later, bass player Bernard le Sigue and guitarist Sash Fiddler, who were fellow students of Torben and Felix, gradually grew into the line-up and last but not least drummer Marquess became a member of the band. Bernard le Sigue left the band in October 2006. The current album is called 'Cubed' and was released in March 2010. DIORAMA is Torben Wendt (words and music, vocals, keys, percussion), Felix Marc (co-production, keys, vocals), Sash Fiddler (guitars) and Marquess (drums). http://www.diorama-music.com / http://www.myspace.com/dioramamusic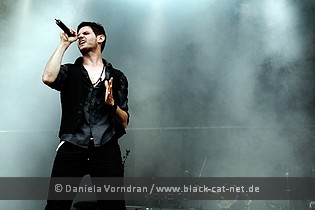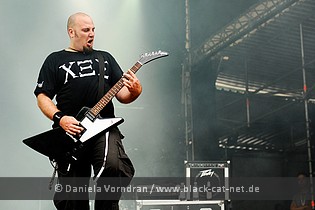 Music & Performance
During the change over the rain started again a little bit, but despite of this, people filled the space in front of stage when DIORAMA entered the stage and began their show with 'Child of Entertainment'. DIORAMA bewitched the audience with a finest selection of ingenious and powerful Synth pop songs. Quickly, the crowd was infected by the emotional rousing performance and the people were dancing and singing along. The set list was started by the first three songs from the current album, followed by older songs like 'Advance' or 'Synthesize me', all in all they played seven songs and after about 40 minutes they left the stage to make room for COMBICHRIST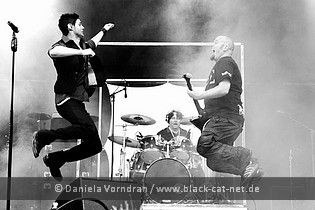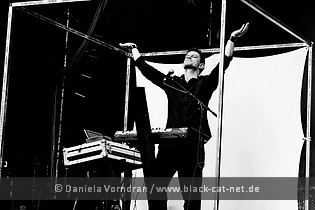 Setlist
01. Child of Entertainment
02. Acid Trip
03. Ignite
04. Advance
05. Why
06. Synthesize me
07. The Girls

Rating
Music: 9
Performance: 9
Sound: 8
Light: daylight
Total: 9 / 10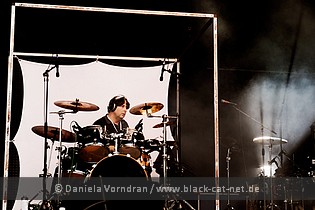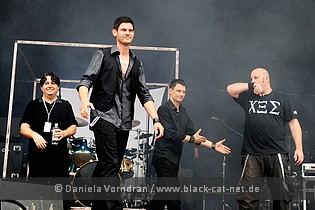 Combichrist

COMBICHRIST is one of the other faces of well-known singer and ICON OF COIL mastermind Andy LaPlegua who's presenting a much more hard-edged side of industrial with this project. The two first releases, the album 'The Joy of Gunz' and the limited Halloween special 'Kiss the Blade' both being released in 2003, conquered the clubs and dance floors in a storm. Only a year later Andy unleashed the next assault entitled 'Sex, Drogen und Industrial' which marks a change in the sound of COMBICHRIST to more electro and less distortion dominated sounds, yet the tracks remained as energetic as ever. In Spring 2005 it was finally time for the new album 'Everybody Hates You'. 2006 saw the release of a new EP that even took the project to the Hot Dance Billboard Charts and as Andy is a workaholic, he released the next album 'What The F*&$ Is Wrong With You People?' in March 2007.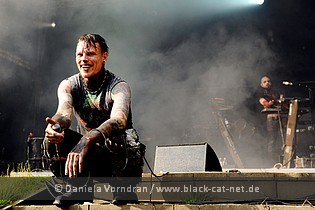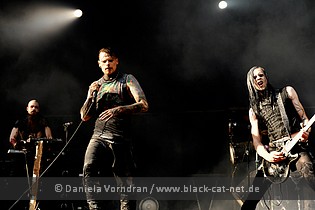 Right in time for the summer, Andy released the 'Frost EP' at the end of June 2008 with new tracks as well as remixes. The most recent album is called 'Making Monsters' and came out in 2010. COMBICHRIST is Andy LaPlegua (vocals, lyrics, production), Joe Letz (live drums), Trevor Friedrich (live percussions), z_marr (live keys, synths) and Abbey Nex (live guitar). http://www.combichrist.com / http://www.myspace.com/combichrist

Music & Performance
During the change over the rain heavily started again and COMBICHRIST started their show when it was blustering down. It was my second experience with COMBICHRIST, at the first time two weeks ago at Blackfield festival they had to abort their show after five songs due to a crash of their electronic equipment and I was anxious to learn how this show would be like and if they would make up for the last one. Unfortunately, this time the sound right in front of stage was very bad - the vocal volume was too low, the guitar was not at all to hear (I think it was not connected) and the master volume was too low too. Despite of this, the guys of COMBICHRIST did a crazy and powerful performance, one of the drummers (Joe) entered the stage with a horse head mask, the other drummer entered the crowd just already during the intro. Parts of the drum sets has been kicked over the whole stage as usually.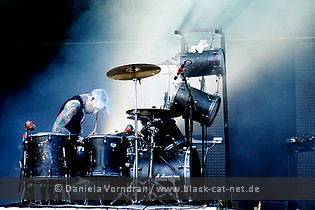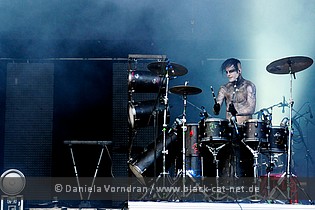 Later during the show two hands entered the stage with costumes of a honey bee and a female robot with some "tits". Andy was animating the crowd all the time and the temper in the crowd was great despite of the rain and the low level of the PA. Between the songs the crowd constantly was screaming "louder, louder" and finally Andy turned the monitor speakers to the crowd to make it better. Altogether really a pleasing show but a very bad sound. The set included, among others, 'Rain Of Blood', 'Just Like Me', 'Blut Royal', 'Get your body beat' and was finished with 'What The Fuck Is Wrong With You'.

Rating
Music: 8
Performance: 10
Sound:1
Light: daylight
Total: 7.5 / 10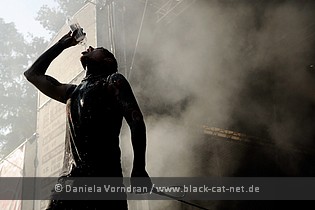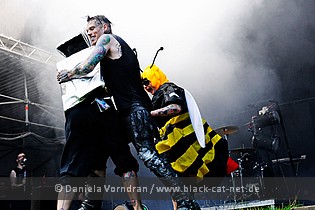 IAMX

IAMX is the solo musical project of Chris Corner, best known for his work with SNEAKER PIMPS. Corner has repeatedly said that IAMX is very different to his actual, real-life personality and is a kind of quasi "act". Whether an act or not, IAMX' music is primarily concerned with subjects such as outlandish sex, death, narcotic intoxication, bisexuality, obsession, alienation and vague allusions to politics. Live on stage usual he is supported by Janine Gezang (keyboard, guitar, backing vocals), Caroline Weber (drums) and Alberto Álvarez (guitar, bass, percussions, backing vocals). http://www.iamx.co.uk / www.myspace.com/iamx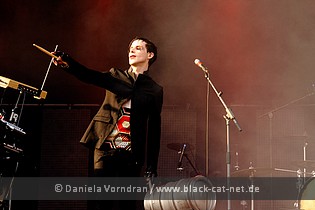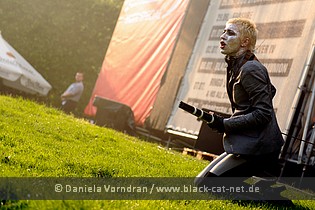 Music & Performance
Just in time IAMX entered the stage and started their show. The band bewitched the crowd with their dynamic, emotional and powerful performance. Quickly, the spirit went over to the crowd, that was infected by the rousing show and the temper was great. Meanwhile the rain had stopped and the sun was back and the crowd were dancing, clapping hands and singing along. The set was started by 'Music people' taken from the current album and included as well a lot of older well-known songs like 'President', 'Spit it out' or 'Kiss and swallow'. For the song 'The Alternative' both COMBICHRIST drummers, Trevor and Joe, came back to stage again and supported IAMX with additional drums.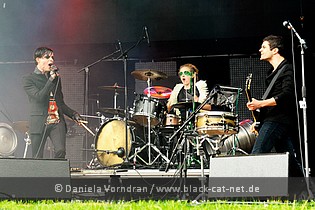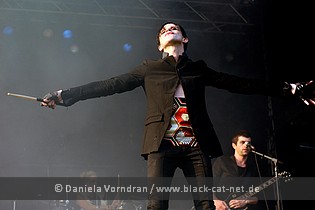 Setlist
01. Music people
02. Nightlife
03. Ghosts of Utopia
04. My secret friend
05. Tear garden
06. Bring me back a dog
07. Nature of inviting
08. Cold red light
09. Kiss and swallow
10. President
11. The Alternative (feat. Combichrist)
12. Spit it out

Rating
Music: 9
Performance: 10
Sound: 8
Light: daylight
Total: 9 / 10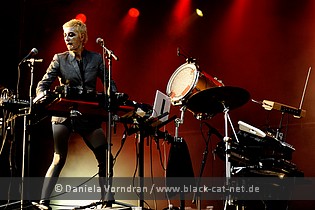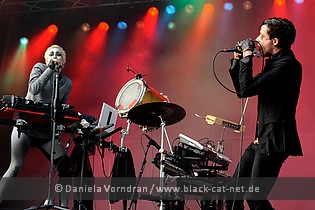 VNV Nation

VNV NATION is an electronic music band originally from Wexford and London, now based in Hamburg, that combines elements of industrial music, trance, Synth Pop and electronic body music. Earlier works also include some electro-industrial influences. The "VNV" in the name stands for "Victory not Vengeance". Over the years, VNV NATION developed to one of the most important bands of the electro / Synth Pop scene; the current album called 'Of Faith, Power and Glory' was released in June 2009, the upcoming album is in progress and will be released later this year. VNV NATION is Ronan Harris (music, lyrics, vocals) and Mark Jackson (drums); on stage usually they are supported by two additional keyboard players, for Nordstern festival this were, like so often, Tom Lesczenski of [:SITD:] and André Winter. http://www.vnvnation.com / http://www.myspace.com/vnvnation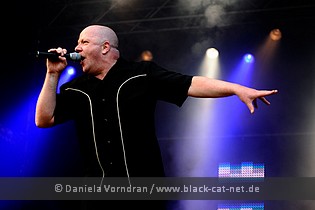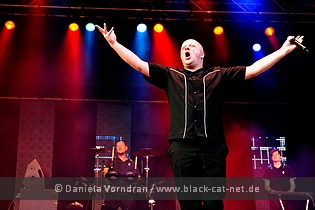 Music & Performance
8:30 pm, the second festival day came to an end and the stage was ready for the headliner VNV NATION, performing nearly in daylight. Ronan and Mark like usual did a very powerful amazing show, supported by Tom and Andre on the keyboards. The show was started with 'Joy', followed by 'Tomorrow Never Comes' and quickly the spirit went over to the crowd who followed the animation of Ronan and was dancing and singing along. Beside well-known songs like 'Darkangel', 'Chrome' or 'Standing' the set list included two new unreleased songs from the upcoming album. As Ronan told us, this was the good message. The bad one was, that he had forgotten the notes with lyrics in the studio and improvised and wrote down what he could remember. First new song, 'Control', was a dance floor stomper with great beats and an Oldschool EBM feel. Second new song was a ballad, maybe a bit cheesy for some. Finally at 10 pm VNV NATION finished with 'Perpetual', like always supported by long fan chants, and left the audience happy and satisfied. Altogether a great show of VNV NATION and a great new Festival which will repeated next year.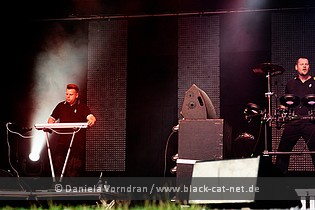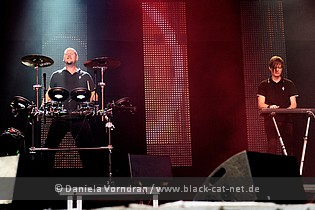 Setlist
01. Joy
02. Tomorrow never comes
03. Darkangel
04. Further
05. Sentinel
06. Chrome
07. Illusion
08. Standing
09. Legion
10. The farthest star
11. Control (new song)
12. Beloved
13. Shine? (new song)
14. Perpetual

Rating
Music: 9
Performance: 10
Sound: 9
Light: 8 (and daylight)
Total: 9 / 10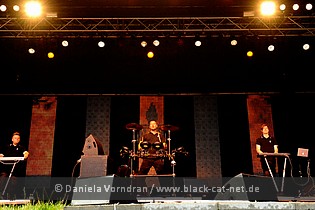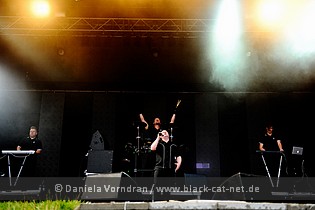 After the open air shows, there was an after show party at the Markthalle, where the shows of the previous days were taking place. The first Nordstern festival was a great success. Especially the open air stage is a beautiful venue, the organisation was perfect, the prices for food and drinks decent. So, we are already looking forward the first July weekend 2012 for the second edition of Nordstern.

Pictures by Daniela Vorndran (http://www.vorndranphotography.com / http://www.black-cat-net.de/ / www.myspace.com/vorndranphotography / www.facebook.com/blackcatnet)



See also (all categories):