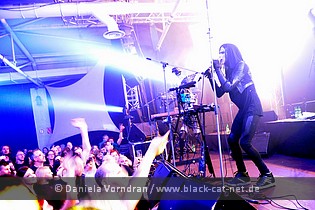 Interview with
Chris Corner from IAMX

IAMX is the solo project of the English musician and producer Chris Corner. Since its inception in 2004, IAMX has developed to become a major act in the alternative electro-rock scene, even getting mainstream success thanks to the hit 'Spit It Out'. In 2014, Chris Corner had to stop due to a severe depression and chronic insomnia. But he recovered and now, he's back with a fantastic new album, 'Metanoia', and a successful European tour. Our journalist Phil Blackmarquis got the opportunity to talk to Chris before IAMX' concert in Brussels.
Reflections of Darkness [RoD]
: Chris, thank you for this interview. First, let's talk about your new album, 'Metanoia': in what way is it different from the previous ones?
Chris
:
I made it after a time of illness. I went through a dark period for a couple of years, with depression and insomnia, it made many things very clear to me, coming out of that. I wanted to write specifically about the experiences that I had had. In a way, it is probably the most direct reflection of my personality that I ever created. I think it's the least complicated album. I can only say it from my perspective, what it means to me. I think it's the most personally meaningful and honest record that I've down. From the production side as well, I tried to simplify everything and go back to the essence, which is just one man, one computer, one room and that's how I started the project. So, it's more electronic...
RoD
: It's back to the roots?
Chris
:
Yeah, back to the roots. That's what made it different from the previous records. It's more honest than anything else I've done.
RoD
: When you were feeling bad, in your troubled times, would you say that the love from your fans somehow contributed to save your life or at least to help you get out of the trouble?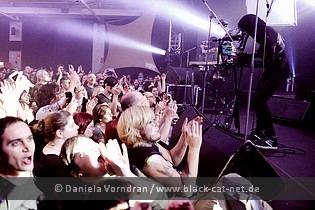 Chris
: Yes, very much so. In the worst period, I didn't go online; I didn't connect. I became a recluse. I went to a clinic, I received professional help. During that time, I even didn't see friends, it was a very isolated time. When I started to recover, I decided to talk about it and I wrote in an online blog about my experiences and it became very clear to me that there was so much support from the fans. So many people could relate to those issues that it gave me so much confidence to go forward and to continue being creative. Before that, I had stopped creating music because I felt like music was my enemy and that it was hurting me psychologically and emotionally : it was too much to deal with. So, once I realized that there was that huge amount of support and respect, it really brought the confidence back to continue what I was doing. I was asking myself the question whether I wanted to continue making music. It took a while for me to rebuild my strength, to realise that music wasn't hurting me, on the contrary it was nourishing me. I had a lot of fear and confusion during that time and I'm thankful to be better now...
RoD
: And we're so happy that you're back!
Chris
:
Thank you…
RoD
: You also said in an interview, that, in your difficult period, you were listening to music that you loved as a child. Which bands or artists were they?
Chris
:
It's a few different things. I'm a big fan of David Sylvian, who was a big idol of mine. I'm also a big fan of Philip Glass and Steve Reich, minimalist music. It's a weird music to listen to as a child but I was indoctrinated by my close uncle, who brainwashed me. I hadn't listened to those things for many years. I had forgotten how I felt about other people's music. I had been so concerned with myself and my own music for so long that I had lost touch with this. So, in that time, I felt the need to reconnect with that. Other people's music was quite threatening before. I was afraid to listen to other things. I don't know why. So I decided to re-establish how I felt about other people's music and that really helped me.
RoD
: Were you listening to 'Brilliant Trees' by David Sylvian, which is a wonderful album?
Chris
:
Yes, it's a wonderful album. I had a closer connection with 'Secrets of the Beehive'. It brought back all kinds of memories. I felt good listening to it. It was a refreshing thing to do.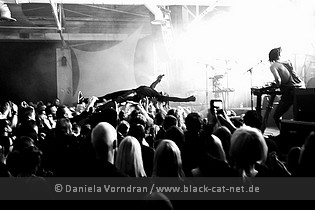 RoD
: Do you remember the first LP or single that you bought when you were young?
Chris
:
I remember the first one that was bought for me, it was 'Relax', from FRANKIE GOES TO HOLLYWOOD (laughs)... It was bought for me by my sister. That was quite crazy music to listen to...
RoD
: But I see a link with what you did afterwards... (laughs)
Chris
:
It's funny. You ask me that question but I hadn't thought about that for so many years, that I really used to love FRANKIE GOES TO HOLLYWOOD, thanks for reminding me...
RoD
: Which artist or band was the real trigger for you to become a professional musician?
Chris
:
I don't know whether there was really one person, but I would say David Sylvian, for being an inspiration to not do commercial music. He gave me a lot of confidence to stay outside of pop music. Watching someone like him over the years survive while continuing to do quite unusual and unique music: that was a big inspiration for me. And many artists over the years, too many to list, inspired me... Someone had a big influence on my development as a producer: Flood. He produced many records that I loved. I had a very early opportunity to work with me, on the first SNEAKER PIMPS album. That had a big influence on my own music, just to see someone like that working. And to see the fact that he could do many different things. That influenced me in the sense of becoming a producer and a solo artist, being able to do all the things you need to do to make a record. And performance, for me, came a little bit later. I was much more interested in production first. And the performance came later.
RoD
: Talking about influences: Picasso said that "Poor artists copy and real artists steal". The difference being that when you steal, you take something and make it your own. So, do you steal a lot?
Chris
:
I see, I get it. We all do it. Good music, whatever the genre, is a reflection of the uniqueness of the individual. If you can take something and make it sound like you, then it will always be unique. That's the only thing unique we have, it's the individual. Every kind of music has been done, every sound has been explored. But you can tweak it and make it different. So for me, exploring the individual is what makes it interesting. If you have nothing to say as an individual, that will show in the music. You can do the most basic Rock'n'Roll and if you have uniqueness, it will sound interesting.
RoD
: When we listen to your music and when we watch you, we feel there are a lot of references but the way you manage and digest them is unique and the result is completely original, in my opinion...
Chris
:
That's an amazing statement: thank you so much!
RoD
: What about the shows? I saw that there was a problem in San Diego, because you invited some people on the stage like at the beginning of your career?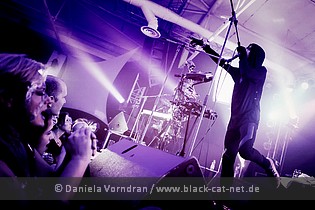 Chris
:
(laughs) It wasn't a problem. There was a girl who really wanted to dance on the stage with me. As it was a small club, I thought it was a good opportunity. I invited her on stage and then I got excited and invited everybody on stage. It was a lot of fun. This is the first tour that I've done in a long time, so, I feel the playfulness and the fun. I don't know how often I will be doing but it was definitely a nice moment.
RoD
: If you want to do it tonight, then we will definitely go on stage.
Chris
:
Oh wow. OK, I will take you up on that... (laughs)
RoD
: Talking about the relationship you have with your fans, which is very strong and very emotional. I think the way you manage to be innovative to create this relationship and to be able to live in a very independent way, do you see an evolution for this in the future, to go even further, to find new things, new ways?
Chris
:
It's an interesting relationship, because it's so rewarding and it's a very pure communication. It's unique: it's difficult to have this in normal relationships, in normal life. So, I'm very privileged to be in that position and to be able to connect with so many people and at such a deep level. It's the only way I can make music. When I started making music with my first SNEAKER PIMPS album, which was quite a commercial success. I saw that world: it was so empty for me. I didn't get anything from it. And that slowly led me to IAMX, to get to connect with people. Crowd-funding allows me to take it to a new level, where people can get in touch with different sides of my personality. I can offer different products. In the end, I still think there's a need to keep some kind of distance. I give everything on stage. I'm a very private person most of the time. If I meet someone, I want to give everything. I can't see another way from having a huge orgy with everybody! (laughs)
RoD
: You don't like superficial relationships. You want things to be deep or to not exist: I understand that.
Chris
:
Yeah, deep and totally open, real fun. I don't have patience for bullshit.
RoD
: For the future, we will probably see new, more sophisticated formula's like pledge. The only problem with pledge is that it's very linked with money.
Chris
:
We're fortunate to have a long relationship with great support from fans, so coming with pledge wasn't too difficult. Transparency is always the best. You have to say: I can only do this if you give me money. I can't continue doing this without support. That is the truth. Everybody knows that we're not fame whores, we don't aspire to be rich and famous.
RoD
: Thanks a lot, Chris.
Chris
: You're very welcome.
To read the RoD review of IAMX concert in Cologne:
http://www.reflectionsofdarkness.com/artists-f-j-concertreviews-158/16183-live-review-iamx-cologne-2015
To buy the new album, 'Metanoia':
http://www.pledgemusic.com/projects/iamxmusic
A big thank you to LiveNation, Ancienne Belgique and
www.musiczine.net
.
All Pictures from the Cologne Show by Daniela Vorndran (
http://www.vorndranphotography.com
/
http://www.facebook.com/blackcatnet
)
See also (all categories):