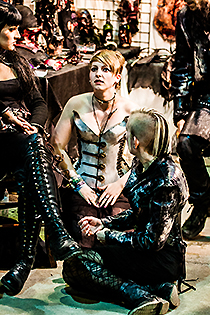 Leipzig, Germany
17th - 20th May 2013
Wave Gotik Treffen Day 2: Naughty Whisper, Altar of Plagues, The Vision Bleak, Dordeduh, Paradise Lost and IAMX

The second day started with a little rain which quickly turned into some sunshine. After a short night – due to the midnight special on day 1 – we decided to take a look at some harder bands and so we made our way to the Kohlrabizirkus in order to enjoy guitar based sounds. However, we could, of course, not miss out on the midnight special on this day in the Agra: IAMX. Saturday also is the day of the second big arrivals and so, the city was even more crowded. Leipzig was now almost completely covered in black and some other shades of darker colours. However, the people of the city were as friendly as always and everyone felt welcomed. Having this as a basis, the people happily started in the weekend filled with great bands.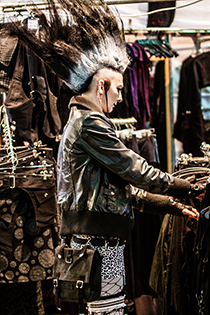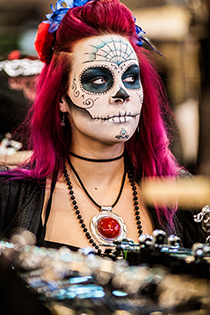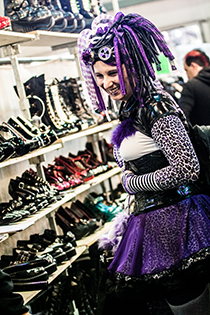 Naughty Whisper – Kohlrabizirkus [FS]

"This modern world is the portrait of decay, that's why we are Addicted To Decadence." These are the opening words of NAUGHTY WHISPER´s new studio effort, 'Addicted To Decadence', a record that permanently ends a chapter and starts a new (and more wicked) one in the history of the band. Leaving their initial glam metal and the second album's psycho glam behind, NAUGHTY WHISPER´s latest release is a mixture of metal, gothic and rock elements, not to mention that Scandinavian air the band has been breathing for years. During the past ten years, the band has released two albums and brought their music all around Europe, lately favouring Scandinavia. After the first single 'Welcome To My Nightmare', 'Addicted To Decadence' has been released on July 27 2012 by SG Records. www.naughtywhisper.com / http://www.myspace.com/naughtywhisper / https://www.facebook.com/pages/Naughty-Whisper/44380489825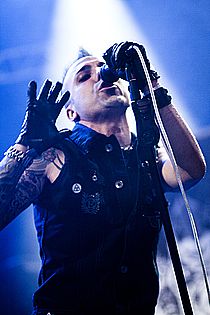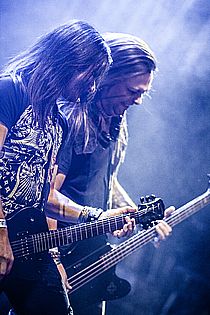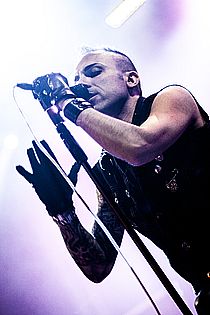 Music & Performance
With NAUGHTY WHISPER, good old Kohlrabizirkus welcomed us back with some fine Goth Rock / Metal from Italy. While critics seemed to be discordant about the quality and credibility of the latest record, I have to admit I enjoyed the show more than I expected since until a few days before the show I had never heard of the band. Apparently neither did a lot of people because the auditorium was only sparsely crowded. NAUGHTY WHISPER play keyboard rich pop / hard rock with solid riffing and a kind-of bad boy attitude attached. When I was asked to pigeonhole their music I'd put it somewhere between END OF GREEN, ALICE COOPER and PARADISE LOST. That concept worked out well. While the keys came canned and the guitars were a little muffled the overall sound suited them well. The drums were rocking, the riffing slick and the vocals by front man Andy Star came across adequately snotty. Any fan of above mentioned bands, corny lyrics and glam or hard rock in general should have had a good time.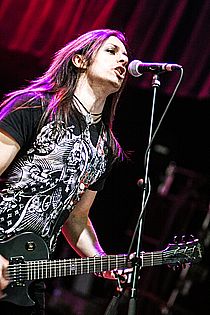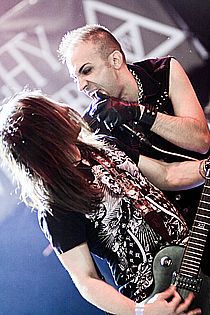 There was nothing extraordinary going on in any way. The choice of songs was fine since NAUGHTY WHISPER have a talent for writing simple but catchy tracks. The performance was alike; there was exactly the right amount of action happening on stage and it was visible that the band enjoyed themselves with a lot of interaction of the band members. During '(I just) Died In Your Arms' by CUTTING CREW there was a chance to sing along for people who were new to the band like me. So the opening act had proved to be a solid package that I'd revisit any time I have the possibility and so should you.

Setlist
01. Intro
02. Welcome to my nightmare
03. To die for you
04. My own demise
05. Damned scratch
06. Eternal demon
07. Poison white
08. Everything's not lost
09. Venom in me
10. I just died in your arms tonight

Rating
Music: 7.5
Performance: 9
Sound: 7.5
Light: 6
Total: 7.5 / 10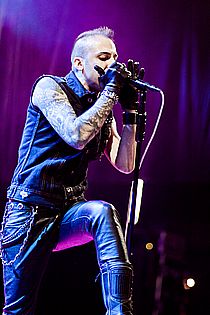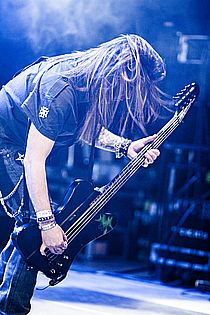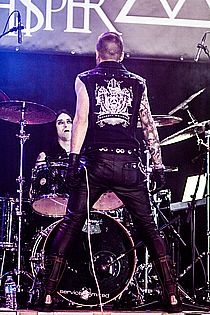 Altar of Plagues – Kohlrabizirkus [FS]

ALTAR OF PLAGUES is an Irish black metal band. After gaining attention in the metal community with a series of demos and EPs, the band released their first studio album, 'White Tomb', in April 2009 on Profound Lore Records. Following a year of gigging and some changes to the line-up, the group announced their signing with Candlelight Records in January 2010. They embarked on a four week US Tour with blackened doom outfit VELNIAS ending in Chicago on August 8, 2010. They played the third annual Hopscotch Music Festival in Raleigh, North Carolina, USA which took place September 6–8, 2012. Recently, the band released their new album called 'Teethed Glory and Injury'. http://www.altarofplagues.com / http://www.myspace.com/altarofplagues / https://www.facebook.com/altarofplagues

Music & Performance
This day of the WGT should go down in history as one of the days of toughly rateable bands. Thus we have ALTAR OF PLAGUES who play post black metal, to which I grew very fond of over the last years. With expansive song structures to unfold that genre doesn't appeal to anyone but considering the growth of people who came to the site since the last band finished, apparently more than hard rock. While typically being very organically mixed on their records, there was a similar sound to be expected live. The first issue I had was the sound of the guitar which was very crunchy, loud and mid-tone heavy, which didn't appeal to me at all. Usually I don't mind the signature sound of guitarists if they work to benefit the songs and work well in the mix but here it was one of the few times it annoyed me. Luckily the vocals came out fine as well as the second guitar and the drums.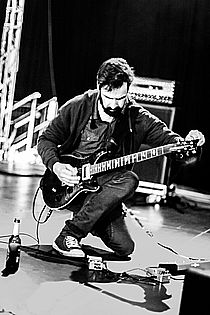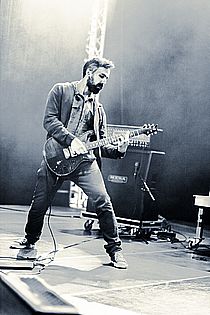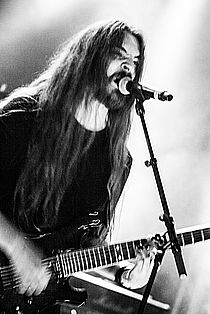 Besides the personal issues I had, there were some real problems going on as well. There had been a huge break in between songs to replace a guitar top which apparently malfunctioned. Break isn't the right word to use, since the gap was bridged by the band performing single note, riff and percussion fragments which left me wondering if these were part of the song and only an extravagant expression of art or the attempt hold the atmosphere as well as the audience. After ten long minutes there was a short apology and the show continued for the people who didn't leave, which were actually not as few as one would think. Back to the issues I had subjectively. In the same manner as genre heroes WOLVES IN THE THRONE ROOM you inevitably had the feeling the band members were only playing for themselves, standing sideways, facing one another the greater time of the performance or crouching down, becoming hardly visible for people beyond the third row. Maybe this is an established habitus but I find that kind of disrespectful. However, I tried to make the best out of the music that was presented and even with that left I have to say that they maybe didn't made the wisest decision on the picked songs, which turned out to be very bulky and hard to get into. All things considered there was not much left to enjoy for me. I hope ALTAR OF PLAGUE can win me over with another performance on another day at another site.

Rating
Music: 6.5
Performance: 5
Sound: 4
Light: 5.5
Total: 5.3 / 10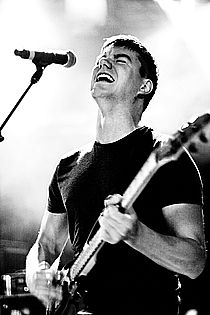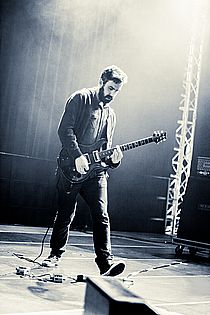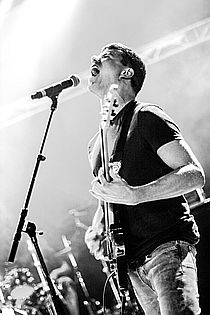 The Vision Bleak – Kohlrabizirkus [FS]

THE VISION BLEAK is a Gothic metal / Horror Punk band from Germany formed in 2000, consisting of former EMPYRIUM member Ulf Theodor Schwadorf and former NOX MORTIS member Allen B Konstanz. The band's themes are most notably orientated towards horror. In July 2009, THE VISION BLEAK entered the studio to record their fourth album. Under the name of 'Set Sail to Mystery' it was released on April 2nd. Prophecy Productions announced that a new album is going to be released in 2013 covering mostly the topic of witches. http://www.the-vision-bleak.de / http://www.myspace.com/thevisionbleak / https://www.facebook.com/thevisionbleak.official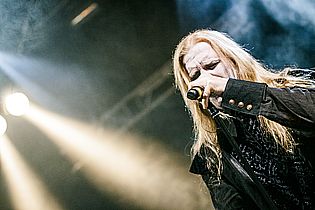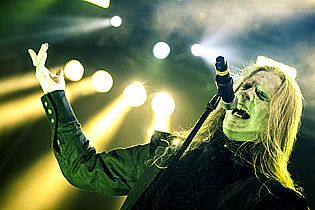 Music & Performance
THE VISION BLEAK gathered a vast amount of people to their horror extravaganza they pursue for over ten years by now by putting the eeriest stories and scariest tales into music. With their fifth full-length album on the doorstep they came to give us a broad overview of their work with unexpected focus on the debut album 'The deathship has a new captain' in the last act of their show. With the end of the intro the experienced spectator could perceive two things: the band members, which in this case are the two musical heads, got themselves some great new outfits and Allen B. grew his hair longer, which suited him well. That as well as the overall stage performance emphasized the act of the sophisticated gentlemen who could also be imagined in an arm chair with a glass of deep red wine - if it wasn't for the metal.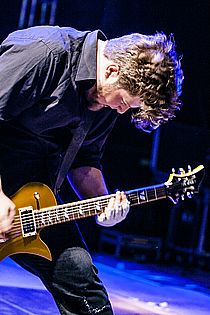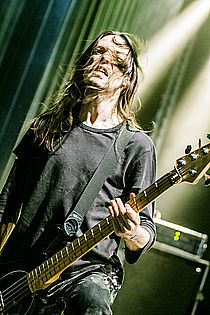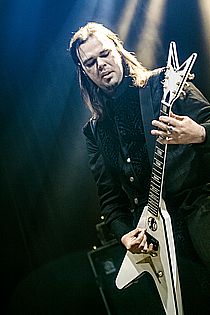 Their songs may not be very versatile but there are basically no bad ideas or fillers which make them work. Allan performed his vocal lines very well, bearing its usual storytelling timbre. For me they sometimes could have had more presence but that's nit-picking. The guitars, the bass and the drums were very well balanced and had a great punch, as it is to be expected from one of Germany's best-known metal sound engineers. So there was a constant conversation going on between him and the person responsible for the stage sound. The result was huge PA sound and a nearly flawless performance of every participant – even the lighting was used very nicely done and the show benefited from it significantly.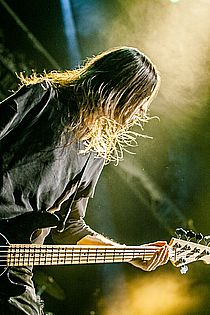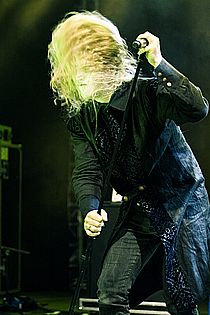 Songs like 'Wolfmoon', 'Night of the living dead' and the obligatory 'Kutulu!' encouraged the audience either to sing along or to praise the dark lord who will eventually destroy humanity. With a lot of strongly thrilling moments the performance of THE VISION BLEAK definitely was one of the highlights of the day if not the WGT.

Setlist
01. Intro
02. Descend Into Maelstrom
03. Night Of The Living Dead
04. Carpathia
05. The Black Pharaoh II
06. Kutulu
07. Wolfmoon
08. A Romance With The Grave
09. I Dined With The Swans
10. The Grand Devilry
11. Horror Of Antarctica
12. Lone Night Rider
13. Deathship Symphony

Rating
Music: 9
Performance: 9
Sound: 9
Light: 9
Total: 9 / 10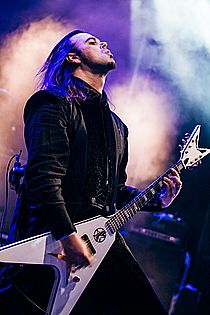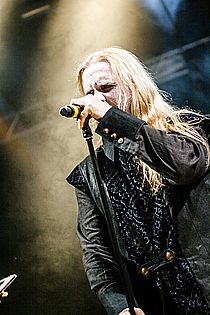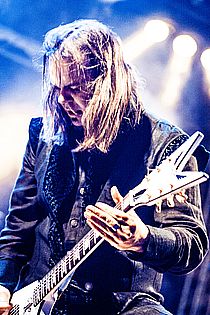 Dordeduh – Kohlrabizirkus [FS]

To start understanding the essence of the band is to first delineate the two Romanian words that its name is composed of: "dor" and "duh". Having a deep, unique meaning in Romanian, "dor" is thought to be untranslatable in any other language, its sense being of "longing/ yearning for something", "missing something". The word "duh" could be translated as "spirit" and it defines the immaterial part or state of every living being. It also represents an attribute for all types of supernatural beings, forces, events and often can describe a ghost's or a phantom's immaterial form. The word's etymological roots are related with the air as an element and it suggests an aerie vibration; it characterizes lightness and insubstantiality, an impalpable or intangible state. It is the living glint of the universe, dwelling deep inside of every being. Being comprised of these two words, DorDeDuh means "yearning for the spirit"; it is the humanity endless search for the spirit, for the sacred, for the values of the soul. We aim to link these two words to the significant values that make us humans, melting together the soul and the spirit.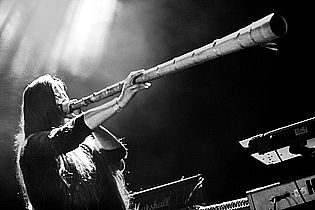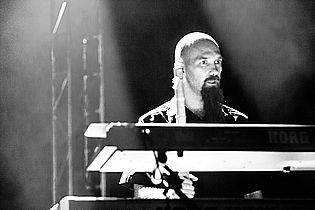 The way one aligns one's experiences with one's own soul, the way one relates with the Universe, the way one perceives and integrates, through Intention, the perpetually flowing Transcendence, that is what defines different levels of humanity in a person, that is what makes one Human. Musically, DORDEDUH will follow the path opened by NEGURA BUNGET, but the musical act will be accorded to a new perspective as we will experiment a new way of approaching black metal as well as using traditional instruments. http://www.myspace.com/officialdordeduh / https://www.facebook.com/Dordeduh

Music & Performance
DORDEDUH had a kind of difficult position between THE VISION BLEAK and PARADISE LOST regarding their style of music. Although the auditorium visibly filled, a good amount of people probably came to see the headliner since in response to the question of knowing the band a lot of voices and hands were raised. In addition to that I believe those who didn't knew what to expect musically, were a little bit puzzled when the band started to play. I admit I had to look up the names of the instruments myself since DORDEDUH make great use of some which are far from the usual and even unusual band context you'd suspect.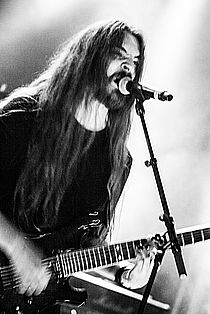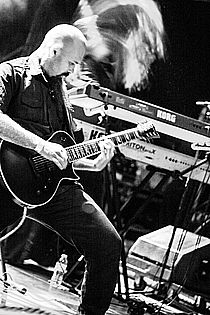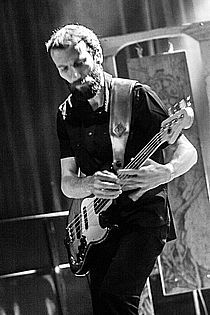 Their spiritual and literally natural approach to music showed during the first song 'Dojana', which opened with the use of the "tulnic", an instrument that I only can compare to a straight, holdable alphorn. Furthermore a beautifully adorned toacă was used, which is a wooden board which can be penetrated by hammers to coax sounds from it, to put it simple. Last but not least the unconventional instrumental line-up was completed by a hammered dulcimer. Of course there were the mandatory guitars, bass, drums and even a keyboard but during the first part they were only used sparsely, which as I mentioned turned out contrary to some of the people's expectation. As for myself, I enjoyed the quiet moments a lot. The band managed to create a great and unique atmosphere which eventually was contrastingly broken while getting even more condensed at the same time by excellent black metal outburst with sharp guitars playing great riffs, precise and fast drumming and first-class screams. Especially the bass play was outstanding with tapping parts thrown in here and there.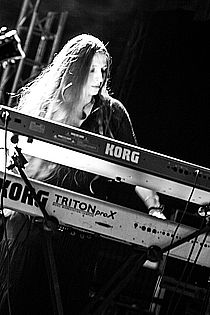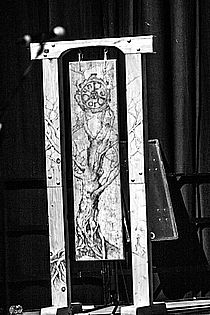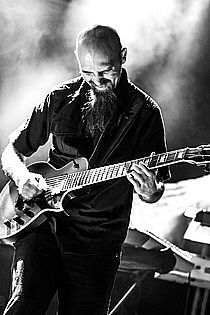 There was not only a shift going on when it comes to the tone of the band's music, even the members often switched positions between the more unusual instruments which resulted sometimes in a kind of hectic running over the get the next cue on another one. The audience appreciated the effort well, while unfortunately a lot of fluctuation was going on. For me DORDEDUH were the second highlight of the day and I am very happy they got invited to the WGT this year.

Setlist
01. Dojana
02. Zuh
03. Flacararii
04. Pandarul
05. Eanna
06. Cumpat
07. Jind de tronuri

Rating
Music: 9
Performance: 9
Sound: 9
Light: 6
Total: 8.5 / 10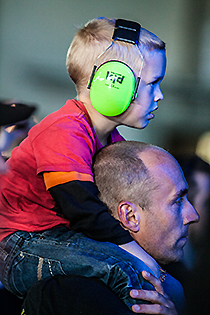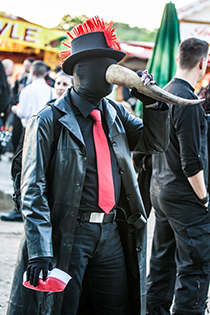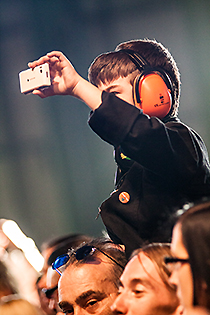 Paradise Lost – Kohlrabizirkus [FS]

No one would have thought at that time when a couple of friends formed a band called PARADISE LOST, that it would be the birth of what would one day become one of the most influential in their area and the founder of a complete new genre. But first things first - as the first songs, amongst others, included on the legendary 'Frozen Illusions' demo were more Death Metal with some Doom influences than anything else, a style they also celebrated on the debut 'Lost Paradise'(1990). The following 'Gothic' then was the album eternalizing their name in the annals of musical history as the inventors of "Gothic Metal". The preliminary peak of their popularity was reached around 1995 with the release of 'Draconian Times'. Fast forward to 2009! The band releases 'Faith Divides us - Death Unites Us' and gets celebrated just like in the old times until 2012's 'Tragic Idol' was setting a new, or old, mark for the band. PARADISE LOST is Nick Holmes (vocals), Greg Mackintosh (lead guitar), Aaron Aedy (rhythm guitar), Steve Edmonson (bass) and Adrian Erlandsson (drums). http://www.paradiselost.co.uk / http://www.myspace.com/paradiselostuk / https://www.facebook.com/paradiselostofficial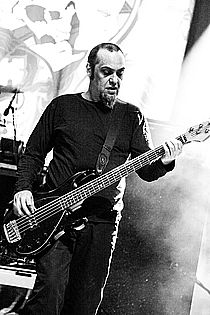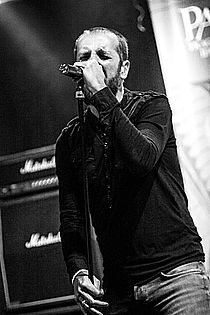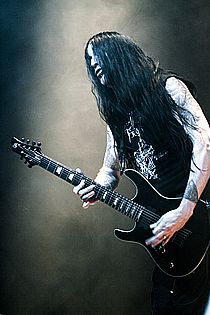 Music & Performance
It's odd when something that starts out as a concert review turns out as a self-reflection. PARADISE LOST probably started playing music about the time I was born. Over a quarter of a century they conquered the stages from the UK to the rest of the world. For me it was the second time with the band in general. However, and I am afraid to write the following line, I was underwhelmed the first time and so was I now. Although I tried to enjoy the concert, I could not get more than a "yeah, that's alright" from my music loving heart. Considering what I thought about NAUGHTY WHISPER and the fact that I compared these two bands to another, I suppose it's the amount of fans these Britons gathered over the last 25 years, the status they reached and the influence they had musically on their genre – and everything total justifiably and legitimately – in contrast what came across (and supposedly missed me) that makes me feel "meh". Of course PARADISE LOST were the most professional band that evening which showed from their stage and light design to their sound mix which came across (considering the difficult site) very good. Only sometimes I found the canned parts a little off like in 'Erased' where the keys were really present while the female vocals nearly inaudible. The Guitars were crisp and the vocals stole the show after front man Nick Holmes gained momentum, while he wrapped his head about the kind-of reserved audience.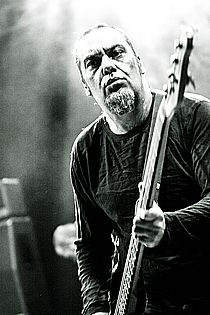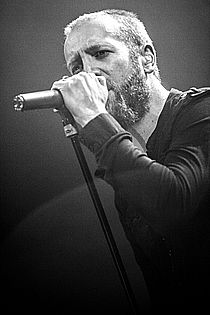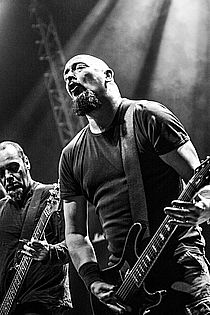 There was a huge amount of older tracks and classics included in the set like 'Soul Courageous' or 'As I Die' to which the audience was asked to "party like it's 1999", while recent tracks like 'In this we dwell' or 'Honesty in death' were announced nearly ironically as if they were form an album no one would have heard of. To come back to the initial point: I like the 2012 record 'Tragic Idol' very much, but PARADISE LOST as a live band have proven for me once again, that sadly there must me some incompatibility I cannot get over, which means not there weren't a lot of good reasons to have a great time!

Setlist
01. Widow
02. Honesty In Death
03. Erased
04. Forever Failure
05. Soul Courageous
06. In This We Dwell
07. Praise Lamented Shade
08. Pity The Sadness
09. As I Die
10. Tragic Idol
11. The Enemy
12. One Second
13. Enchantment
14. Fear Of Impending Hell
15. Faith Divided Us
16. Say Just Words

Rating
Music: 8.5
Performance: 8
Sound: 8
Light: 6
Total: 8 / 10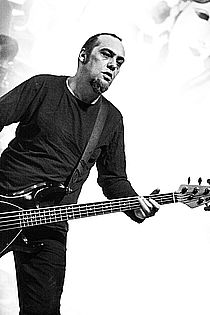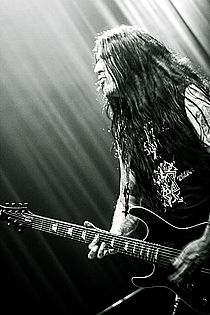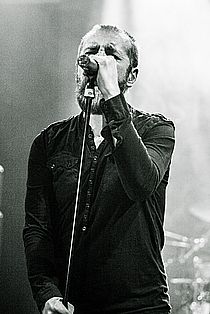 IAMX – Agra [AK]

IAMX is the solo musical project of Chris Corner, formerly head of the band Sneaker Pimps. Founded in 2004 in London, it is an independent music project which also focuses on and experiments with visual art. Musically, IAMX spans multiple genres from electronic rock and dance music to burlesque influenced songs and emotional ballads. Corner's striking and wide ranging voice, and his way of programming sounds and beats is an obvious characteristic of the IAMX sound. On 21st March 2013, their third album named 'Unified Field' was released. IAMX celebrates this new master-piece on the "Animal Impulses Tour" leading them through Europe and North America. IAMX live consists of Chris Corner (main vocals, guitar, keys, drums), Janine Gezang (keys, vocals, bass), Alberto Alvarez (guitar, bass, vocals, drums), Richard Ankers (drums, percussions) and Sammi Doll (keys, vocals). http://www.iamx.eu / www.myspace.com/iamx / https://www.facebook.com/IAMXOFFICIAL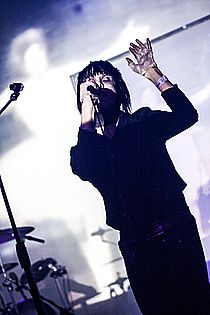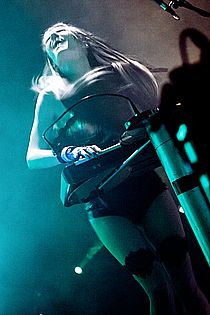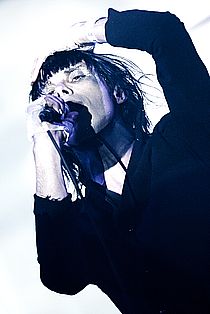 Music & Performance
Finally, the chance for me came to see IAMX live for the first time. The band's reputation foreshadows its great performance skills and IAMX definitely did not disappoint anyone in the crowded Agra this night! As soon as they started, the atmosphere in the audience was really active and energetic. People danced and sang along during the whole concert. Fortunately, the Agra gave us some nice sound which was not as loud as we are used to which was quite nice. The band put a lot of energy on stage and also convinced with its appearance. There was something on stage for everybody to see. Unfortunately, the lighting was a little off from time to time, so not everyone was able to see everything that was going on at the stage.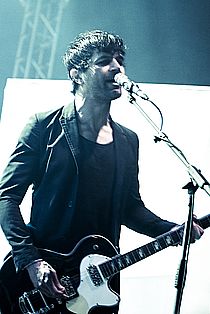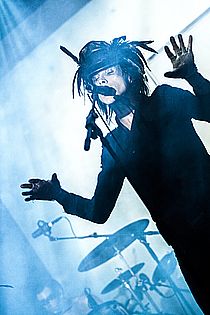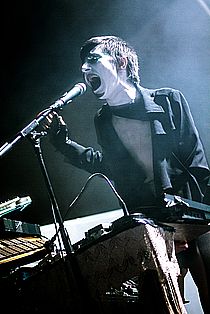 Although it was pretty late, the people in the hall were extremely active and also made this concert to one of the special ones of this year's WGT! The setlist was a perfect mix of newer songs and older songs, also featuring the new ones from their recently released album. Of course, the band also played an encore, giving a really nice ending to this midnight special. Really well done, IAMX!

Setlist
01. Intro
02. Animal Impulses
03. Sorrow
04. Kiss And Swallow
05. Kingdom of Welcome Addiction
06. Spit It Out
07. The Unified Field
08. Tear Garden
09. My Secret Friend
10. Cold Red Light
11. Walk With the Noise
12. Music People
13. The Alternative
---
14. I Come With Knives
15. President
16. Nightlife

Rating
Music: 9
Performance: 9
Sound: 8
Light: 7
Total: 8.5 / 10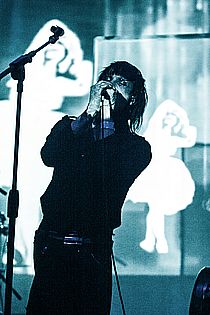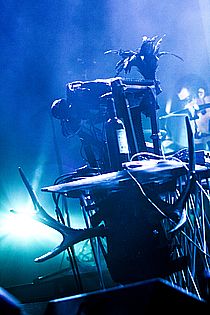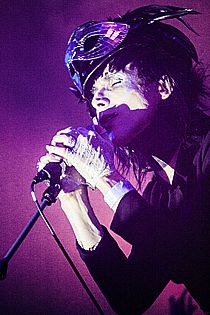 All pictures by Anne Kuhfuß
Written by Anne Kuhfuß [AK] and Florian Schürmann [FS]



See also (all categories):