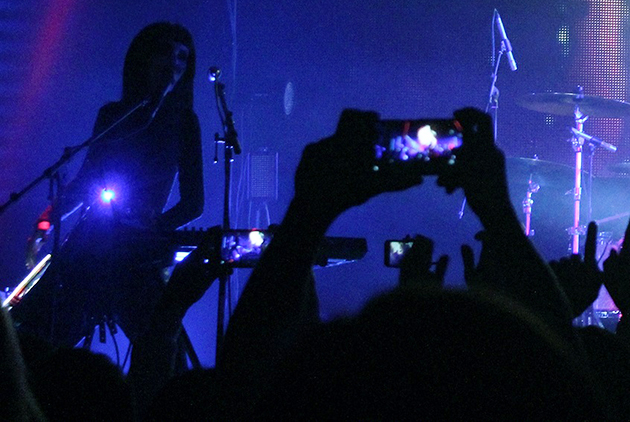 Arena Hall, Krasnodar, Russia
18th November 2016
IAMX

IAMX is the solo project of Chris Corner (formerly of the electro / trip hop band SNEAKER PIMPS). This independent music project was founded in 2004 in London and it focuses on experiments with visual art.
The founder and leader of IAMX - Chris Corner is a talented multi-instrumentalist, singer, composer and producer who manages and creates beautiful musical mixes and who works with multiple genres from electronic rock and dance music, new-wave, funk, trance, indie-pop to burlesque influenced songs to emotional ballads. To date, IAMX has released six studio albums, one live album and a mini album.
www.iamxmusic.com
/
https://www.facebook.com/IAMXOFFICIAL/
Music & Performance

I like and listen to IAMX for some years, it was a time in 2012 when I visited Moscow to see their show and I have never imagined that I will be able to see IAMX live here, in Krasnodar city, but it happened, thanks to concert agency Stereo Gorod. IAMX played their first show in Krasnodar in Arena Hall presenting "Everything Is Burning" tour with tracks from 'Metanoia' as well as beloved old hits from such albums as 'The Unified Field', 'The Alternative' and 'Kiss and Swallow'. The leader of IAMX, Chris Corner, hit the stage through this magical dim light, in his feathered bowler hat, opening his show with dance track 'No Maker Made Me'. He appeared with confidence and the "Everything Is Burning" show began! IAMX are known for highly energetic and theatrical performances, you can feel this independent spirit which literally permeates every IAMX show. Video screens show self-produced visual art elements such as montage footage and official IAMX videos.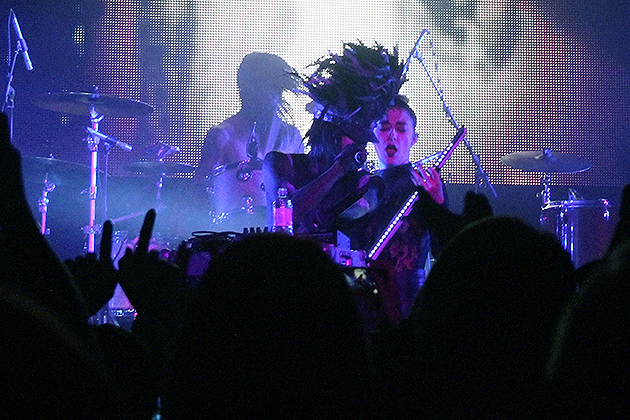 "IAMX is basically my public therapy,"
says Chris Corner.
"It's also an excuse for me to play with who I am, to explore certain parts of my personality that I don't get to explore in everyday life."
And Chris expresses his emotions and ideas through such topics: sexual identity, death, love, narcotic intoxication, decadence, religion, politics, alienation, modern society, that is why his shows are simply crazy and so alive! Those thematic concerns also we can see in controversial music videos and during IAMX theatrical live shows. Chris with two microphones drives the audience to dance and scream with such beloved hits as 'You Stick It In Me', 'Spit It Out', 'Nightlife', 'Kiss & Swallow', 'I Come With Knives', 'Aphrodisiac', 'The Alternative', filling the concert hall with crazy electro mood. In their turn, wild magnetism of vocalist, keyboardist, bassist Janine Gezang, her teasing antics on stage and beautiful and tempting Sammi Doll who is never stop dancing and interacting with fans - this all creates a special atmosphere at their live shows as well as their unusual stage outfits and body painting that use live band members.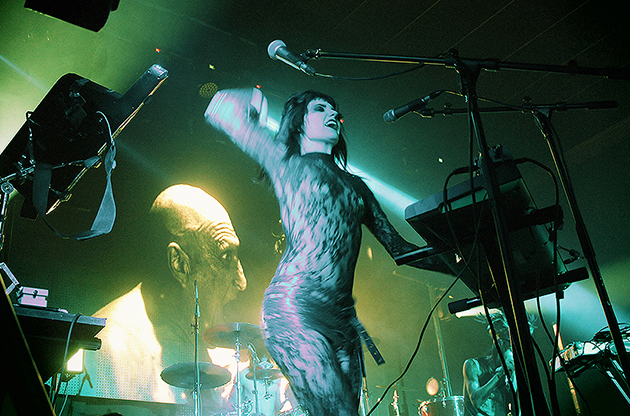 Chris moved from Berlin, which had served as the London native's base since 2008, to the sunny Los Angeles. The change of scene, and the artist's renewed enthusiasm, are reflected throughout 'Metanoia' - the most personal and expressive album - it's the product of a challenging. So it is an eccentric, expansive live act! The feeling of creative liberation we were able to feel and hear during the show in such powerful tracks as 'Happiness', 'North Star', 'Oh Cruel Darkness'. IAMX graced the audience with a great encore, including such wonderful tracks as 'I Come With Knives', 'The Alternative', 'Oh Cruel Darkness', 'Say Hello Melancholia', 'This Will Make You Love Again'. If you really like and believe in what you do these words can be your motto:
"You make your own happiness, and you have to work every day to stay focused on the things that matter."
(Chris Corner)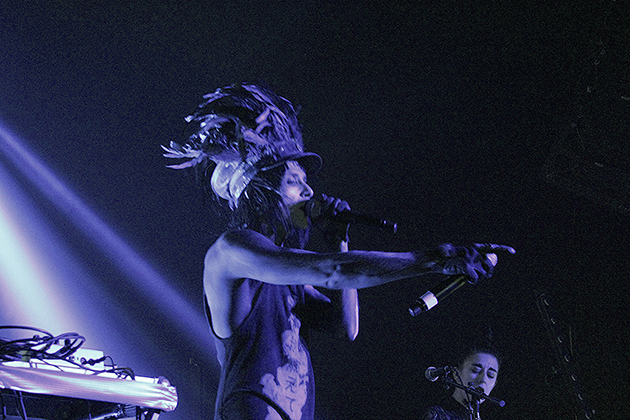 Setlist

01. No Maker Made Me
02. Happiness
03. Nightlife
04. The Unified Field
05. Everything Is Burning
06. Screams
07. You Stick It In Me
08. Spit It Out
09. Insomnia
10. North Star
11. Aphrodisiac
12. Kiss & Swallow
---
13. I Come With Knives
14. The Alternative
15. Oh Cruel Darkness
---
16. Say Hello Melancholia
17. Bring me back a Dog
18. This Will Make You Love Again
All pictures by Svetlana Kovalenko
See also (all categories):