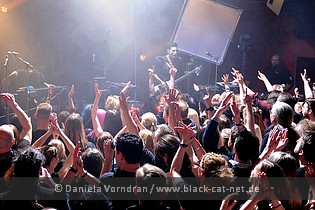 Turock, Essen, Germany
7th April 2016
IAMX – Metanoia Tour

I was really thrilled to learn that IAMX will perform in my hometown for the second leg of the "Metanoia Tour". More so as the Turock is not really a big venue and thus we all could expect a kind of intimate club show.
IAMX is the solo project of Chris Cornell who started his musical career as founding member of SNEAKER PIMPS in the 90's. In 2004 the critically acclaimed debut album 'Kiss + swallow' was released. Chris describes this project as his public therapy with which he can explore parts of his personality, connect with the world, pour his heart out and dance at the same time. And all this is reflected in the music he creates. Originally London based he lived and worked on his music for several years in Berlin. But battling with health issues like depressions, despair and insomnia that even made him consider to give up making music, lead him to the decision to move to the sunnier Los Angeles, USA, which helped him to overcome his issues and recharge. His struggle, the recovery, the regained energy and zest for life can be clearly found on his current album 'Metanoia', his sixth studio album, which was released in October 2015. For the live shows multi- instrumentalist Chris is supported by Janine Gezang (keyboards, bass, vocals), Sammi Doll (keyboards, vocals) and Jon Siren (drums).
http://iamxmusic.com
/
https://www.facebook.com/IAMXOFFICIAL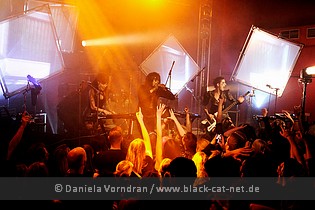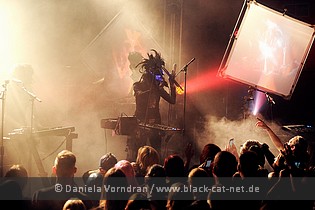 Music & Performance

When I arrived at the venue there was already a queue of die-hard fans waiting for the door to open. And soon the club filled quickly. The concert was almost sold out. As I learnt mastermind Chris is notorious for not starting his shows on time and on this evening there was no exception. No wonder that the crowd got impatiently and noisy. But finally the band entered the stage and at last Chris. In no time the annoyance faded away and instead the big party commenced. The IAMX shows are infamous for extraordinary outfits and lots of make-up and glitter. On this evening Chris had a make-up of glittering gold and a feather headdress with LED lights that changed colours every now and then. And this was almost the only chance to see a bit of his face as there was not much of a light show but more of a shadow play. 4 square screens were installed on stage displaying images and videos in order to underline the songs.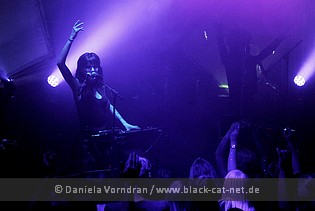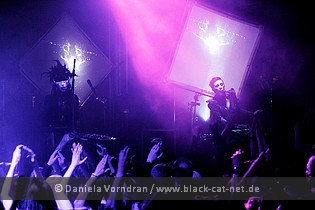 I heard that the sparse light is quite typical for IAMX shows but personally I think a proper light show would also create amazing effects to underline the show and the mood of the songs. But this is just my humble opinion. Anyway… The sound was surprisingly good in this venue and the hammering bass that set in at the first song had almost a hypnotic effect on the people as they immediately danced and moved to the sound. The setlist consisted a good mixture of old and new songs. Not only Chris proved to be a good entertainer, Janine and Sammi danced and partied wildly behind their keyboards while Jon worked on his drums like a berserk. The energy and the interaction with the audience was rewarded with cheering, big applauses and everyone singing happily to the songs. Chris did not only sing but also played keyboards and percussion to some songs. And every now and then he used two microphones simultaneously in order to create some resonance in his voice.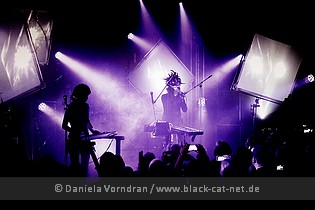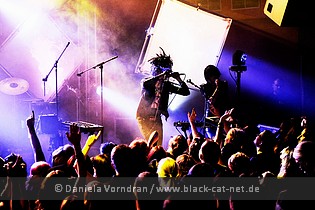 Although we got two encores it seemed that time just flew away. Definitely a sign that we all enjoyed a good time at this show.
Setlist

01. I come with knives
02. The alternative
03. Happiness
04. No maker made me
05. Tear garden
06. Oh cruel darkness embrace me
07. Spit it out
08. Nightlife
09. Insomnia
10. North star
11. Aphrodisiac
12. Your joy is my low
---
13. Bring me back a dog
14. Kiss + swallow
---
15. I am terrified
16. Mercy
Rating

Music: 9
Performance: 9
Sound: 9
Light: 6
Total: 8 / 10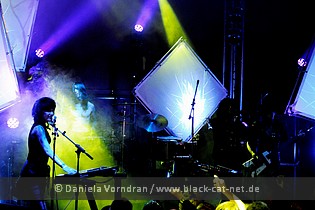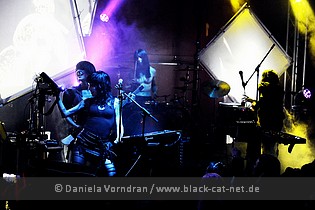 All pictures by Daniela Vorndran (
http://www.vorndranphotography.com
/
http://www.facebook.com/blackcatnet
)
See also (all categories):