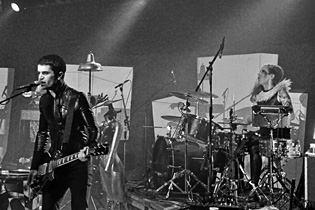 Backstage Werk, Munich, Germany
19th April 2011
IAMX, Noblesse Oblige

On Tuesday we came to Munich to hear and see IAMX. On account of the big popularity, the concert had been moved from the Backstage Halle into the bigger Backstage Werk.



Noblesse Oblige

NOBLESSE OBLIGE was founded originally in London in 2004. In 2006, they moved to Berlin. The band consists of German songwriter and producer Sebastian Lee Philipp and French singer and actress Valerie Renay. Up to now the band published three albums, for their second one, 'In Exile', which appeared in 2008, they received the Russian music price as best foreign band 2009. Their current album 'Malady' appeared on the 28th May 2010. www.noblesseoblige.co.uk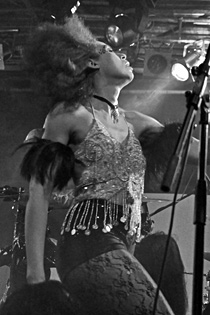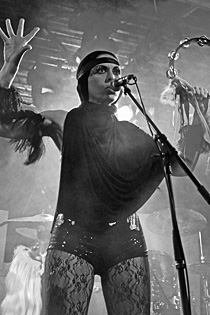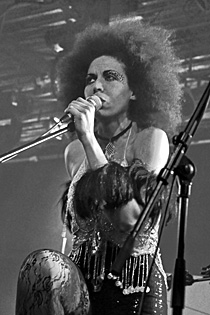 Music & Performance
Shortly after 8:00 PM both artists of NOBLESSE OBLIGE appeared on stage. This time, in contrast to most concerts, the audience already gave their whole attention to the support band what could have been caused maybe by the fascinating appearance of singer Valerie Renay. She looked like the wild part in the duet, while Sebastian Lee Philipp was the gentleman. Their music was a mixture of dark blues and electronic sounds - sometimes mystic, sometimes afloat, with a lot of percussion. For the last song of their appearance' 'May They Come With Spears And Knives', the singer removed her shoes and her top and put on, instead of this, a fur top to perform a dance which reminded of African tribal dances. Then they were bid farewell by the audience with a strong applause.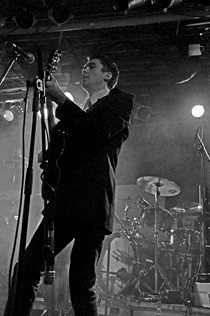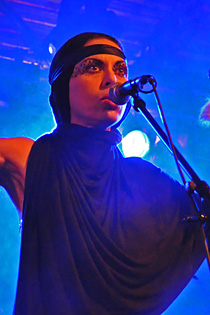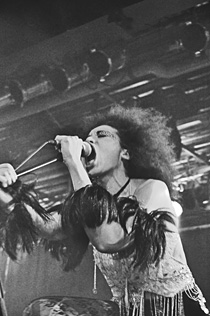 Setlist
01. Equinox
02. When Thunder Breaks Up Under
03. Tropical Fever
04. The Great Electrifier
05. Beck And Call
06. Sambo
07. May They Come With Spears And Knives

Rating
Music: 7
Performance: 7
Sound: 7
Light: 6
Total: 6.8 / 10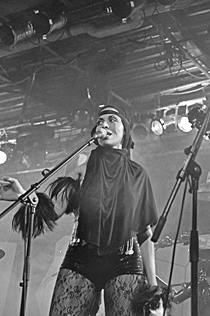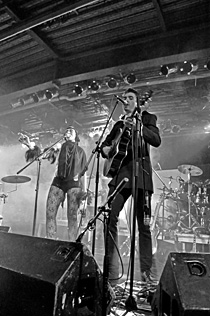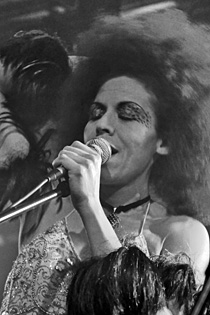 IAMX

IAMX is the solo project by Ex-Sneaker Pimps member Chris Corner, who lives in the meantime in Berlin, founded in 2004. The lyrics he's writing himself deal with mental and sexual instability, religious perversion, social-political ignorance, emotions, death and the music industry. Now on 18th March 2011, the fourth studio album named 'Volatile Times' was published in Europe. In the curse of the release, Chris Corner started the 'Fire And Whispers' tour 2011. www.iamx.eu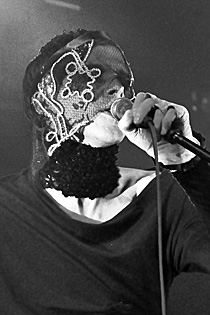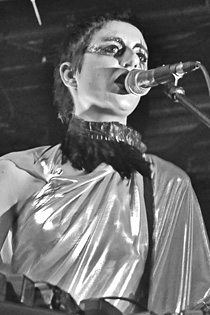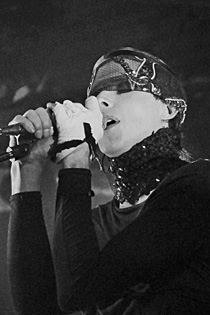 Music & Performance
After half an hour of rebuilding break it was finally time: IAMX, live consisting of Chris Corner (vocals), Alberto Alvarez (vocals / guitar), Janine Gezang (keyboard / guitar) and Caroline Weber (drums), entered the stage. As usual, it was rather dark on stage and at times the appearance reminded of a shadow play. The audience was inspired by the outset and from the first row up to the last many fans danced, clapped and joined in the singing. The songs offered a good mixture of ballads and faster songs of all albums. The appearance of Chris Corner, who carried a veil at the beginning, had at times a little bit operetta-like feel and was mystic in itself.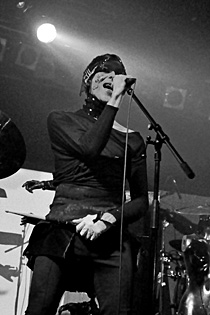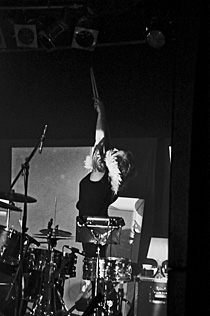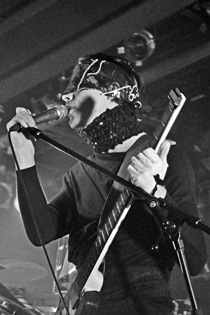 To the song 'Tear Garden' he pulled out an umbrella which he threw after a short dance into the crowd. During the next song 'I salutes You Christopher' out off the new album, such a silence occurred among the visitors that one would have heard a fallen pin. After about 1.5 hours, the additions followed after blustering applause. Also NOBLESS OBLIGE came again on stage and performed a song together with IAMX. Then after 'Spit It Out' the show came really to an end... Finally, once more this was an exceedingly successful concert evening in which even the support could persuade. Great show, great percussion performance of Chris Corner and Alberto Alvarez - really a perfect appearance.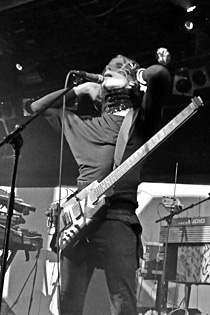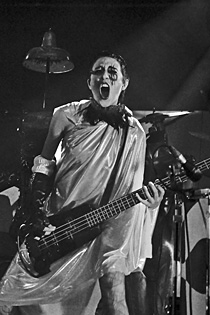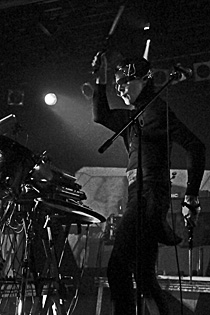 Setlist
01. Music People
02. Volatile Times
03. Nightlife
04. Ghosts Of Utopia
05. My Secret Friend
06. Tear Garden
07. I Salute You Christopher
08. Fire And Whispers
09. Think Of England
10. Bring Me Back A Dog
11. Nature Of Inviting
12. Cold Red Light
13. Kiss And Swallow
14. President
---
15. Bernadette
16. The Alternative
17. Skin Vision
18. Commanded By Voices
19. Spit It Out

Rating
Music: 9
Performance: 9
Sound: 8
Light: 6
Total: 8.4 / 10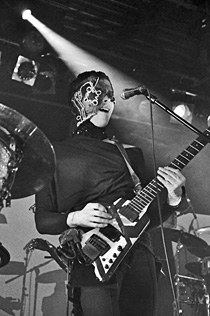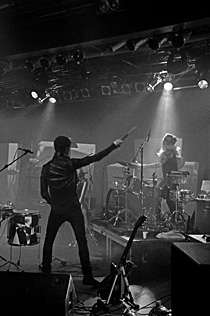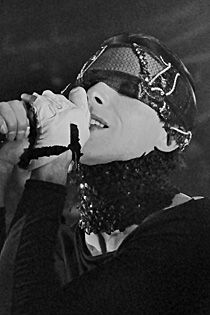 All pictures by Erika Knepper (This email address is being protected from spambots. You need JavaScript enabled to view it., www.facebook.com/erikaknepper)



See also (all categories):