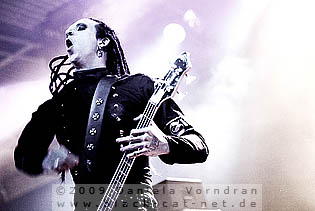 Flugplatz Drispenstedt, Hildesheim, Germany
8th & 9th August 2009
M'era Luna 2009 Day 2 Hangar: Deathstars, IAMX, Tyske Ludder, Grendel, [:SITD:], Spetsnaz, Ashbury Heights, Frozen Plasma, Mina Harker

Except the very first and the very last band playing the hangar, the hall was totally in the hands of all the electro heads out there stomping to bands such as [:SITD:], TYSKE LUDDER or GRENDEL. During IAMX show you could spot several musicians who played earlier the day watching Chris Corner's performance which was indeed fantastic. With DEATHSTARS, the hangar program ended and people leaving afterwards could see the rest of PRODIGY's show on the main stage.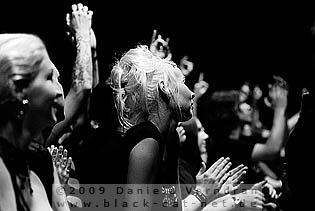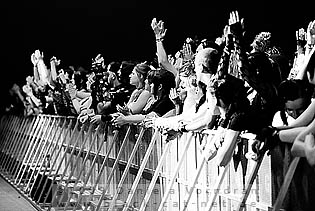 Mina Harker (Carsten Leopold)

MINA HARKER is a German Gothic band who borrowed their name from Bram Stoker's horror novel Dracula. The dark of night, with its myriad creatures, often hard to spot for those that do not listen or watch attentively, holds a similar fascination. It is from these spheres that MINA HARKER gathers the inspiration for her tales, which are oh so surreal, outstanding and passionate. MINA HARKER is MINA HARKER (voice and programming) and ALEXANDER GORODEZKI (guitars and programming). At the current tour they were supported by Leo, the drummer of OOMPH! But not during the M'era Luna show where they had a different guy sitting behind the drums. Additionally they added another guitar player to the stage line-up. http://www.minaharker.de/ / http://www.myspace.com/minaharkerband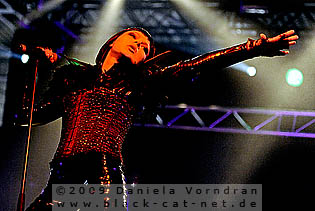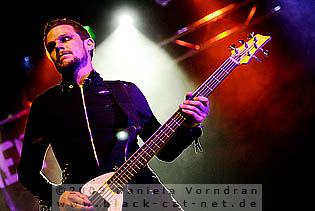 Music & Performance
MINA HARKER opened the hangar stage on Sunday and they did a god job. A few people already were present in the Hangar and enjoyed the show of the beautiful female singer and her band. The set that ran only about twenty minutes included six songs, starting with 'Letzter Kuss' and was finished with 'Tiefer'.

Setlist
1. Letzter Kuss
2. Wie im Traum
3. Bis zum Tod
4. Tränen
5. Ohne dich
6. Tiefer

Rating
Music: 7
Performance: 8
Sound: 7
Light: 8
Total: 7.5 / 10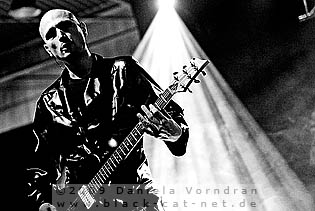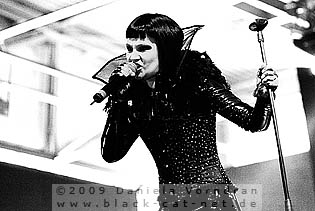 Frozen Plasma (Cathie Niemann)

After the split of his very successful band NAMNAMBULU, Vasi Vallis founded FROZEN PLASMA in 2005 together with Felix Marc. The Debut Single 'Hypocrite' was released in November 2005, the first album 'Artificial' followed in April 2006. The EP 'Emphasize' followed later in 2006. The current album called is 'Monumentum' and was released just some weeks ago. Vasi Vallis is also known for his band REAPER as well as a member of the live crew (keyboards) of VNV NATION, Felix Marc by the way is member of DIORAMA and runs a solo project under his own name too. http://www.frozenplasma.com/ / http://www.myspace.com/frozenplasma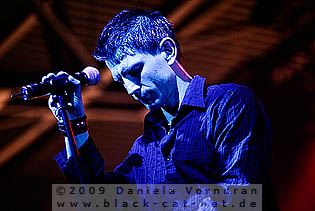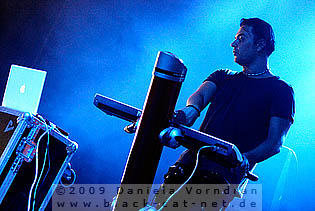 Music & Performance
After some really ingenious shows of the synth pop duo FROZEN PLASMA this year, I was waiting anxiously now for their upcoming performance at the hangar. Vasi Vallis (REAPER) and Felix Marc (DIORAMA) are making music together since 2005. Felix takes over the vocal part and Vasi is responsible for keys and production. Due to the short playing time it was decided to play a set, solely comprising songs of the current successful album 'Monumentum'. The set began with 'The End-Deliverance' in a special live version. The faster 'Phoenix' had Felix dance around on stage, whereas it was a bit calmer this time. Still, the audience went wild and celebrated every further song. To the well-known club hit 'Earthling' everybody was singing along at the top of their voices and Felix joined Vasi at the keyboard, while both were grinning and pleased about the full hangar and the partying masses. 'Speed of Life' was another sweat-driving affair just like the instant club favourite 'Murderous Trap'. The single 'Tanz die Revolution' became the crowning closer, where we mobilized our last powers to jump and sing with Felix.

Setlist
01. The End-Deliverance (live version)
02. Phoenix
03. Earthling
04. Speed of life
05. Murderous trap
06. Tanz die Revolution

Rating
Music: 8
Performance: 8
Sound: 8
Light: 7
Total: 7.8 / 10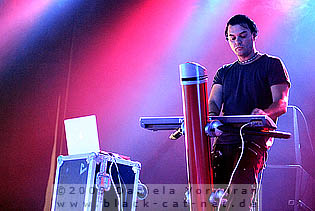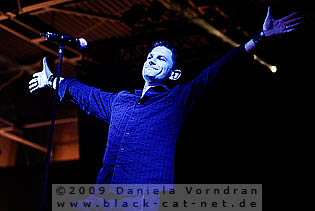 Ashbury Heights (Carsten Leopold)

ASHBURY HEIGHTS are an electronic music band formed in 2005 in Sundsvall, Medelpad, Sweden. The group's original line-up was Anders Hagström (male vocals, songwriter, music and programming) & Yasmine Uhlin (vocals). Yasmine left the band after the release of their EP 'Morning Star in a Black Car' and was replaced by Kari Berg (female vocals) who started as the new female vocalist at the end of 2008. Live on stage, they were supported by the keyboard player Johan Andersson. http://www.myspace.com/ashburyheightsmusic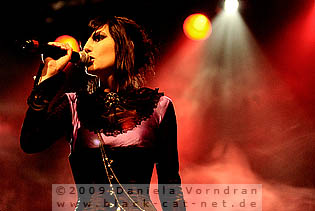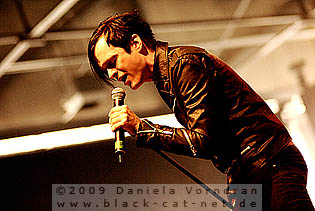 Music & Performance
ASHBURY HEIGHTS entered the stage already before the show was to start and did a sound check by themselves which already was met with applause by the crowd - particularly an a capella duet by both singers. I didn't know ASHBURY HEIGHTS before and I was positively surprised by them. The danceable harmonic sound pleased my ears and the beautiful female singer pleased my eyes. Both singers sang together or in turns and their voices harmonized very well. It seemed that the band had a lot of fun during their performance and the meanwhile well-grown crowd enjoyed the show too.

Setlist
01. Stormbringer
02. Illusion
03. Smile
04. Cry Havoc
05. Die by Numbers
06. Spiders
07. Bare Your Teeth

Rating
Music: 8
Performance: 9
Sound: 8
Light: 7
Total: 8.2 / 10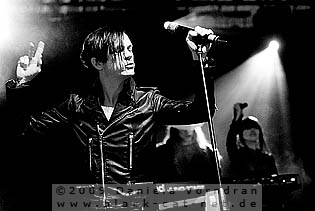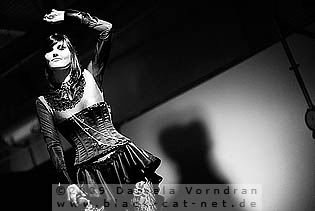 Spetsnaz (Sebastian Huhn)

Swedish electro-berserker SPETSNAZ was formed by Pontus Stålberg and Stefan Nilsson in Örebro, Sweden in the autumn of 2001. Both being fans of the electro scene for many years, they didn't like the tendency of all the old bands getting replaced by a style called Future-Pop and after their more or less serious individual involvements in other projects, they decided to form a single one to put all their power into. Some months of intense studio work followed, whose end result was the first 4-Track demo which was handed out to Swedish labels and promoters. The duo's first album 'Grand Design' was the release by SubSpace Communications in 2003 and re-released by Out of Line in Germany a year later after the band attracted their attention with their intense and energetic live performances. The duo released two EPs - 'Perfect Body' and 'Degenerate Ones' - before the new long player 'Totalitär' unleashed a storm onto the crowd in 2006, just to get reinforced by another attack in the shape of the third album 'Deadpan' in 2007. SPETSNAZ is Pontus Stålberg (vocals) and Stefan Nilsson (synths, programming). http://www.myspace.com/spetsnazebm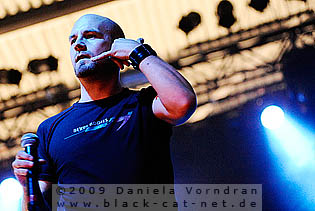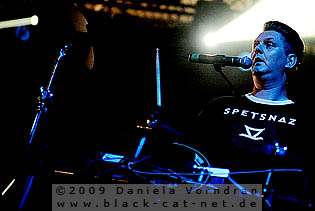 Music & Performance
By the time I entered the hangar, SPETSNAZ had already started playing and I started wondering if I was too late. But a quick look on my watch revealed that I was actually right i time for the show. Later I learned that SPETSNAZ had started playing about 20 minutes earlier than planned and that wasn't just a bother for me as writer, it was one for everyone who'd come to see them and now realized they had missed half of the show already. However, the hangar quickly filled up now with people willing to lay down a heavy and sweat-driving dance performance to songs like 'That Perfect Body', 'Apathy' , whose mere announcement caused storms of excitement, or 'Indifference'. As busy as the audience was with dancing, Pontus was with screaming and marching and riled up the audience even more. SPETSNAZ wrapped up the show with 'Hardcore Hooligans' and for most people an energetic performance ended way too soon.

Rating
Music: 7
Performance: 8
Sound: 8
Light: 7
Total: 7.5 / 10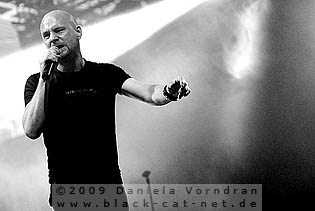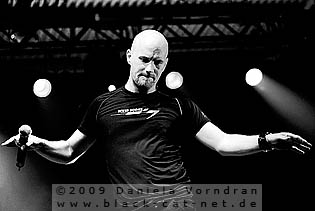 [:SITD:] (Sebastian Huhn)

In 2002, a new star arose on the firmament of the club landscape and its name was [:SITD:] which is short for "Shadows in the Dark" and a metaphorical expression for the music and lyrical content of the band. The band existed since 1996 though, but the big breakthrough came with the 'Snuff EP' with the hit track 'Snuff Machinery' which, from there on, couldn't be missed out on any DJ Playlist and is now a real classic. The first album 'Stronghold' continued the path of combining club orientated beats with hymnal melodies and dark vocals and was the most successful band album in 2003. With 'Coded Message:12', [:SITD:] released their second album showing the band's sound matured, containing several new club hits like the preceding single 'Richtfest' and the German-tongued 'Wegweiser'.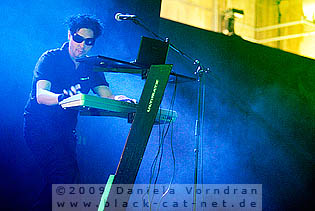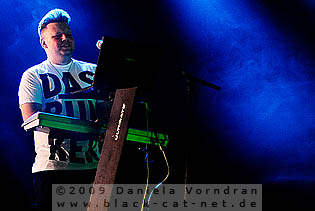 The third album had to wait until 2007 aptly titled 'Bestie:Mensch'; the album shed some light on the deepest abysms of the human soul, even more than that the band opened their sound to new influences such as the break beats on the instrumental track 'Floating'. With a new album 'ROT' in the pipeline for an October 2009 release, the trio soon will start the next strike on the clubs. [:SITD:] is Carsten Jacek (vocals and lyrics), Thomas "Tom" Lesczenski (keyboards, programming, sampling and backing vocals) and Francesco "Frank" D'Angelo (keyboards and backing vocals). http://www.sitd.de/ / http://www.myspace.com/xsitdx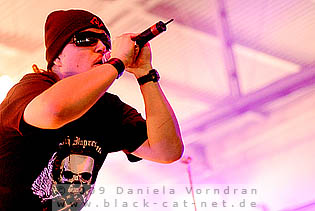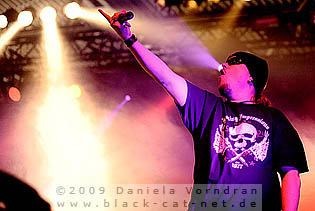 Music & Performance
[:SITD:] at the hangar stage. That combination guarantees a full house of people expecting a party of a huge scale as that's usually what you're getting on a show of the guys. This one wouldn't be an exception. It was the classic setup with Tom and Frank behind their synths / keys and Carsten had the rest of the stage for himself (Except for 'Suffering in Solitude') to do just what he always does. That is, playing the animator for the crowd while delivering the dark vocals to the stomping beats coming out of the PA. For starters, we had 'Stammheim' and 'Lebensborn' which brought the crowd into heavy action. But those tracks I knew already. What I wanted to hear was something from the upcoming new album 'ROT' and my prayers were heard. The fourth song in the set was one off the mentioned album. It's called 'Frontal' and equally dominated by beats as the other tracks in the set were. [:SITD:] played "Drive the crown home at the M'era Luna" and delivered one of the best club shows at the hangar on Sunday if you ask me.

Setlist
01. Stammheim
02. Lebensborn
03. Rose-Coloured Skies
04. Frontal (New song from upcoming album 'ROT')
05. Suffering in Solitude
06. Kreuzgang V.2
07. Laughingstock
08. Richtfest

Rating
Music: 8
Performance: 8
Sound: 8
Light: 7
Total: 7.9 / 10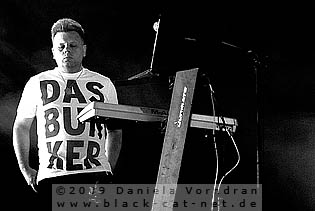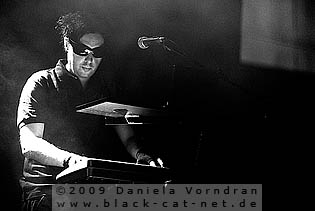 Grendel (Sebastian Huhn & Terrorverlag)

After his former band split up, [VLRK] decided to continue making music under the new name GRENDEL, which originates from a character from the old Anglo-Saxon tale 'Beowulf'. Meanwhile grown to a duo, the project released its first promo with the club hit 'Strangers', followed by the first demo 'Inhuman Amusement' a half year later, which came to the attention of NoiTekk Records, who signed GRENDEL immediately. After some intensive re-work, the demo became the first album. GRENDEL took their sound to new levels with each of the following releases such as the pretty melodic 'End of Ages EP' and the following album 'Prescription Medicide' which combines destructive beats with orchestral arrangements. In 2007, GRENDEL signed to the renowned German label Infacted Recordings and released their third album 'Harsh Generation'. New material is currently in preparation GRENDEL is [VLRK] (vocals, synths, programming, sampling), [M4RC] (live drums/percussion, programming (studio)) and [MRKO] (live synthesis, engineering). http://www.myspace.com/grendel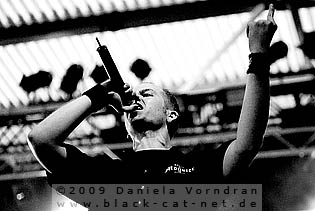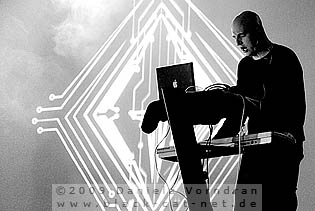 Music & Performance
Just a few minutes later it wass time for the Dutch formation GRENDEL whose intention was to set the crowd at the hangar on fire once again. The entire cyber fraction already had found their way to the venue as "Oonz, Oonz, Oonz" is really popular at the clubs right now and they couldn't miss that of course. Even if I'm not a member of this group I like seeing and listening to GRENDEL time and again. The show became a sweaty affair right from the start with 'Pax Psychosis', 'Void Malign' and my all-time favourite 'One.Eight.Zero'. On stage, Jos sprinted back and forth and so it was a successful performance once again. I would be nice if GRENDFEL were releasing some new material soon.

Setlist
01. Intro
02. Void Malign
03. Pax Psychosis
04. Remnants
05. End of Ages
06. Soilbleed
07. One.Eight.Zero
08. Dirty
09. Hate This
10. Harsh Generation
11. Zombie Nation
12. Shortwired (new track from upcoming EP))

Rating
Music: 7
Performance: 7
Sound: 7
Light: 7
Total: 7 / 10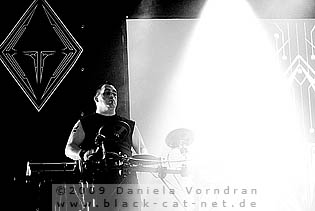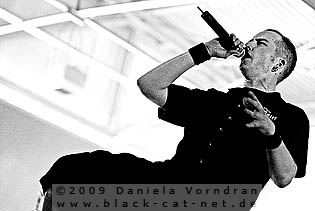 Tyske Ludder (Carsten Leopold)

TYSKE LUDDER is a German EBM band. Their members include Claus Albers, Olaf A. Reimers and Ralf Homann. The phrase "Tyske Ludder" directly translated means "German whore" in Danish and Norwegian and was used in those countries to describe a native woman that was romantically involved with a German soldier during World War II. Through the years their musical model developed from heavy Electro-Sounds to some kind of ominous dance music somewhere between Industrial and the aroma of a nuclear blast. TYSKE LUDDER is Albert (vocals, performance), Olaf (synths) and Z67 (percussions, shouts). http://www.tyske-ludder.de/ / http://www.tyske-ludder.com/ / http://www.myspace.com/tyskeludder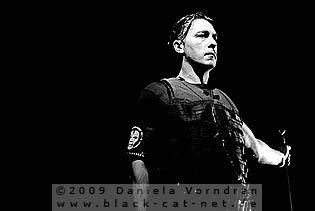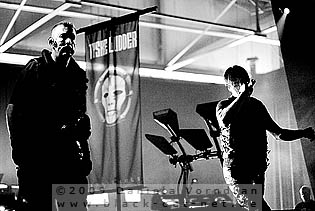 Music & Performance
When I entered the Hangar right in time, the show already ran because they had started the show some minutes earlier. TYSKE LUDDER ran a powerful dynamic performance. Both singers ran over the whole stage all the time and between the songs, they insulted the crowd several times. The set ran about 55 minutes; the light show was perfected by fitting video projections. The hard rhythmic sound infected the crowd, who was mostly dancing during the songs and enjoyed the show. After the last song followed a little surprise for one band member who celebrated birthday on Sunday - a naked man only clothed by toilet paper - entered the stage with flowers for the birthday boy and the rest of the band and the crowd sang "Happy Birthday" for him.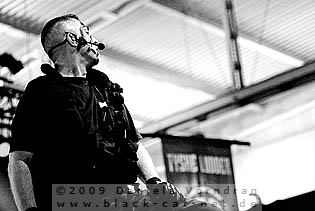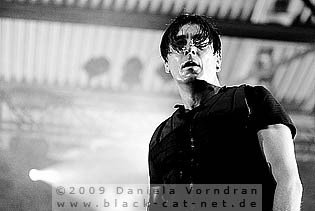 Setlist

01. Frya Fresena
02. An vordester Front
03. Gebet
04. Wie der Stahl gehärtet wurde
05. Khaled Aker
06. Shokkz
07. Manipulation
08. Psychoaktiv
09. Canossa
10. Bastard
11. Monotonie

Rating
Music: 7
Performance: 7
Sound: 7
Light: 7
Total: 7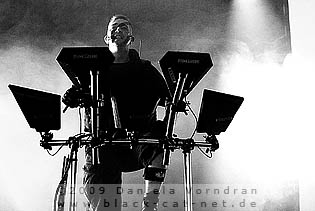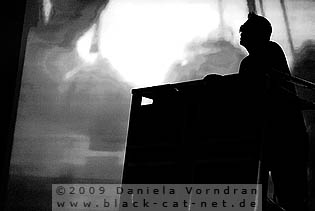 IAMX (Carsten Leopold)

IAMX is the solo musical project of Chris Corner, best known for his work with SNEAKER PIMPS. Corner has repeatedly said that IAMX is very different to his actual, real-life personality and is a kind of quasi "act". Whether an act or not, IAMX' music is primarily concerned with subjects such as outlandish sex, death, narcotic intoxication, bisexuality, obsession, alienation and vague allusions to politics. Live on stage usual he is supported by Dean Rosenzweig (guitar), Janine Gezang (keyboards / synths / bass) and Tom Marsh (drums). http://www.iamx.co.uk/ / www.myspace.com/iamx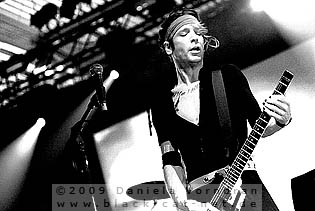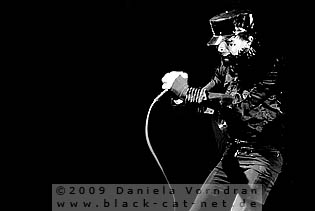 Music & Performance
Just in time IAMX entered the stage and started their show. The band - most of all the crazy clothed Chris Corner and the luscious female keyboard player - bewitched the crowd with their dynamic, emotional and powerful performance. Quickly, the spirit went over to the crowd who was infected by the rousing show and the temper was great. The very dark but formidable light show was supported by nice video projections. The band on stage had much fun to play and the crowd too. The people were dancing, clapping hands and singing along including the before mentioned members of other bands i.e. ZEROMANCER, [:SITD:], PRODIGY or MINA HARKER. The set list consisted of 12 songs all in all, the main set finished with 'Kiss and Swallow' but the crowd screamed for an encore and IAMX had to come back and play two more songs before they could leave the stage for good after 'President'.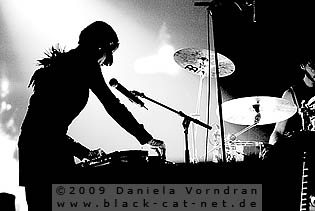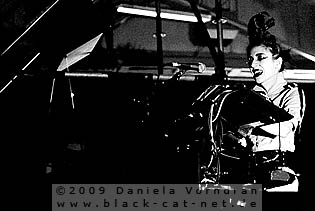 Setlist
01. Bring Me Back a Dog
02. Nature of Inviting
03. The Alternative
04. Sailor
05. An I for an I
06. Tear Garden
07. My Secret Friend
08. Spit It Out
09. Nightlife
10. Kiss and Swallow
---
11. Skin Vision
12. President

Rating
Music: 9
Performance: 9
Sound: 9
Light: 8
Total: 8.9 / 10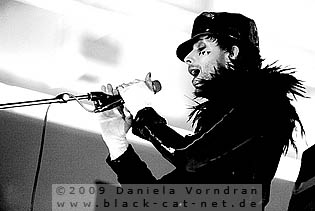 Deathstars (Carsten Leopold)

DEATHSTARS are a Swedish industrial Metal-Gothic-Rock band who originally formed in Stockholm in January 2000. They are notable for their dark horror-themed lyrics, pessimistic and misanthropic social commentary, distinctive trademark face paint and stage uniforms. DEATHSTARS have released three full-length studio albums; 'Synthetic Generation' (2003 in Europe and 2004 in North and South America), 'Termination Bliss' (2006) and 'Night Electric Night' (2009).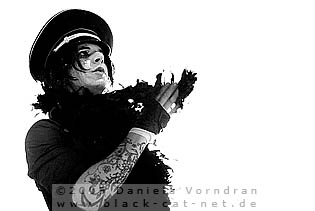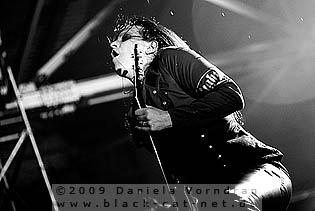 In the United States, DEATHSTARS have supported live acts by bands such as KORN and CRADLE OF FILTH, the latter band which was in part inspiration for DEATHSTARS. The current line-up of the band consists primarily of members from SWORDMASTER, a black metal project that has former members of DISSECTION and OPHTHALAMIA. DEATHSTARS currently is formed by Whiplasher Bernadotte (lead vocals), Nightmare Industries (guitar and keyboards), Skinny Disco (bass guitar, backing vocals), Bone W Machine (drums) and Cat Casino (guitar). http://www.deathstars.net/ / http://www.myspace.com/deathstars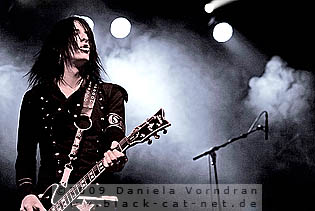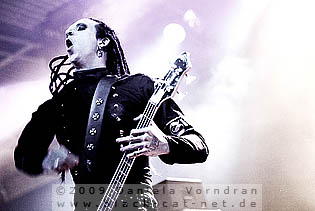 Music & Performance
DEATHSTARS entered the hangar stage five minutes later than planned and began their show. Quickly, the spirit went over to the crowd who followed the animation of the band without restraints. The mood was great and between the songs, DEATHSTARS received a lot of applause. The sound was good and the fantastic light show pleased the eyes. DEATHSTARS was the last band on the hangar stage this year - the last chance to dance and scream for this year and the crowd used this last chance, hyped by the powerful performance of the Swedish guys. The show ran about 60 minutes and when they finished their show and left the stage, the crowd was satisfied.

Rating
Music: 7
Performance: 8
Sound: 8
Light: 9
Total: 7.8 / 10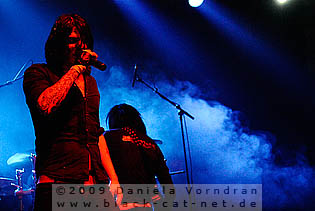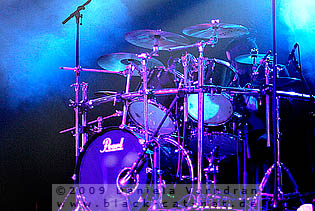 After the shows in the hangar, you could still enjoy the rest of PRODIGY's set on the main stage. Any résumé about this year's festival? The line-up was very much discussed beforehand and lots of people thought that it was not the best one of the last years. But still, about 23,000 people made their way to Hildesheim to enjoy the festival. There were a few changes to the whole area setting; much to the better I need to say. There were new shadow-places outside, a big chill-out tent where also the autograph sessions have been held. The location was not in-between main stage and hangar but on the other side, so there was less trouble for people to get into the hangar. Only poor photographers had to be quite early when intending to take pics in the hangar to not be squeezed in the masses. Also the sound in the hangar was much better than in the previous years due to some adjustments. Well done! All in all, a very good festival, just quite stressful when you wanna see several band overlapping each other.

All pictures by Daniela Vorndran (http://www.vorndranphotography.com/ / http://www.black-cat-net.de/ / www.myspace.com/vorndranphotography)
Written by Daniela Vorndran (common parts and overall editorial), Sebastian Huhn, Carsten Leopold and Cathie Niemann with friendly support of Terrorverlag (http://musik.terrorverlag.de/)

{jos_sb_discuss:18}
See also (all categories):