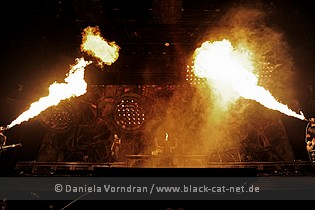 ISS Dome, Düsseldorf, Germany
5th December 2011
Rammstein & Deathstars

RAMMSTEIN is a phenomenon in German music scene. And they still attract thousands, proved by numerous sold-out shows. In Düsseldorf, the band was running three gigs in total, all officially sold-out, even there was a small amount of rest tickets sold at the box office. It was cold on that Monday evening, but RAMMSTEIN were up to heat the hall during their 2-hour show with DEATHSTARS as support.



Deathstars

DEATHSTARS are a Swedish gothic metal band presenting a heavy mixture of gothic, death metal and rock.. In 2000, the Swedish band DEATHSTARS arose from the Death / Black Metal formations DISSECTION, OPHTALAMIA and SWORDMASTER. Two years later, they released their debut album `Synthetic Generation´ which turned out to be an unexpected success in Sweden and other European countries. The second album `Termination Bliss´ was released at the label Nuclear Blast in 2006 followed up by the third full-length release `Night Electric Night´. Their last single, 'Metal', is out now. DEATHSTARS are Andreas "Whiplasher Bernadotte" Bergh (vocals), Emil "Nightmare Industries" Nödtveidt, Eric "Cat Casino" Bäckman (guitar), Oscar "Vice" Leander (drums), and Jonas "Skinny Disco" Kangur (bass). http://www.deathstars.net / https://www.facebook.com/deathstars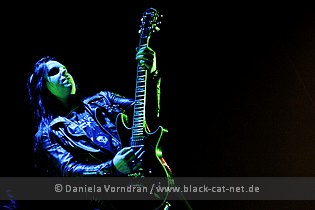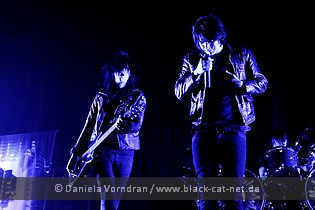 Music & Performance
Shit, they were loud! Really loud! Already loud when I still was waiting in front of the hall to get in. When I finally entered the venue, I saw the band having just little space on the sparse stage; most of it was hidden behind a black curtain. The Swedes tried to get the audience involved into their set of nine songs, but the reactions, as far as I could judge, were not really enthusiastic. Compared with the last tour when COMBICHRIST were supporting RAMMSTEIN, DEATHSTARS got much lesser response from the audience than COMBICHTIST did. With 'Blitzkrieg', 'Motherzone' or 'Death Dies Hard', the band was firing some of their "hits" into the night. Also the latest single, 'Metal', was included. But as much as they tried, different to their own tours, they could not convince the RAMMSTEIN audience.

Setlist
01. Blitzkrieg
02. Semi-Automatic
03. Motherzone
04. Cyanide
05. Tongues
06. Metal
07. The Mark of the Gun
08. Blood Stains Blondes
09. Death Dies Hard

Rating
Music: 6
Performance: 6
Sound: 7
Light: 5
Total: 6 / 10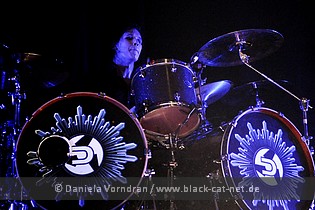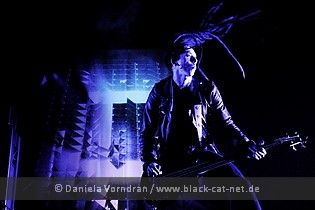 Rammstein

RAMMSTEIN was founded in 1994 and consists of Till Lindemann (vocals), Paul Landers and Richard Z. Krispe (guitars), Christoph Schneider (drums), Oliver Riedel (bass), and Christian "Flake" Lorenz (keyboard). Their success begun already with their first album 'Herzeleid', and since then, they have published a total of eight albums, two of them are live compilations. The new album, a "best-of" 'Made in Germany 1995 - 2011' is out now, containing a very new song 'Mein Land' which has been released as single too. Their martial sounds and provoking lyrics made them popular for people of many musical styles. Their concerts are always an event, not only for the music, but also for the pyrotechnical and various other show effects. http://www.rammstein.de / https://www.facebook.com/Rammstein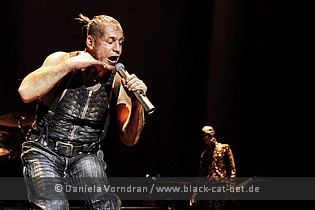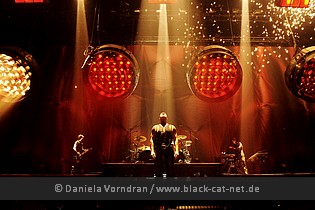 Music & Performance
When you go to see a RAMMSTEIN show, then you know you won't see a simple concert but more a show with many effects, designed perfectly from the first second to the very end, underlined with the music of the band. Already the very long intro was impressive. You felt like being directly part of a sci-fi movie, somewhere on a distant planet, in a small human colony, where your home is built of metal to save you from all harms, steam is everywhere. Just imagine the look of one of the Alien movies. That comes pretty close. Also to dramatic sounds, a huge metal bridge was coming down over the heads of the audience, stream was hissing. Finally, the band appeared at the back of the hall, entering the bridge and marching with waving flags to the stage, where anyone took his position to start with a lot of fire and bright lights accompanying 'Sonne' (sun). Visually, you really don't know what to watch first… the futuristic martial stage design with colossal light elements, the pyro show where it was exploding something permanently or the band itself, performing the songs with the well-known RAMMSTEIN power. Just Flake is always the one being out of the overall band design, this time wearing some tight glittering suit while walking on that treadmill when playing his keys.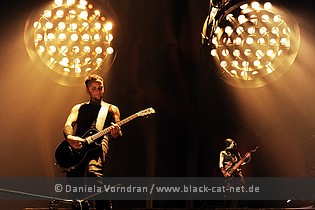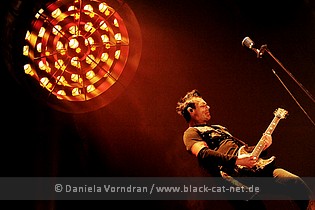 During 'Wollt Ihr das Bett in Flammen sehen', Till used a flame-thrower and towards the end of the song, a big explosion was nearly making you deaf. 'Asche zu Asche' saw the whole stage covered in smoke while during following 'Feuer frei' the stage was set in fire with Till, Paul and Richard operating huge flame-throwers. 'Mein Teil' about cannibalism showed Till in a slaughtering dress full of blood while the stage was on fire again. During the next one, 'Du riechst so gut', "only" the guitars were burning. The next few song had lesser pyrotechnics but other visual effects. When 'Links 234' started, a surreal landscape of buildings appeared in the back of stage making the whole look even more futuristic. 'Du hast' was screamed loudly by the audience, especially the refrain when the people were shouting all alone. This song also had some special pyro effects with firework crackers flying across the audience, with glitter rain and huge flame columns coming from the floor and the ceiling. For 'Haifisch', blue lights imitated an ocean and soon, Flake would climb into a rubber boat to be carried by the hands of people. Back on stage, a longer bridge to the next song followed.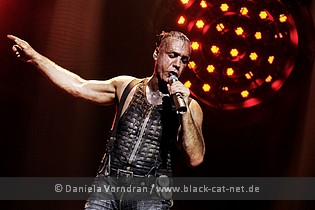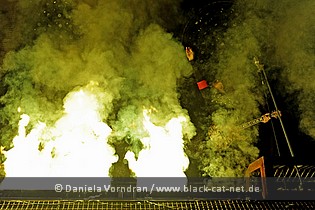 A small stage was rising in the back of the hall with some instruments on it and Krispe was playing keys firing up the audience. Soon, the metal bridge came down from the ceiling and drummer Christoph was leading the rest of the band to stage…. On leashes like dogs. And then, 'Bück dich' started. This one and following two songs, '' Mann gegen Mann' and 'Ohne Dich', were presented on that small stage before the band returned to stage and waving goodbye. Of course, that was not the end. The encores saw again a different stage design. Accompanied by dramatic sounds, a huge propeller was appearing over the stage, moving down and finally found a place on the back. It was really giant! Also, the light elements were moving until reaching the final position. Then, the band returned for 'Mein Herz Brennt' tinting the stage in red light. 'America' again had a lot of effects, reaching from glitter fountains to "snow" flakes raining down the audience. 'Ich will' with the lyrics "Ich will, ich will eure Hände sehen, Ich will in Beifall untergehen" (I wanna see your hands, I wanna sink in applause) saw all people rising their arms, clapping and applauding until a final glitter explosion announced the end.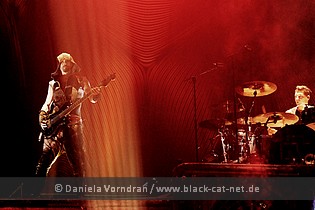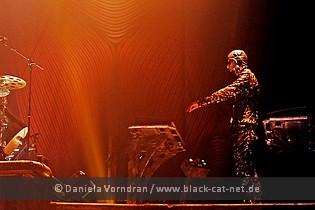 Well… not the very end. Because there still was more. Probably the biggest RAMMSTEIN hit 'Engel' presented Till with giant metal wings like an angel, soon being set into fire. Surely one of the highlights. Finally, the show ended with 'Pussy' spreading foam over the audience. What a final! And even if you are not a RAMMSTEIN fan, this show is absolutely worth seeing!

Setlist
01. Intro
02. Sonne
03. Wollt Ihr das Bett in Flammen sehen
04. Keine Lust
05. Sehnsucht
06. Asche zu Asche
07. Feuer frei
08. Mutter
09. Mein Teil
10. Du riechst so gut
11. Links 234
12. Du hast
13. Haifisch
14. Bück Dich
15. Mann gegen Mann
16. Ohne Dich
---
17. Mein Herz brennt
18. Amerika
19. Ich will
---
20. Engel
21. Pussy

Rating
Music: 8
Performance: 10
Sound: 9
Light: 10
Total: 9 / 10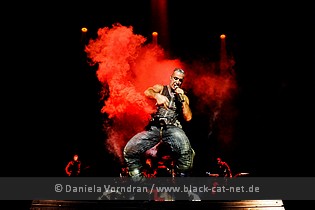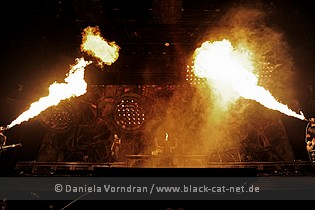 All pictures by Daniela Vorndran (http://www.vorndranphotography.com / http://www.black-cat-net.de/ / http://www.myspace.com/vorndranphotography / http://www.facebook.com/blackcatnet)



See also (all categories):