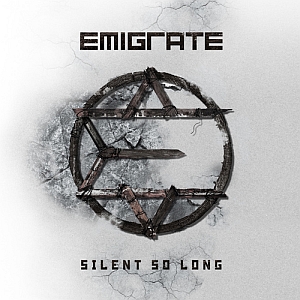 Artist: Emigrate
Title: Silent So Long
Genre: Industrial Metal
Release Date: 14th November 2014
Label: Vertigo/ Capitol
Album Review

Didn't you think that EMIGRATE, the project of the RAMMSTEIN guitarist Richard Kruspe, was dead? Because even if you haven't heard of it for seven years it doesn't mean anything! EMIGRATE turned out to be a dormant volcano. While it seemed like it was sleeping, inside it was boiling and growling. Finally the mixture of dirt, blood and noise found its way out and the silent has been broken. It might be… it must be… it will be loud!
Richard Kruspe's phenomenon must have a special term. EMIGRATE is the realization of a dream of a little boy from GDR, who always looked in the western direction. First he managed to create one of the most popular and recognizable German band. Then he moved to New York. It was said he learnt English by reading magazines. And now he's living and playing his odd dreams. The first album was released in 2007. Back then it seemed to be just fun-project of a guitarist who got tired of his daily perverse routine with RAMMSTEIN. The album 'Emigrate' was something fresh and different from what you normally expect of this musician. All seven years there was a promising "to be continued" on the official site, but with every year passing by the hope was fading away.
But suddenly the silence has been broken. Kruspe came back with the new single, the new video and the new album. "Gods rise and fall, there're only Gods after all," he makes a statement. Although the line goes further like "I don't need anyone" he doesn't hesitate to ask friends to appear on his album. Collaboration actually seems to be a new musical trend. MARILYN MANSON has LANA DEL REY starring in his new video and Johnny Depp playing guitar at his concerts, DIE AANTWOORD had APHEX TWIN, MM and Dita von Teese in their latest video. Actually as more famous people you have at the same spot – as better. And if this is the measure, for now EMIGRATE has the most brilliant collection: Lemmy Kilmister, Jonathan Davis, Marilyn Manson, Peaches, Frank Dellè and Margaux Bossieux.
'Silent So Long' was mixed by Ben Grosse (MARILYN MANSON, SLIPKNOT, DISTURBED, etc.). Near to this album most of the bands of the same scene look just like kids who first found out what a pleasure it is to rub your wee-wee. And this is exactly the difference between the mainstream and the underground. No more shy and quiet melodies, no more tries. Now everything is for real. Kruspe made a breakthrough by means of the recognizable dirty guitars and thick drums along with the best of the cruellest vocals. I have to make an accent on the word "recognizable". Of course you'll hear something like Kruspe's main band, but who cares since this comes out natural. 'Silent So Long' is much louder and way more aggressive than its predecessor. You won't find here any ballads like 'Babe' or 'In My Tears'. No, this is a collection of eleven angry, intense, crushing songs which will eat you alive.
Tracklist

01. Eat You Alive (feat. Frank Dellé)
02. Get Down (feat. Peaches)
03. Rock City (feat. Lemmy Kilmister)
04. Hypothetical (feat. Marilyn Manson)
05. Rainbow
06. Born On My Own
07. Giving Up
08. My Pleasure
09. Happy Times (feat. Margaux Bossieux)
10. Faust
11. Silent So Long (feat. Jonathan Davis)
Line-up

Richard Z. Kruspe - Vocals, lead guitar
Olsen Involtini - Rhythm guitar
Arnaud Giroux - Bass guitar, backing vocals
Mikko Sirén - Drums
Joe Letz - Drums
Margaux Bossieux - Backing vocals
Website

http://www.emigrate.eu/
/
https://www.facebook.com/Emigrate
Cover Picture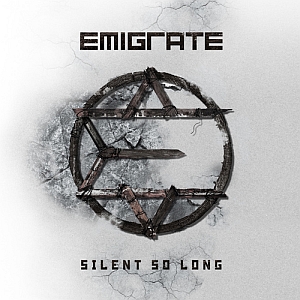 Rating

Music: 8
Sound: 10
Total: 9 / 10
See also (all categories):