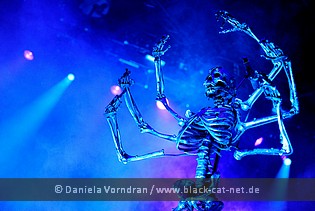 RuhrCongress, Bochum, Germany
2nd December 2012
Twins of Evil - Rob Zombie & Marilyn Manson, Opening Act: DJ Mignon

What a package! ROB ZOMBIE and MARILYN MANSON on a common tour! In December, the package came to Germany for two shows, the first of them took place on Bochum. The second one would follow a few days later in Munich. Both artists have new releases in their sleeves they would fire into the audience. That the package was highly appreciated was shown by the fact that the Bochum date was totally sold out and already at 18:00 there was a really long queue in front of the venue.


Before both evil twins would enter the stage, the evening was opened by a DJ act, DJ Mignon. Mignon, the girl from Berlin currently living in Los Angeles, is not only front woman of her band, MIGNON, which released the Metal-Punk-Rock album 'Kiss Of Death' in 2011, but she's also a DJ and as DJ, she opened the evening with a wild mix of heavy electronic stuff like NINE INCH NAILS or Rock-Metal stuff like GWAR. During her little set, she also included an own song, as it seemed. Usually, a DJ set is visually not very attractive, but Mignon was making her set something special by dancing on the table, changing clothes or adding little accessories like a baby puppet. After her 30 minutes, the stage was prepared for MANSON, who started his show at 20:00. http://mignonmusic.com / https://www.facebook.com/pages/Mignon/43855265668


Marilyn Manson

Formed in 1989 as MARILYN MANSON & THE SPOOKY KIDS in the federal state of Florida, the band soon gained a lot of attention with its unusual performances and striking outer appearances. Over the years, their soundscape transformed from punk-influenced rock to rather dark and industrial-like rock music. In 1994, the formation signed to Nothing Records, which was a label of NINE INCH NAILS-mastermind Trent Reznor, and released its debut album `Portrait of an American Family´. Due to the offensive lyrics and provoking behaviour on stage connected to choosing names of serial killers, MARILYN MANSON had often to deal with bad press, protests and petitions, especially in the USA. The band was falsely accused of being responsible for the Columbine High School massacre, as the killers were said being listening to its music. Up to now, the formation has released seven long-players, for example `Antichrist Superstar´ (1996), `Holy Wood´ (2000), `Eat Me, Drink Me´ (2007) `The High End of Low´ (2009). The latest album is titled 'Born Villain' and was out in April 2012. http://www.marilynmanson.com / https://www.facebook.com/MarilynManson / http://www.myspace.com/marilynmanson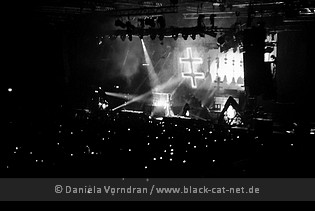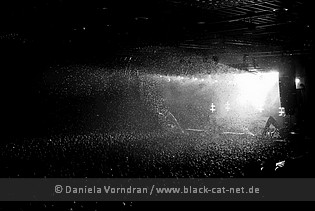 Music & Performance
Originally we wanted to post a proper concert review of the MANSON SHOW here. But short before the concert, all photographers were denied to take any pics. Not able to deliver visual content of the show here, I also want to keep the review short. MM was there, with great stage design but not such a great voice. The show mainly consisted of him changing clothes during nearly every song and a lot of visual effects like glitter or snow falling from the ceiling. All in all good show, but it did not really catch me… With little less than one hour, it was besides that pretty short too.

Setlist
01. Intro: Suspiria (Goblin song)
02. Hey, Cruel World...
03. Disposable Teens
04. The Love Song
05. No Reflection
06. mOBSCENE
07. The Dope Show
08. Slo-Mo-Tion
09. Rock Is Dead
10. Personal Jesus (Depeche Mode cover)
11. Sweet Dreams (Are Made of This) (Eurythmics cover)
12. Coma White
13. King Kill 33°
14. Antichrist Superstar
15. The Beautiful People

Rating
Music: 6
Performance: 7
Sound: 8
Light: 9
Total: 7.2 / 10


Rob Zombie

After relocating to New York City in 1985, ROB ZOMBIE became the front man of the popular band WHITE ZOMBIE with whom he has released 9 albums. Since 1996 he's exclusively working solo and already his first album 'Hellbilly Deluxe', released in 1998 was certified 3-times platinum in the US. Besides his musical work, he's been directing several movies since 2003, amongst them 2 remakes of the Halloween series. Nearly 12 years later he continued on a path almost forgotten with releasing 'Hellbilly Deluxe 2' to critical acclaim in early 2010. In August 2012, he released the remix album 'Mondo Sex Head'. The band consists of Rob Zombie (vocals), John 5 (guitar, backing vocals), Piggy D. (bass guitar, backing vocals) and Ginger Fish (drums, percussion). http://www.robzombie.com / http://www.facebook.com/RobZombie / http://www.myspace.com/robzombie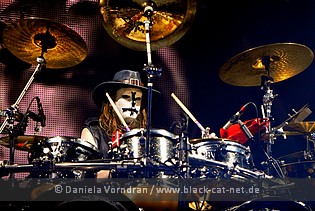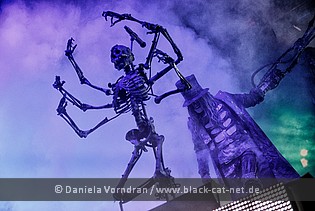 Music & Performance
Pretty much disappointed by the Manson show I was putting all my hopes into ROB ZOMBIE. And seeing the stuff being built up all in the back of stage was really promising. When the curtain first covering the stage was falling down along to the intro 'Sawdust in Blood', a giant metallic robot standing in the middle of stage with red-burning eyes was revealed. Wearing a cylinder and a huge metallic claw, Zombie soon would walk out of the robot's belly, lifting the claw and greeting the audience, starting off with 'Jesus Frankenstein'. The robot would soon be removed from stage, bit it was not the only mechanical, giant monster to be seen. There was i.e. a huge mechanical insect during 'Meet the Creeper' later, or a giant devil. Furthermore, the show used lots of fire, LED screens all over and various video sequences consisting of B-movie clips and some comic stripes. A very special moment came up when during 'Mars Needs Women' Zombie paraded on top of a monstrous mechanical vehicle.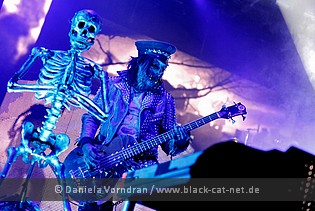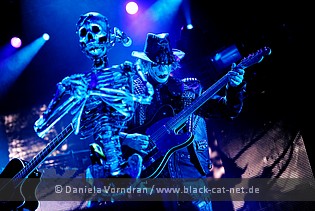 Later in the show, there was not only time for monsters and mechanics, but also time for giant balloons soon jumping over the audience's heads during 'Sick Bubble Gum' or soap bubbles being blown out during 'Pussy Liquor'. WHITE ZOMBIE song 'Thunder Kiss '65' was underline with old black and white movie sequences and saw Rob leaving the stage soon to walk through the whole audience area. Of course, not only Zombie had his moment, there was also time for guitar and drum solo during the set. The show finally ended with the ALICE COOPER cover 'School's Out' after about an hour, showing Zombie's admiration for the master of the Dark end Evil. Loud screams for encores commanded the band back for one more song, 'Dragula', when Zombie was standing on a giant metal pulpit while the rest of the band was accompanied by two men hitting additional toms. Waving a German flag, Zombie listened to the crowd screaming "Zombie, Zombie…"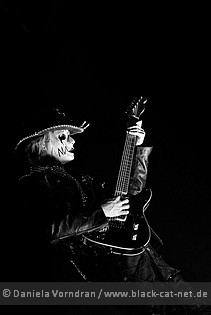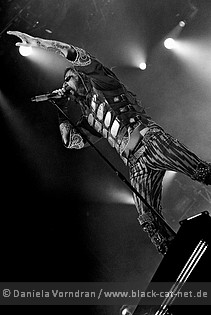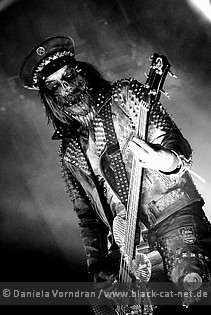 With lots of artificial snow falling down, and explosive and visually attractive show ended. The very little downer was the vocal performance of Rob, but who cares if there is so much power on stage?

Setlist
01. Intro: Sawdust in the Blood
02. Jesus Frankenstein
03. Superbeast
04. Meet the Creeper
05. Living Dead Girl
06. More Human Than Human (White Zombie song)
07. Theme for an Angry Red Planet
08. Mars Needs Women
09. Drum Solo
10. Never Gonna Stop (The Red, Red Kroovy)
11. Sick Bubble-Gum
12. Scum of the Earth
13. Pussy Liquor
14. Thunder Kiss '65 (White Zombie song)
15. Guitar Solo
16. School's Out (Alice Cooper cover)
---
17. Dragula

Rating
Music: 7
Performance: 10
Sound: 9
Light: 10
Total: 9 / 10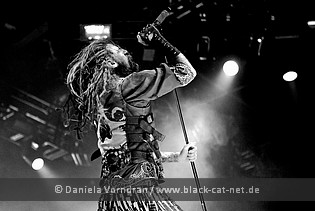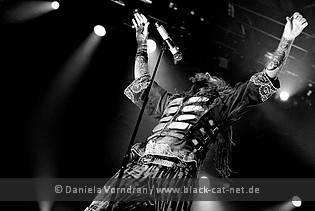 All pictures by Daniela Vorndran (http://www.vorndranphotography.com / http://www.black-cat-net.de/ / http://www.myspace.com/vorndranphotography / http://www.facebook.com/blackcatnet)



See also (all categories):