Page 1 of 2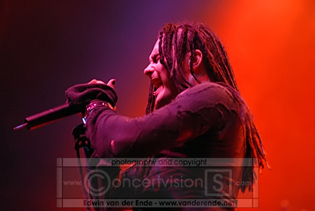 013, Tilburg, the Netherlands
12th of November 2006
Cradle of Filth, Deathstars
It wasn't all that warm today, a bit rainy even. Maybe that was why everybody was squeezed together in front of the doors of the 013, faces were stuck to the window. Quite a funny sight I might say. But no the weather didn't matter at all to these people. Cradle for Filth their favourite band of all times was playing here tonight and they wanted to be the first to get in and find a good spot in front of the stage.

Deathstars

They were to perform in the Baroeg in Rotterdam this evening but plans were changed and here they were in Tilburg. Opening up for Cradle of Filth. Bone W Machine, Skinny, Nightmare Industries and Whiplasher were about to treat the venue to some nice beats spiced up with a dash of sexiness and a spoonful of diva.
Music
When the music started there was an immediate wave of movement going through the audience, their beats are very danceable. The beat is accompanied by a synthesiser melody. At first it seemed most songs are alike but later on there was more diversity. Especially the song 'Blitzkrieg' has a very different tone to it. Much heavier than the other songs, that might be because of the theme of the song. According to Whiplasher they stole these words from Germany. The song was accompanied by strong drums provided by Bone W Machine. Most of the time it was hard to understand what was sung, the sound could have been better.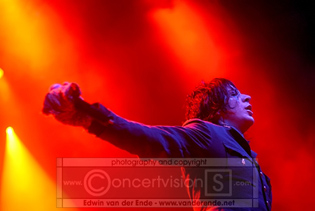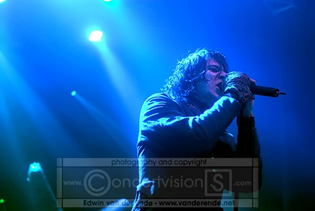 Performance
Purple lights were flashing and beats were loud. Under loud cheers the band entered the stage very relaxed. Whiplasher is a true diva, walking around while swaying his hips, showing his lovely ass to the audience. His hair was filled with glitters and there were some beneath his eyes as well. This is definitely an artist who on the one hand feeds of his audience and needs there attention but on the other hand he is very much walking around in his own little world. Both guitarists are almost constantly bouncing to their own beats. Skinny is a bit more timid, or so it seemed at first for when he starts to bang his head you'd better watch out. Whiplasher had a army jacket on but during the show he took that off and replaced it by a red boa. Some sexual moves were made but the clearest one was definitely when he kissed his guitarist. Overall there was little front light, which made it hard to see the band well, a pity.
Rating
Music 6
Performance 7
Light 6
Sound 6
Total 6 (6.4)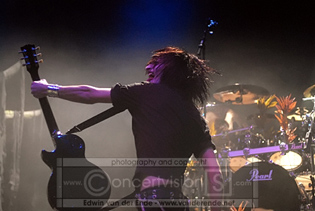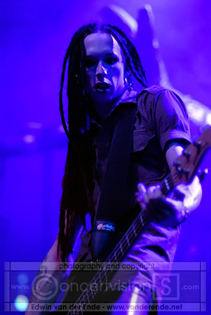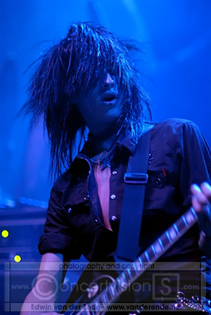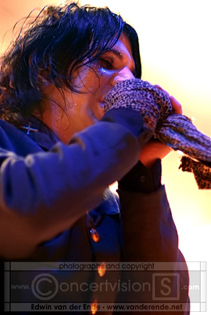 Cradle of Filth

Last time they were around was at the Graspop festival in Belgium and of course their performance in Amsterdam together with Moonspell. With their new album 'Thornography' released it was time for a new tour and of course a visit to the Netherlands as well. A new album, a new stage, a new sound even some may say.
Music
At the beginning of the show the vocals of Dani were quite soft in the mix; it was adjusted later on luckily. Their new drummer Martin makes Cradle sound like they should, loud, heavy and overwhelming. It has been three years since they played here and in-between they have acquired more fans and made more albums and we were treated to songs of many different albums. Not just the new songs such as 'I Am the Thorn', 'Tonight in Flames' and 'Temptation' (which is a great live song, many sung along) but also older ones. Songs as 'Dusk and Her Embrace' and 'Beauty and the Beast' were welcomed warmly with loud cheers and some head banging. The final two songs of the performance were of former albums and were presented with just orange and white lighting and a lot of smoke but they blasted the audience away. Especially 'From the Cradle to Enslave' was a big hit this evening.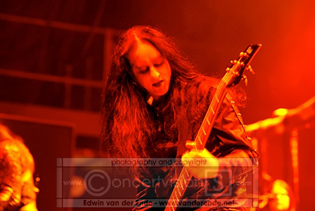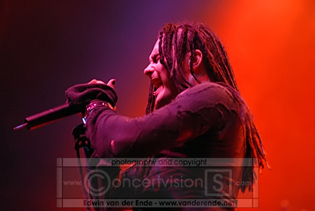 Performance
The stage was turned in to a swamp, a large tree on each side of the drum platform which was turned in to a rock and even the drum set was overgrown with plants. During the performance there were images shown on a screen above the drummer. There were still and moving images such as video clips, thunder, flames, the band name and logo. For every song there was a different image. During 'Under Huntress Moon' which was dedicated "to all good looking Dutch girls" the cover of 'Thornography' was shown. The crowd started off with a nice pit once the first song had started but after that things got a bit quiet. Maybe that was why Dani splashed the front rows with water. During a few songs the crowd did go wild and shouted things to the band "what do I hear? Free sex, yes please" was Dani's answer to some shouts. The band did encourage the band to shout and show their horns. When one of the band members really made contact with the audience the got a very enthusiastic response, horns all over the place. The band was fired up to perform; especially Dani was bouncing across the stage full of energy. Sarah wasn't on stage during all the songs but when she was there, even though she was standing at the side of the stage she was present, she is someone you can't overlook, she is a radiant presence. I think every Cradle fan went home satisfied after a blasting show of their favourite band.
Rating
Music 8
Performance 8
Light 7
Sound 7
Total 8 (7.7)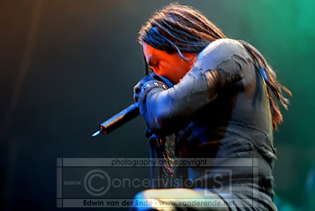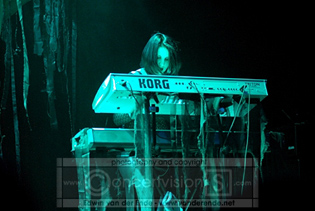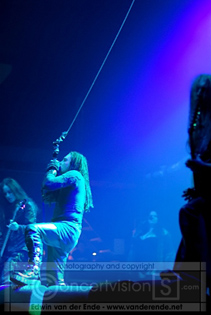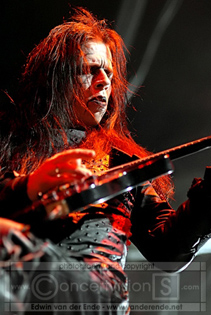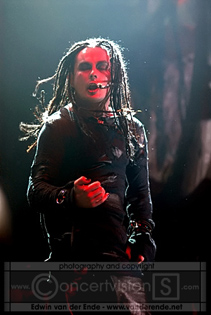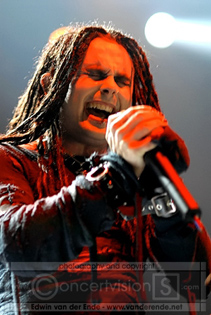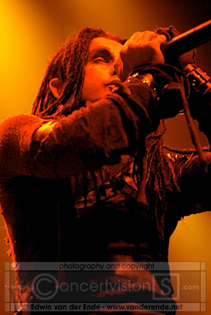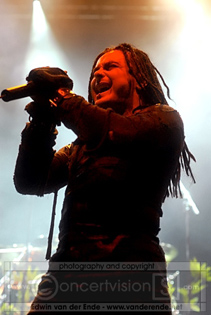 More photos on page 2
{jos_sb_discuss:17}