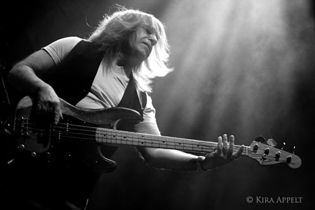 Sölvesborg, Sweden
3rd to 6th June 2009
Sweden Rock Day 1 (Wednesday): Tracenine, Deathstars, Hysterica, Sevendust, Amon Amarth, Blaze Baley, Uriah Heep

Arriving at Sweden Rock after a twelve hour car ride, than the most important thing is to open a bottle of beer. Car parked, tent up, beer opened. That's pretty much how the first day began (or the first night if you will). There were no bands on Tuesday, thus we enjoyed the great weather and the upcoming festival flair. At this point, the campground was already somewhat crowded, with a great deal of campers yet to come. Towards the evening it got somewhat colder but we kept ourselves warm drinking Minttu (Finnish Mint-Schnapps) while meeting up with people.



Tracenine
Wednesday, the day started off with Tracenine, a four men band that originated in 2005 in Cambridge, Canada. Describing their own style as Rock / Alternative / Indie and released their first album 'Breaking Silence' recently.
Music & Performance
Sounding more like a rather bad version of Sevendust, Tracenine weren' t really sticking out of the masses of upcoming Nu- / Alternative-Metal. Their performance was arguably not the worst they could've delivered, yet the whole thing didn't really appeal to most visitors (definitely incompatible to a serious hangover). Their songs were pretty similar schematically and there were only few people watching the show.
Rating
Music: 5
Performance: 6
Sound: 6
Light: - (daylight)
Total: 5.5 / 10
Death Stars
Swedish Industrial / Gothic Metal band Deathstars scheduled to perform next. Founded in 2000 by members of bands such as Dissection, Swordmaster and Ophthal, they quickly gained publicity. In 2007 they were finally rewarded with Metal Hammer's Golden Gods Awars for the best new comer in the scene. The Manson-Look-Alikes had fans waiting for a new release for almost three years and just made available their latest work 'Death Dies Hard'.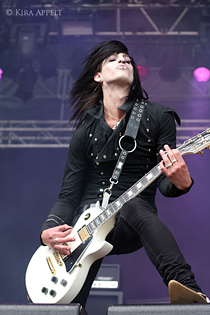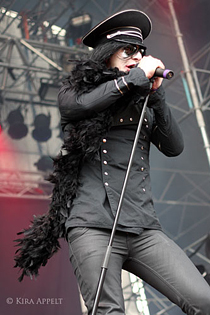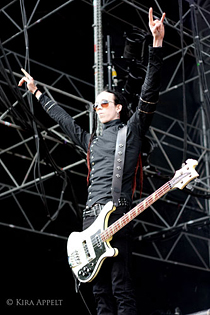 Music & Performance
The immense shower during their gig didn't really ruin anyone's mood there and the make-up they were wearing endured it as well. The whole set was to be seen as a great introduction to the four days of this festival. Using phrases like 'campy dress' or 'Michael Jackson-like outfit' would be a little mean , but that is what crossed the mind of many metal fans. Let's just stick to the fact that people really seemed to enjoy the show. As usual on Sweden Rock, the sound was great and so was the whole performance. A catchy set and very nice to start the day with. The set list included hits such as Motherzone, Blitzkrieg, Cyanide and Death Dies Hard.
Rating
Music: 8
Performance: 7
Sound: 9
Light: - (daylight)
Total: 8 / 10
Hysterica
The female band was formed less than four years ago in Sweden and will release their first album 'Metalwar' on June 26th (available in Sweden since February 20th already). Their style could be described as classic Heavy Metal.
Music & Performance
They sounded like a wimpy chick version of Manowar. The girls were unable to get out of any stereotypes they had put themselves in, neither in musical terms nor in any other way. Though their singer Anni De Vil already applies her own trademark sound to the vocals, being only 19 years old, the whole thing just didn't seem catchy. Song titles like 'Metalwar' couldn't confince the feeling that it can be more bombastic, even with all those girls on stage.
Rating
Music: 6
Performance: 6
Sound: 7
Light: - (daylight)
Total: 6.2 / 10
Sevendust
Sevendust is an American Nu-Metal band that was formed in Atlanta. Having been around since 1992, the five piece outfit has released seven albums so far, the latest being 'Chapter VII: Hope & Sorrow'. With the return of former guitarist Clint Lowery, who was absent for roughly four years, Sonny Mayo got kicked out of the band in 2008. They are currently touring for their latest album.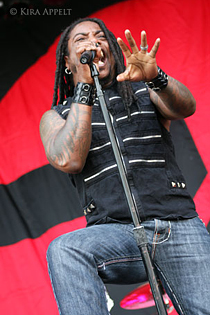 Music & Performance
The rain had ceased once again and the American Alternative-Metal heads were filling the Sweden Stage with sound. Singer Lajon Witherspoon was acting so overzealously, at one point he almost fell onto the photographers, another time he spit on himself; the Swedish wind was just being unpredictable. As for the sound, the band didn't seem to have their best day. Musically they were never really pleasing to my ears, you have to be familiar with the Nu-Metal style. Not easy for everyone on first sight. They played their well known song 'Enemy. ' They weren't a disappointment for fans but they surely weren't very convincing either to impress the whole crowd.
Rating
Music: 7
Performance: 5
Sound: 7
Light: - (daylight)
Total: 6.5 / 10
Amon Amarth
A Viking-themed melodic death metal from Tumba, Sweden, that has become widely popular among Metal fans. Named after an alternative name for Mount Doom from Tolkien's Middle-earth, they delivered their 8th studio album in 2008, and like six of its predecessors, it was released on Metal Blade records.
Music & Performance
The Swedish audience was very excited as the Vikings took over the stage and fired up the pyros. After each and every song they ritually took a sip from their horns, a making it a real Viking binge with fire, met and a best of set. Among the set list were 'Fate of Norns, Ride For Vengeance, Death In Fire' and 'Cry Of The Blackbirds'. A highly energetic show that surly made them some more fans. Until now, Amon Amarth never really disappointed with their shows, living up to the myth they have created around themselves. A perfect festival band with their uptempo sound.
Rating
Music: 8
Performance: 8
Sound: 8
Light: - (daylight)
Total: 8 / 10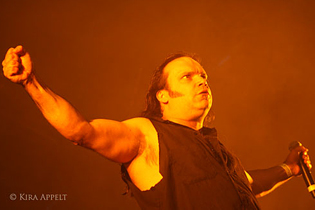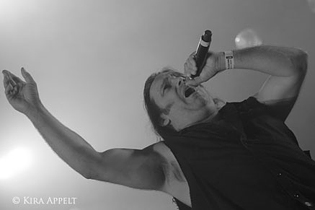 Blaze Bayley
Former 'Iron Maiden' vocalist Blaze Bayley and his self titled band, were about to honor the Zeppelin Stage. After touring had been stalled due to the unexpected and tragic death of his wife Debbie last summer, they now returned to extendedly tour their recent album 'The man who would not die' with the suitable tour called 'The UK Tour that will not die.'
Music & Performance
Not making a secret of his past in Iron Maiden, Bayley performed several classics from the X-Factor album, as well as songs from his latest solo release. The show was powerful and he seemed in a good mood, being passionate and interacting with fans. Though he is known to have a rather low vocal range, he was doing well this night.
Rating
Music: 7
Performance: 7
Sound: 8
Light: - (daylight)
Total: 7.2 / 10
Uriah Heep
English Classic-Progressive Rock formation Uriah Heep, formed in 1969, has released their first album in ten years, 'Wake The Sleeper' came out in June 2008. After that the reunion was there, a dream for many fans to see this band on stage again.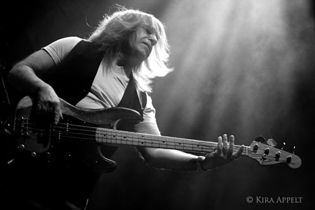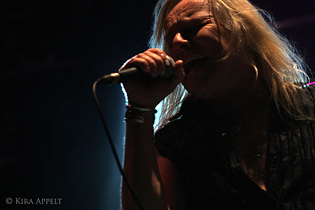 Music & Performance
After Bayley, A favorite band for the night went on stage to play in front of an apparently elder audience: Uriah Heep. Singer Bernie Shaw was in very good spirits, glossing over the fact that his microphone didn't work as it was supposed to. Besides that everything went well. 'Sunrose, Heaven's Train and the slower 'What Kind Of God' and 'Ghosts Of The Ocean' were played. The whole thing was surprisingly awesome and spread a very intense atmosphere. Bernie Shaws voice was at its best and the journey back in time to the old days of rock was a great ride. Even Phil Lanzon's psychedelic keyboard (!) solo was quite fitting, though he seemed to be standing at a high black desk. almost hidden for the crowd. A great ending from the first festival day of Sweden Rock!


Rating
Music: 9
Performance: 7
Sound: 8
Light: 8
Total: 8 / 10
{jos_sb_discuss:18}

See also (all categories):