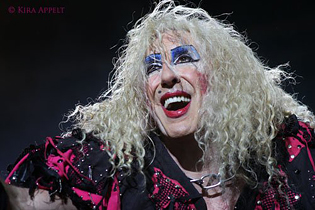 Sölvesborg 2009
3rd to 6th June 2009
Sweden Rock Day 2: Pain, Rage, Grand Magus, Volbeat, Candlemass, The Tubes, Flogging Molly, ZZ-Top, Hammerfall, Over The Rainbow, Twisted Sister

Thursday on the Sweden Rock festival has a more catchy line-up. Many interesting bands on a row, and most of all a lot to discover. After the long trip and the highlights of day one, there is more energy to start the day with one of the dynamic bands.



Pain
The band started off as a side project of vocalist and producer Peter Tägtgren from death metal band 'Hypocrisy'. The Swedish based industrial metal band gained respect and has become much more than just a project over the years. According to Tägtgren, he is ready to make Pain 'the biggest fucking band in the genre.' Also they did a long tour together with Nightwish in Europe.


Music & Performance
As usual on their last tour , the band opened with 'I'm Going In', simultaneously setting off a short rain of silver confetti. Singer Peter Tägtgren birthday had been just a day before the show; therefore they were sort of celebrating that on stage, the mood within the band being great quickly passed onto the audience. From Suicide Machine, to Bitch, Dancing With The Dead, I Don't Care, up to Just Hate Me and Follow Me, pretty much every song was a crowd pleaser. While playing 'Shut Your Mouth', Tägtgren was thrown at with custard pie by the band members, inevitably making it the last song. Just awesome! Tägtgren is a charismatic frontman, and a respectfull producer bust most of all a vocalist who knows what keeps the metal scene going. A overwelming show!

Rating
Music: 9
Performance: 9
Sound: 8
Light: - (daylight)
Total: 8.8 / 10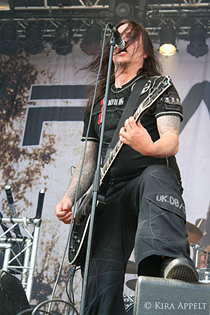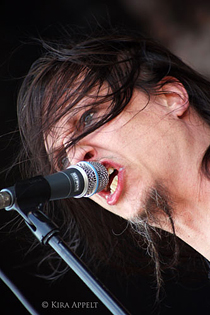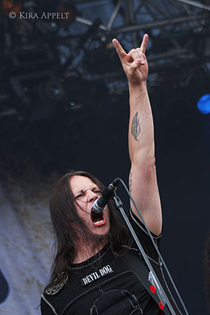 Rage
They were pretty much the only German band to play Sweden Rock this year. The band was formed in 1984 and has undergone quite some line up changes over the years, most noticeably in the late 90ies, when long time members Chris and Spiros Efthimiadis left.
Music & Performance
Their 25th anniversary was celebrated with a set list that fans were able to vote for on their homepage. Peavy & co hammered 'Higher than the sky, Don't Fear The Winter, War Of Worlds and 'All I Want' among some other hits through the PA. All in all a conclusive show that did neither disappoint nor stick out, being not very innovative at all. The question is if you expect that from such a classical band who knows where they are good in.
Rating
Music: 7
Performance: 6
Sound: 7
Light: - (daylight)
Total: 6.7 / 10
Grand Magus

A band from Stockholm that was founded by former Cardinal Fang vocalist Janne Christoffersson in 1996. Their style fits more than one genre but it generally stays between heavy metal and doom metal.
Music & Performance
Their mix of doom and power metal was sort of enlightening to me. There was quite a crowd for such an early gig, enjoying songs such as 'Iron Will' and 'Silver Into Steel. The last song has influences from bands like the early Manowar. Just like at Rock Hard Festival, the band made clear that they were already more than an insider's tip. Sound and atmosphere were electric!
Rating
Music: 8
Performance: 8
Sound: 7
Light: - (daylight)
Total: 7.7 / 10
Volbeat
They are one of the biggest Danish bands ever, surpassing their idols D:A:D and are now co-headlining Goteborg's Metal Town festival. Metallica meets Johnny Cash is widely used to describe their music and it fits well. Last year the Danes were put on the smaller Zeppelin Stage, which resulted in a shortage of space for an unexpected large audience. To prevent that from happening again, they would play the much bigger Rock Stage this year.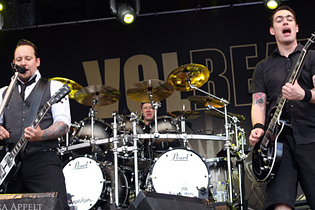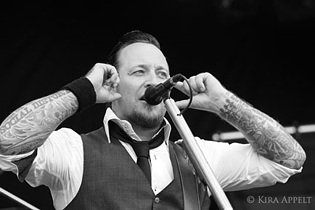 Music & Performance
As for the stage decoration, the band had replaced the ?Marshall? logo on the amps with the words ?Cadillac?, ?Gangster? and ?Blood?. The whole stage was decorated in a ?Comic meets 60ies? style. Singer Poulsen was wearing a shirt and silver vest, making female fans scream even louder as he got on stage. Their set featured some newer material as well as some classics, even one unreleased song. Sadly, the rock?n roll factor was somewhat missing a little. Though Poulsen put in a few growls every now and then, one was not to be easily convinced of the band?s joy of playing.
Yet, the band was far from being boring ? maybe I had seem them too often during the past two years.
Rating
Music: 8
Performance: 7
Sound: 8
Light: - (daylight)
Total: 7.7 / 10
Candlemass
The band is currently touring for their new album 'Death Magic Doom' their new succes. The album title essentially says it all. The band has a long history since late '80 and returns now to the stage to present a great doom feeling.
Music & Performance
Singer Robert Lowe once again proofed that he was a more than worthy replacement for former front man Messiah Marcolin. The set featured some songs that were performed the last couple of times, like 'Solitude' and 'Lucifer Rising'. It was an entertaining performance with their fittingly - rain had started again -dark tunes. Even with daylight the band manage to create an unique atmosphere on stage with a good sound and high qualitated formation.
Rating
Music: 8
Performance: 7
Sound: 7
Light: - (daylight)
Total: 7.4 / 10
The Tubes
The band originated from San Francisco and got some serious airtime on the radio in the late 70ies. They were famous for having quite a show on stage which eventually lead to financial difficulties in the 80ies, resulting a cut down on show elements on stage.
Music & Performance
The Tubes were given about 90 minutes to show that they were a great band with just one drummer for a change, since there were only four out of seven band members left. They pulled of a good show, but not quite like back in the 70ies. Still they were wearing scurrile and special dresses and making jokes about the old times. Fans were gratified with classics like 'She's A Beauty', 'No way out' and 'White Punks on Dope.'
Rating
Music: 7
Performance: 7
Sound: 7
Light: - (daylight)
Total: 7 / 10
Flogging Molly

A seven-piece Irish American Celtic punk band, formed in Los Angeles in 1993, known for their unique sound and an untwisted atmosphere at their shows. Always quarantee a big party on the festival ground, the Dutch festival Lowlands made them famous for that unicum.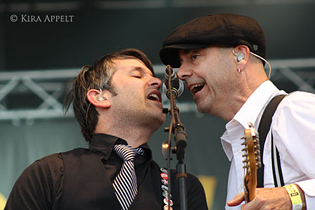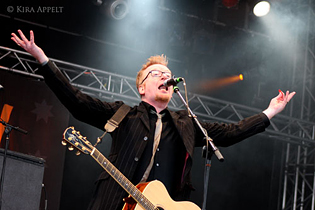 Music & Performance
The gig is in a real contrast to all other bands playing at Sweden Rock - Irish pub-fun-punk-rock at its best. When the seven guys entered the stage, it started to rain again. It's soon enough forgotten with 'Drunken Lullabies' and even be danced on a wet; Devil's dance floor. A lot of people were jumoing, dancing, ecstatically until they went out of breath. A flawless performance by Flogging Molly. Check out one of their shows for yourself if you have the chance!
Rating
Music: 8
Performance: 9
Sound: 8
Light: - (daylight)
Total: 8.3 / 10
ZZ-Top
The band reached peak commercial success in the 1970s and 80s, playing what is easily described at blues rock. Being from Houston, Texas, they have a heavy drift to southern rock. All three original members are still in the band ? after 40 years!
Music & Performance
At eight o'clock prime time they offered a smooth set to the somewhat elder audience and according to their own age they refrained from any hectic stage movements. Instead, guitarist Billy Gibbons and bassist Dusty Hill were standing pretty statically behind their exhaust-like mike stands, playing the expected hits 'Going Down To Mexico, Gimme All Your Lovin and Sharp Dressed Man; additionally they performed a cover of Jimi Hendrix 'Foxy Lady'. In between they changed their guitar/ bass and all the sudden they were playing on fur fabric covered instruments. Imagine that along with their long beards, sun glasses and hats! After 40 years on stage they didn?t look a day older than in the 70ies ? okay, they looked pretty old back then already. A great performance and good headliner of the evening.
Rating
Music: 9
Performance: 7
Sound: 8
Light: - (daylight)
Total: 8.2 / 10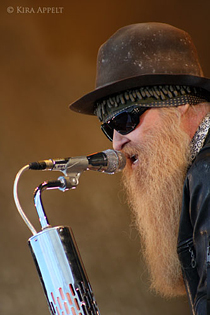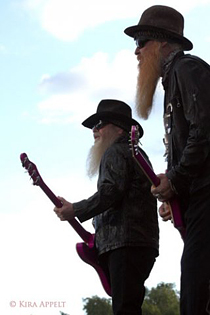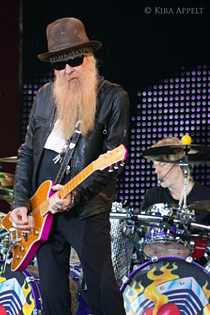 Over The Rainbow
The band was pretty much put together from the ashes of rock veterans Rainbow and were about to play their songs. Keyboarder Tony Carey was being replaced for this show by former Rainbow member Paul Morris due to illness.
Music & Performance
One could easily get the impression that this was the actual original band, though those guys never really played together back in the day. Fans were delighted by songs like Long Live Rock'n Roll, Since You've been gone and All night long, as well as other classics they would perform. I had a great time and Over The Rainbow proofed that they were not just another tribute band.
Rating
Music: 8
Performance: 7
Sound: 7
Light: - (daylight)
Total: 7.4 / 10
Hammerfall
Power Metal from Gothenburg, Sweden, formed in 1993 by Oscar Dronjak. Had their breakthrough with their in 1997 released 'Glory To The Brave' and changed guitar and bass player in 2007/08 after being with them for 10 years.
Music & Performance
Pity that both, Over The Rainbow and Hammerfall played simultaneously, therefore I couldn?t see the whole Hammerfall gig. With the band having more than ten years of experience on stage, their show seemed highly professional, even with two rather new band members. Opener for their set was the highly anticipated Blood Bound, followed by Crimson Thunder, Let The Hammer Fall and Renegade, with Let The Hammer Fall and Hearts on fire being the encore. Though I personally don't like the later one, the audience seemed to enjoy the song. A good old school power metal gig, and still going strong!
Rating
Music: 7
Performance: 8
Sound: 7
Light: - (daylight)
Total: 7.3 / 10
Twisted Sister
The 80ies Glam outfit is currently touring for the 25th anniversary of their first album 'Stay Hungry', which is to be re-released with ten additional, unreleased tracks on June 30th 2009.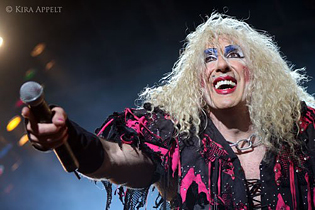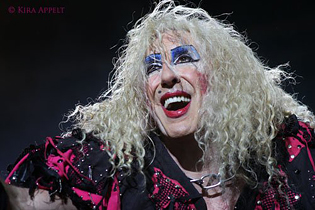 Music & Performance
After finally getting something to eat myself, I went to see the highlight of the evening: Twisted Sister. Temperatures were close to zero, about 3 degrees. Trying to survive with two sweaters and a leather jacket. Finally, Dee Snyder went on stage, styled in black and pink from head to toes. Microphone stands and fingernails were coated in shiny pink, too. Pyro technics, a giant light show and one hell of a bunch of band members quickly helped forgetting about the cold. Their 25th anniversary set featured all tracks from the 1984 'Stay Hungry'album, in the exact same order as on the album. Motorhead's Lemmy himself then joined the band on ' It's Only Rock'n Roll'. Almost a two-hours set made a great ending of what was the best day so far on the Sweden Rock festival.
Rating
Music: 8
Performance: 9
Sound: 9
Light: 8
Total: 8.5 / 10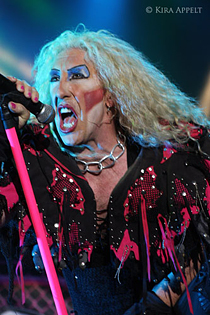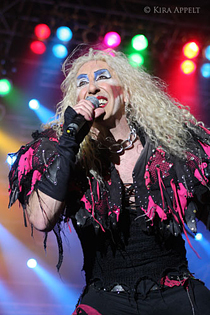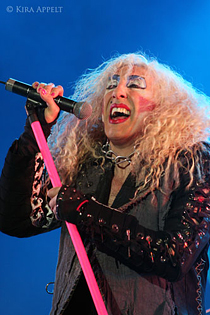 {jos_sb_discuss:18}
See also (all categories):