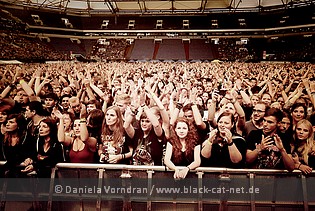 Veltins Arena, Gelsenkirchen, Germany
18th August 2013
Rock im Pott 2013: Biffy Clyro, Deftones, Casper, Tenacious D, Volbeat & System of a Down

When the festival season is slowly coming to an end it is fantastic to celebrate Rock'n'Roll once more. That must have been the thought of the promoters of Rock im Pott, creating this one-day festival last year, when over 40,000 fans celebrated bands like RED HOT CHILI PEPPERS or PLACEBO at the Veltins Arena. This year, nearly 30,000 music lovers found their way into the stadium where they celebrated, never minding the rain outside since the roof of the arena was closed, all in all six bands, headlined by fantastic SYSTEM OF A DOWN.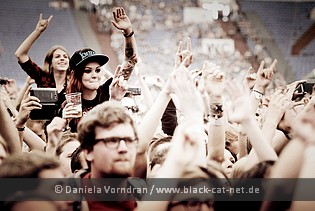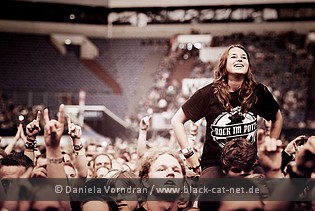 Biffy Clyro

The day was opened at 14:00 by BIFFY CLYRO, who made a kick start with their current album 'Opposites'. During their live show, Simon Neil (vocals & guitar), James Johnston (bass & vocals) and drummer Ben Johnston were supported by Mike Vennart on second guitars and keyboard man Gambler (both from OCEANSIZE). Together, the band opened the day with a big rock show, and did not miss out on anything. While the backdrop was showing the cover of already mentioned album, a 'We Are Family' intro opened the show and after a German hello, "Guten Tag, wir sind BIFFY CLYRO. Wir kommen aus Schottland" (good day, we are BIFFY CLYRO. We are coming from Scotland), the five-piece started with full power with 'Stingin' Belle' from the current album. The fact, that the main trio already started the show with bare bodies promised a powerful show instead of an afternoon nap. Without any doubt, the guys did not get tired in their 18 years grasping band history, as they proved also with hymnal 'The Captain' from 2009 album 'Only Revolution'.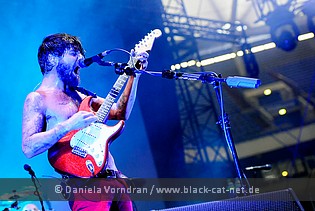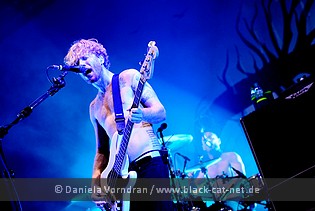 Even if the Scotsmen slowed down a little with songs like 'sounds like Balloons', the overall concert was always very energy laden and powerful, being demonstrated i.e. with the current album's title track 'Opposites' in a reduced instrumentation or the excessive 'Many of Horror'. BIFFY CLYRO are also a dab hand at big gestures, underlining this with 'Biblical', before straight power was headline again with 'That Golden Rule'. 'Bubbles' invited for a dance and with 'Black Chandelier' THE song was on the list bringing the final break-through for the band in Germany. Final song 'Mountains' was inviting for nodding the head and whipping the feet. Much too soon, the 45 minutes BIFFY CLYRO ended. But in November and December, the band will be back for a headliner tour! // http://www.biffyclyro.com / https://www.facebook.com/biffyclyro // Setlist: 1. Stingin' Belle / 2. The Captain / 3. Sounds Like Balloons / 4. Biblical / 5. Opposite / 6. That Golden Rule / 7. Many of Horror / 8. Bubbles / 9. Black Chandelier / 10. Mountains // Rating: 8 / 10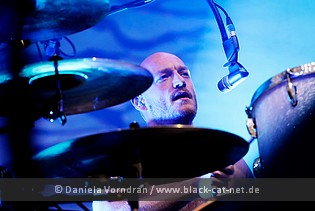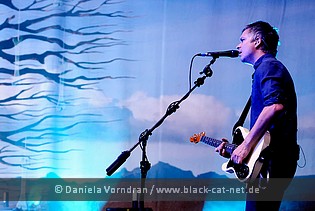 Deftones

At the best afternoon coffee time, not tea and cookies were served but the DEFTONES entered the stage. Already since 1988, the Californian band led by singer and guitarist Chino Moreno presents cracking Nu- and Alternative Metal. And just in its best sense, the quintet started with 'Rosemary' from last year's album 'Koi Na Yokan'. Following were highly energetic 'Be Quit And Drive (Far Away)' and 'My Own Summer (Shove It)' from 1997 album 'Around the Fur', when Mr. Moreno also had a closer glimpse onto his audience, standing right in front of the crowd, before he grabbed his guitar for the first restrained 'Entombed'. Latest with 'Diamond Eyes' from same titled long-player from 2010 the band really cheesed it!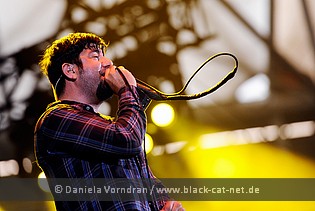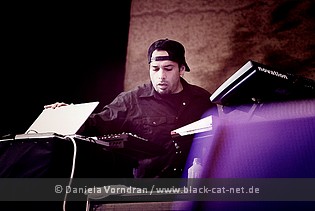 With 'Tempest', DEFTONES pulled a stunner out of the hat whom followed pushing material with 'Swerve City'. Of course, the band's guarantor for creeps could not be missed out, 'Change (In The House of Flies)' from 2000 album 'White Pony'. With dissonant 'Root', the band moved far back in its discography. The song was released on the 1995 debut 'Adrenaline'. The veteran Metal craftsmen surely were not as mainstream as BIFFY CLYRO, but they knew very well how to use their 45 minutes time and at the end, they found well deserved reception from the audience. // http://deftones.com / https://www.facebook.com/deftones // Setlist: 1. Rosemary / 2. Be Quiet And Drive (Far Away) / 3. My Own Summer (Shove It) / 4. Entombed / 5. Diamond Eyes / 6. Tempest / 7. Swerve City / 8. Change (In the House of Flies) / 9. Root // Rating: 8 / 10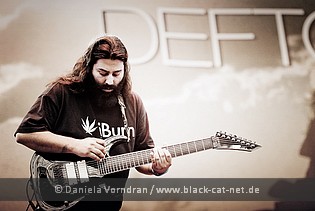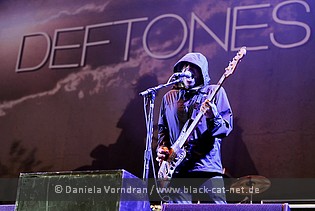 Casper

Half an hour later, CASPER had a rough ride. Sure, Benjamin Griffey has also three string instruments in his band, but first and foremost the born East-Westphalia boy delivers Rap / Hip-Hip tunes. The third album 'Hinterland', to be released on 27th September, is said to be more guitar based, but I cannot judge by now. Anyway, the cover of foretaste single 'Im Ascheregen' was broadcasted on the backdrop but the set mostly presented songs out off the number one album 'XOXO' and older material after the blue smoke was fading away. The beginning was made by 2011 'Auf und davon', receiving some reluctant applause, while in the back the phalanx of lights was taking care for the visual effects. CASPER probably had loved if the audience on the tribune was standing up for following 'Casper! Bumaye' from 'Hin zur Sonne', but the audience did not did him the favour.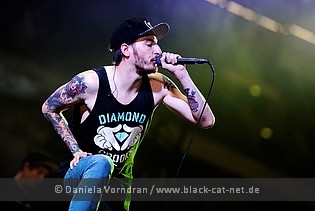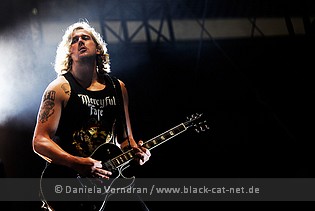 Four weeks ago, I could experience how 30,000 visitors of Deichbrand festival freaked out during CASPER, but Rock im Pott was probably the wrong place for him. The mentioning of the word "Hip-Hop" cause even several "Boo" shouts. The six boys on stage surely had a tough time on stage. It was not easy to get the audience going, but they took great pains and were not deterred during high-speed track 'Die letzte Gang der Stadt' where at the end they even presented some OUTCAST snippets. During 'Guten Morgen Herzinfarkt', they musically quoted KANYE WEST with his 'Homecoming', after at least the hit 'XOXO' was earning some applause. During 'Rock'n'Roll' with its guitar parts, in the back of the hall even a mosh-pit formed. But still, the artist was not really satisfied with his audience and did not make it any better with some comments of local football club Schalke04.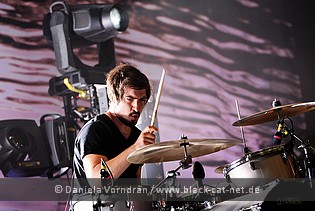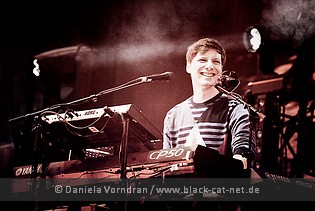 With 'Mittelfinger hoch', CASPER finally found a connecting gesture where people celebrated together, before mood calmed down a little and went somewhat melancholic with the 'Grizzly Lied' and 'Michael X'. Full speed ahead followed with 'Der Druck steigt' and 'So perfekt' and after one hour, some final jumping and the perception that at least some people had fun, CASPER said goodbye and maybe he even gained one or another new fan. Finally, the backdrop was falling down, revealing another one showing the album cover of the upcoming release. // http://www.casperxo.com / https://www.facebook.com/casperxo // Setlist: 1. Auf und davon / 2. Casper! Bumaye / 3. Die letzte Gang der Stadt / 4. XOXO / 5. Rock'n'Roll / Alles verboten / 6. Blut sehen (Die Vergessenen Pt.2) / 7. Cas in Paris / 8. Guten Morgen Herzinfarkt / 9. Mittelfinger hoch / 10. Das Grizzly Lied / 11. Michael X / 12. Der Druck steigt (Die Vergessenen Pt. 1) / 13. So Perfekt // Rating: 6 / 10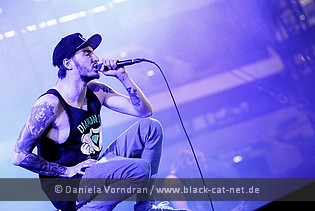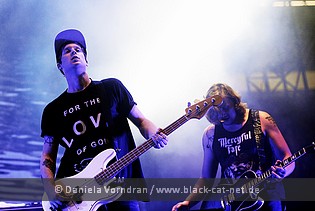 Tenacious D

Kyle Gass and Jack Black seem to fancy themselves as some kind of saviours. Both actors and musicians brought their – let's call it comedian rock – band TENACIOUS D to life in 1994 and with it, they are very successful. Lately, their third album 'Rize of the Fenix' was climbing high chat positions and I must admit, I don't really know why exactly. Okay, the music is without any doubt well-crafted, but surely no revelation and the horseplay humour of the duo at least does not meet my taste at all. But with this impression I was on that Sunday afternoon pretty lonely. In the meantime, the tribunes visibly filled up and there was no need for an extra invitation to stand up. The show was celebrated from the very beginning. The slowly rising phallus during the opener 'Rize of The Fenix' was equally applauded like its atony later when during 'Double Team' out of the supposed glans a confetti rain was spilled. Something of that kind, also RAMMSTEIN have in program, maybe this is just really in.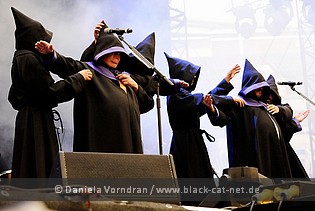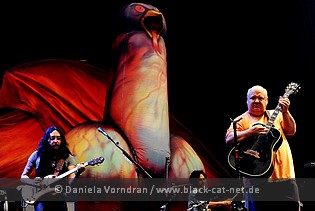 When OLLI SCHULZ sings of the hard job of a roadie and underlines it visibly, it is lot more interesting as the 'Roadie' version of TENACIOUS D. But anyway, the guys hit the nerves of the audience, together with their three additional musicians and the green plush monster having its first appearance during 'Deth Starr' and the metal robot, being aptly positioned during 'The Metal'. Many mosh-pits proved the joy the audience had and their unconditional willingness to be entertained. So, anyone loudly sang along and chanted the band's name. So obviously according to the audience's reaction, TENACIOUS D seemed they made anything right and I will mot mourn about. // http://www.tenaciousd.com / https://www.facebook.com/tenacious // Setlist: 1. Rize of The Fenix / 2. Low Hangin' Fruit / 3. Señorita / 4. The Road / 5. Roadie / 6. Dio / 7. Throw Down / 8. Kielbasa / 9. Kickapoo / 10. Deth Starr / 11. The Metal / 12. Wonderboy / 13. Beelzeboss (The Final Showdown) / 14. Tribute / 15. Double Team / 16. Fuck Her Gently // Rating: 7 / 10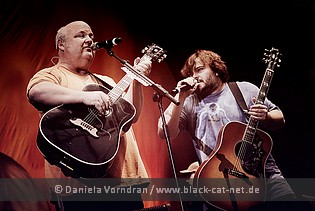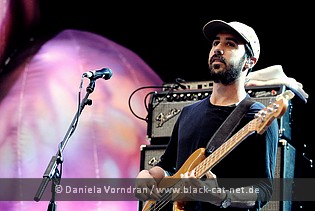 Volbeat

Finally, half an hour afterwards, I get my money's worth with VOLBEAT! The four Danes, who really got started during the last years, perfectly cared for it. VOLBEAT caused a sensation with their "Elvis Metal" since 2001. Four of five albums gained international success and without any doubt, Michael Poulsen and his crew are the export hit of the small Scandinavian kingdom. Very fitting to their mix of Heavy Metal, Rock'n'Roll, Punk and Country, the quartet started with 'Hallelujah Goat' from their third album 'Guitar Gangsters & Cadillac Blood' from 2008 in a Western/Country style and already to the title track of exactly this album, you could see thousands of raised hands in the hall. Everywhere you could pot circle pits and latest with the hit 'Heaven Not Hell' from 2010 album 'Beyond Hell/About Heaven' with its whining guitars, there was no holding back anymore. No question that the JOHHNY CASH number 'ring of Fire' or his 'Sad Man's Tongue' were heavily celebrated. The "WE will rock you" chants at the end of the song were well done.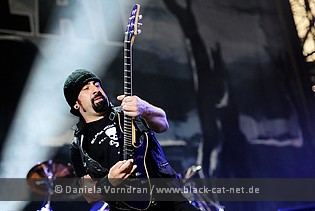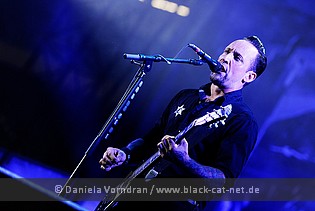 During the next song, 'Lola Montez', the audience showed some lyrical insecurities, but they were really lyric-proof during following highlight 'Fallen'. For the up-tempo Rock'n'Roll song ' 16 Dollars', the male attendees were commanded to take the girls onto their shoulders, while during rhythmic and cool '7 Shots', first crowd surfers could be spotted. Besides that, there was an additional musician entering the stage! Besides Poulsen with his Sherriff star on his breast, drummer Jon Larsen, bassist Anders Kjølholm and guitarist Rob Caggiano (ex-ANTHRAX), Mille Petrozza (KREATOR) entered the stage as guest for vocal support. Afterwards, the band went on in usual band size with 'Mary Ann's Place'. During 'Dead But Rising', not only the backdrop changed, the musicians also presented some more cover interpretations. To be precise, there was a short RAMMSTEIN intermezzo with 'Keine Lust', followed by a short part of JUDAS PRIEST's 'Breaking the Law' and finally there was 'Raining Blood' from SLAYER on the list.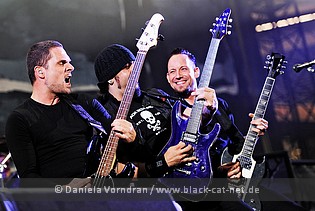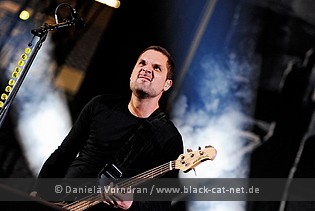 But of course VOLBEAT had enough of their own material on the list to raise the ante, which they did with 'Maybellene I Hofteholder' and 'The Hangman's Body Count'. Compared to them, the groovy 'Still Counting' was rather cheery. There was nearly something like a Reggae feeling in the air… if the guys not just would have moved on in their rocking way. But towards the end, the guys just had a little breathing break in the off and returned then with 'Doc Holliday' from their recent release 'Outlaw Gentlemen & Shady Ladies' to open the encore bloc in an appropriate way. First, mastermind Michael was entering the stage alone, the complete band followed and with it another guitar blast and, not to forget, the third backdrop of the evening. With full throttle, VOLBEAT entered the home stretch and to the sounds of 'Pool of Booze, Booze, Booza', the ladies were crowd surfing altogether.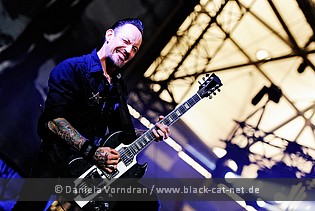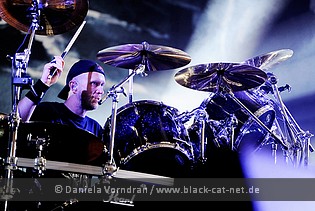 The sounds of the song from 2005 debut 'The Strength / The Sound / The Songs' was long faded when VOLBEAT gave away several stage devotional exercises, releasing a completely satisfied audience that was well entertained with full-force Rock'n'Roll for ninety minutes. // http://www.volbeat.dk / https://www.facebook.com/volbeat // Setlist: 1. Hallelujah Goat / 2. Another Day, Another Way / 3. Guitar Gangsters & Cadillac Blood / 4. The Nameless One / 5. Heaven Nor Hell / 6. Ring of Fire (JOHNNY-CASH-Cover) / 7. Sad Man's Tongue (JOHNNY-CASH-Cover) / 8. Lola Montez / 9. Fallen / 10. 16 Dollars / 11. 7 Shots / 12. Mary Ann's Place / 13. Dead But Rising / 14. Maybellene I Hofteholder / 15. The Hangman's Body Count / 16. Still Counting / Encores: 17. Doc Holliday / 18. Cape of Our Hero / 19. A Warrior's Call / 20. The Mirror And The Ripper / 21. Pool of Booze, Booze, Booza // Rating: 9 / 10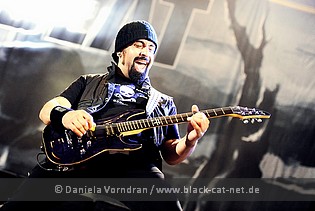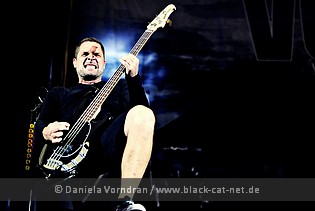 System of a Down

Here we are… finally with the band I was awaiting most! One name was still missing on the running order and without any doubt, SYSTEM OF A DOWN were eagerly awaited. There is no new material for a long time now from the American band with Armenian roots, the latest studio output 'Hypnotize' is already eight years old, and also live, Serj Tankian (vocals & keys), Daron Malakian (guitar & vocals), Shavarsh "Shavo" Odadjian (bass) and drummer John Dolmayan made themselves scarce during the last years. Tankian concentrated more on his solo project. Two years ago, the band performed at Rock am Ring and Rock im Park and besides that, the Alternative Metal pioneers were celebrated in Berlin. Marek Lieberberg Konzerte (MLK) obviously has a good connection to the band founded in 1995 and so, the agency could win the band for the new festival Rock'n'Heim and Rock im Pott as well as for another show in Berlin.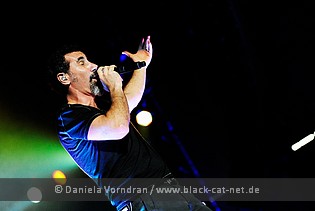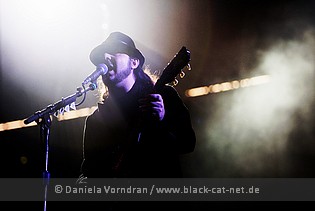 The cloverleaf had a perfect start with 'Aerials' from 2001 album 'Toxicity'. There was nothing standing in the way of a highly energetic lesson in Rock. Appropriately a full broadside was delivered with 'Suite-Pee' from the self-titled 1998 debut album, followed by the thunder of 'Prison Song'. Red floating light was illuminating the position of John during the fast 'I-E-A-I-A-I-O' from 'Steal This Album!' (2002) while you could spot lots of movement within the crowd, loudly singing along during following 'Soldier Side'. During 'B.Y.O.B.', motto on stage was screaming chant, but for the groovy 'Radio/Video', Serj moved to the drum kit to treat a tambourine. 'Hypnotize' was celebrated with sheer mass-clapping. The demand to sing along, sent into the audience by Daron, was probably not needed at all since the fans loudly sang along anyway and extensively worked off their need for movement.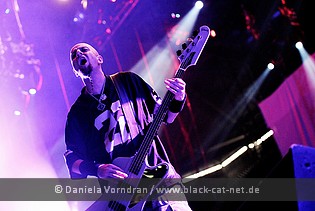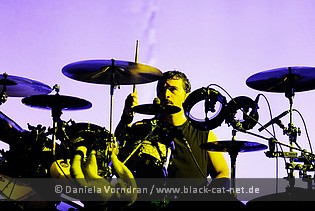 And for movement, high-speed 'Needles' was the right song, before, at least at the beginning, 'Lost in Hollywood' was calming things a bit down. It was a question of honour that anyone gave anything. Surely one of the highlights, also visually underlined by the light show. Drum staccatos and various sound fiddling marked following 'X' and 'Suggestions'. Following 'Psycho' with the Donna Summer snippets of 'I feel Love' nearly brought up some kind of disco atmosphere. From now on, one SOAD mile stone followed another: 'Chop Suey!' bade the infield boiling and for 'Lonely Day', the hall turned into a big choir while a sea of lighters and mobile phone displays could be seen. For 'Question!' from 'Mezmerize' album, Tankian first took his place alone, just armed with his guitar, before the rest of the troop powerfully joined in, leading finally over to equally energy laden 'A.D.D.'.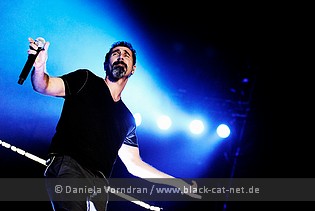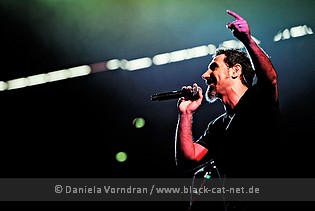 Nearly 30,000 people celebrated the final songs of SOAD, 'Toxicity' and 'Sugar'. The band once more delivered a fantastic show and proved its diversity. // http://systemofadown.com / https://www.facebook.com/systemofadown // Setlist: 1. Aerials / 2. Suite-Pee (Incomplete) / 3. Prison Song / 4. I-E-A-I-A-I-O / 5. Soldier Side - Intro / 6. B.Y.O.B. / 7. Deer Dance / 8. Radio/Video / 9. Hypnotize / 10. Needles / 11. DDevil / 12. Lost in Hollywood / 13. X / 14. Suggestions / 15. Psycho (with Donna Summer's I Feel Love snippet) / 16. Chop Suey! / 17. Lonely Day / 18. Question! / 19. A.D.D. / 20. Spiders / Encores: 21. Cigaro (with Rosie & The Originals' Angel Baby snippet intro) / 22. Toxicity / 23. Sugar // Rating: 9.5 / 10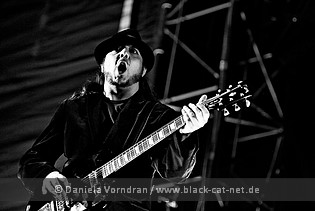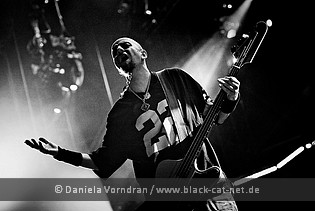 With SYSTEM OF A DOWN, Rock im Pott ended like a thunderbolt. For me, it was an overall successful Sunday, whereas my running order probably had looked a little different. For my taste, BIFFY CLYRO and DEFTONES would have given more time to the charge of TENACIOUS D. The show of CASPER for me was ok, but I must admit that he definitely did not fit into the line-up. But why not be a little more diversified? Now, I am curious for the 2014 line-up and looking forward to the next rocking Pott.

Written by Ulrike Meyer-Potthoff & Daniela Vorndran
All pictures by Daniela Vorndran (http://www.vorndranphotography.com / http://www.black-cat-net.de / http://www.facebook.com/blackcatnet)



See also (all categories):