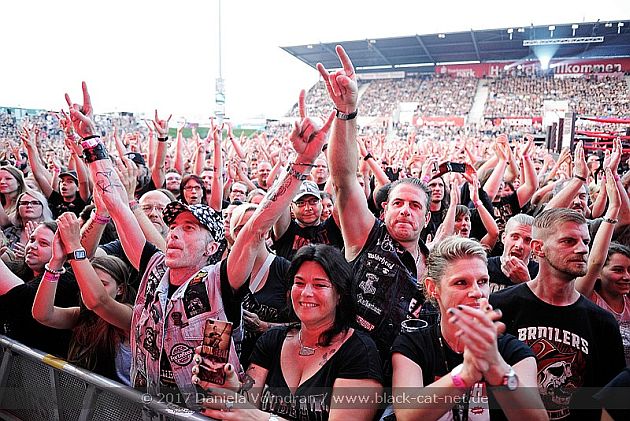 SparkassenPark, Mönchengladbach, Germany
28th August 2017
Volbeat - Seal the Deal 2017 - Support: Amorphis & Flogging Molly

Following their sold-out arena tour, VOLBEAT announced four more German open air shows for the summer. Last Monday, it was time for some "Elvis Metal" in Mönchengladbach! VOLBEAT, the Heavy Metal dudes from Denmark, were going to boogie with us open air. We experienced their energizing mix of Metal, Rock'n'Roll, Punk Rock, Country, and Blues live, loud, and full of beats in the SparkassenPark. The shows of VOLBEAT's tour are under the banner of their latest album 'Seal The Deal & Let's Boogie'. VOLBEAT shared the stage with the Finnish group AMORPHIS, which plays progressive death metal, and - a bit opposing but popular – FLOGGING MOLLY, who give accordion and violin a place on this huge stage: They play Irish folk.
Amorphis

More than ten years ago,
AMORPHIS
released the 'Eclipse' album. This album was the beginning of a new era in the band's history because it was the first album with the new singer Tomi Joutsen, an album full of timeless songs. In these days, AMORPHIS is on tour again. Some headlining shows and some shows to support VOLBEAT. The show-time in Mönchengladbach was very early, to be exact at six pm already, and I guess many fans were already stuck in the heavy traffic all around. Still, the SparkassenPark was already well-filled when AMORPHIS entered the stage. They had not much time, just thirty minutes, and used it very well to deliver an energetic show of six songs. Great start of the concert day! http://www.amorphis.net / https://www.facebook.com/amorphis
Setlist

01. Under the Red Cloud
02. Sacrifice
03. Hopeless Days
04. Bad Blood
05. Into Hiding
06. House of Sleep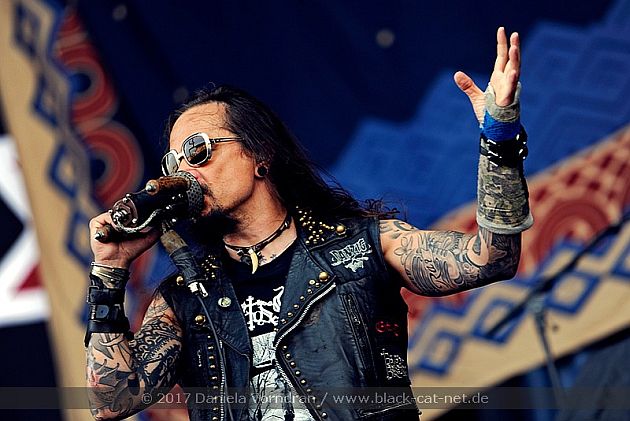 Flogging Molly

Not much time left until Irish-American seven-piece Celtic Punk band from Los Angeles, California,
FLOGGING MOLLY
, which is led by Irish vocalist Dave King, formerly of the hard rock band FASTWAY, entered the stage. Their music ranges from boisterous Celtic Punk to more somber songs. Lyrics typically touch on subjects such as Ireland and its history, drinking, poverty, politics, love, and death and include several references to the Catholic Church. After 'Speed of Darkness', released in May 2011, it took the band several years to release another album. 'Life is good' was finally out in 2017, much to the joy of the band's fans. On 'Speed of Darkness', the typical guitar sound had to clear the field for "native" or "original" instruments. And this was also the case when FLOGGING MOLLY entered the stage, you were just in a big Irish party where anyone on and off stage was dancing and enjoying themselves. FLOGGING MOLLY showed true connection to their fans when some of the band members entered the audience area after the show. http://floggingmolly.com / https://www.facebook.com/floggingmolly
Setlist

01. The Hand of John L. Sullivan
02. Swagger
03. Drunken Lullabies
04. Float
05. Saints & Sinners
06. Devil's Dance Floor
07. Crushed (Hostile Nations) (with 'We Will Rock You" medley)
08. If I Ever Leave This World Alive
09. What's Left of the Flag
10. The Seven Deadly Sins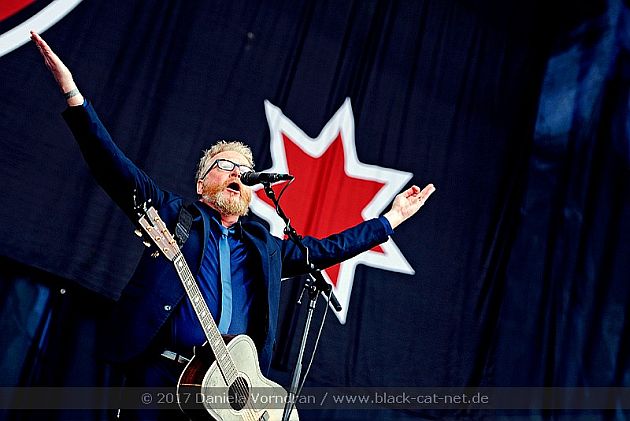 Volbeat

'Seal the Deal and Let's Boogie' -
VOLBEAT
started a comprehensive world tour with their new album in 2016. After co-headlining performances at mega festivals such as Rock am Ring and Rock im Park last year and the gig as the headliner of this year's Wacken Open Air it seemed like the Danish men had enough boogie left to play even more concerts. Following events in Berlin and back in Denmark, VOLBEAT visited the SparkassenPark in Mönchengladbach. Seats and stands were well-filled. In front of about 17,000 spectators, the troupe around "Metal-Elvis" Michael Poulsen delivered a great performance comprising astonishing twenty songs, accompanied by an impressive stage show. And they were really not hiding their metal addiction, Poulsen after the second song ("Heaven Nor Hell") complaining about noise restrictions: "If you are really, really loud, we have to turn up the Volume, because otherwise we couldn't hear a thing up here …"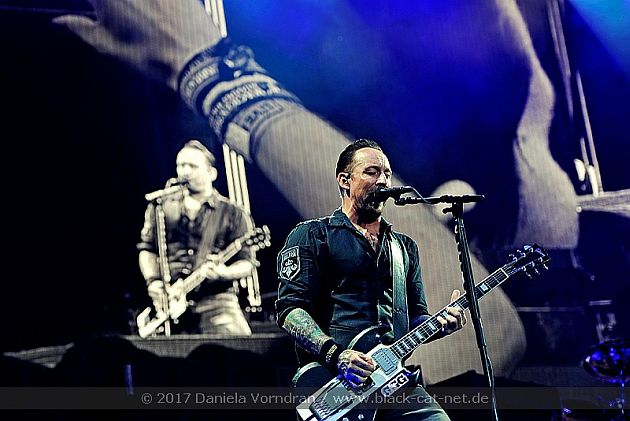 And I would be lying if I was saying it wasn't loud - relating to crowd and band. Rob Caggiano, Kaspar and John Larsen and Michael Poulsen delivered a thunderstorm of guitar riffs and drums - and the Elvis-like and powerful voice of Poulsen. By playing a small acoustic slide-in he expressed the band's thanks to the two support acts for opening the show. The musicians ran a few kilometers at least, because with its catwalk ending in a boxing ring and the spacious set the stage is really huge - but gets to use. A hidden second drum kit inside the boxing ring was used by drummer Jon Larsen to the surprise of most of the crowd, the obvious fight inside the ring was dropped for unknown reasons. Niels "Niller" Bjerregaard designed a very diversified but coherent light show including a lot of special effects: Really hot flames shooting all over the stage, a shitload of confetti and a few, or better: a few more bangs and flashes brought the SparkassenPark to nearly collapse.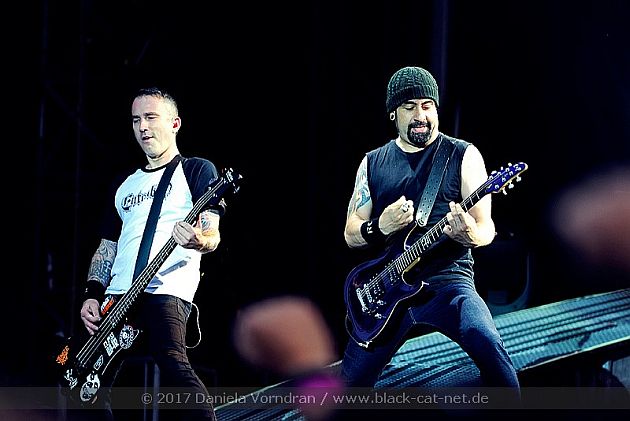 Whether "Wacken"-experienced metal head or Johnny Cash fan, old or young, this show was delightful for everyone. And it got very special for the young: For 'Still Counting', the last song of the show, singer and guitarist Poulsen invited all kids to enter the stage - "They are the next generation of metal". And neither the kids nor their parents nor anyone else will forget this night in the next few days, it will stick in their minds for a long time! http://www.volbeat.dk / https://www.facebook.com/volbeat
Setlist

00. Intro: Born to Raise Hell (Motörhead song)
01. The Devil's Bleeding Crown
02. Heaven Nor Hell / Radio Girl
03. Lola Montez
04. Let It Burn
05. Doc Holliday
06. Sad Man's Tongue
07. 16 Dollars
08. Fallen
09. Slaytan
10. Dead but Rising
11. Goodbye Forever
12. For Evigt
13. Guitar Gangsters & Cadillac Blood
14. The Lonesome Rider
15. Seal the Deal
16. The Garden's Tale
---
17. A Warrior's Call / The Hangman's Body Count
18. Black Rose
19. Pool of Booze, Booze, Booza
20. Still Counting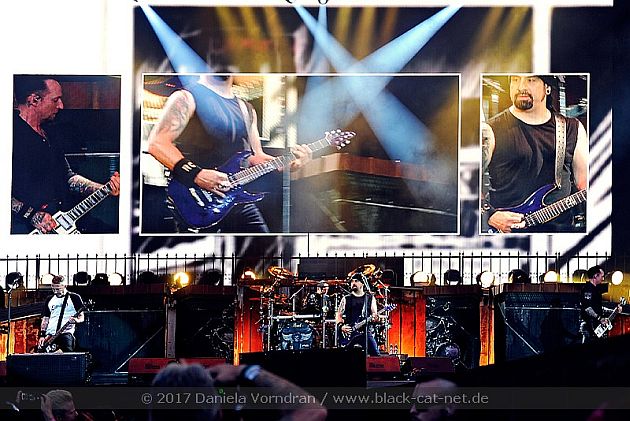 All pictures by Daniela Vorndran (
http://www.vorndranphotography.com
/
http://www.facebook.com/blackcatnet
)
See also (all categories):