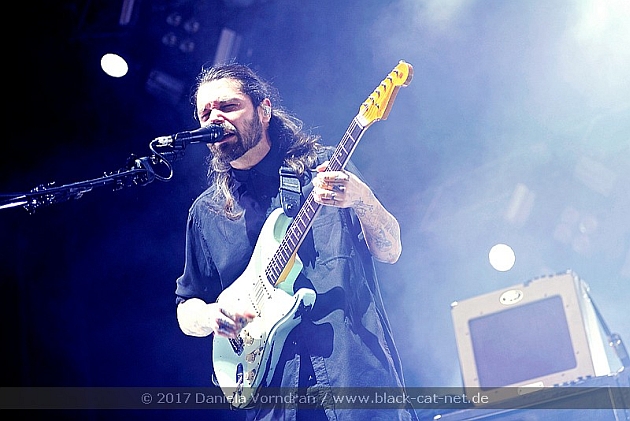 RuhrCongreß, Bochum, Germany
9th February 2017
Biffy Clyro – "Ellipsis Tour" – Support: Aviv Geffen (Blackfield)

2016 was unarguably the year of BIFFY CLYRO. Although these Scotsmen have been around in the music business since 1995, it has only been this year that they've managed to conquer the German market completely. Their songs are on heavy rotation on several radio stations and they've hit the stages of a great number of festivals in 2016. The October/ November concert hall tour included five dates in Germany and much to everyone's delight, there were three additional BIFFY CLYRO shows in Germany in February 2017, one of them was Bochum. The show was supported by Israeli artist Aviv Geffen and his band BLACKFIELD.
Aviv Geffen featuring Blackfield

Israeli artist AVIV GEFFEN became kind of an idol for many youngster since the early nineties. In his songs, he sings about problems of violence, drugs or alcohol. Besides, he is an activist for peace in his country. After several solo albums, being successful only in Israel, he entered the international stage together with STEVEN WILSION as the band BLACKFIELD. It all started in 2000 when Geffen invited PORCUPINNE TREE over to Israel and eventually became friends with Steven Wilson and led to both forming BLACKFIELD and recording songs for what would become the debut album 'Blackfield I' released in 2004 and followed-up by a European tour. After a period of working on their own projects the musicians joined forces again to record the successor in Israel. The album, titled 'Blackfield II' was out February 2007. In 2009, GEFFEN released his first solo album in English language. With BLACKFIELD, there are already several albums released, the latest one, simply named 'V', is out since February 10th, 2017.
http://www.avivarchive.co.il
/
https://www.facebook.com/avivgeffenofficial
/
https://www.facebook.com/blackfieldhq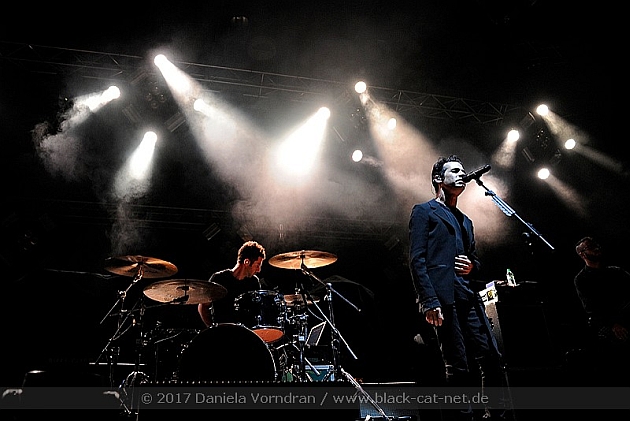 Music & Performance

His support shows for BIFFY CLYRO featured him (lead vocals, guitars, rhythm guitar, keyboards), together with the musicians of BLACKFIELD, but without STEVEN WILSON, Seffy Efrati (backing vocals, bass guitar), Eran Mitelman (backing vocals, piano, keyboards), Tomer Z (drums, percussion). GEFFEN and his mates entered the stage ten minutes before eight to present a thirty minutes set full of BLACKFIELD songs, within also one of the new album, 'We'll never be apart', just one day before the release of 'V'. Of course, GEFFEN could not totally do it without any political statement and today, if was against Mr. Trump, receiving lots of applause from the audience. I guess that not too many people in the audience knew the work of GEFFEN and BLACKFIELD, but his set was well received. One of my personal highlights was 'Oxygen', brilliantly performed by GEFFEN and it proved to be very good to sing along. The set ended with 'Hello' and a wonderful 'Cloudy Now' that seemed to have satisfied everyone.
Setlist

01. Faking
02. Miss You
03. Oxygen
04. Pain
05. Where is my Love
06. We'll never be apart
07. Hello
08. Cloudy now
Rating

Music: 9
Performance: 8
Sound: 7
Light: 8
Total: 8 / 10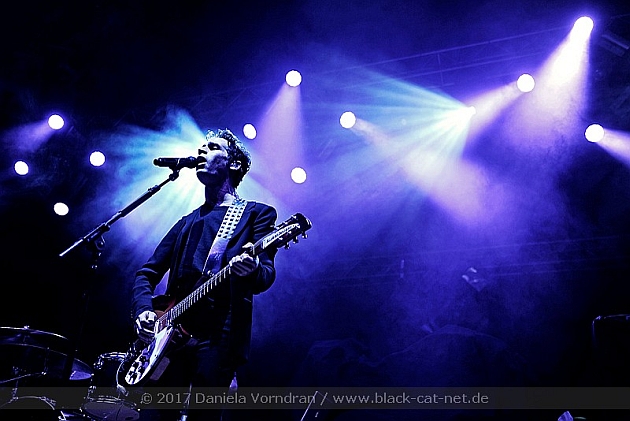 Biffy Clyro

Scottish band BIFFY CLYRO was founded in 1995. First, the band played many concerts until finally the debut album, 'Thekidswhopoptodaywillrocktomorrow', was released. From 2013, the band was touring two years with their album 'Opposites'. The band's recent seventh album, called 'Ellipsis', was released as early as July 8th 2016 and straightforward entered the British as well as the German charts on #1. As their past career spans various elements of traditional Alternative Rock up to String Arrangements, they've now entered the realms of Pop-Rock songs, producing as many sounds as possible by hand in the studio. The first single, 'Wolves Of Winter' released prior to the album, suggested quite a different approach with its drum-machine and loads of guitar tracks. However, BIFFY CLYRO also delivered an acoustic ballad called 'Medicine'. Singer Simon Neil describes the album as "...a punch in the face rather than a heartfelt hug". BIFFY CLYRO consists of Simon Neil (guitars, vocals), James Johnston (bass, vocals) and Ben Johnston (drums, vocals). The band was supported live by two more musicians on Keyboards and guitar.
http://www.biffyclyro.com
/
https://www.facebook.com/biffyclyro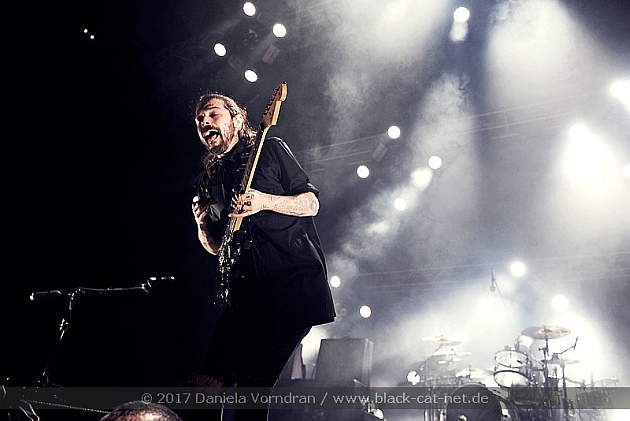 Music & Performance

Lights go down, the room is pitch-black and you could feel the tension in the air. From the back, first lights are illuminating the artists, entering the stage. The musicians stand on their places, not one is moving. It feels as if time stands still. Suddenly, the ban is broken, a children's choir sounds, the room is lit with gleaming lights and BIFFY CLYRO get going with their first song, 'Wolves of Winter' off the new album 'Ellipsis'. All people recognize the first song and start to sing along. The mood is fantastic, arms are reaching into the air. Also the band is full of fire from the very beginning, there is no holding back. They are jumping and dancing across the stage. The band is well-known for their dynamic music and with their current long-player, they have arrived on the very top of the scene. They are playing the big halls and arenas nowadays, several shows are sold-out and also in Bochum, a few thousand people were celebrating with the band. Their songs really have turned into anthems, being frenetically welcomed at their shows. Following songs like 'Living Is a Problem Because Everything Dies' and 'Sounds Like Balloons', marked by stylistic turnarounds and breaks, show what an amazing live band BIFFY CLYRO is.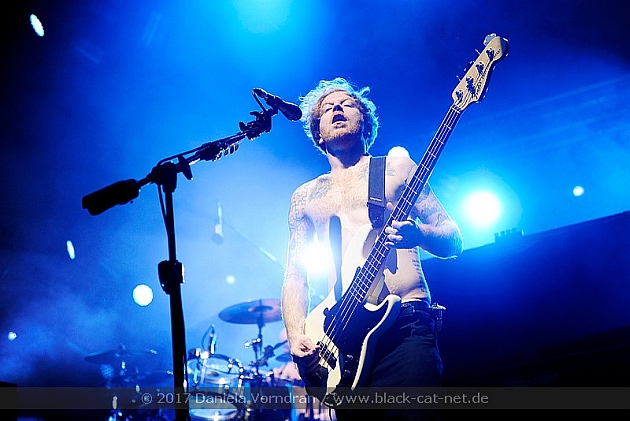 The concert turns into a party night seeing everyone dancing. The fans are euphoric and reward BIFFY CLYRO with big applause. There is a real spectacle on stage due to the breath-taking light show and powerful sound and of course due to the bare bodies of the band members, kind of a trademark of the Scotsmen. The show's diversity is downright unrivalled, the band is on fire and rocks the hell out of the entire huge stage. There is no need for big words, the audience is in best mood anyway. Besides the highly energetic songs, there is also space for the mellow and thoughtful tunes where rock music turns into something catchy and melodic. The setlist is a well-balanced mix of their back catalogue including all favourite BIFFY CLYRO hymns and songs out of their new album. After a total of twenty-one songs, the band leaves the stage with 'Many of Horror', one of the best-known songs, and soon returns with three more pieces. The encore bloc is opened with 'Folding Stars' in an acoustic version where Simon Neil stands alone on stage, just with his guitar in a beam of light, creating a magical moment. The show is closed with 'Animal Style' and 'Stingin' Belle' seeing all the highly pleased fans cheer one last time about an uncompromisingly great performance. BIFFY CLYRO managed to satisfy their audience once more.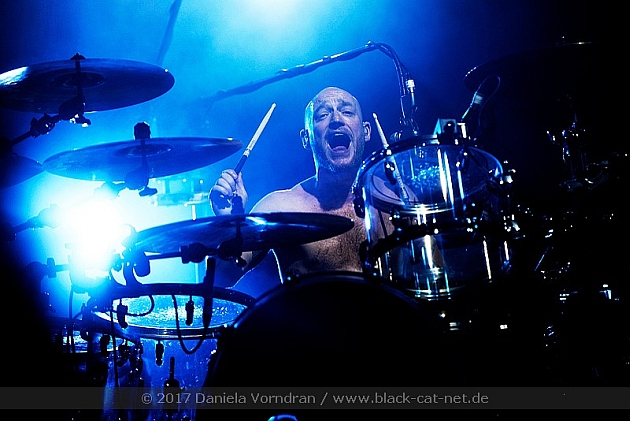 Setlist

01. Wolves of Winter
02. Living Is a Problem Because Everything Dies
03. Sounds Like Balloons
04. Biblical
05. Victory Over the Sun
06. On a Bang
07. Opposite
08. Bubbles
09. A Whole Child Ago
10. Friends and Enemies
11. Black Chandelier
12. The Captain
13. Re-Arrange
14. Herex
15. Medicine
16. Glitter and Trauma
17. Mountains
18. In the Name of the Wee Man
19. Flammable
20. That Golden Rule
21. Many of Horror
---
22. Folding Stars (Acoustic)
23. Animal Style
24. Stingin' Belle
Rating

Music: 8
Performance: 9
Sound: 8
Light: 9
Total: 8.5 / 10
All pictures by Daniela Vorndran (
http://www.vorndranphotography.com
/
http://www.facebook.com/blackcatnet
)
See also (all categories):