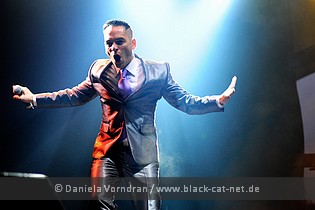 Amphitheater, Gelsenkirchem, Germany
25th & 26th June 2011
Blackfield Festival 2011 Day 1: And One, Diary of Dreams, IAMX, Apoptygma Berzerk, Rabia Sorda, Mono Inc., Absolute Body Control, Solar Fake, Autodafeh, Burn

The Blackfield Festival taking place annually in Gelsenkirtchen's Amphitheatre has advanced in its 3 years of existence to one of the dark scene's highly acclaimed festivals, continuously striving to give its fans the best of the said music spectrum.


The festival was already taking place for the forth time meaning next year we have a little jubilee to celebrate. There was again a greatly assembled line-up awaiting you like for instance AND ONE delivering a huge show of body pop and dancing fever. For the medieval fans there was SCHANDMAUL for the attendees to dwell in ancient times paired with modern rock. One band combining rockier tones with deepest melancholy in a perfect symbiosis is DIARY OF DREAMS performing old and fresh tracks that'll make their crowd yearn for the upcoming album out on 26th August. Apart from the musical part, the Blackfield Festival was again a place of meeting and if you feel like it shopping and this year's edition made no exception. At the festival there were again a vast amount of shopping booths and a wide assortment of food and beverages to satisfy every taste. Besides there was the stand of Düsterart offering photo shootings and of course a big after show party on Saturday.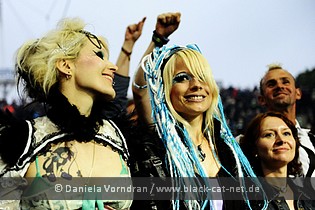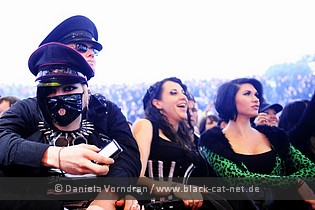 Additionally you had a perfect location with the Amphitheater in Gelsenkirchen where you could enjoy good music with friendly people. And even though the weather on the first day was rather bad, being cold and rainy, people were in good mood and enjoyed the bands.


Burn [Sebastian Huhn]

The history of German band BURN is defined by much work, personal and musical, the transition of a loner to a front man and the transformation of an idea into a fully-fledged band team, having played already in support of the likes of HOOTERS, SCHANDMAUL or EISBRECHER. BURN let loose their first body of work 'The Truth' on 11th March. BURN is Felix Friberg (vocals, guitar), Sven Krachten (guitar), Felix Flögel (bass) and Jörg Schwaer (drums). http://www.burnmusic.com / http://www.myspace.com/burnmusicdotde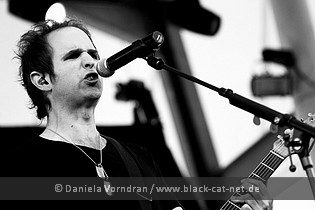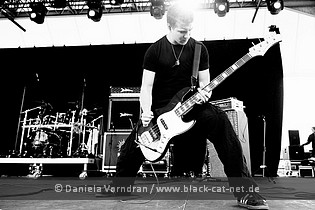 Music & Performance
The weather conditions BURN were entering the stage to open the Blackfield festival were unfortunate to say the least. It was raining cats and dogs and those who could gathered in front of the stage where there was still a roof to cover them. Still the band wouldn't let that tear down their mood and rocked straight ahead with 'Burn For You', whereas the sound didn't burn at all in these early minutes. Several adjustments had to be made and Felix' microphone would've needed some fixing but no one seemed to care so he just switched to the one of bass player Felix (at least they have the same name…). For that "early" hour the mood was comparatively good; the people joined in when animated and so forth. It' was just a little show, yet there was heart's blood in it and that deserves some credit.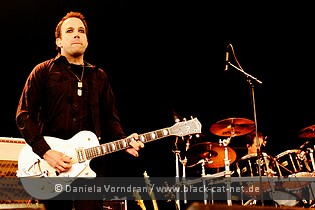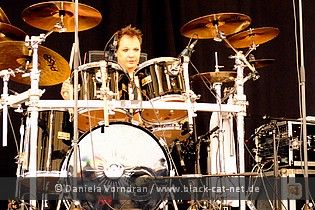 Setlist
01. Burn For You
02. Ghost
03. Bunny
04. Bursting Clouds
05. Dirt
06. The Truth

Rating
Music: 8
Performance: 7
Sound: 6
Light: - (daylight)
Total: 7.3 / 10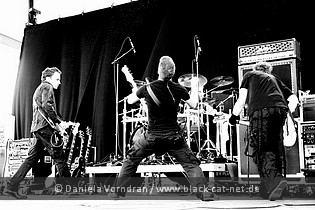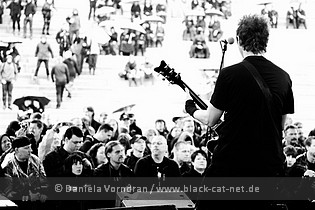 Autodafeh [Sebastian Huhn]

AUTODAFEH was founded in 2007. In 2009, the project released its first album `Hunt for Glory´ that came as a real bomb shell. According to that, AUTODAFEH fans (and those who still want to become ones) may have had high expectations for what was to come next. But with the following 're:lectro' release in August 2009, all those supposed fears were dispersed and not only did AUTODAFEH satisfy old fans, they acquired new ones. The next strike wouldn't be long in coming with the next instalment 'Identity Unknown', getting released in last year's April. AUTODAFEH is Mika (vocals), Jeppe (drums) and Anders (synths). http://www.myspace.com/autodafehmusic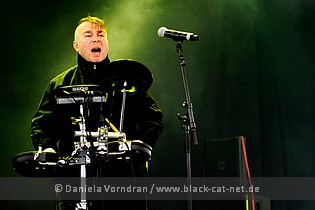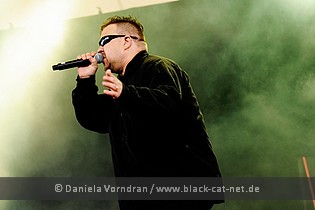 Music & Performance
Since keyboard player Anders became a father that day, Tom of [:SITD:]. From mostly handmade music to clearly electronic driven cuts in the vein of bands like FRONT 242 with AUTODAFEH. As pounding and powerful as these tracks were they couldn't hide the fact that there was nothing really happening on stage. I could spot only little amounts of people dancing. Most of them were just hiding under their umbrellas and were rather observing than actively participating. When I last saw them I complained about the drums not being audible at all; this time around they enriched and reinforced the rather minimalist sound of AUTODAFEH, even though the performance itself was rather dull.

Rating
Music: 6
Performance: 5
Sound: 7
Light: - (daylight)
Total: 5.8 / 10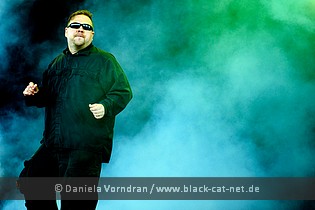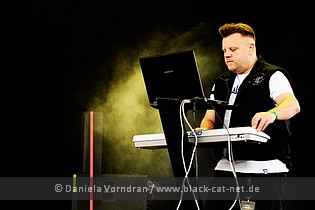 Solar Fake [Sebastian Huhn]

Sven Friedrich gave birth to SOLAR FAKE in 2007. However, the idea of a solo project already existed longer than that, but after the last ZERAPHONE album had been released he finally had the time to delve into it. He ended up having 12 songs finding their way on the debut album 'Broken Grid' out in February 2008. Soon, he would also play various live gigs at festivals and some clubs. In 2009, and only at festivals, the EP 'Resigned' was put out. The second album 'Frontiers' will drop on 22nd July. SOLAR FAKE is Sven Friedrich (production, vocals, lyrics) who was supported live by Frank on keys. http://www.solarfake.de/ / http://www.myspace.com/solarfake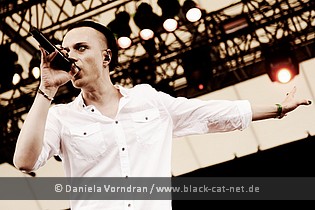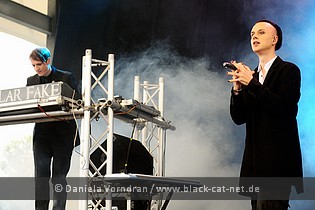 Music & Performance
It's been 3 years, if I recall correctly, since SOLAR FAKE's first appearance at Blackfield festival. In the meantime, Sven Friedrich hasn't been lazy and finished a second album, a few tracks of which we would get to hear at this year's show. But first the crowd got treated to a classic with 'The Shield', before 'Pain Goes By' started a string of new song that were all showing a rather clubby face with not much tempo variation therein, but ranging from softer to harder tones. The repertoire of movements still was limited and Sven did it in a defined radius around the microphone stand. Not that many people seemed to care, really. They just focused on the voice with is indeed a compelling instrument to listen to. Short before the set came to an end, Sven announced a cover version of the TALK TALK song 'Such A Shame'. Here's a thing about cover versions.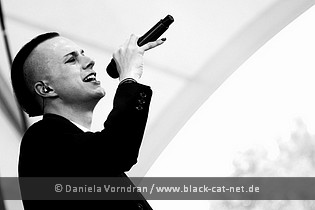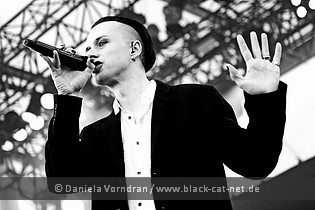 They hardly capture the original song's moods most of the time, including this one. Good to dance to but nothing extraordinary, musically and vocally. Just didn't fit. Otherwise the performance was just as expected. Entertaining but not ground-breaking.

Setlist
01. The Shield
02. Pain Goes By
03. More Than This
04. Parasites
05. Here I Stand
06. Where Are You
07. Such A Shame (Talk Talk Cover)
08. The Rising Doubt

Rating
Music: 5
Performance: 5
Sound: 6
Light: - (daylight)
Total: 5.2 / 10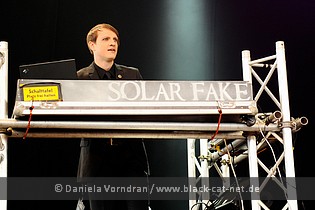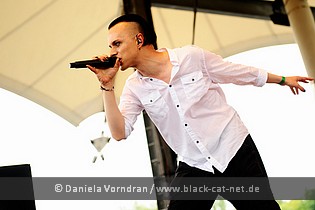 Absolute Body Control [J. "Niggels" Uhlenbruch]

When you just mention the name Dirk Ivens, the one thing that comes to most people's minds is THE KLINIK, but before he became a member of that legendary EBM music project there was ABSOLUTE BODY CONTROL [ABC] which the Belgian founded in early 1980 together with Mark de Jonghe and Veerle de Schepper. While de Jonghe soon left the band after the release of a track on the 'Blitzpop 1' compilation and their first 7" single 'Is there an exit?' in 1981 and was replaced by Eric van Wonterghem who would remain Dirk's musical counterpart for many years to come. ABC appeared on several compilations and tapes before they decided to continue the project as a duo. In 1984 both Dirk and Eric became members of THE KLINIK; the latter one left already after the second album and formed INSEKT. Their last tape 'Tracks' released in 1989 contained all their compilation contributions. The first CD 'Eat this' was released as late as 1993 because of the lasting public interest. After 22 years ABSOLUTE BODY CONTROL finally re-united in 2006 to play some festival shows and released a compilation called 'Wind (re)Wind' containing re-recorded tracks.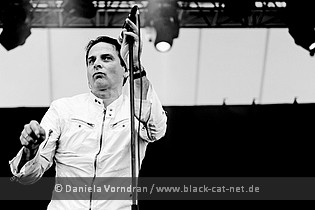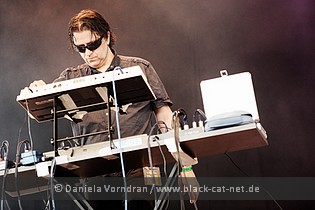 Receiving more attention than ever before, ABSOLUTE BODY  CONTROL added more shows and tours and in 2010 they released 'Shattered Illusion' - strictly speaking their debut album after amazing 30 years, as all releases before were either singles, tape cassettes or compilation CDs! http://www.dirkivens.com / http://www.myspace.com/absolutebodycontrolbelgium

Music & Performance
It was a bit odd to see and hear ABSOLUTE BODY CONTROL and their dark, throbbing minimal Electro in daylight, and unfortunately the space in front of the stage was not yet as crowded as ABC would have deserved. Anyway, the two gentlemen blasted their analogue beats into the round of the Amphitheatre and Dirk Ivens indulged in his weird dance style somewhere between spasmodic cramps and robotic coldness. There was hardly any communication with the audience but then this wouldn't become ABSOLUTE BODY CONTROL's style anyway. Their style is dark, cold and minimal EBM, and they presented a fine selection from their 30-year career from 1981's 'Is There An Exit?' to this year's single 'Surrender No Resistance'. I would have loved to hear 'Automatic' as well but the ABC show had to be cut on short notice anyway - the backup sound even accidentally kept running when Ivens and can Wonterghem left the stage, a very broad hint that ABSOLUTE BODY CONTROL had planned more for the Blackfield.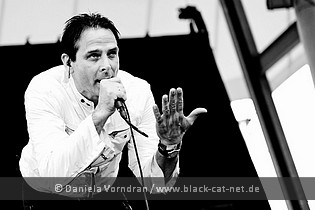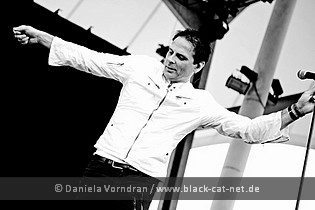 It was not the last time on this day that a gig had to be cut short to comply with the schedule. However, ABSOLUTE BODY CONTROL were an early musical highlight on day one of the Blackfield.

Setlist
01. Melting Away
02. Sorrow
03. Surrender no Resistance
04. Love at first Sight
05. Is there an Exit?
06. Figures
07. So Hard
08. Never Seen
09. Give me your Hands

Rating
Music: 9
Performance: 9
Sound: 9
Light: - (daylight)
Total: 9 / 10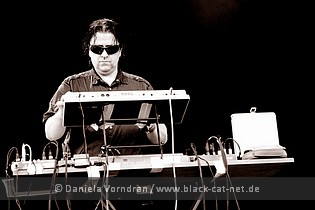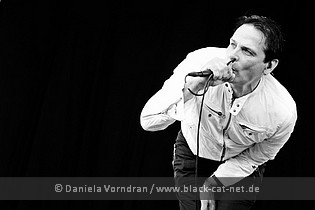 Mono Inc.

MONO INC. formed as MONO69 in 1998! Beginning of 2003, Manuel Antoni fills in the vacant position as bassist and hence completes the line-up. The self-released debut 'Head under Water' followed then in autumn 2003. The year 2006 brought one of the worst surprises a band is able to encounter. The departure of their former singer, however a proper replacement was to be found quickly with drummer and songwriter Martin Engler. Katha Mia would take over drum duties for him from there on. As it turns out, the idea to put Martin to the front wasn't a bad one at all; ever since the band has grown more popular than ever expected. 2007 sees the release of the next record 'Temple of the Torn' to be followed only one year later, exactly in June 2008, with the third album 'Pain, Love & Poetry'. The band's newest album is named 'Viva Hades'. MONO INC. is Martin Engler (vocals), Manuel Antoni (bass, vocals), Katha Mia (drums) and Carl Fornia (guitar, vocals). http://www.mono-inc.com/ / http://www.myspace.com/monoincmusic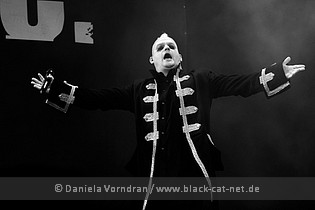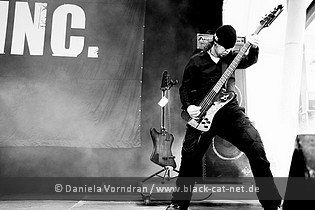 Music & Performance
I had high hopes for MONO INC. beforehand to stir up the weary crowd a little and it turned out my hopes were not in vein. To the sound of an introduction leading into 'This Is The Day' it was Katha Mia entering the stage first to bring a little life into the audience, preparing everything for the others and last but not least front man Martin Engler who in the further course knew exactly how to involve the people and make the best out of the rainy situation when he made the people move their umbrellas to the rhythms several times instead of just making them scream or clap along as it is usual. That way they the band managed getting the mood to a preliminary peak on this rainy day. In the midst of a rather driving set MONO INC. put the acoustically tinged 'Passenger' to fool everyone into a false direction, bringing a solo drum performance seamlessly segueing into 'Voices Of Doom' and the filming of the 100th episode of "Mono Inc. TV". Happy Birthday by the way! To get to a conclusion now, it was the best show up to that point.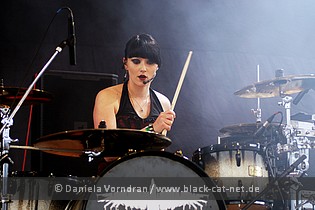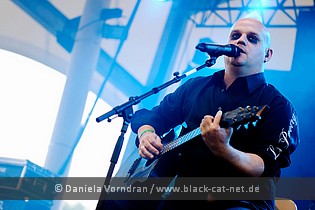 Setlist
01. This Is The Day
02. Symphony Of Pain
03. Viva Hades
04. Forgiven
05. The Passenger
06. Voices Of Doom
07. Get Some Sleep

Rating
Music: 7
Performance: 9
Sound: 8
Light: - (daylight)
Total: 7.9 / 10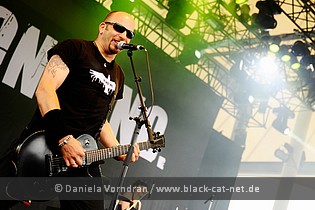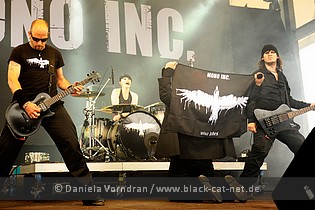 Rabia Sorda [J. "Niggels" Uhlenbruch]

RABIA SORDA is the side project of Erk Aicrag, lead singer of the Mexican Hellectro band HOCICO. Both projects are electronic bands of course, but RABIA SORDA is somewhat more melodic and less noisy than HOCICO. While the latter is clearly a Hellectro / Aggrotech act - and one of the leading acts in this field - Aicrag uses RABIA SORDA as a vehicle for his own musical creativity, having a much stronger Rock feel and mixing different aspects ranging from ethnical influences to 80's-style melodies and punky attitude to aggressive electronic music. http://www.rabiasorda.com / http://www.myspace.com/rabiasorda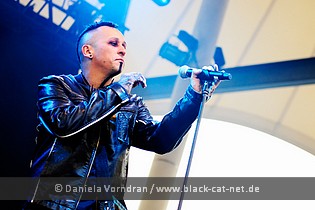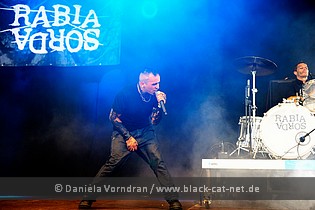 Music & Performance
Funnily enough, RABIA SORDA was strangely a band I had always managed to miss at festivals for whatever reasons. A big mistake, as their gig at the Blackfield proved! Backed up by Grigory Feil (keyboards) and Jeans (live drums), Erk Aicrag delivered a pretty powerful show. This guy simply cannot stand still! I was about to say that he's the Speedy Gonzales of EBM but on a more serious note, Erk Aicrag is simply one of the most energetic front men of the scene! And that's not just show, this fully tattooed man from Mexico is simply like that. A very authentic performance, and Aicrag didn't even give a damn that the audience in Gelsenkirchen was significantly less energetic than he was himself. A few miles per hour more, and he might have managed to be in two spots at the same time... and the music was just as compelling. Ironically starting with the song 'This Is The End', RABIA SORDA hammered their Endzeit-style Electro into the air of the industrial city of Gelsenkirchen.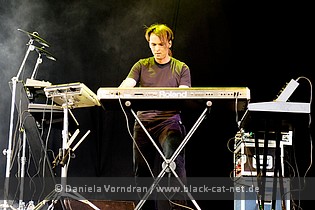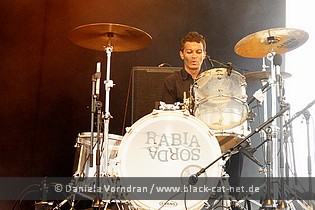 Songs like 'Radio Paranoia', 'Save Me from my Curse' and 'Walking On Nails' are already fairly club-tested and proved to be even better live. An adrenaline-pumping and, thanks to Erk Aigrac's stage presence, very authentic performance! If it wasn't for the rain and the daylight I guess the crowd would have been more contagioned with this sonic power blast. Not to be missed again next time!

Setlist
01. This is the end
02. Out of Control
03. Radio Paranoia
04. Misery
05. Eye M the Blacksheep
06. Save Me from my Curse
07. Heart Eating Crows
08. Walking on Nails
09. Money Talks and Rots

Rating
Music: 8
Performance: 9
Sound: 9
Light: - (daylight)
Total: 8.8 / 10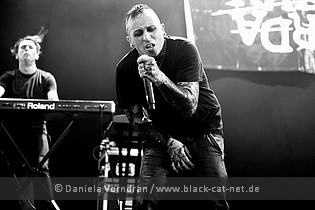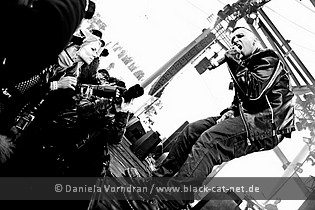 Apoptygma Berzerk [J. "Niggels" Uhlenbruch]

Stephan Groth already has a 22-year career behind him with his brainchild APOPTYGMA BERZERK [APOP], wiggling from the EBM and dark Synth Pop of APOP's early days to the "Future Pop" of the 'Welcome to Earth' album to the electro-induced Indie Rock of the last two albums. After changing the long-lasting line up of his band completely in 2009, Stephan Groth is today performing with Thomas Jakobsen (drums), Brandon Smith (guitar), Leandra Ophelia Dax (keyboards), and his brother Jonas Groth (keyboards, but missing at Blackfield) under the moniker APOPTYGMA BERZERK. www.theapboffice.com / www.myspace.com/apoptygmaberzerk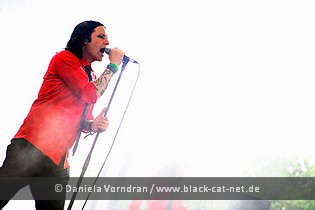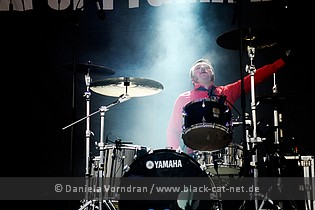 Music & Performance
Just two years ago APOPTYGMA BERZERK were co-headlining the Blackfield festival, this time they had to be content with a spot in the late afternoon and a short 45-minute set. An indication that Groth probably didn't do himself a favour with the radical change of direction of the last albums, quite consequently, 'Rocket Science' (2009) and 'You and Me Against the World' (2005) were completely ignored in APOP's set. To the sounds of an intro Groth's new band, including JESUS ON EXTASY member Leandra Ophelia Dax on the keys, entered the stage all dressed in red shirts and black ties. Surely a tribute to the 'Man Machine' era of KRAFTWERK. APOPTYGMA BERZERK is much rockier, though, but first of all they had to fight technical issues during their first song. Groth's microphone simply didn't work so that his voice was completely inaudible, and it took a while until someone from his crew cared enough to fix this problem. Not the first technical glitch of the first festival day! After the problem was fixed things took off with classics like 'Love Never Dies' and 'Paranoia'.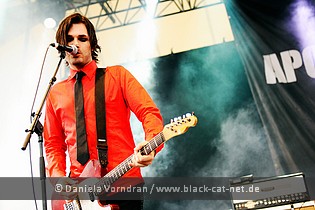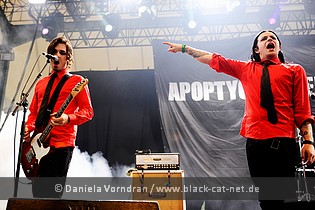 APOPTYGMA BERZERK took the safe route by playing the old classics which are still popular among any Goth and EBM crowd and also added anthems like 'Kathy's Song', 'Starsign' and 'Non-Stop Violence' to their set. The Blackfield audience enthusiastically embraced these offerings and also sang along to the cover version of the 80s classic 'Major Tom'. Funnily, the crowd sang the German lyrics while the band opted for the English version. Another safe crowd pleaser but it perfectly mirrored what I for one thought about the entire gig: Fairly entertaining and enjoyable but at the same time a little stale and, to be brutally honest, although quite good yet nowhere near past glories.

Setlist
01. Intro
02. Love never dies
03. Paranoia
04. Kathy's song
05. Shadow
06. Starsign
07. Non-stop violence
08. Major Tom

Rating
Music: 7.5
Performance: 7.5
Sound: 8
Light: - (daylight)
Total: 7.5 / 10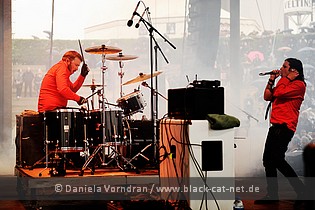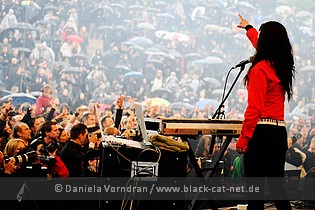 IAMX

Following a series of albums with SNEAKER PIMPS, Chris Corner started IAMX as his solo project in 2003. Corner produced the IAMX debut 'Kiss + Swallow' (Recall records, 2004) in his home studio and the follow-up 'The Alternative' (Major Records, 2006) in his new domicile in Berlin, Germany and now after a seemingly endless time span IAMX returned with the third album 'Kingdom of Welcome Addiction' in May 2009 off which the band was already presenting several songs live on various festival dates to be followed now by an extensive club tour. In March 2011, the band released their newest effort with 'Volatile Times'. IAMX live is Chris Corner (vocals), Janine Gezang (keyboard, guitar, backing vocals), Caroline Weber (drums) and Alberto Álvarez (guitar, bass, percussions, backing vocals). http://iamx.eu/ / http://www.myspace.com/iamx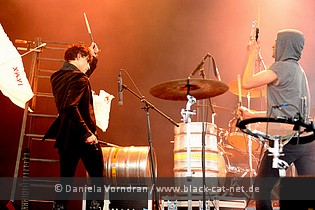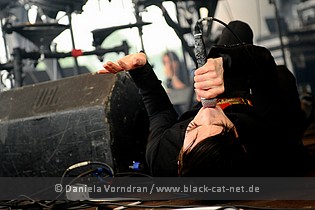 Music & Performance
Seeing IAMX in broad daylight is a rare thing to witness, really. That's why the photographers were all going crazy about it. Finally more than merely a shape on the pictures! But first we were blessed with an extra-long sound check with everything changed back and forth before the show could finally kick off with 'Music People'. One special thing about this band is they're breaking the boundaries of a common line-up with everyone just using one single instrument. Sometimes it's feeling like everyone is using everything that is just needed and so Chris Corner not just delivers soaring vocals but treats the drums or twiddles knobs, or Janine is just coming to the front to play the bass. Right now I think I'm sounding like someone who's just seen them the first time and that is somewhat true. In the usual dim environments you're hardly seeing but sensing everything. Seeing everything makes just that extra bit more exciting.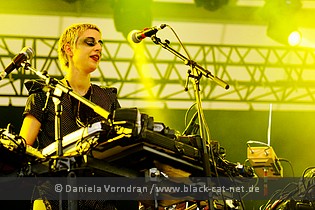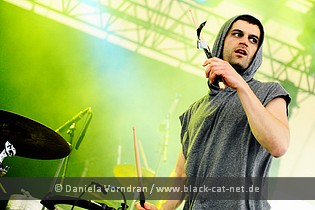 Club grenades like 'Ghosts of Utopia' or 'Nightlife' were delivered along with a sad song like 'Tear Garden'. It's all about contrasts. But to be honest that species was a minority for the edgy, clubby tracks prevailed the set and left a crowd flabbergasted. The band also proved during the show they've got some real Rock'n'Roll attitude with letting themselves fall writhing on the ground for instance and Chris delivered a stagy end by furiously leaving the limelight when the show was being cut-off after 'President' due to the tight schedule. True Rock'n'Roll, isn't it?

Setlist
01. Music people
02. Nightlife
03. Ghost of Utopia
04. My secret friend
05. Tear garden
06. Bring me back a dog
07. Nature of inviting
08. Cold red light
09. Kiss and swallow
10. President

Rating
Music: 9
Performance: 9
Sound: 8
Light: 6
Total: 8.4 / 10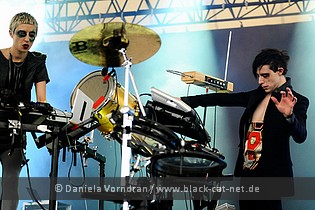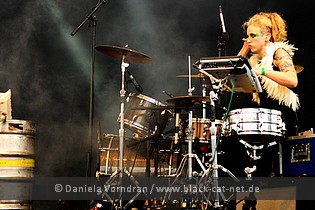 Diary of Dreams [J. "Niggels" Uhlenbruch]

Adrian Hates, head and initiator of DIARY OF DREAMS, was originally a classically trained guitarist and pianist and long-time bassist of Gothic Rock band GARDEN OF DELIGHT. While he started DIARY OF DREAMS as his solo project in the late 1980s already, things took off a little more in the mid-90s after he left GARDEN OF DELIGHT. In 1994 the first DIARY OF DREAMS album 'Cholymelan' was released on the Dion Fortune label, and during the second half of the 1990s DIARY OF DREAMS evolved to a fully-fledged live band, increasing their success with every tour and every release by adding Rock elements and much dancier electronic rhythms without abandoning the melancholic feel of their Dark Wave sound. In the new millennium, DIARY OF DREAMS one of the most popular acts of the German Goth scene with elaborate releases like the concept album 'Nigredo' (released in 2004), 'Nekrolog 43' (2007), and their ninth album entitled '(if)' (2009), and last but not least through DIARY OF DREAMS' impressive live shows.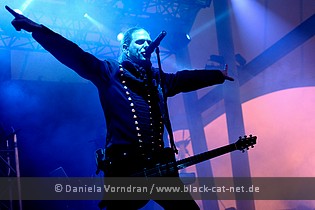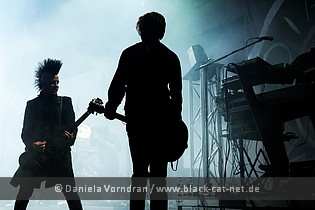 On 26th August 2011, DIARY OF DREAMS will release the new album 'Ego:X', accompanied by yet another long headliner tour, but before album and tour Adrian Hates and his band play selected festivals this summer, including the first day of the Blackfield. DIARY OF DREAMS live on stage is Adrian Hates (vocals, guitar, bass, production), Dejan (drums), Flex (guitar), and Gaun:A (guitar, backing vocals, bass) and as keyboarder on Blackfield again Taste. http://www.diaryofdreams.de / http://www.myspace.com/diaryofdreams

Music & Performance
DIARY OF DREAMS started their show with quite some delay, due to the technical issues at previous gigs and thanks to IAMX' Chris Corner insisting on an extra-long sound check for whatever reason. But oh boy, DIARY OF DREAMS know how to start a show! With coloured fog and pyrotechnics they created a magic atmosphere from the start and confirmed why DIARY OF DREAMS is considered as one of the best modern Goth acts.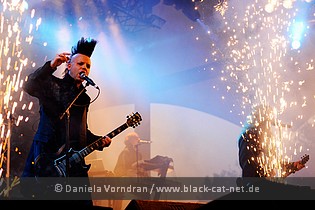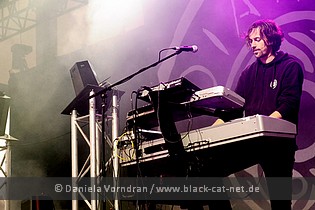 'The Wedding' from their album '(if)' kicked off the musical journey through the last couple of albums, including a few teasers from the forthcoming album 'Ego:X'. A journey from dark anthems to poetic and fragile ballads to energy-driven Electro tracks, but always with the typical DIARY OF DREAMS stamp on it. One of the few bands which offer quite some variety while keeping their trademark sound alive at the same time. Adrian Hates is a perfectionist and this is also true for DIARY OF DREAMS' live shows. The music is perfectly arranged and choreographed, the show effects are lavish and extravagant. But thanks to Hates' charisma and his often very personal songs it is more than just a polished high-gloss show. DIARY OF DREAMS' music has an emotional quality which would also touch you without all the effects. That this will still be true for the next album proved the new songs 'Undividable' and 'Echo In Me', which received an excellent feedback from the fans.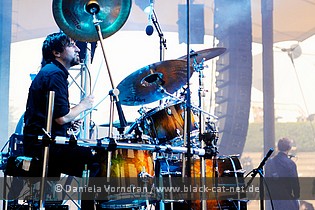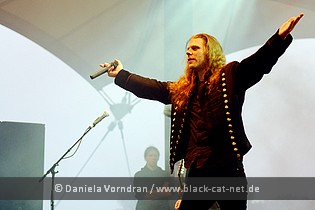 With the fan fave 'Traumtänzer' the band closed a very good but way too short performance. Perhaps DIARY OF DREAMS will finally headline an event like this in the near future if 'Ego:X' is going to continue the trend of the ever-increasing success of Adrian Hates' brainchild. I'm sure this will be the case - and it would be well-deserved as DIARY OF DREAMS are simply better than most others.

Setlist
01. Intro
02. The Wedding
03. Undividable
04. King of Nowhere
05. MenschFeind
06. Echo In Me
07. Unwanted
08. Nekrolog 43
09. Oddyssey Asylum
10. The Plague
11. Kindrom
12. Traumtänzer

Rating
Music: 9
Performance: 9
Sound: 9
Light: 9
Total: 9 / 10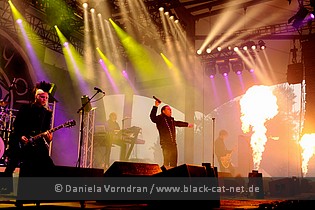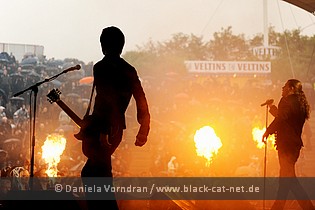 And One [J. "Niggels" Uhlenbruch]

A lot of things have happened in the AND ONE camp recently. Gio van Oli and founding member Chris Ruiz announced their departure from Steve Naghavi's AND ONE in an attention-grabbing YouTube video and with a statement that they are not happy at all with the recent developments. Steve Naghavi managed to recruit new live keyboarders in no time, including Joke Jay who left the project in 2001 and who seemed to be hopelessly divided with Naghavi, and supported German chart stormers UNHEILIG on their ongoing summer tour. This was of course not the first line-up change in the history of AND ONE. Founded in Berlin in 1989 by Steve Naghavi and Chris Ruiz, AND ONE soon released their debut single 'Metalhammer' on Machinery Records in 1990. Joined by Alex Two, the first album, 'Anguish', quickly followed in 1991 and marked a very prolific era for AND ONE. Up to 1994 the band released one album per year, plus several singles and EPs. By the mid-90s AND ONE had established their profile with simple but hypnotizing and catchy Electro meandering between the sonic worlds of Synth Pop heroes like early DEPECHE MODE or CAMOUFLAGE and the straight EBM tunes of pioneers like NITZER EBB and FRONT 242.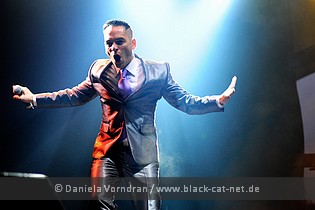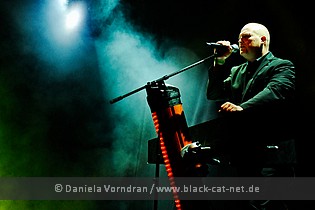 Alex Two though already quit in 1993, being replaced with Rick Schah who left in 2001 to be replaced by Gio van Oli. Chris Ruiz even left AND ONE before Alex Two in 1991, with Joke Jay following in his footsteps. In 2002 Chris Ruiz joined AND ONE again to replace Joke Jay - yes, the line-up of AND ONE is a like weird revolving door. The only constant is Steve Naghavi, and it is an open secret that AND ONE is more or less his solo project with additional musicians, being again Rick Schah and Joke Jay on keys during the Blackfield festival. http://www.andone.de/ / http://www.myspace.com/andoneofficial

Music & Performance
"The way to succeed and to suck eggs" - this line from MINISTRY's classic album 'Psalm 69' eyes comes to my mind when I try to describe AND ONE's headlining gig at the Blackfield while also considering the recent developments of Naghavi's little ego show. Flown in just in time by a helicopter from a gig to open up for UNHEILIG in the afternoon, AND ONE wasted no time and started the merry-go-round of mostly self-composed Synth Pop hits. The mission was clear: Please the crowd! To achieve this, Steve Naghavi picked a number of familiar tunes for his first full-time show in quite a while, beginning with a dancy version of the classic 'Für' and including tried-and-tested club hits like 'Timekiller' (originally from  PROJECT PITCHFORK), THE CURE's 'The Walk', 'Personal Jesus' by DEPECHE MODE and his own 'Deutschmaschine', 'Sometimes', 'Traumfrau', and others. From their most recent album 'Tanzomat', released in March this year, AND ONE performed only one single song, 'Seven'. This might fuel speculations that Steve Naghavi has little trust in his latest material, though AND ONE also performed the single track 'Zerstörer' at the Blackfield, which was released before the album but not featured on it. Pretty much a throwaway song with throwaway lyrics, no surprise that the track often doesn't make it into the setlist.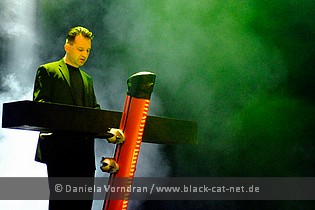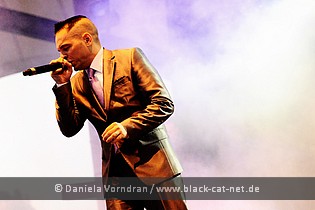 However, Steve Naghavi had a good time and the audience did not hesitate to get the party started. Between songs, Naghavi flaunts corny jokes and unveils his very ironic sense of humour. More often than not that's quite entertaining and funny, although this couldn't hide the narcissistic side of Naghavi. The mission was not only to please the crowd but also to please Naghavi himself, and AND ONE is apparently more and more just Naghavi's vehicle to Pop stardom. Maybe that's the reason why Gio van Oli and Chris Ruiz left AND ONE just a few weeks ago? Steve Naghavi should take care that he is not just going to lose keyboarders but perhaps also his loud-mouthed yet witty charm on his way to stardom. Some of his jokes get tired by now, his self-satisfied attitude waters the live experience already, and one can only hope that Naghavi will come up with something less forgettable than 'Tanzomat' with the next release. However, AND ONE's fans were obviously happy with the show, Steve Naghavi managed to transform the Amphitheatre into a boiling pot of dancing and partying people and with the final songs 'Techno Man' and 'Military Fashion Show' the fans were out of control. Mission accomplished!

Setlist
01. Für
02. Love & fingers
03. The secret
04. Timekiller (Project Pitchfork cover)
05. Seven
06. Schwarz
07. High
08. Love you to the end
09. Sometimes
10. The Walk (The Cure cover)
11. Traumfrau
12. Zerstörer
13. Deutschmaschine
14. Over there
15. Men in uniform
16. Steine sind Steine
17. Wasted / Personal Jesus (Depeche Mode cover)
18. Get you closer
19. Techno man
20. Military fashion show

Rating
Music: 7
Performance: 6.5
Sound: 9
Light: 8
Total: 7.3 / 10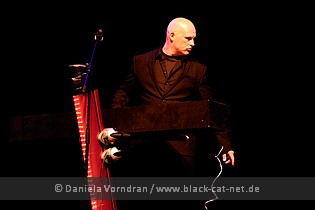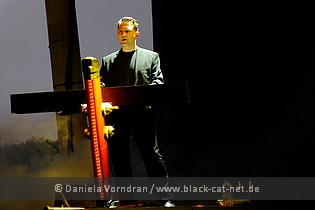 So, with 'Military Fashion Show', the concert program at the Amphitheatre ended on the first day. Finally, the rain had stopped and anyone was hoping for better weather on the festival Sunday. Lots of people were warming up at the after show party, especially people camping on the festival site, other were going home right after the show to get a warm bath and heat up that way…

All pictures by Daniela Vorndran (http://www.vorndranphotography.com / http://www.black-cat-net.de/ / www.myspace.com/vorndranphotography / www.facebook.com/blackcatnet)

Written by Sebastian Huhn & J. "Niggels" Uhlenbruch



See also (all categories):