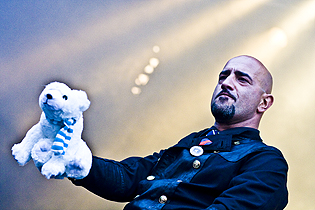 Zitadelle Spandau, Berlin, Germany
18th to 19th June 2011
Zita Rock Festival Day 1: Zin, Mono Inc., Zeraphine, Project Pitchfork, Blutengel & Eisbrecher

The beginning of the day wasn't really promising at all: it was raining like crazy - but we hoped for the best and started our rather short way to the Zitadelle Spandau in Berlin. There, a lot of "black people" were welcoming us, being ready to have a good day filled with great music - and bands like MONO INC., ZERAPHINE and EISBRECHER made sure it would be.



Zin

The band ZIN was founded in 2005 by the singer Iven Cole. At first, they were playing as a duo with Markus Estbourg, but soon it became a 4-member band with Vincent Oley and Mika. In 2007, they released their first album 'Tourists to this world', following many concerts and festivals. After working for 3 years on the new album, they finally released their 2nd output in 2010 called 'The Definition'. http://zin-music.de/ / http://www.myspace.com/zinworld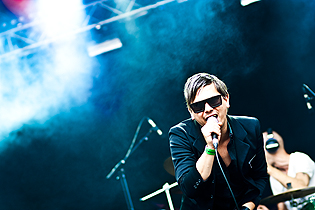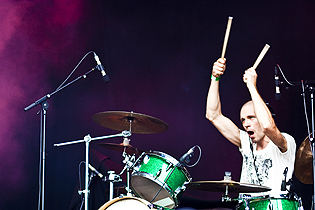 Music & Performance
Unfortunately, the band had to start in the rain, so not everybody was willing to leave the protective trees in order to watch the first band ZIN. However, I did and saw a new band (well, at least for me) that managed to convince me. The sound as well as the vocals reminded me of PLACEBO like nothing else. If you closed your eyes, you would have thought you were at a PLACEBO concert, but since I like them, it wasn't any problem for me.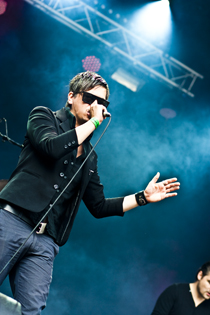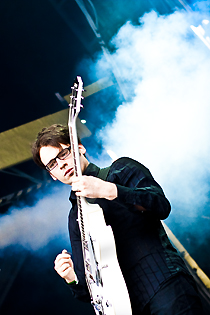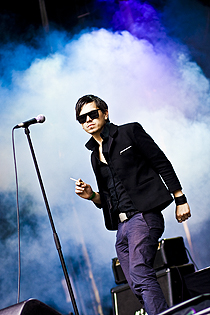 The band showed a lot of fun, despite the weather being pretty crappy. For me, it was quite a good start because their progressive but yet soft gothic rock with the great voice of Iven Cole got everybody in the right mood. It was surely a great choice as a starter for the first day of this year's Zita Rock Festival. I really enjoyed their strong guitars, the good sound (considering the fact that it was the first band) and everything that came with the band including the coolest drummer I have ever seen in my live. Well done, ZIN!

Rating
Music: 8
Performance: 8
Sound: 8
Light: 8 (and daylight)
Total: 8 / 10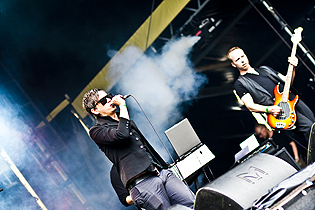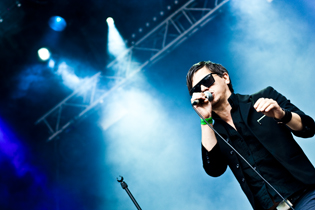 Mono Inc.

The name of the Hamburg based band round front man Martin Engler derives from the word Monomania. This term is a medical term from the early 1900s and means partially insane. After the scene hit 'Get some Sleep' from the last Long-player 'Pain, Love & Poetry' every last dark soul knows the music of the three gentlemen and the lady at the drums. So of course in 2008 and 2009 MONO INC. could not be overheard at all important festivals and could infect many more hearts on their vast tours with SUBWAY TO SALLY and ASP as well as recently UNHEILIG. On 25th September 2009 the fourth Album 'Voices of Doom' is released including the hit single of the same name followed by 'Viva Hades' in March 2011. http://www.mono-inc.com/ / http://www.myspace.com/monoincmusic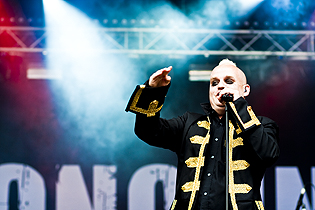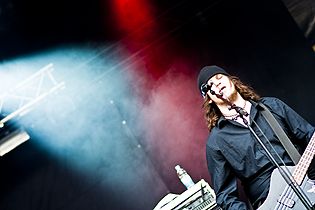 Music & Performance
Thanks to MONO INC. the rain finally started to disappear. Thank you for that! The band actually told the rain to go in order to have a great time and well, the rain behaved. Well done MONO INC.! Besides that, the band filmed another edition of their tour diary. This time, it was episode 99 which should be online on YouTube by now. It was the first time for me to see the band live and I was really looking forward to that because I love the vocals (the male as well as the female), the sound and the energy the band delivers through their music. With songs like 'Voices of doom', 'Symphony of pain', 'Gothic queen' and 'Passenger' (which animated the crowd to sing along and enjoy a nice drum solo) they showed a range of their well-known songs. All of them were accompanied by the fans singing along.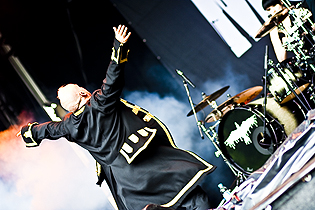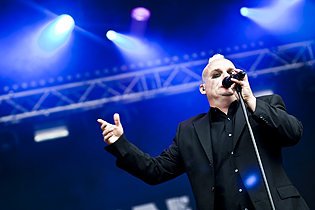 Something that really stood out was the extraordinary amount of MONO INC. fan club-shirts. Well, since I like the band, I can understand the enthusiasm of the fans but it was a little strange for me to see those shirts everywhere I looked. Nevertheless, the band showed a great concert with a lot of energy and great music. Unfortunately, as soon as the last song started, the rain came back. Well, at least during the concert, the sun came out and made everybody happy. All in all, it was a nice concert and MONO INC. showed again why they are so popular these days.

Rating
Music: 9
Performance: 9
Sound: 8
Light: 8 (and daylight)
Total: 8.5 / 10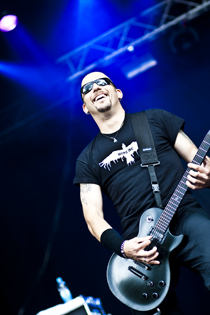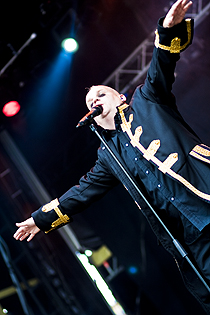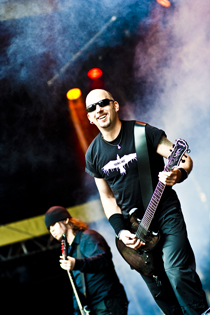 Zeraphine

ZERAPHINE has been formed by Norman Selbig and Sven Friedrich after their former band DREADFUL SHADOWS quit in 2000. Together with producer Tommy Hein, the first album 'Kalte Sonne' was recorded and then released in 2002. It was completely sung in German, contrary to second album 'Traumaworld' comprising of mixed German and English lyrics and a nice cover of the DEPECHE MODE track 'In Your Room'. The third album 'Blind Camera', released in 2005, left confided territory and turned to heavier guitar riffs and harder arrangements, still the dominating factor was Sven's charismatic voice. Their fourth and current album 'Still' was the first album, release by their own label, which the band founded after their previous record deal ended. 'Whiteout' is the name of ZERAPHINE's latest album, released in June 2010. ZERAPHINE is Sven Friedrich (vocals), Norman Selbig (guitar), Manuel Senger (guitar), Michael Nepp (bass) and Marcellus Puhlemann (drums). http://www.zeraphine.de/ / http://www.myspace.com/zeraphine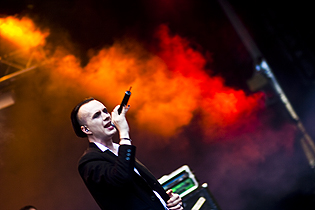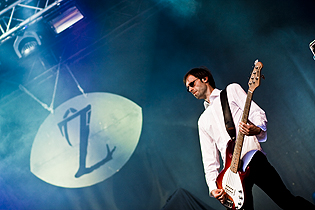 Music & Performance
Next up was the band ZERAPHINE which is one of my all-time favourite bands. Due to the rain that made its way back to the Zitadelle, the mood was rather quiet but the band instantly managed to change that. Especially Sven (vocals) was in a great mood and even made some jokes about the weather like: "ok, the next song actually fits quite well, so enjoy!" and of course, the next song was 'Be my rain'. Besides that great song, the band also played songs like 'Die Wirklichkeit', 'Louisa', 'Inside your arms' and 'Ohne dich' the bands showed some old songs as well as new ones. With 'No more dance', 'Out of sight', 'Tomorrow mornings' and 'Still', I think every fan was satisfied.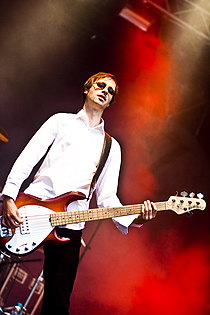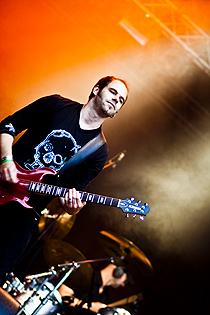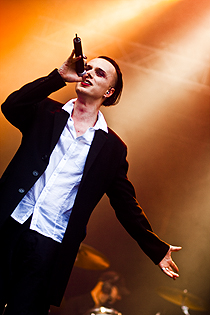 Sven actually managed to blend out the bad weather and stepped outside which lead to him being completely wet after the show but also being as sympathetic as always. And, quite nice for all the female fans, his white shirt kind of turned see through which, of course, didn't bother me at all. The sound continued to be quite good and so, there was basically nothing bad to say about ZERAPHINE's performance that day. Maybe, for old fans, the amount of older (and maybe German) songs was a little small but that's just personal taste. For me, it was again a great pleasure to see the band live even though the weather tried to foil everything.

Rating
Music: 9
Performance: 9
Sound: 9
Light: 9 (and daylight)
Total: 9 / 10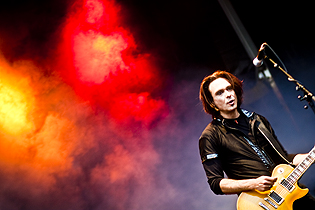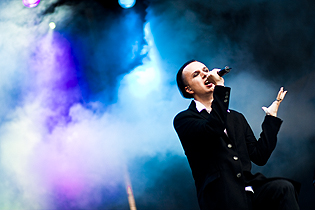 Project Pitchfork

PROJECT PITCHFORK is one of the spearheads in the alternative electronic music, initially consisting only of Peter Spilles and Dirk Scheuber. Later, Jürgen Jansen and live members Achim Färber and Carsten Klatte joined the line-up. The formation wasn't just known for critically-acclaimed albums, successful tours and appearances on every conceivable festival but also for some prominent support acts like RAMMSTEIN or COVENANT. After some very successful years at the beginning of this millennium, the popularity decreased with the more introverted albums 'Inferno' and 'Kaskade' but nothing has changed in East Germany and in Russia, where a tribute to PROJECT PITCHFORK sampler has been created in 2005. In 2009, they eventually came back with a new full-length, titled 'Dream, Tiresias!', just to let follow the next one, 'Continuum Ride', a year later. http://www.pitchfork.de/ / http://www.myspace.com/projectpitchfork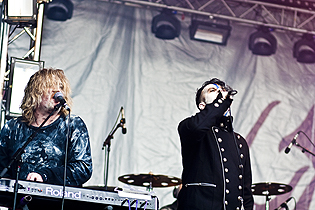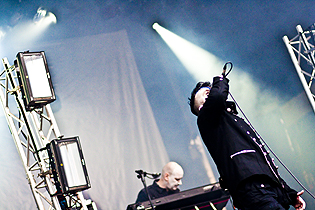 Music & Performance
The fourth band to play that day was PROJECT PITCHFORK which was highly awaited. Once they entered the stage, they were welcomed with a load of applause and immediately started with 'If I could' from their album 'Dream, Tiresias!'. During that song, Peter Spilles (vocals) finally also entered the stage. After a quick greeting, the band continued with songs like 'Feel', 'Endless Infinity' and 'Beholder' giving the long-time fans something to hear and dance to. However, also younger fans didn't come off badly with songs like 'Alpha Omega'.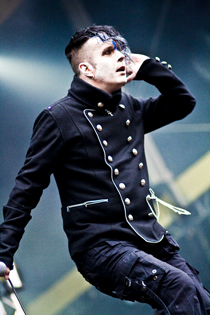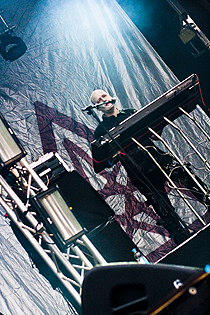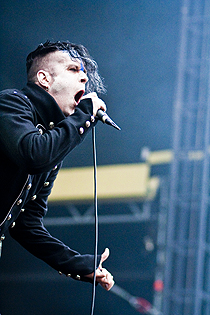 PROJECT PITCHFORK also had a different view on the raining: "In Hamburg, we don't even have umbrellas for that kind of weather" and so, the band continued with 'Dividing Line' and made everybody just dance the rain away. Of course, all the members wore their special "kind-of painter look-a-like" make-up. Peter spiced that up a little bit with a strong blue line that went right across his face and at least brought a little colour to the rather grey scene that night. At the end of the concert they finished off with "Existence" and left everybody in a great mood wanting even more.

Rating
Music: 9
Performance: 9
Sound: 9
Light: 7 (and daylight)
Total: 8.5 / 10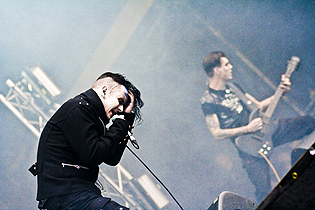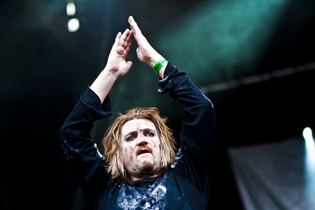 Blutengel

BLUTENGEL arises in 1998 from SEELENKRANK, the former band of initiator Chris Pohl who released with 'Child of Glass' its first album in 1999 and with that album began a matchless career in the Goth scene and beyond as with the kind of music BLUTENGEL creates the project had some considerable successes in the regular German album charts. BLUTENGEL released album after album and meanwhile have reached an ionic status in the scene. BLUTENGEL is Chris Pohl (songwriting, lyrics, vocals), Ulrike Goldmann (lyrics, vocals), Anja Milow (vocals, live concept), Jenny (performance, live concept) and Maria (performance, live concept). http://www.blutengel.de/ / www.myspace.com/officialblutengel

Music & Performance
Well, let's put it this way: I am not really a big fan of Chris Pohl and therefore, not a great fan of BLUTENGEL. So, I was rather "excited" to see how the band would perform that night. At least there was something good about the band: they made the rain disappear for good and even brought out some sun.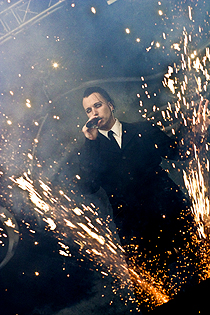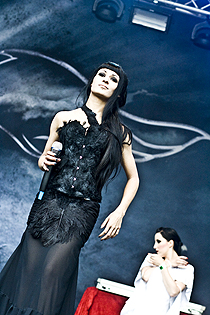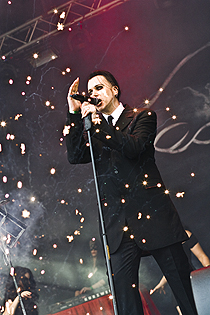 Looking at the stage, the only thing you could see were 2 keyboards with singers wearing masks. The band started out with 'Lost Children', but of course, since it is BLUTENGEL, we need some performance going on as well. Well, a lot of performance. There were different girls on stage each song showing more and more skin when dancing, playing with fire or even rubbing blood on each other. For me, it was nothing more than funny to watch that kindergarten of gothic prejudices. However, of course, there were some (rather young) fans in the first rows who loved it. And also the jacket Chris was wearing was rather hideous because it was "styled up" with red rhinestones - but well, I guess, that's just BLUTENGEL trying to be cool or something. Despite all the stuff going on stage, there was also some music playing. With songs like 'Über den Horizont', 'Soul of Ice', 'Ein Augenblick', 'Das andere Ich', 'Engelsblut', 'Black Roses' and 'The End' the band showed a nice variety of their past albums and managed to persuade quite a big amount of people in the crowd.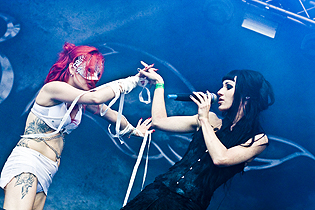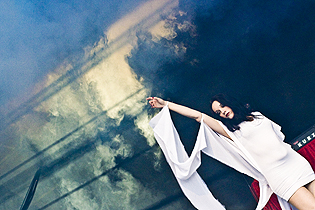 There is one major thing that makes BLUTENGEL a rather uninteresting band for me: Chris' English. He is just not capable of speaking it properly and the grammar and rhyming isn't exactly what you call poetic. The German songs aren't really that bad but the English ones are just horrible. And another thing that contributes to the fact that I find the band rather funny is the music stand on stage where Chris keeps all his lyrics. This means that he doesn't know his own lyrics or even the proper names of his songs. And this showed in the fact that he actually mixed up the songs 'Engelsblut' and 'Black Roses'. Well, all in all the concert was ok. If you like BLUTENGEL or not, is just a matter of personal taste, I guess. All that I can say is that the band should concentrate on their German songs because they are actually quite good. Oh and yes, try to cut back on the prejudices.

Rating
Music: 6
Performance: 6
Sound: 8
Light: 7 (and daylight)
Total: 6.7 / 10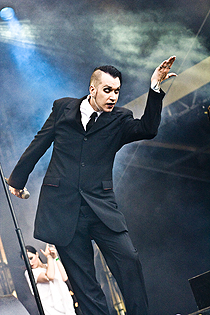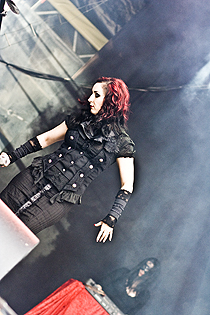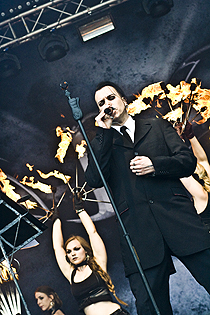 Eisbrecher

After singer Alex Wesselsky split up with his former band colleagues from MEGAHERZ in 2003 due to artistic differences, he founded EISBRECHER together with another ex-member of MEGAHERZ, Noel Pix. The release of the first and self-titled album in 2004 caused a heavy stir, when the band added to blank CDRs to the release as an incentive to copy the album and as a statement against the criminalization of the end-customer through the music industry. Two years later, in summer 2006, it was finally time for the second album 'Antikörper' to satisfy the hunger of the fans for more material. This album even reached position 85 of the German Album Charts. Latest album 'Eiszeit' even mate it into the top ten! Right now, the band is preparing for their next strike. EISBRECHER is Alexx Wesselsky (vocals), Noel Pix (guitar, producer), Jürgen Plangger (guitar), Dominik Palmer (bass) and Achim Färber (drums). http://www.eis-brecher.com/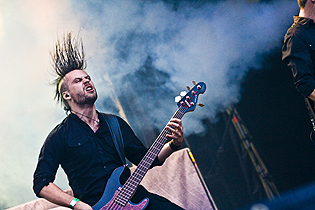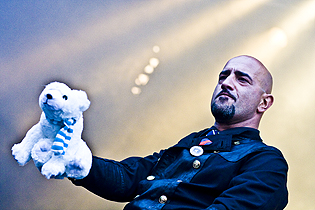 Music & Performance
I guess, EISBRECHER was a band a lot of people wanted to see that day. The band entered the stage and a lot of fans just went crazy of excitement. The band, of course, started off with 'Eiszeit' which got everybody in the mood for the upcoming show. Something that was quite new was the change in the line-up of the band: Olli, who played the bass before, and Sebastian, who used to play drums, left the band were replaced by Dominik and Achim. After the first song, the band made a joke on the previous BLUTENGEL by saying: "Well, before us you had Pop, Disco and Dance with nice naked women… we do Rock and are old guys. Are you ok with that?" - but this wasn't the only joke. By saying "Raise your mother fucking hands in the Luft" (Luft = Air), he alluded to last year's performance of TERMINAL CHOICE (also including Chris Pohl). Well, I thought it was quite funny.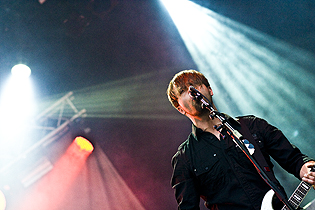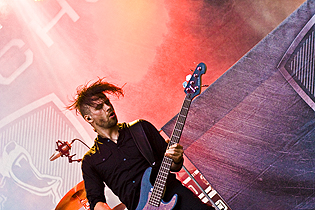 The Setlist was full with great hits including 'Angst', 'Schwarze Witwe', 'Ohne Dich' and, of course, 'Miststück', an old MEGAHERZ peice. The performance was great as always. Alexx danced around the stage, talking to some people in the audience, drinking Whiskey and even doing a Schuhplattler during 'This is Deutsch'. Unfortunately, the band didn't do a cover of a famous song this year. They excused that by saying that last year's song was so great ('Satellite' by Lena) that there was nothing else to top that off. All in all, EISBRECHER showed yet again a great show that everybody really enjoyed. And at the end of the concert, they threw little polar bears into the crowd which was just a great ending to a great, but rainy, day.

Setlist
01. Eiszeit
02. Angst
03. Leider
04. Antikörper
05. Heilig
06. Schwarze Witwe
07. Die Engel
08. This is Deutsch
09. Ohne Dich
10. Miststück (Megaherz)

Rating
Music: 9
Performance: 10
Sound: 8
Light: 8 (and daylight)
Total: 8.8 / 10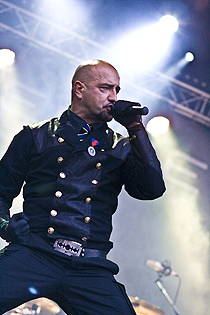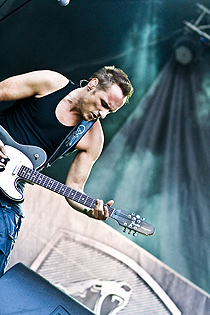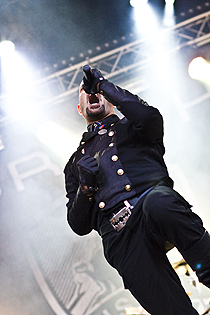 All pictures by Anne Kuhfuß


See also (all categories):