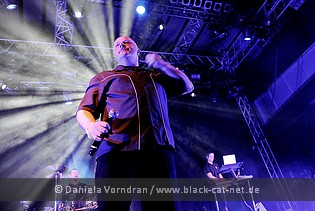 Turbinenhalle, Oberhausen, North Rhine-Westphalia, Germany
28th March 2015
E-Tropolis Festival 2015: Centhron, Vomito Negro, Spetsnaz, Grendel, Leæther Strip, Laibach, Project Pitchfork, VNV Nation, Phosgore, Ambassador 21, Torul, Solitary Experiments, Frozen Plasma, De/Vision

With over 4,000 visitors, the E-Tropolis Festival at the Turbinenhalle Oberhausen set a new visitor record. The audience was diverse and all generations of the dark electronic scene celebrated peacefully or intentionally aggressive in the mosh pit next to each other. The review is going to follow now, separated by stages. Whereas Markus Lambertz took care of the main stage, Fee Wundersee was responsible for the second stage in the Turbinenhalle 2.
MAIN STAGECenthron

A band that appealed especially to the younger crowd and brought them to dance was CENTHRON from Bremen. Elmer (vocals), Mark (bass) and Annette (Synth) presented songs from the last decade of their work and also from their sixth album 'Biest', released in November. Why the three musicians categorise themselves into the genre Viking Harsh Electro was recognizable when you saw the male members taking the stage with long hair, army clothes and the rather unusual bass, plus extensive head banging. As a visual characteristic, this show is unique and impressing. After the first sounds it was clear that especially younger visitors would use the hard, aggressive beats to exploit the spotlights of the otherwise rather poor light in order to start off the festival with excessive cyber-dance moves in the auditorium. "We are Centhron, raise your fist" was the battle cry and as an opener, the three North Germans made people sing along especially with songs like 'Porn Queen' and animated them to extensively swing their arms and hips. Despite all that, the boring light work and the rather repetitive sound got stale after a few songs and remained only interesting for hard-core fans of the genre Aggrotech until the end. Nevertheless, this was a charismatic, motivating opener. //
http://www.centhron.de
/
https://www.facebook.com/pages/Centhron/186495284716678
// Rating: 7 / 10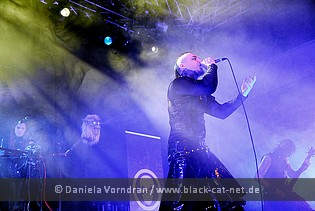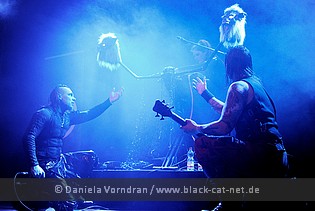 Vomito Negro

For more than thirty years in the business, it was now up to mastermind Gin Devo with electronic drummer Sven Kadanza and live keyboarder Richard Guillaume to shake the audience with Old-school Electro and EBM. After an almost too long intro, the Belgians succeeded quickly in making the first rows move and surge. This was summarised well by the almost surprised expression "I see a lot of people here!", because there were already many people, surprisingly, in front of the main stage in the early afternoon. In contrast to the previous musicians, VOMITO NEGRO rather served a more mature generation of electronic listeners now. On stage the movements of the singer were as reserved as the light operations but new songs like 'Obsession' from the new album 'Death Sun' (2014) as well as older ones like 'No Hope, No Fear' ( 1989) brought more people in front of the stage. 'Black Power' (2012) made the fans to sing along again but despite of that, hits and more standard songs took turns and the band kept the last spark for itself.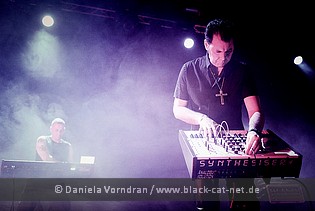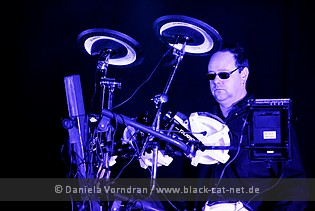 VOMITO NEGRO delivered solid and good Old-school Electro, vehemently defending itself against cyber techno and its subspecies. Unfortunately this was rather an interlude on the way to the next band. //
http://www.vomitonegro.com
/
https://www.facebook.com/vomitonegro
// Setlist: 1. Time / 2. Stain / 3. Obsession / 4. In Silent Places / 5. Tape X / 6. Black Power / 7. No Hope No Fear / 8. Save The World // Rating 6 / 10
Spetsnaz

As a representative of the new EBM wave, the stage remained minimalistic as usual with a small kit for PC and e-drum which Stefan Nilsson operated with a lot of fun and also enjoyed having contact with the audience. Singer Pontus Stålberg ran from one side of the stage to the other, interacted with the audience and cheered at them. After Stefan opened his shirt and gave himself a water shower to 'Perfect Body', the last restraint in the audience vanished and the "Devil´s Horns" originating from the metal scene as well as a brutal mosh-pit developed in front of the stage. For fans and band it would have been nicer if such a charismatic band was later in the line-up and in the evening to have a larger audience and more heated up people in front of them. But even at the quite early hour, the applause and bawling was great. A simple "Thank you" at the end of the gig also worked miracles and the Swedes of SPETSNAZ were a small highlight of the festival early in the day. //
https://www.facebook.com/pages/SPETSNAZ/23395943282
// Rating 9 / 10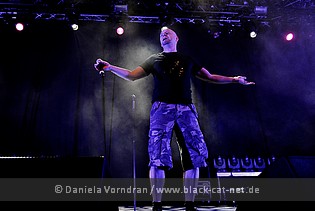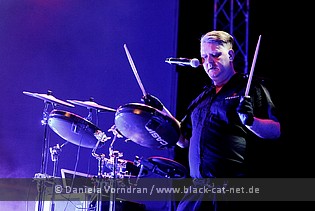 Grendel

The first band to get hit by the seemingly declining sound inside the venue, were the Dutchmen of GRENDEL. Paul's electric guitar which is used often in contrast to other harsh EBM / Industrial beats fell into oblivion except for a few riffs and the volume of both singers, JD (vocals) and Mel (keys & vocals), varied unfortunately in some songs. This way, hits like 'Time Wave Zero' went down a bit sounding more lovelessly presented as they actually were. Despite this, GRENDEL could continue exploiting the overall mood of the fans which was still good from the previous SPETSNAZ. And even if there was a lack of mosh-pits you could see the movements of most visitors up to the last rows and look into enthusiastic faces, caused also due to the singer JD who kept interacting with fans. I think with different sound equipment, the GRENDEL show would have been more of an experience since with their thick safety vests and body painting the visual effect was already there.
http://www.grendel-hq.com
/
https://www.facebook.com/grendel.music
// Rating 8 / 10.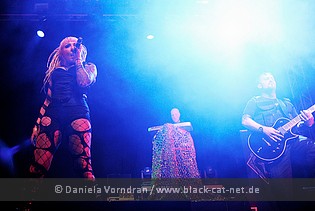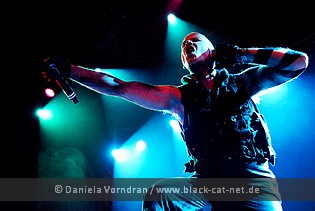 Leæther Strip

One hour of playtime implies that from now on the big ones of dark electronic music would appear on stage. It also felt like there were a quarter more people in front of the stage who wanted to celebrate the top acts of the festival henceforth. The Danes of LEAETHER STRIP broke rightly the first ground. Since the late 80s, this band influenced both, Industrial and EBM forerunners such as NINE INCH NAILS, :WUMPSCUT:, or SUICIDE COMMANDO; but also metal bands like FEAR FACTORY followed the example of LEAETHER STRIP for their remixes of songs. Synth master Kurt Grünewald was smiling pleasantly in the background and surrendered the stage to mastermind Claus Larsen, who animated and interacted with the crowd. Brief announcements like "Fuck you, Putin!" and already even the opening song 'Kill A Raver' were a bang on target of the fans' attendance and heated up the mood further… and the mosh pit was reopened. Not later than the sixth song 'Crash Flight 232', fists were swung; no one minded his vocal cords and the nearly the entire crowd moved to the beats. 'Japanese Bodies' was frenetically celebrated by the crowd and for the first time, several encore shouts were arising.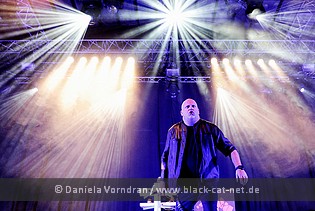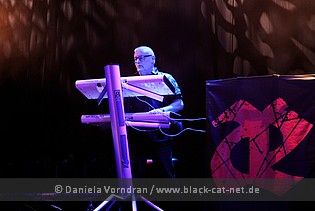 It would have been ideal to have LEAETHER STRIP play directly after SPETSNAZ for that constant Old-school feel, but even so it was a power that no one could resist in front of the main stage. //
https://www.facebook.com/LeaetherStrip
// Setlist: 1. Kill a Raver / 2. Dirt Decay (Twice a man cover)/ 3. Mortal Thoughts / 4. I am Your Conscience / 5. Crash Flight 232 / 6. Black Gold / 7. Evil speaks / 8. Strap Me Down / 9. Adrenalin Rush / 10. Japanese Bodies // Rating: 9 / 10.
Laibach

Many technicians on stage, projectors being installed, light tests, a drum kit, five programming computers, four synth systems… it is time for something that goes beyond a normal listening experience. As a further peculiarity there was no announcement in advance for this band. All other bands e introduced on stage by Honey from WELLE:ERDBALL. Along to loud cheers and applause, the members of the Slovenian avant-garde group LAIBACH took the stage, singer Milan Fras, with his distinctive, charismatic appearance and his distinctive headgear was last. Together with singer and synth player Mina Špiler, front man Milan presented a music theatre with mostly playback announcements and rehearsed movements. Even grabbing the water bottle was well thought out and celebrated. In the background, the projector presented marching boots and women's shoes, blue and white wispy clouds, geometric and colour patterns, dancing skeleton armies and some more. During the song 'Under The Iron Sky', the official video with film clips from the science fiction movie 'Iron Sky' was shown.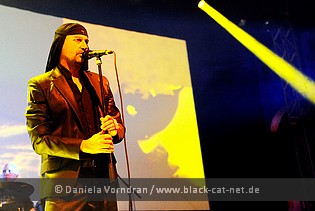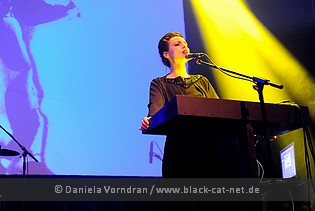 The auditorium was under a spell during most of the hour and the movements were very reserved. However, by songs like 'No History', 'Alle gegen Alle' or 'Tanz mit Laibach', EBM and post-industrial muscles were awakened again and one was pulled out of the fascinated rigour a bit. As the first band of the evening, LAIBACH was allowed to play the (planned) encore 'Leben heißt Leben'.On the technical side one has to say that you could see the band didn´t leave the stage setting to chance and also their own lighting ensured a suitable mood. I am not sure if they bought their own sound engineer or relied on the festival technician, but there was every now and then an annoying feedback which was increasing during the show. But it luckily only disrupted the overall experience a bit. LAIBACH for sure is a musical and visual event. Staged art that is only known from a few bands and nearly thirtyfive years of experience as a band and art ensemble are also reflected in the overall rating of this festival show.
http://www.laibach.org
/
https://www.facebook.com/Laibach
// Setlist: 1. Eurovision / 2. Walk with me / 3. No History / 4. Whistleblowers / 5. B-Mashina, / 6. Leben - Tod / 7. Alle gegen Alle / 8. Eat Liver! / 9. Bossanova / 10. See that my Grave / 11. Tanz mit Laibach / 12. Das Spiel ist aus / Encore: 13. Leben heißt Leben // Rating: 10 / 10.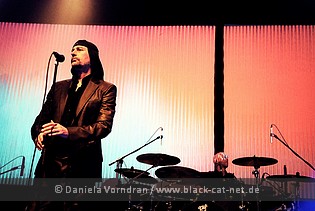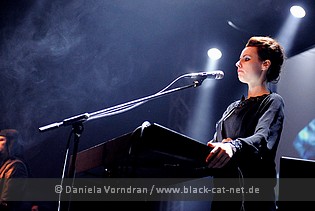 Project Pitchfork

A band being active for 25 years now and that was even nominated twice for the music prize Echo should get a big stage for their performance of course! It all seemed as usual as always with striking painting and hairstyles, two drum kits, two synths with programming and Peter Spilles as the usual cornerstone of the Dark Electro / Wave group from Hamburg. 'Timekiller' opened the set of PROJECT PITCHFORK and the audience responded very gratefully by singing and dancing along. Even with the next songs, 'Blood-loss (Sometimes)' and 'Acid Ocean', they kept the good mood up. But with further duration it tilted slightly, thanks to the bad sound only sounding like a big whole bass drum and the too dark and foggy lighting. It would have been nice at least to see the band every now and then. Halfway through the setlist, especially during songs like 'Rescue' and 'Fire And Ice', the volume became so unbearable for most of the show that people drew back or walked out entirely of the room.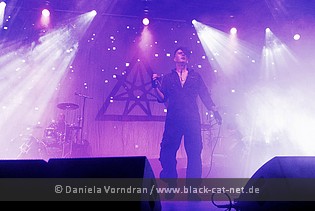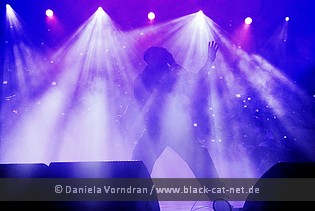 In addition, long-lasting strobe light effects forced some fans to turn away from the stage as well. With closed eyes and ear plugs and a good fan attitude it was a performance that could be named solid. Everyone else was probably glad that it was over after an hour. //
http://www.project-pitchfork.eu
/
https://www.facebook.com/pages/Project-Pitchfork-Official/65663206412
// Setlist: 1. Timekiller / 2. Blood-Loss (Sometimes) / 3. Acid Ocean / 4. Carnival / 5. Blood-Stained (Give Me Your Body) / 6. Beholder / 7. En Garde! / 8. Conjure / 9. Blood-Diamond (See Him Running) / 10. Rain / 11. Souls / 12. Blood-Line (Never) / 13. Rescue / 14. Fire and Ice / 15. Blood-Pressure (Just for My Pleasure) // Rating: 6 / 10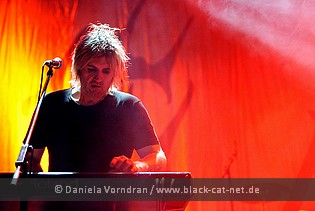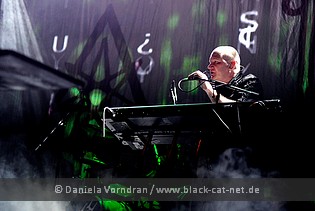 VNV Nation

The headliner of the festival had 80min playing time now… time to cheer up the stricken audience. Since almost 25 years mastermind and singer Ronan Harris presents Future Pop and Industrial dance compositions to the fans. Together with two live keyboarders, the British-Irish duo Ronan Harris and long-time electronic drummer Mark Jackson started the evening with the quiet 'Legion'. Here it was already clear how much the fans were waiting for their songs because it took only a brief gesture of Harris' hand and the crowd screamed and clapped what often summoned a surprised, joyful head-shaking on stage. There was a lot of interaction with the audience, both during the songs, as well as between them and the band and fans goaded each other so that it sounded too enthusiastic and too much like a motivational seminar to some people in front of the stage. On the other hand some, especially female fans, briefly stroked a tear away during songs like 'Resolution'. There remains a slightly ambivalent opinion from the human standpoint on whether and how to win over an audience.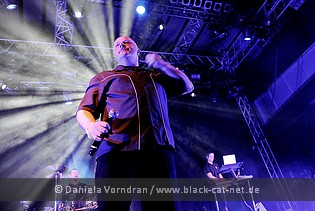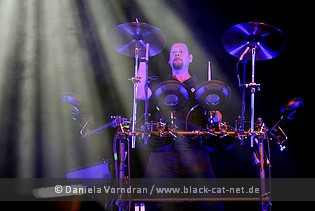 Musically, there is little to mention, even if it sometimes felt like Ronan Harris is sometimes very easy on the text lines and their pronunciation. Likewise, the emotion was a little too aggressive or bored in some places, but that partly depended on ever-changing volume and ever-annoying feedback which doesn't make the life of an artist more convenient. Even though VNV NATION was headliner and end of the festival you have already experienced them in better quality. It's hard to tell whether it was only because of the very modest sound system or also the artistic mood. Anyway true fans of VNV NATION enjoyed the close and frequent contact with front man Ronan Harris and idealised the songs so that it was a beautiful conclusion of a black electronic day. //
http://www.vnvnation.com
/
https://www.facebook.com/VNVNation
// Setlist: 1. Legion / 2. Sentinel / 3. Testament / 4. Illusion / 5. Everything / 6. The great divide / 7. The farthest star / 8. Homeward / 9. Space and time / 10. Chrome / 11. Honour 2003 / 12. Resolution / 13. Control / 14. Nova / 15. Perpetual // Rating: 8 / 10.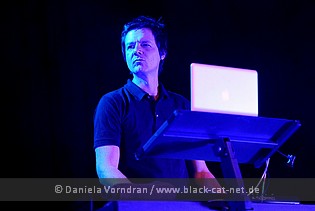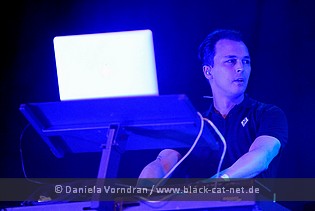 From the view of the main stage, it was overall a good, solid festival with ups and downs, both artistically as well as technically. The line-up should have been arranged slightly differently as some bands diverged too much from the genre of the previous one and because of that, they had to fight for the audience's favour first.
2ND STAGE
Phosgore

PHOSGORE are probably a term for the fewest and they are really only in my CD collection because I stumbled upon them through MODULATE and some congeneric stuff years ago. I found the record which features 'Pain Tutorial' not that bad at all back then. But to get away from half a CD review: The band played in front of a small audience in the Turbinenhalle 2. Perhaps 140BPM are not everyone's taste for an opener, perhaps some were still on their way to Oberhausen or one simply looks for the answer in the statement "It's just the opener" for the moderately filled hall. I want to attest the music a high dance potential by this but that is almost always the case for industrial sounds. It was a bit of a pity that Flo and Sonja were more present at the mixer than on stage and thus, the performance came across a bit monotonously. That's a pity because I believe they are capable of more. //
http://www.phosgore.de
/
https://www.facebook.com/phosgore
// Rating: 7 / 10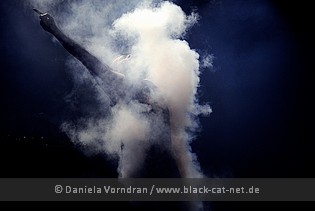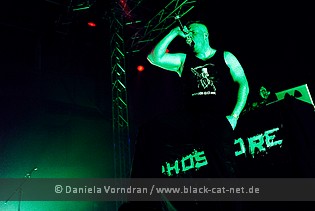 Ambassador 21

Oh homeland! At least something going into that direction swarms my mind whenever I hear the band name. And after all this time I still cannot decide whether I should consider the music of the band noise, pure art or intonated aggression. Since I saw them for the first time they have always left an impression. Front woman Natasha with her bikini top was really nice to look upon, that's what probably some in the audience thought as well until the lady started to sing, or much rather to scream. After almost fourty minutes of screams in English, probably also in Russian (that wasn't that easy to identify with that shout level), the show was over. What remained was a tinnitus as always, a bit of confusion and again the contemplation whether that's fantastic or only absolute noise… //
http://www.ambassador21.com
/
https://www.facebook.com/ambassador21
// Setlist: 1. Fuck All Systems / 2. Turn Yourself (V.2015) / 3. Riot Generation / 4. Power Rage Riot Death (V.2015) / 5. In Love (V.2015) / 6. Russian Roulette / 7. Face Your Future Killers (V.2015) / 8. Fick Alle Systeme / 9. Coda // Rating: 7 / 10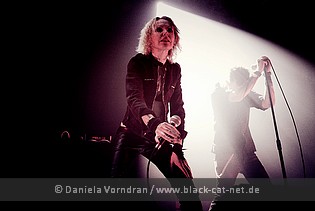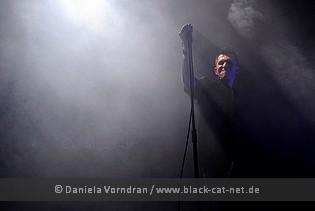 Torul

The Slovenians were already absolutely great the day before in Frankfurt and so my A21 stricken ears were already looking forward to what was about to come. I think the whole audience felt like that because it got noticeably fuller and behind me were some women in band shirts who were talk shopping about TORUL. The setlist consisted besides 'Try' also of 'The Fall' and numerous new songs from the record 'The Measure'. Like on the night before, singer Jan Jenko casts a spell on the audience through pure existence and with the help of his hypnotic, simply fascinating voice. Mentally, I was somewhere in nowhere (and that must be understood in an absolutely positive way). TORUL make absolutely music to dream and let one really zone out from everyday life. After forty minutes the stroke for ears and soul was over again because the band had to make room for SOLITARY EXPERIMENTS and their label colleagues FROZEN PLASMA. //
http://www.torul-recordings.net
/
https://www.facebook.com/torul
// Setlist: 1. Lonely Night / 2. The Balance / 3. Difficult to Kill / 4. Hearts / 5. All / 6. Try / 7. The Fall / 8. Show Me Your City / 9. The Sun // Rating: 10 / 10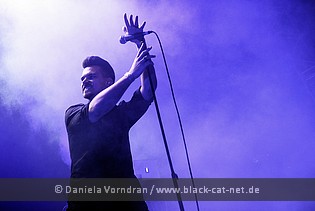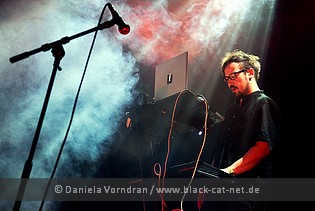 Solitary Experiments
SOLITARY EXPERIMENTS are full-time professionals and have the audience always down pat. Even the small technical dropout didn't cause too much confusion and was completely forgotten during 'Delight' at its latest. Not only Dennis Schober provided for clap-alongs with his vocals but also drummer Frank contributed to the enchantment of the ladies and animated maximally to join in. Maybe all of that only functions because of the mix of good music, a lot of professionalism and the good mood that the band members resonated with. 'Stars' was celebrated almost more than the classic 'Delight' and thus, the pleasant band whose members had arrived from different parts of Germany were released with a great applause. //
http://www.solitaryexperiments.de
/
https://www.facebook.com/solitaryexperiments
// Setlist: 1. Trial and Error / 2. Immortal / 3. Point of View / 4. Game Over / 5. Steering Wheel / 6. Delight / 7. Epiphany / 8. Rise and Fall / 9. Stars //
Rating: 10 / 10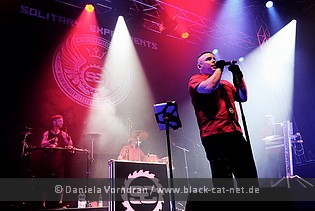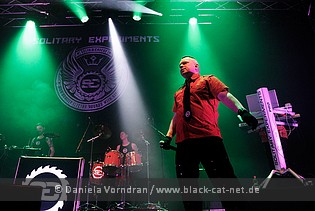 Frozen Plasma

I almost wrote that singer Felix Marc would have almost gotten a plus point simply because of wearing a glittery FROZEN PLASMA logo on his shirt (for all of you who didn't know I am known to many people as "glitter fairy" and that not without reason), but he gets it for his entertainer qualities, of course. As on the day before in Frankfurt, no one could withdrew from his demands to clap along. The setlist was a perfect setlist with classics and of course songs of the new record 'Dekadenz'. Friend point of the evening goes to Vasi Vallis in this case. Why? He chuckles or laughs so rarely when he's on stage, looks always strained or deeply concentrated. But at the E-Tropolis his face was drawn by a smile several times. I am not sure which song was celebrated more: 'Murderous Trap' or the 'Living on Video' cover but that's actually unimportant as the Turbinenhalle 2 was turning into a party hall. Not only the audience looked very satisfied after the set, Felix and Vasi hugged each other at the end, smiling. //
http://www.frozenplasma.com
/
https://www.facebook.com/FrozenPlasma
// Rating: 9 / 10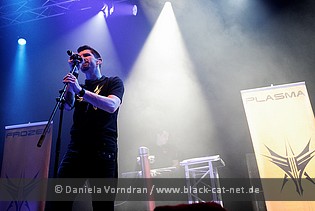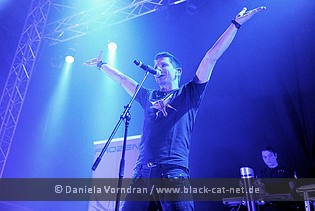 Solar Fake

I could begin with the ladies in the SOLAR FAKE audience again, how they always sigh and yearn but I think I will leave it at that with this report without going into more detail. There was no maximal ladies scream alert but rather melancholic bopping, sighing, and suffering. Entertainment highlight was of course André Feller again who played his keyboard excessively, deserving applause only for that. Going into the cuddling factor of the band now… that one was also on a high again. I have grown fond of some of their songs (and let's remember how often I emphasised in the last reviews that it's not my kind of music). Would I have to choose one of them, then it would be 'Here I stand' on that evening but that's only to be noted in the margin. //
http://www.solarfake.de
/
https://www.facebook.com/SolarFake
// Setlist: 1. I Hate You More Than My Life / 2. Face Me / 3. No Apologies / 4. (You Think You're) Radical / 5. Here I Stand / 6. More Than This / 7. Reset To Default / 8. Under Control / 9. Parasites / 10. Under The Skies / 11. Where Are You / 12. One Step Closer (Linkin Park cover) / 13. My Spaces // Rating: 9 / 10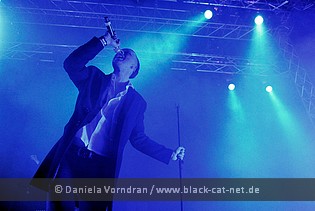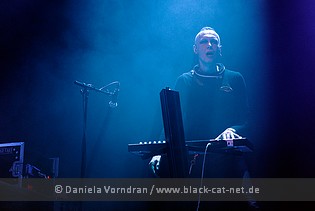 De/Vision

The band definitely didn't profit from the overlap with the PROJECT PITCHFORK's show because the hall was unfortunately only filled moderately. Steffen Keth and Thomas Adam played their danceable synth pop in front of less densely packed rows what didn't object to the mood, however. On the contrary, there was dancing and clapping along nonetheless, maybe also because of the hypnotic voice of the singer. A further pity for DE/VISION was that VNV Nation played as headliner on the main stage subsequently and thus, most visitors were pushing towards the main stage at the end of the show. //
http://www.devision-music.de
/
https://www.facebook.com/pages/DEVISION/24741337633
// Setlist: 1. Intro / 2. Brothers in arms / 3. mAndroids / 4. Binary soldier / 5. Strange affection / 6. I'm not dreaming of you / 7. Love will find a way / 8. I'm not enough / 9. What's love all about / 10. Try to forget / 11. Rage / 12. Your hands on my skin / Encore: 13. Time to be alive / 14. Flavour of the week // Rating: 8 / 10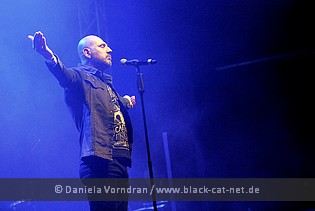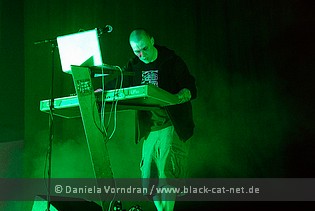 Conclusion

The organisation of the festival was great and there were few tragical overlaps. However, I want to criticise the meaninglessness of the voucher-payment-system. At the beginning one has to change money into bons in order to be able to purchase food or drinks. So far, so good. But the bons cannot be exchanged again at the end thus losing money. I think that that's not only visitor unfriendly but also not very lawful. I can change every bon into money again or at least use it later again. That's not the case with the vouchers in the Turbinenhalle because they're sorted according to colours and equipped with the year. While I can also use every voucher, every bon of a gas station infinitely later again that's not the case here. Especially for visitors who only pilgrimage to the Turbinenhalle once a year that's a huge nuisance. One should also organise one or two more food stalls in the future in order to prevent kilometre-long queues. Another bitter aftertaste was left by the sound technology which was either too quiet or too loud especially on the main stage, diminishing the overall impression of VNV NATION who would've given a good show otherwise.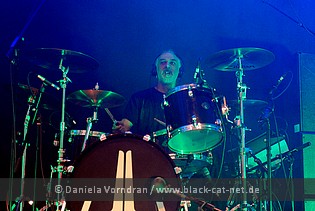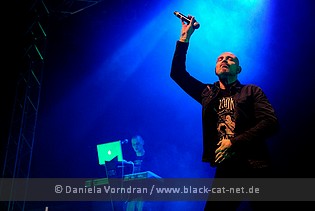 Another criticism is the moderate light show for the "smaller bands" on the main stage which didn't underline the performance optimally. Some visitors apparently complained about the partly overpriced food as well as about the unroofed smoking area. But those are partly luxury problems which don't diminish the overall impression of the festival: The venue, the staff, and the security were very nice and friendly. The moderation by Honey of WELLE:ERDBALL between almost every band was solid as usual and offered a great entertainment value which no one really expected. Those who want to utter their praise or their personal critique can do so on the event homepage on the specifically prepared survey. Besides, every participant can win 5x2 tickets for the E-Tropolis Festival 2016. That one will take place on the 5th March 2016 for the third time in the Turbinenhalle Oberhausen. The first acts are announced with THE CASSANDRA COMPLEX, ASSEMBLAGE 23, DIORAMA, WINTERKÄLTE and LEGEND.
Written by Fee Wundersee (2nd Stage) and Markus Lambertz (Main Stage)
Translation by Alex UltraRiot
All pictures by Daniela Vorndran (
http://www.vorndranphotography.com
/
http://www.facebook.com/blackcatnet
)
See also (all categories):