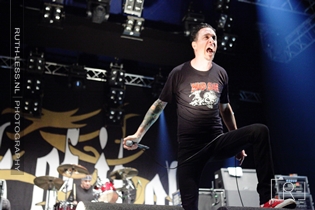 Paaspop, Schijndel, The Netherlands
3rd to 5th April 2015
Paaspop Saturday: Shaking Godspeed, Therapy?, John Coffey, Within Temptation, Lacuna Coil, Kovacs, Jett Rebel, Hats Off to Led Zeppelin, Saxon, Sick of it all

Paaspop or 'Easter pop' in Schijndel is the kick off for the festival season in the Netherlands and the weather proves to be quite unpredictable this time of year. While last year I packed sunscreen and sunglasses, it had been raining all week with temperatures between 4 – 10 degrees. This resulted in the dirtiest mud fest at farmer Anton's meadow which is used as a car park.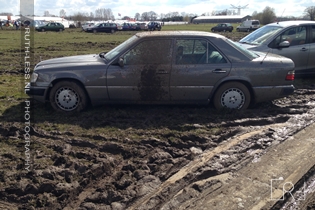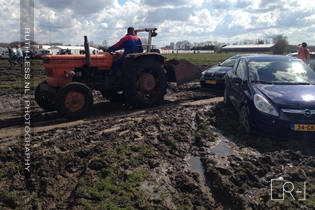 Most cars got stuck and a big team worked almost around the clock to put cars into their parking spot or get them out of there with the help of tractors. Hats off to them for doing a great job! Furthermore, parking was free on Saturday to compensate for the parking trouble. Paaspop is a big festival with many bands, multiple stages and a big entertainment area. The line-up is very diverse with rock, metal, pop, dance, reggae, theatre and whatnot. Loud guitars and drums were mostly to be found at the Phoenix, Jack Daniel's stage and the Thunderbolt, but in between there was some time to wander around the festival compound and enjoy the atmosphere!
Shaking Godspeed

SHAKING GODSPEED is a Dutch Blues-Rock band that was initiated by Wout Kemkens in 2009 after his band THE BLOODY HONKIES broke up. They have released three albums and one EP. SHAKING GODSPEED is Wout Kemkens (guitars / vocals), Maarten Rischen (drums), Rocco Ostermann (guitars / vocals) and Alex van Damme (bass / keys / vocals).
www.shakinggodspeed.com
/
www.facebook.com/ShakingGodspeed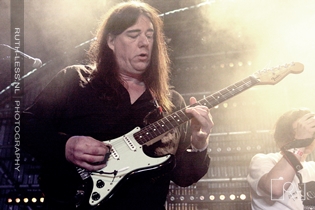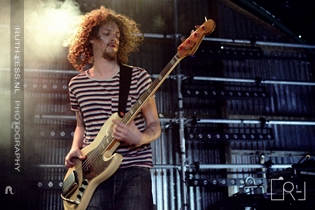 Music & Performance

Psychedelic – sleazy – vivacious are words that fit the performance of SHAKING GODSPEED. A great festival warm-up for those who need to recuperate from their muddy adventures in the parking lot or simply from Friday evening. Wout, Maarten, Rocco and Alex play most songs from their 2014 album 'Welcome back wolf' as well as some older work. At the Thunderbolt stage, the audience is clearly enjoying themselves with a proper dose of sleazy blues rock, judged by the nodding heads and tapping of feet while opening up the first bottles of beer for today.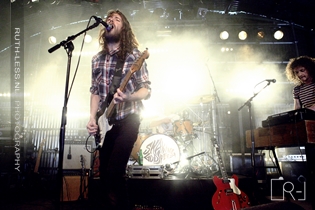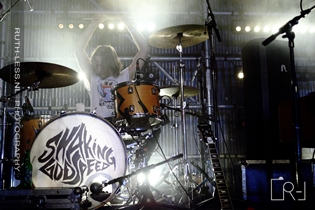 Setlist

01. Welcome back wolf
02. Baby, You're so strange
03. Lighthouse
04. Goodbye Poupon
05. Future Boogie
06. Life on planet earth
07. Why Moan
08. Alive & Well
09. She's Young
10. Paranoia blues
Rating

Music: 7
Performance: 7
Sound: 7
Light: 7
Total: 7 / 10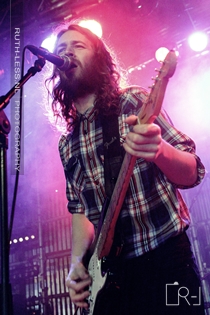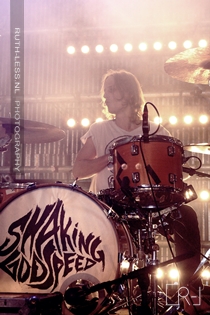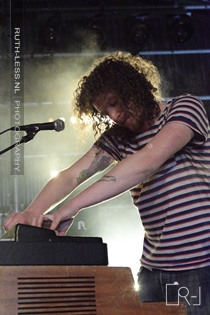 Therapy?
THERAPY? is an alternative metal band from Northern Ireland that started out in 1989. The band was founded by guitarist/ vocalist Andy Cairns from BALLYCLARE and drummer-vocalist Fyfe Ewing. To complete the line-up, the band recruited bassist Michael McKeegan. With keen pop sensibilities, a skewed sense of humour and a willingness to draw inspiration from diverse sources (notably punk rock), THERAPY? came to attention in the early 1990s rise of alternative rock, but have endured for two decades since. Over the years, the band has released no less than 14 studio albums and one live album. THERAPY? is Andy Cairns (guitar / vocals), Fyfe Ewing (drums / vocals) and Michael McKeegan (bass).
http://www.therapyquestionmark.co.uk/
/
www.facebook.com/Therapyofficial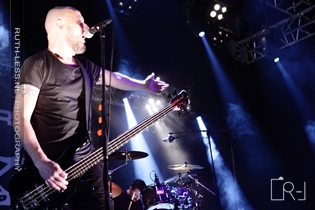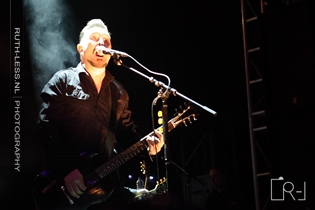 Music & Performance

THERAPY? Is lively – raw – dark and sarcastic. Among most of the audience, THERAPY is probably best known for their hit song 'Diane' a cover by American punk band HÜSKER DÜ. But this Northern Irish band has a respectable repertoire of no less than 14 studio albums, so choices had to be made for this one hour concert at Paaspop festival. Andy, Fyfe and Michael played many of their best known songs throughout their history, but they also focused on songs from their latest album 'Disquiet' such as the opening song 'Still hurts', 'Tides' and 'Idiot cousin'. Of course 'Diane' could not be skipped today (I doubt if they still enjoy playing it…) and they play a more up tempo rock version while the audience sings along. A full set of THERAPY? was too much for me, and I had to move on to the next stage anyways to check out Dutch band John Coffey!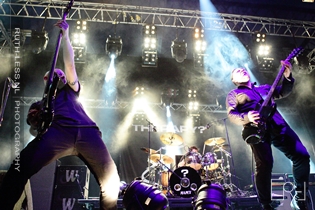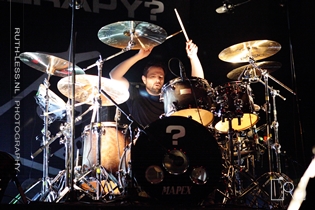 Setlist (incomplete)

Still Hurts
Isolation (Joy Division cover)
Die Laughing
Nausea
Idiot Cousin
Turn
Torment Sorrow Misery Strife
Stories
Words Fail Me
A Moment of Clarity
Rust
Good News Is No News
Fall Behind
Tides
Insecurity
Screamager
Teethgrinder
Deathstimate
Diane (Hüsker Dü cover)
Rating

Music: 7
Performance: 7
Sound: 7
Light: 6
Total: 6.8 / 10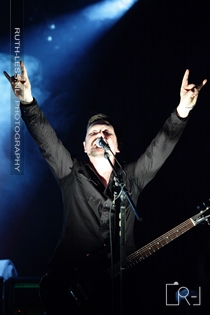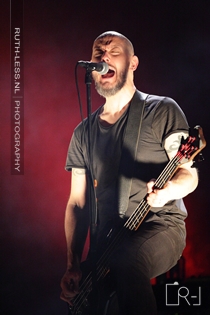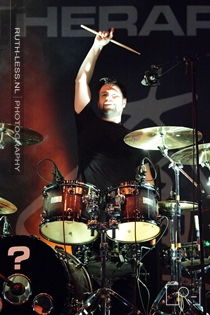 John Coffey

JOHN COFFEY is a Dutch Punk Rock/ Post-Hardcore band from Utrecht, Netherlands. The band name is a reference to the character John Coffey from the movie 'The Green Mile' (1999) by Frank Darabont, based on the six-book series by Stephen King. The band is influenced by bands such as REFUSED, EVERY TIME I DIE and THE GHOST OF A THOUSAND. So far, they have released three albums and two EPs. JOHN COFFEY is Alfred (guitar), David (vocals / synths), Carsten (drums), Richard (bass) and Christoffer (guitar).
http://johncoffey.nl
/
www.facebook.com/johncoffeymusic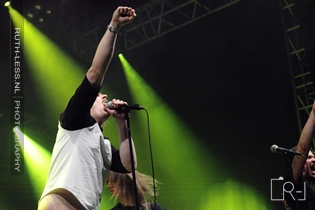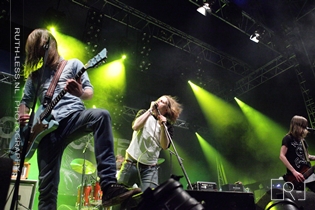 Music & Performance

There's no escape: JOHN COFFEY shoves five full doses of L.O.U.D. raw rock punk energy down the audience's throat – and they love it! I had heard many positive stories about this Dutch Rock'n'Roll band but never seen a live performance – up till now that is. From the first kick, their energy is unparalleled and a warming up definitely lacks in their dictionary. They play amongst others their singles 'Romans', 'Broke neck' and 'Dirt & Stones'. Band members Alfred, David, Carsten, Richard and Christoffer jump, dance and run around the stage while David subtly points out to the audience that there's a bar in the tent to jump from too. I don't believe this band actually has an "off-switch" – love it!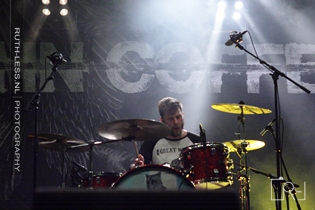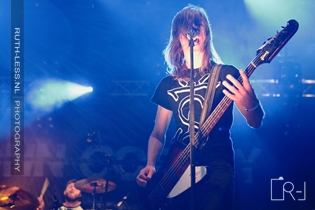 Setlist (incomplete)

Romans
Broke neck
Dirt & Stones
Rating

Music: 8
Performance: 9
Sound: 8
Light: 8
Total: 8.3 / 10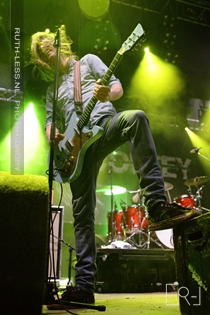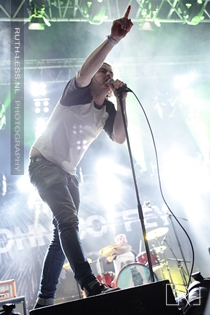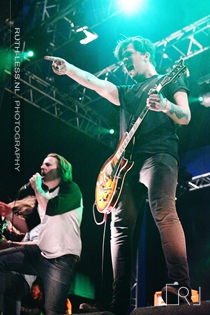 Within Temptation

WITHIN TEMPTATION is a Dutch symphonic metal band founded in 1996 by vocalist Sharon den Adel and guitarist Robert Westerholt. They have always been classified by critics as gothic metal or rock, although the "gothic" influence varies with each album. The band has released six studio albums this far. WITHIN TEMPTATION is Sharon den Adel (vocals), Robert Westerholt (guitar), Ruud Jolie (guitar). Stefan Helleblad (guitar), Jeroen Van Veen (bass), Martijn Spierenburg (keyboards) and Mike Coolen (drums).
http://www.within-temptation.com/
/
www.facebook.com/wtofficial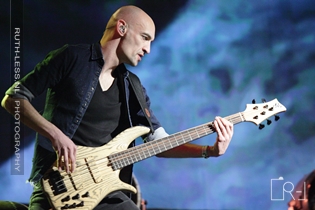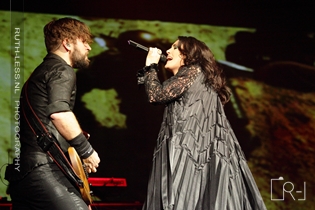 Music & Performance

Dress-to-impress – drama – opera and visuals characterize the Dutch symphonic metal band WITHIN TEMPTATION. In the middle of their theatre tour, they found some time to check out the muddy Paaspop festival. The first time I saw them was Lowlands 2000 at the Dommelsch stage open air and over the year's we've grown apart so to speak. Nevertheless, WITHIN TEMPTATION turned out a band with global allure and their concerts are a big visual experience with video screens and entire choirs in the background. Furthermore, they have gained and regained a big audience over the years and the biggest stage, the Apollo, was filled up properly. Sharon looked marvellous as always in a tight white top and a short skirt and it didn't take long for her to win over the audience with songs from their latest albums 'Hydra' and 'The unforgiving'.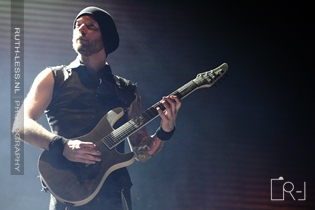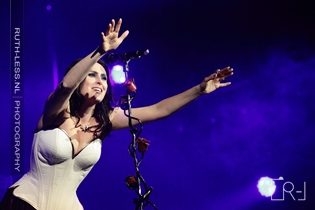 Setlist

01. Paradise (What About Us?)
02. Faster
03. In the Middle of the Night
04. Edge of the World
05. Stand My Ground
06. Dangerous
07. And We Run
08. Covered By Roses
09. The Cross
10. The Heart of Everything
11. Sinéad (Acoustic)
12. Mother Earth
Rating

Music: 8
Performance: 8
Sound: 8
Light: 8
Total: 8 / 10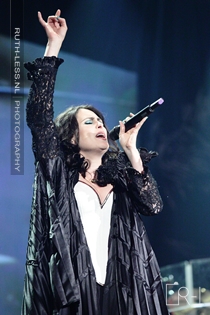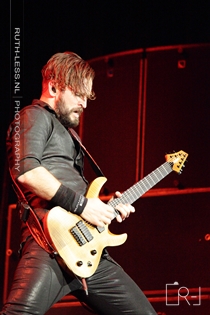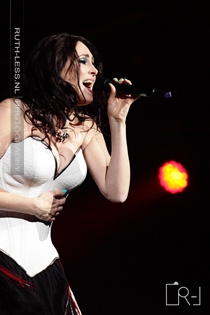 Lacuna Coil

LACUNA COIL is an Italian metal band from Milan. Since their formation in 1994, the group has had two name changes, being previously known as SLEEP OF RIGHT and ETHEREAL. Inspired by the combination of gothic imagery and music, the members have been known, musically, for composing mid-tempo songs consisting of prominent guitar lines and contrasting dual female/ male vocal harmonies to help create a melodic, detached sound. The band has released seven studio albums and two EPs. LACUNA COIL is Cristina Scabbia (vocals), Andrea Ferro (vocals), Marco Coti Zelati (bass) Marco 'Maus' Biazzi (guitars) and Ryan Folden (drums).
http://www.lacunacoil.it/
/
www.facebook.com/lacunacoil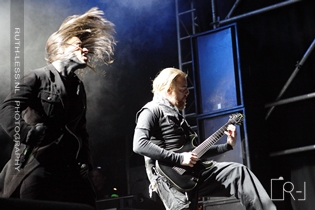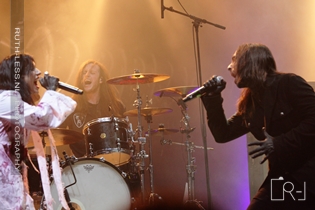 Music & Performance

When they were announced as the bringers of some authentic Italian atmosphere, I don't think most of the newcomers in the audience knew what they were up for. The Phoenix stage was only filled up half with some fans, curious people and few passers-by. LACUNA COIL entered the stage with all their grandeur and kicked off with 'Spellbound'. Even in her zombie outfit, Christina looked sparkling as she mesmerized the audience with her strong vocals. The combination with Andrea is a unique one and they supplement each other in a great way in LACUNA COIL's songs. Since last time I saw them in 2013, two things have changed, LACUNA COIL had to say goodbye to their guitar player Christiano Migliore and their drummer Christiano Mozzati.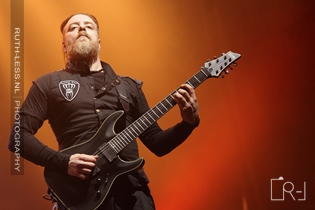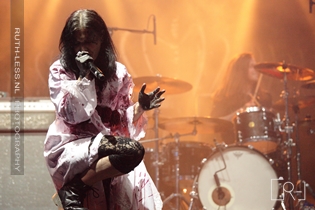 Their new drummer Ryan Folden (THE AGONY SCENE, BURN HALO) seemed to fit in great though, playing the entire set with a big smile on his face. Bombastic, dramatic – beautiful and strong show – Keep it up!
Setlist (incomplete)

Spellbound
Die & Rise
Heaven's a Lie
Nothing Stands in Our Way
Zombies
Losing my religion (REM cover)
Intoxicated
Rating

Music: 8
Performance: 9
Sound: 8
Light: 9
Total: 8.5 / 10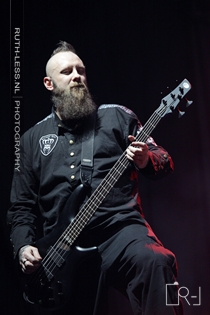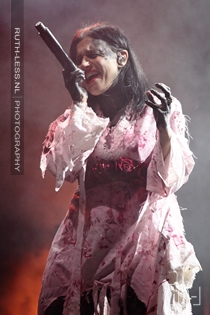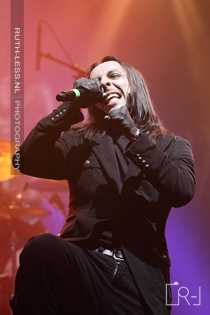 Furthermore and in between

Of course, there were many, many bands playing today and it's impossible to check them all. I do want to mention a few of them quick and dirty:
Dutch singer KOVACS: muggy, moody, mysterious – I can easily picture one of her songs on the next James Bond soundtrack.
Dutch singer-songwriter, composer, multi-instrumentalist and recording artist JETT REBEL: funky, sexy, playful, genius – the new prince meets George Michael with a twist?
The Official UK No.1 tribute to the gods of Rock and Roll! HATS OFF TO LED ZEPPELIN: simply convincing, had a great time checking out their show at the Thunderbolt!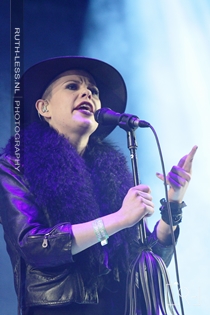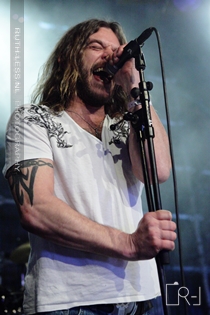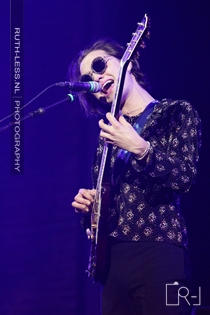 Saxon

SAXON are an English heavy metal band formed in 1976, in South Yorkshire. As one of the leaders of the New Wave of British Heavy Metal, they had eight UK Top 40 albums in the 1980s including four UK Top 10 albums and two Top 5 albums. During the 1980s SAXON established themselves as one of Europe's biggest metal acts. The band tours regularly and have sold more than 15 million albums worldwide. They are considered one of the classic metal acts and have influenced many bands such as METALLICA, MÖTLEY CRÜE, PANTERA, SODOM, SKID ROW, and MEGADETH. SAXON is Biff Byford (vocals), Nibbs Carter (bass), Nigel Glockler (drums), Paul Quinn (guitar) and Doug Scarratt (guitar).
http://www.saxon747.com/
/
www.facebook.com/saxon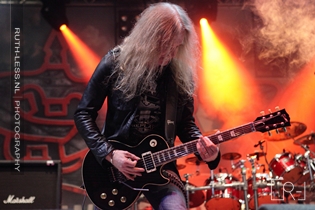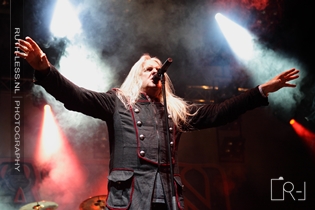 Music & Performance

Legendary – loud – energetic – respect! These guys already rocked the stage from a few years before I was even born, so I thought I knew what to expect. I was wrong. Traditional heavy metal is not dead as long as these guys are alive and kicking. With an enormous drum kit, fitting backdrop and a proper dose of energy, SAXON showed Paaspop what they're made off. And yes, we did see some grey hairs in the front row, roaring along with frontman Biff. Unfamiliar with their work, the younger audience simply rocked along, having an equally good time. SAXON doesn't only linger on their older work, playing some songs from their latest album 'Sacrifice' (2013) as well. The hits are certainly not forgotten though and songs like 'Wheels of steel' and 'Power and glory' are welcomed with loud cheers from the crowd.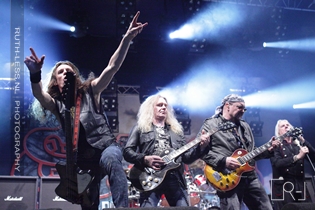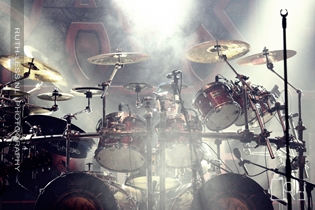 A little more grey than before, perhaps not as flexible as before, but SAXON simply owned the Phoenix stage for one full hour.
Setlist

01. Motor cycle man
02. Sacrifice
03. Power and the glory
04. Bands play on
05. To hell and back
06. Got to rock
07. Forever free
08. Dallas 1PM
09. Solid ball
10. 20'000 Ft
11. Suzy hold on
12. Eagle has landed
13. Never surrender
14. Heavy metal thunder
15. 747
16. Crusader
17. Princess
18. Wheels
19. Strong arm
20. Denim & Leather
Rating

Music: 8
Performance: 8
Sound: 8
Light: 8
Total: 8 / 10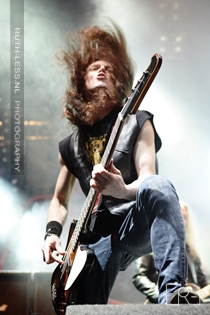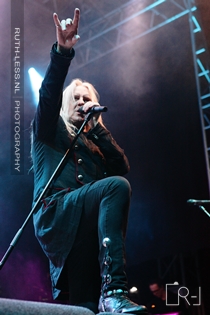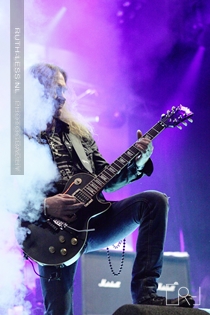 Sick of it all

SICK OF IT ALL is a New York City Hardcore band formed by brothers Lou Koller (vocals) and Pete Koller (guitar) in 1986. They released their breakthrough album 'Scratch The Surface' in 1994 soon followed by the seminal album 'Built To Last' in 1997. SICK OF IT ALL deserve being labelled a 'living legend', and still prove that classic New York Hardcore is alive and kicking. In 2010, the band released 'Based On A True Story', followed in 2011 by 'XXV Nonstop' containing both old and some new songs. Their newest album 'Last act of defiance' was released in 2014. SICK OF IT ALL is Lou Koller (vocals), Pete Koller (guitars), Craig Setari (bass) and Armand Majidi (drums).
www.facebook.com/sickofitallny
/
www.sickofitall.com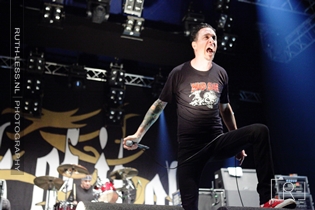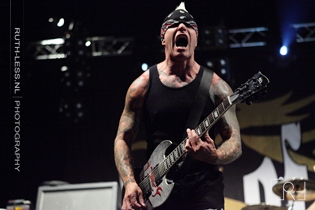 Music & Performance

It has been only two months since I saw these guys playing on a Monday evening at the EMP persistence tour, but I can't get enough of SICK OF IT ALL. It is simply always a party with them on stage, no matter what day or time. The roof comes off when they start with 'Good lookin' out' and a big mosh pit is swirling in front of the stage right away. It seems like the Koller brothers are always up to something, and that makes you wanna stick to the end of their show. Their limitless energy and enthusiasm is contagious. I can go on naming the songs they played, but it doesn't add anything to the conclusion of my review: these guys simply ROCK! Just go check them out in a live show whenever they're around in your area.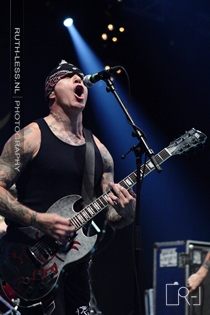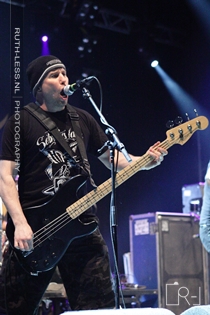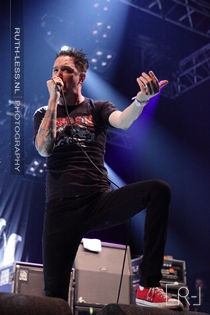 I am grinning from ear to ear even when I'm walking back to my car. Awesome show and a great way to finish Paaspop Saturday.
Setlist

01. Good Lookin' Out
02. Sound the Alarm
03. Clobberin' Time
04. Death or Jail
05. Injustice System
06. My Life
07. Uprising Nation
08. Just Look Around
09. Take the Night Off
10. DNC
11. Machete
12. Get Bronx
13. Busted
14. Step Down
15. Outgunned
16. Friends Like You
17. World Full of Hate
18. Road Less Traveled
19. Braveheart
20. Scratch the Surface
21. Built to Last
22. Us vs. Them
Rating

Music: 9
Performance: 9
Sound: 9
Light: 9
Total: 9 / 10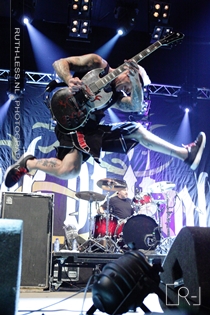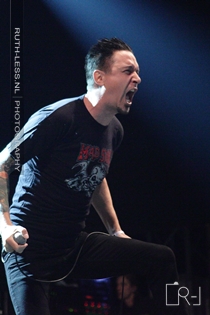 There was still one challenge ahead of me though: getting out of the muddy meadows. It took some serious drifting skills (and SICK OF IT ALL's 'Do Not Comply' blasting through my speakers) to manoeuvre my way towards the tar road, but that grin didn't leave my face – see you tomorrow Paaspop!
All pictures by Ruth Mampuys (
www.ruth-less.nl
)
See also (all categories):